The eastern frontiers of India are carved out by the state of West Bengal. Defining itself through all the physical features that the country has, Bengal is beauty cast in all forms, be it literature, music, culture, festivals, crafts, traditions, or science. The festive calendar of Bengal has occasions to suit every mood, wrapped with its own traditions of music, dance and craft, sealed with historical narratives that make them all the more precious as well as poignant. The rituals and the conventions are a proliferation of traditional native handicrafts which are the signature elements in ornamenting the festivals. In the luscious green plains of Bengal, the autumn months are the time for festivities to manifest themselves in full vigour. The infectious jubilant air spans the entire state, knocking on every door and is welcomed in by faces beaming with genuine smiles.
Bengal is synonymous with many pujos and sholapith is the craft that is their quintessential decor. Known as 'herbal ivory', sholapith is an exquisite milky-white sponge-wood craft that weaves in auspiciousness through all rituals and ceremonies in the households of West Bengal. Conceived in Bengal's interiors, this craft has garnered more prestige owing to its indispensable quality of being economical, without dimming its resplendence. During Durga Pujas every pandal has an abundance of shola works with varying intricate designs to set them apart. From appearing in mythological references to being poignant though faltering presence today, sholapith has had a sojourn which is imbued with merit and momentousness which unfortunately lacks any noteworthy accreditation and is now at perilous crossroads. It is a heritage that silently beckons our attention.
A natural product, the raw material for sholapith is the regular shola plant, which is Aeschynomene aspera of the family Leguminosae. There are two breeds of shola: Bhat shola (Aeschynomene aspera) and Kath shola (Aeschynomene indica). Kath shola is rather rigid and adamantine while Bhat shola is light in weight, snug and flocculent.  Popularly referred to as Phool Shola in Bengal, Shola is an annual aquatic plant that grows in waterlogged corners of the state (Ghosh 2015:54). When looked at, it comes across as pulpous, penetrable, pliant and willowy. The stem of the plant is featherweight which makes it fragile, so much so that it can be mistaken for a paper. The plant is grey in colour with the inner body being white. A resident of swampy quagmires, flooded lowlands and troughs of paddy fields, this plant grows in three to five feet deep water and can be recognised from its leaves which float at a depth of two to six feet. It reaches a height of five to six feet with the diameter of its girth ranging between two to three inches.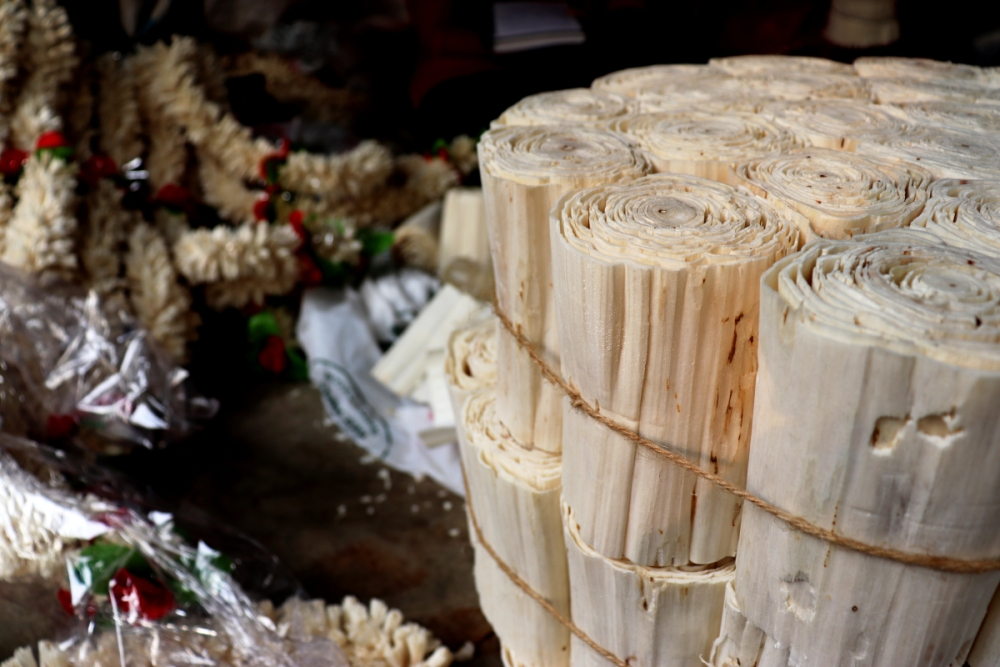 While in the Indian subcontinent the plant is native to the states of West Bengal, Orissa and Assam, it has a Sub-Saharan ancestry entering South Asia and Southeast extensions of the same through the Philippines. Taking about two to three months to grow to its fullest capacity, Shola is found to bloom most abundantly during the months of September and October, followed by its fruiting period. It is the flowering period which monitors the quality of the plants. For if the harvesting is carried out before this period, the quality of the harvest is seriously compromised. The productivity of the plants in terms of the craft productivity is also compromised if it is left in the water for too long even after the flowering period terminates. The quality of the pith can be distinguished by the naked eye for the good ones retain a bark which is totally planate, unruffled and frictionless with the sponge inside an immaculate milky white. The rejected lot is characterised by a reddish bark, the surface rough, flinty, varnished and completely enveloped with nodes. 
The trimming and collection is generally a task that is assigned to the womenfolk, who engage in the uprooting of the plants while submerging themselves in the water that reaches up to their waists. The part of the plant that is mainly used for the making of the handicrafts is the portion that remains submerged under water. The roots and the branches are cut off from the stem to make it a singular compact entity. They are compartmentalised in two to three segments and are detached from their plant-like appendages with the help of hansuli, which is basically an elongated crescent-moon shaped sickle made out of steel. The divided segments are made into heaps which are then floated along the waters owing to their intrinsic buoyancy. However, when the water bodies where the plants have grown are difficult to wade through or are of subaqueous depths, the entire plant is uprooted and brought to the workers' households.
In the home space, the trimming and grouping into segments are done by any adroit and deft member of the family. The dividing work is augmented using a bati, which is a bent tool made of steel. One end of the tool has a wooden base attached to it. The person doing the dividing is usually seated in a comfortable squatting posture. The segmented shola plants are generally 75 to 90 cm long and are kept under the bright sunlight for three to four days consecutively, depending on how much time it takes for them to dry. Once the stem turns into a complete brown shade from its initial leafy green colour the plants are identified as being completely dry. After this, they are either stored or used straightaway for the production of decorative crafts.
A bundle of dried shola stems is labelled as jhapi which contains around 300 pieces with a price starting from around 200 rupees. There are other denominations as well. For example, such bundles are also tagged as Tari in regional language, which is a bundle of 8-12 shola plants. Prices vary with the thin ones starting from around 24 rupees to the finer qualities starting from 70 rupees (Mandal, R.N., R. Bar, & D.N. Chattopadhyay, 2014:103).
The tools that make such exquisite arts are not complicated at all. On the contrary, they are simple ones with distinct functions to their name. Generally, two kinds of tools are used. One is the kat, which is a fine steel cutter used to make different shola crafts like duma (a sleek shola sheet), sheuli (primary material used in making chandmala, duma), dhari (shola material used to make malas), etc. This is primarily a knife that has around five to six versions with myriad specialised cuts that are required throughout the process. There is generally a fine edge as well as a blunt side. Different types of scissors called kanchi play a pivotal role in both making intricate designs as well as polishing and refining the end product (Ghosh 2015:62). All this is assisted with regular handy tools like needles, papers, measuring tapes, wire cutter, etc. But the most important and crucial tools in the sholapith are the trained fingers of the highly skilled artisans. To make the simple regular tools perform such wonders requires an expert and sophisticated hand that chisels the crafts to its radiating splendour.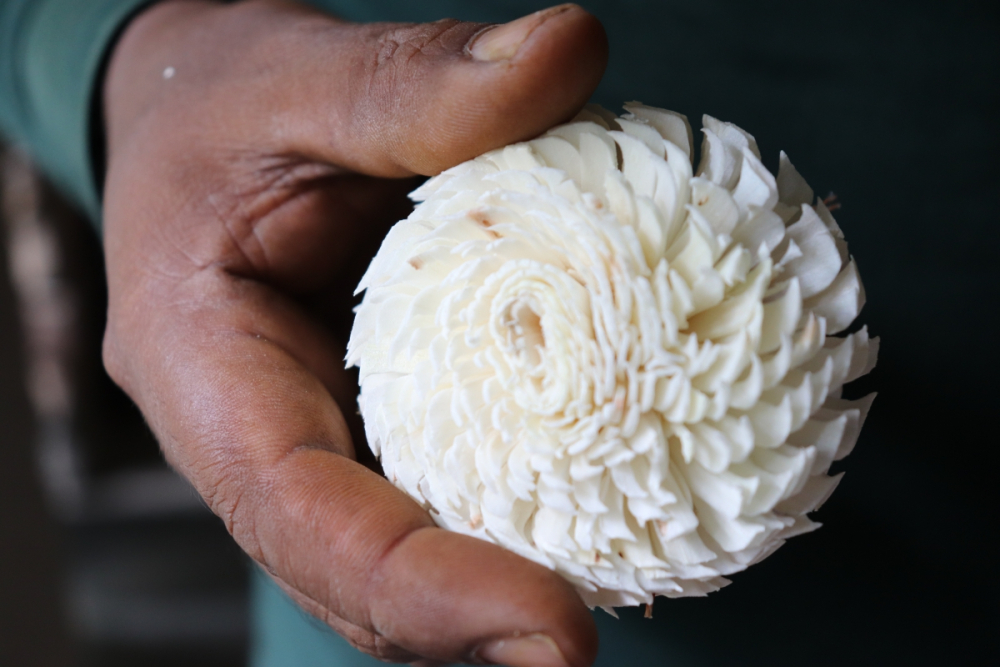 The shola plant has been linked with benediction for centuries. Even today, it is a common sight in Bengali households to see shola flowers hanging at the entrance, signifying the belief that it would bring prosperity and peace. According to one of the many beliefs that circulate in the Malakar community, which is involved with making the crafts, Lord Krishna's sudden darshan (appearance) had left Sudama bewildered and the Brahmins too were caught off-guard as to what can be offered to the Lord as a mark of obeisance. They, finding nothing, made a garland out of shola which was then offered to Lord Krishna, who wrapped it around his waist as 'janeyu', which to this day is revered highly in the Malakar community. 
During the colonial rule in India, shola had gained favour among the British as the 'shola topi' was a must-have head-gear in the tropical weather to keep heat strokes at bay. The intricate head-gears of to-be-wed couples, embellished animals, peacock boats, palanquins, the much revered 'daak -er shaaj' of Durga idols—all stand as testimony to the vitality of sholapith. There are many purposes to which crafts made out of shola cater to. For initiation and marriage rituals, conical topors (worn by young boys during their naming ceremony and by bridegrooms) and the sithi mukut (worn by the bride); phulghor and rathghor for death rituals; for religious purposes, they are made in the form of sholar mala (sholapith garlands), chandmalas (these are three to four filigree discs carved out of shola and made into a long chain by attaching all in a lined order to a string that is doubly folded), kadam flower, Laxmi jhara, etc. For decoration purposes, it is predominantly found in the form of flowers, toys, dolls, garlands, masks, ornaments, and so on (Ghosh 2015:62).
The shola craft production in West Bengal is germane to the districts of Alipurduar, Bankura, Burdwan, Birbhum, Darjeeling, Dakhshin Dinajpur, Hooghly, Howrah, Murshidabad, Malda, Nadia, South 24 Parganas and Coachbehar. Each of these production centres has their signature styles and specialises in specific avenues of sholapith. The significance of this craft is attested to by the plant itself and all of its natural specifications. Being a hydrophyte plant, shola is thin, easy to carry and durable. Its biodegradable feature makes it eco-friendly and this makes it even more preferable as a raw material. The importance of this craft which is intrinsically tied with the existence of the plant is one that causes concern as the very shola plant today has made an alarming entry in the Red List of Threatened Species compiled by the International Union for Conservation of Nature (IUCN). 
For generations, the Malakar community has been engaged in this art form, making a living from it even today. In addition to this, the local economy and contemporary local society draw sustenance from it. The factors threatening the survival of the art form today are manifold: depletion of shola plants, favouring of the consigners and dealers over the artists, and persisting illiteracy in the Malakar community of shola makers. With such a state of affairs, it is not surprising that the Malakars themselves, who have carried forward this craft tradition for so many generations, no longer envisage their craft as a viable inheritance for the next generation. They themselves do not deem it fit for their successors to attempt to make a living through this craft tradition and nudge them to work hard to secure employment in the service sector. A lack of coverage or funds from the government ascertains their conscious decision.
Somewhere the pride of engaging in such an artistic endeavour meets a dead end. Their commercial span as well as their reaction to the altering markets is shaped by the arrival of their doppelganger in the form of thermocol, which despite being a chemical product has high demand. We live in a society that can instantly provide us with an array of options to choose from in any situation. In such societies, we also witness traditional handicrafts like these waging and fighting their own battles for survival. The crucial elements of such an authentic production must be redeemed to keep at bay their drowning into abeyance and for the greater good of maintaining the overall cultural equilibrium. 
References
Ghosh, Kundan. 2015. 'Sholapith Craft of West Bengal: An Overview.' International Journal of Interdisciplinary and Multidisciplinary Studies (IJIMS), Vol. 3, No.1,54-62.
Mandal, R.N., R. Bar, and D.N. Chattopadhyay, 2014. 'Shola, Aeschynomene aspera L. used for making indigenous handicrafts revealing traditional art needs conservation.' Indian Journal of Traditional Knowledge, Vol. 13 (1), pp. 103-110.