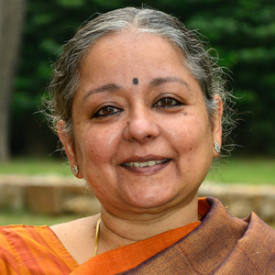 Sudha Gopalakrishnan
Executive Director
Sudha is one of the founders of Sahapedia, as well as Vice President of Sahapedia's governing body. She has over thirty years of  experience in areas relating to policy, management, documentation and research pertaining to multiple aspects of Indian arts and heritage.  She received her PhD in Comparative Drama and Masters degree in English Language and Literature. She has prepared three successful  nomination dossiers for the recognition of three heritage expressions—Kutiyattam, Vedic Chanting and Ramlila—as UNESCO  Masterpieces of the Oral and Intangible Heritage of Humanity'. Sudha was Mission Director, National Mission for Manuscripts, from  2003-2007. She has published 8 books (including original writing, translation and edited volumes) and contributed papers in national and  international publications.
Abhimanyu Varma
Commissioning editor
Abhimanyu is a certified audio/visual engineer with over 7 years experience in the field. His interests include reading, gaming and travel.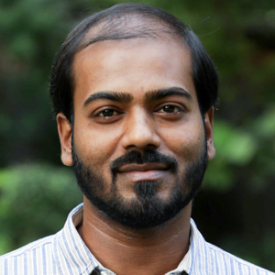 Amit Kumar Aman
Technical consultant
Amit is a Technical Consultant with Sahapedia. An Information Technology graduate from IIIT Allahabad, he is a full-time coder, Web enthusiast and is continuously stimulated by new technology and challenges. He is responsible for the smooth running of Sahapedia's website and works on the Museum Mapping, IHW and Cultural Mapping projects initiated by Sahapedia.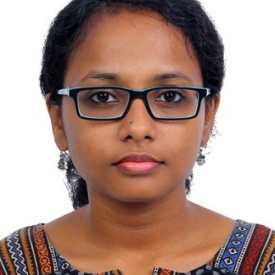 Amrutha KP
Commissioning editor
Amrutha studied media and cultural studies at TISS, Mumbai. She has previously worked as an assistant project manager for a government-funded project under IIT Bombay. Amrutha is interested in digital media and protest spaces, politics of caste, feminism and intersectionality. She hopes to work on her portrait-sketching skills someday.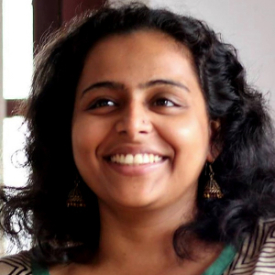 Ardra NG
Commissioning editor
Ardra studied political science at Lady Shri Ram College, University of Delhi, and Jawaharlal Nehru University, and has a PhD from the Centre for Political Studies, JNU. She has briefly taught at Miranda House and Hindu College, Delhi. Her areas of interest are political movements in South Asia, politics of aesthetics and political philosophy.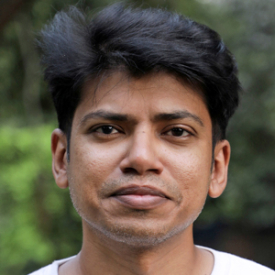 Ayan Ghosh
Senior visual editor
Ayan graduated from NIFT (Delhi) and NID (Ahmedabad). He has worked with Getty Images as a photojournalist and IGNCA as a researcher, and has taught Communication Design at GD Goenka University. His current area of research is visual cultures of Southeast Asian countries.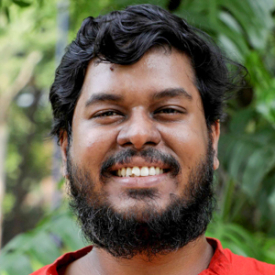 Debojit Dutta
Copyeditor
Debojit studied English literature at Ambedkar University Delhi and journalism at School of Convergence. He has worked with The Quint and The Sunday Guardian, and his writings have appeared in publications such as Himal Southasian, The Wire and Motherland Magazine. Debojit is also a co-founder of the literary webzine Antiserious.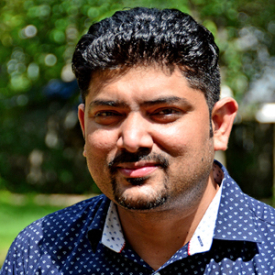 Deepak Kumar
Administrative assistant
Deepak handles various responsibilities related to accounts, administrative and human resources. He has previously worked with CMC Ltd (now part of TCS). Deepak loves traveling, sports and music.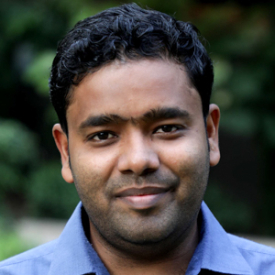 Dharmendra Sharma
Senior web developer
Dharmendra is responsible for the smooth running of the Sahapedia website and developing new projects. He holds an engineering degree in Computer Science and Engineering. Dharmendra has more than seven years of experience in industries such as publishing, education, NGO and travel.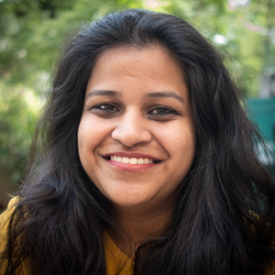 Ela Gupta
Head, Outreach
With over 10 years of experience, Ela has worked with multiple organisations across sectors. She leads the outreach initiatives of Sahapedia and specialises in marketing, communications, partnerships and fundraising. Ela is passionate about empowering people and initiating social change. Ela is an avid reader and movie buff and loves to travel.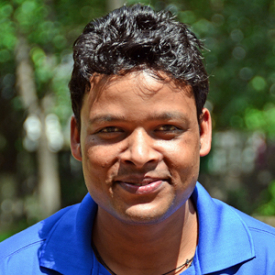 Girish Kumar
IT assistant
Girish is responsible for maintaining and monitoring network infrastructure and server support. He is interested in music and sports, particularly cricket.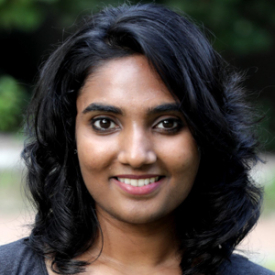 Kaavya Edwards
Video editor
Kaavya loves to watch films and learn new techniques and styles of film-making. She has worked as a video editor with Pedestrian Pictures and as assistant director with Tangent Films. She is also a photographer and wants to make films on issues she deeply cares about.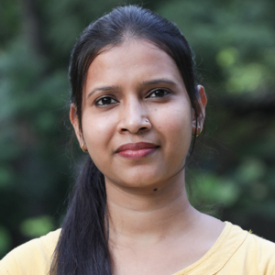 Laxmi
Accounts assistant
Laxmi completed her BCom from the University of Delhi. She has earlier worked with Techton Buildcons Private Limited. Laxmi handles all accounts related work and keeps record of Sahapedia's library, equipment and hardware.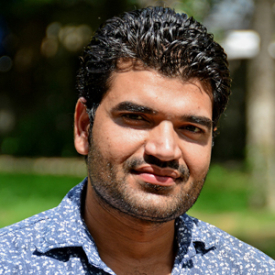 Mahesh Yadav
Technical consultant
Mahesh studied BTech with specialisation in electronics and communications. He manages and maintains Sahapedia's server and database of online repository.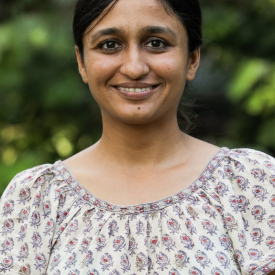 Menaka Neotia
Archivist
Menaka is interested in community building and perceives archives and libraries as intimately connected to people. Her need to support communities she works with contributes towards her pursuit for personal clarity and connection.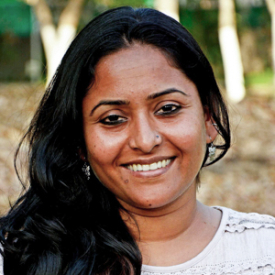 Moby Sara Zachariah
Senior program manager, India Heritage Walks
Moby holds a master's degree in history. She has previously worked with INTACH's Heritage Education division as a coordinator and walk leader. Moby enjoys leading heritage walks and exploring monuments and architecture. A nature lover, she loves to sing, play badminton, and is a part of her church choir.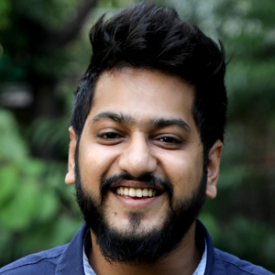 Mrinal Sony
Program manager, India Heritage Walks
Mrinal is a graduate in commerce from St. Xavier's College, Calcutta, and has previously worked with heritage and adventure tourism. With a deep interest in meeting people and exploring diverse cultures, he is ever-ready for last minute journeys.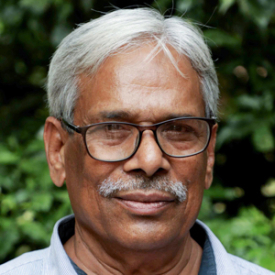 Mushtak Khan
Project coordinator, Chhattisgarh documentation project
Mushtak Khan started as a Research Officer for Folk, Tribal and Contemporary Arts at Bharat Bhawan, Bhopal, and was the Deputy Director (Design and Documentation) at Crafts Museum, New Delhi. He has done extensive fieldwork and documentation of tribal and folk arts in Madhya Pradesh, Chhattisgarh, Maharashtra, Gujarat, Rajasthan and Odisha.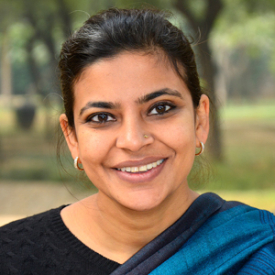 Neha Paliwal
Director, Projects
Neha has studied history, business administration and anthropology at universities in Delhi, Ahmedabad and Michigan. Neha has previously worked at IMRB and on multiple projects at the National Mission for Manuscripts. Having tried to learn Kiswahili, French and Spanish, she is now attempting the Carnatic violin.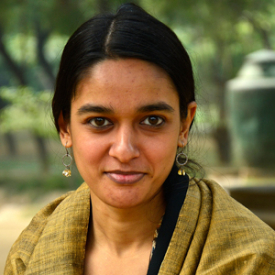 Niharika Gupta
Director, Research
Niharika Gupta studied literature and anthropology at the universities of Delhi and Oxford, and has worked in education, editing and translation, and programme management at Tibet House and the India International Centre.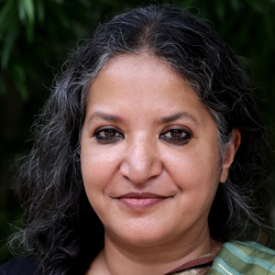 Preeti Bahadur
Head, Chhattisgarh documentation project
An art historian, Preeti has worked on music history, miniature paintings and aesthetics, and seeks connections across disciplines. She has taught art history at several institutes in Delhi, and published papers on art history and contemporary art. Her areas of expertise include curation and film-and-museum-based collaborative projects.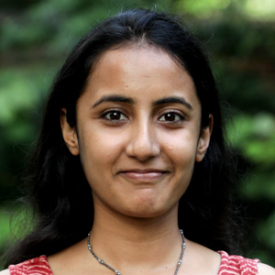 Priya Poddar
Program coordinator, Anubhuti & Workshops
Priya handles workshops and curated experiences for the marginalised. Her interest lies in modern and postmodern literature in English. She loves cooking and making people eat good food.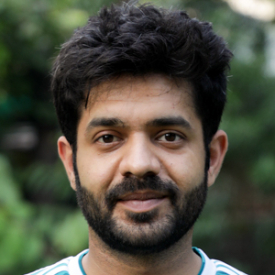 Rahul Yadav
Resource mobilisation manager
Rahul Yadav is a CBS Graduate with specialisation in marketing. He has previously worked with organisations like Grofers and Paytm, and plays an active part in executing projects at Sahapedia. Rahul likes to read, calls his guitar 'Jenny', and hopes to be a writer someday.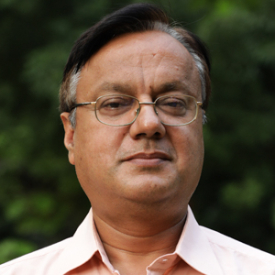 Ram Krishna Banerjee
Head, Finance, Administration and HR
Ram has studied science, business administration, and cost and management accountancy, and is a certified CSR professional from IICA. He has worked for over two decades in the corporate and social sector. Ram is interested in music and languages, and has studied French at Inlingua and Alliance Francaise.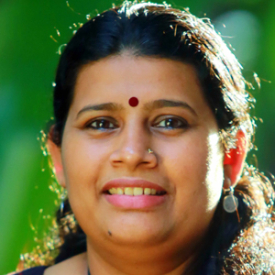 Ranjini Krishnan
Head, Kochi team & Senior commissioning editor
Ranjini is a researcher, script writer and film maker. She holds a PhD in Cultural Studies from CSCS, Bangalore. She has worked with C-DIT as video producer and CDS Trivandrum, as researcher. At Sahapedia she explores making of digital narratives around culture.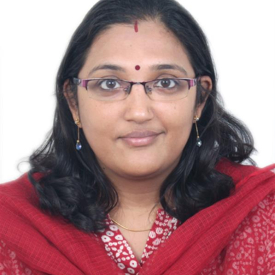 Resmi Kakkat
Outreach & Office coordinator
Resmi has bachelor's degree in sociology and a postgraduate diploma in Office Administration and Management. She has worked in various roles in finance, HR, administration and teaching, and has been involved with Sahapedia's Cultural Mapping of Fort Kochi and Mattancherry project. Resmi enjoys cooking and loves watching cricket.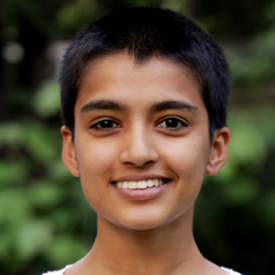 Shrey Maurya
Assistant commissioning editor
Shrey studied political science and visual art. She is interested in how everyday life and psyches are directed and influenced by images we see on the internet. She is learning to draw beetles and fold origami tessellations, and likes reading fiction and taking long walks.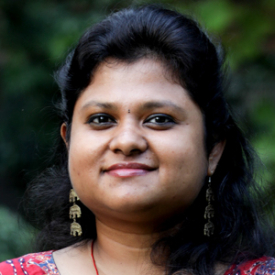 Shruti Chakraborty
Editor, Saha Sutra
Shruti weaves stories out of the vast treasure trove of Sahapedia's research database. She is a trained journalist, who has worked with publications such as Mint, Businessworld and IndianExpress.com. A traveller and foodie at heart, her life's goal is to travel the world, and get paid for it.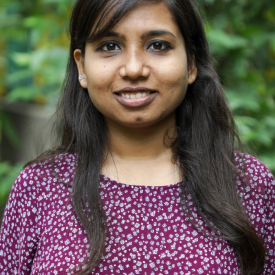 Shweta Keshri
Senior manager, PR & Communications
Shweta studied psychology at Amity University, Noida, and has a master's in Art, Design and Communication from the CEPT University, Ahmedabad. She has worked in organisations like DRONAH and Media India Group in the past. She was a gymnast growing up and, in her free time, likes to write short stories.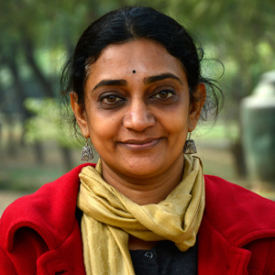 Sindhu V. Nair
Senior commissioning editor
A post-graduate in Literature from the University of Kerala, Sindhu's translations from Malayalam into English have been published by Oxford University Press, International Collective in Support of Fishworkers and D.C. Books. She loves to read travelogues and books on mountaineering. Despite her weak knees, she dreams of climbing up to base camp on Mount Everest one day.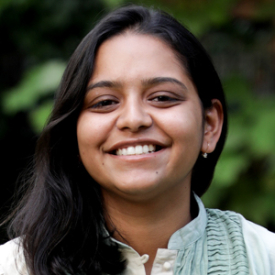 Soniya Kanchan
Digital communications manager
Soniya studied journalism and communication at Manipal University, Bangalore, and advertising and public relations at IIMC, Delhi. She has worked with CNBC Network18, WAT Consult, and Vibgyor Brand Services, and volunteered with Snow Leopard Conservancy in Ladakh. She hopes to travel the world and capture captivating stories.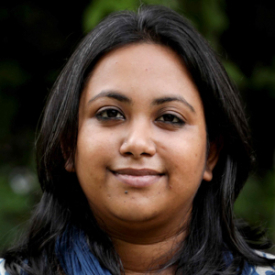 Upama Biswas
Managing editor
Upama studied English literature at St. Xavier's College, Kolkata, and has a certificate in publishing from the Seagull School of Publishing. She has worked with Niyogi Books and Rupa Publications in the past. Upama believes 'There is a crack in everything, that's how the light gets in'.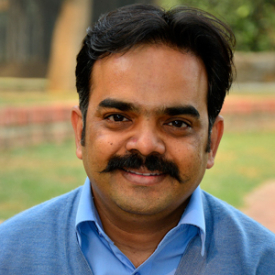 Vaibhav Chauhan
Director, Operations and Resources
Vaibhav has trained in heritage conversation and management. A founder member of Sahapedia, he is responsible for resource development and operations. Vaibhav has worked with National Mission for Manuscripts and Sangeet Natak Akademi. He is passionate about leveraging technology to reach travellers, students and enthusiasts.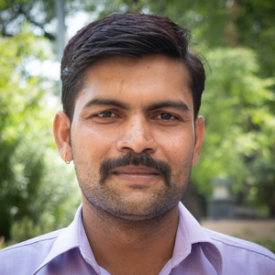 Akash Kumar
Office assistant
Akash is responsible for the smooth running of the organisation. He acts as a conduit between the rest of the team and is often the voice at the other end of the telephone when you call Sahapedia. Akash loves listening to music but refuses to list favourites.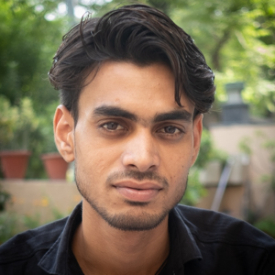 Mohammad Taufeek
Office assistant
Taufeek facilitates Sahapedia's daily functioning by running errands and providing the team its daily dose of caffeine. He hails from Rae Bareilly and loves cricket—especially, Hardik Pandya.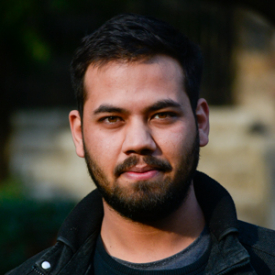 Manan Kapoor
Assistant editor, Saha Sutra
Manan's debut novel, The Lamentations of a Sombre Sky, was shortlisted for Sahitya Akademi's Yuva Award, 2017. His writings have appeared in publications such as Scroll.in, The Wire and The Ghazal Page. Manan is currently working on a biography of the Kashmiri-American poet Agha Shahid Ali. He tweets at @mana_kapo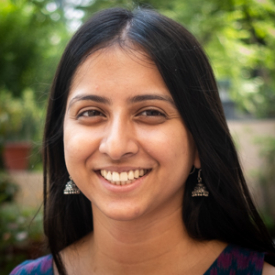 Madhurima Chaudhuri
Assistant commissioning editor
Madhurima studied history at Lady Shri Ram College for Women and art history at National Museum Institute. In the past, she has worked as executive curator with WSRC, ideating and curating exhibitions in Kolkata and New Delhi. She spends her free time doodling and baking.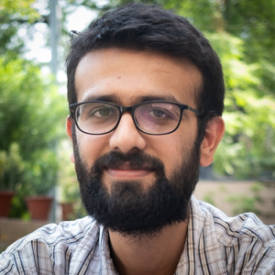 Akshat Jain
Assistant commissioning editor
Akshat Jain studied Economics and Political Science for his BA and Media and Cultural Studies for his MA. His MA dissertation explored the place of caste in the discourse of Digital India. He has worked as a content producer and researcher for NGOs and media organizations since finishing his higher studies.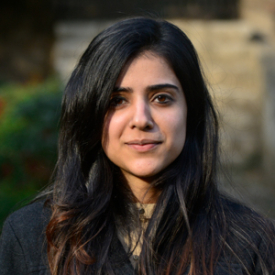 Aastha Soni
Program coordinator, Museums of India
Aastha studied geography at Miranda House and holds an MA in Society and Culture from IIT, Gandhinagar. At Sahapedia, Aastha is working on the Museums of India project and institutional collaborations. Though habitually found asleep in her journeys, Aastha yearns to explore the corners of the world.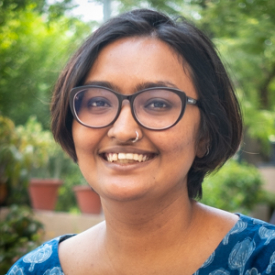 Bhavya
Visual communication designer
Bhavya has a background in history and design research. She has worked as a freelance graphic designer and illustrator with Penguin Random House and Bloomsbury, and artistes like Prateek Kuhad and Peter Cat Recording Co. She enjoys Russian and Japanese literature, and wants to be a mangaka and animator.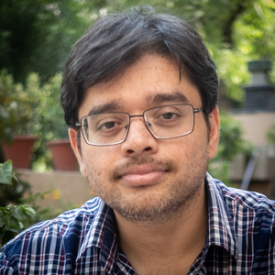 Abhinav Gupta
Lead, Museums of India
Trained in computer sciences and management, Abhinav has worked across technology, design, ecological rights movements and is invested in nudging communities closer to their roots. He enjoys co-creating joyous forms of expression with children. A musafir at heart, he spends months gossiping with birds, trees and people wherever he goes.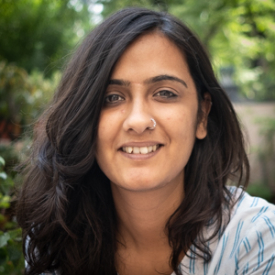 Nemisha Kawaatra
Assistant commissioning editor
Nemisha has completed her Masters in Philosophy from St. Stephen's College, Delhi. She hopes to widen the scope of philosophical and anthropological research by turning to alternative epistemologies that might also include psychological and cultural phenomena. She has previously worked at Ashoka University as a Teaching Fellow and spends her free time watching mundane TV shows and Friends.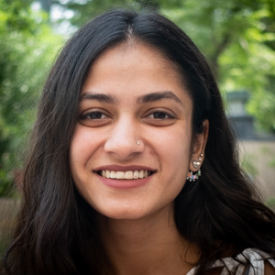 Simran Agarwal
Editorial assistant
Simran studied history at St. Stephen's College, Delhi. She wants to learn to overcome ostensible differences to understand cultures and lives vastly different from her own. She loves reading and drawing and hopes to publish her own illustrated novel someday.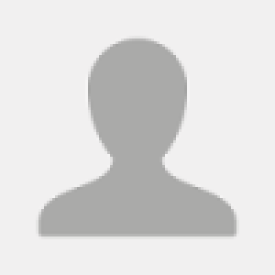 Sheela Sabu
Office assistant
Sheela is responsible for the smooth running of the office. She takes care of gardening, refreshments for the team and answers phone calls to Sahapedia. She loves to travel and listen to music.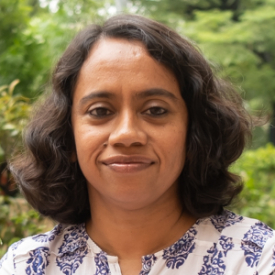 R Sivapriya
Director, Content
Sivapriya worked in publishing for a little over two decades, heading Penguin Classics and fiction in translation at Penguin India, and the fiction list at Juggernaut Books. She has always been interested in narratives and the crafting of them. At Sahapedia, she's learning how best to tell stories of culture.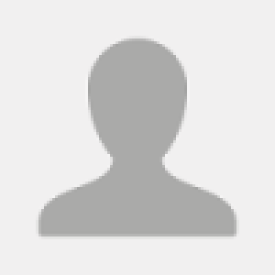 Jyotika Mansata
Copyeditor
Jyotika has a master's degree in history from Presidency University, Kolkata. She has previously worked as an editor at Niyogi Books. She spends her free time reading, watching Netflix, and petting every dog she meets.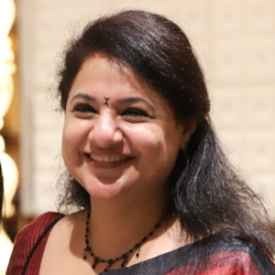 Lovleen Banga
Consultant publisher
A graduate in physics from St. Stephen's College and a postgraduate in physics & IT from Delhi University, Lovleen has close to two decades of experience in publishing. She has worked in senior roles with Oxford University Press, Pearson Education and Ratna Sagar.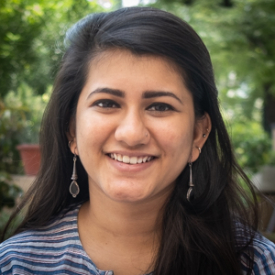 Subhashree Rath
Assistant archivist
Subhashree studied Anthropology, Material Culture and Photography at Sarah Lawrence College, New York. Her interests lie in dancing, trekking and learning about diverse cultures of the world. She wishes to better understand indigenous communities and their sustainable cultural practices.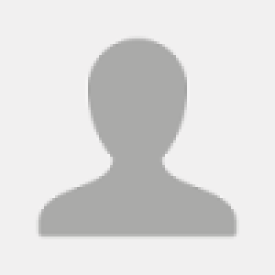 Prema Naraynen
Senior copyeditor
Prema is an editor with Sahapedia with fifteen years' experience in publishing and media. She particularly enjoys helping writers communicate with clarity without ironing out their own quirks and individuality.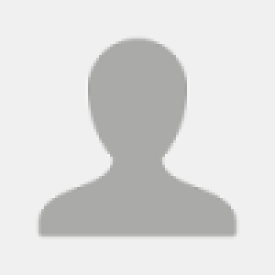 Kshitija Pande
Project coordinator, Pune urban heritage documentation
After studying biotechnology and business administration, Kshitija found her passion in food. She has a master's in Indology from Tilak Maharashtra Vidyapeeth Pune and is now planning to delve into food history and various food traditions. She loves trekking in the Himalayas and window gardening.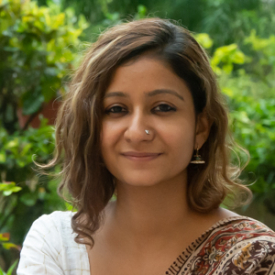 Ajeya Vajpayee
Researcher, Chhattisgarh documentation project
Ajeya is pursuing her PhD from the Department of History, University of Delhi. Her research interest lies in the art historical traditions of India and Southeast Asia. She is passionate about Indian classical dance forms, particularly Odissi.
Padmapriya Janakiraman
Head, Urban heritage documentation project
A dancer, actress, public policy wonk, gender and environmental activist, Padmapriya has been juggling different passions for the past two decades. At Sahapedia, she is leading the work on mapping the cultural traditions, arts and heritage of Indian cities and hopes to build frameworks for cultural policymaking. She has trained at NYU and NLS Bangalore.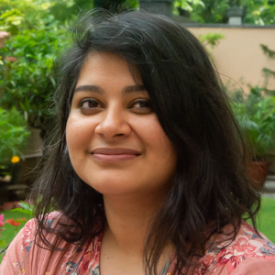 Rachna Pande
Head, Technology
An undergrad from IIT Delhi and graduate from MIT, Rachna has worked in analytics and consulting. She is the founder of TripMyWay, which works in the culture and technology sector. Rachna is interested in how societies and technology interact and is excited about enabling great storytelling at Sahapedia.