Kathak and its history would be incomplete, if not poorer, were it not for its foremost proponent, Shambhu Maharaj. This scion of the Lucknow gharana of Kathak has left an indelible mark which no amount of chakras or tatkars can obliterate. The great Kathak master is said to have been born in 1912, as per Padma Award and Sangeet Natak Award citations and brochures. However, from Kathak Kendra celebrating his centenary in 2004, one would infer that he must have been born in 1904 and his nephew Guru Munnalal Shukla confirms the same. We do have a clear record of his first public and professional performance. This took place in 1926 at the All India Music Conference in Lucknow and he must have been in his prime of youth to be featured on such a prestigious stage, and would not have been just 16. Hence 1912 as the year of birth will not hold and 1904 sounds more likely. Strangely, his immediate surviving family has no record of his birth. 
Shambhu Maharaj moved to Delhi in 1955 at the invitation of Nirmala Joshi (some sources say it was Kapila Vatsyayan), the founding secretary of the Sangeet Natak Akademi. In Delhi, Shambhu Maharaj taught Kathak at the fledgling Shriram Bharatiya Kala Kendra, set up by Sumitra Charat Ram.
​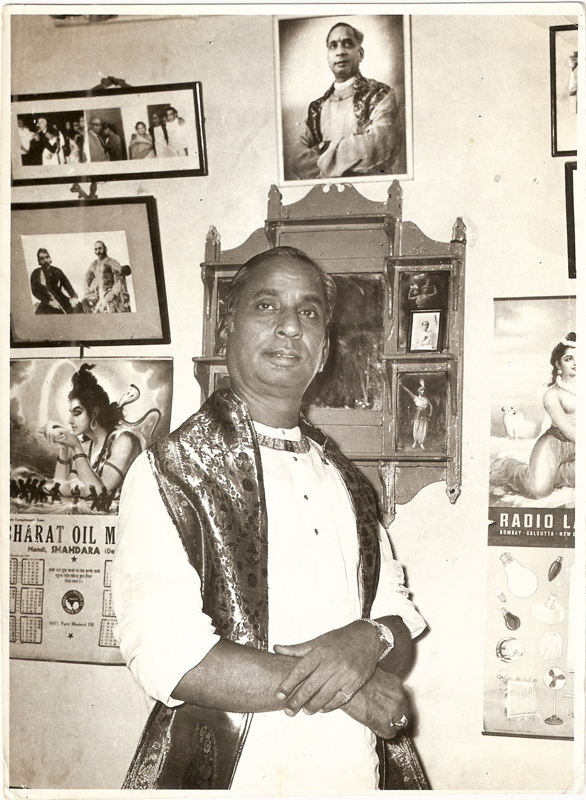 He was a prodigal. The whole family was. Kalka Prasad, his father, was a tabla wizard and his father's elder brother, Binda Deen, was the Natwar Krishna incarnate. Natwar Krishna is the romantic persona of Krishna, and both he and Shambhu Maharaj specialised in that role. Binda Deen was also Shambhu Maharaj's guru, by his own admission. A small, waspish man, Binda Deen was totally transformed on stage—he became Krishna the lover, Krishna the prankster, Krishna the saviour, everything rolled in one. Binda Deen never married but the Begum of a leading state was his chief patron and benefactor and engaged him as a dancer. When he left her, he returned laden with diamonds and pearls, it is said. But more than these gems, his real treasures were the over 150 thumris he composed. Unfortunately, he died when Shambhu Maharaj was only 10 and thus the young talent was left without a guru. Shambhu had already lost his father when he was two.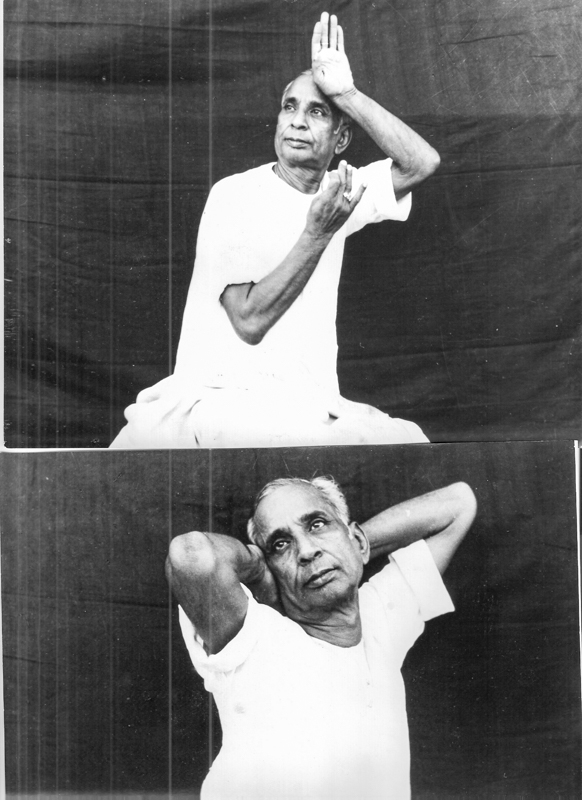 It was his elder brother, Achchan Maharaj (Birju Maharaj's father) who learnt the most from Binda Deen, and thus imparted further training to Shambhu and Lachchu. Achchan Maharaj influenced Shambhu Maharaj greatly. Sambhu accompanied his elder brother to Rampur, where Achchan was appointed a dancer in the court of Nawab Hamid Ali Khan. There Sambhu was exposed to an array of great personalities, such as the dhrupad singer Mohamad Ali Khan, vocalists Hyder Khan and Mushtaq Husain Khan, pakhawaj player Ayodhya Prasad, tabla genius Ahmed Jan Thirakwa and sarod virtuoso Fida Hussain Khan. When the family returned to Lucknow, Shambhu often played the tabla for Achchan Maharaj's performances and sometimes his brother played the tabla for young Shambhu.
    
Shambhu Maharaj made his debut in 1926 at the All India Music Conference in Lucknow (those days these music conferences were the few major platforms where dance was showcased) and was awarded a gold medal for his tayari.  Following this, Shambu Mahharaj began getting several offers for his performances.
   
The Lucknow gharana has always given utmost importance to bhava. Both Binda Deen and Achchan Maharaj were gifted with a phenomenal capacity to evoke and project emotion and feelings in both dancing and singing. In Shambhu Maharaj's case, he derived all his taste and inspiration from Nasir Khan of Delhi gharana; he was his bosom friend. In fact, Shambhu Maharaj seldom performed Binda Deen's thumris but mostly Nasir Khan's. According to this interview given in 1957 and later again as an update in 1970, Shambhu Maharaj is on record stating that most Kathaks (or Kathakaars, referring to Kathak dancers) performed Binda Deen's thumris because it was suited for rendering in moderate tempo, which Shambhu Maharaj did not find conducive to the leisurely development of bhava. It was too hurried. Shambhu Maharaj also devised the courtly style of sitting and performing, which made it less hurried and more elegant for bhava depiction. Dhrupads did not fascinate him. He found them too severe, too stately for any delicate interpretation. The beat, he found and claimed, was more suited to marching than dancing!  
'My senior students Maya Rao, her sister Chitra Venugopal, Bela Arnab and Kumudini Lakhia learnt my style and at some conference in Delhi in 1957, I did a duet with Maya Rao on Binda Deen's thumri Niratata dhang. She also cajoled me into doing a ballet Kathak Through the Ages, but I never liked to do this ballet.' He was not well disposed to ballets in Kathak. 'You must understand Kathak is a very personal art, an intimate art, and it is not tailored for collective participation or projection. Kathak today is much shaken. It can only get worse. What can you expect of an art where endurance becomes the test of skill? If one dances 10 hours, another will dance 12 and the audience will foolishly cheer. Surely, isolating the tinkle of one bell from 200 cannot be designated art? A ghost voice can sing your thumri and all you have to do is make faces. And the eyes—you can dart glances or ogle but where is the depth of expression? And the hands! You can show a monkey, donkey, deer or snake with them but where is the place, the need for all this?  Believe me, when I die, it will mean the end of a whole legacy of Kathak. The Kathak I dance is brewed in a heady atmosphere of poetry, women and wine and that milieu is lost. If I am hailed as Nritya Samraat, it is because truly I am King of Kathak.'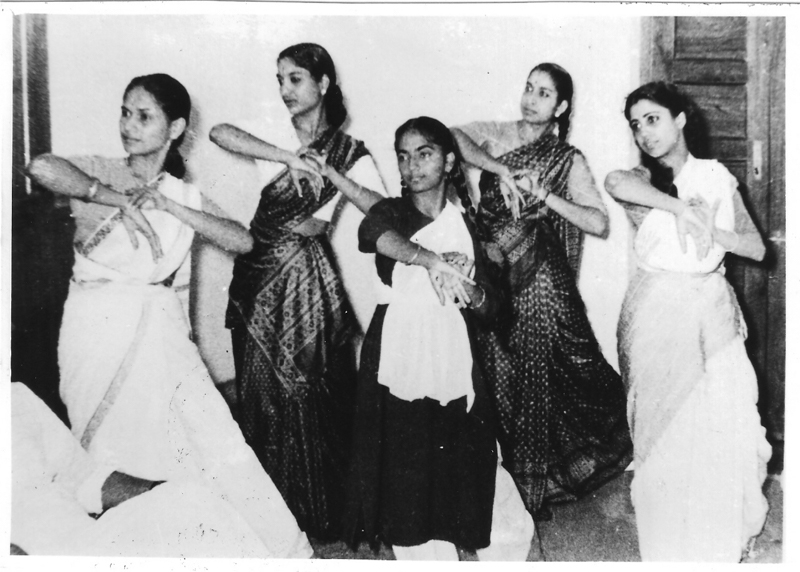 In a class, from left to right: Kumudini Lakhia, Maya Rao, Chitra Rao, Bela Arnab
  
Shambhu Maharaj died of throat cancer in Delhi on November 4, 1970. Birju Maharaj, his nephew, and others were with him till the last. His work lives on through his students such as Maya Rao, Uma Sharma, Kumudini Lakhia and his two sons Ram and Kishan Mohan.  
Research Associate: Ambika Panikar