Ted Shawn and Ruth St. Denis, the pioneering American dancer couple, among whose students rank Martha Graham, Doris Humphrey and Charles Weidman, made it possible for the first generation of Indian pioneers—Uday Shankar, Ram Gopal, Shanta Rao, Guru Gopinath and many more—to make a mark on the world stage. They came to India in the 1920s and opened the eyes of Indians to the glory and greatness of Indian dance, long neglected and almost lost under 300 years of colonial rule. 

Ted Shawn was born in Kansas City, Missouri, on October 21, 1891, to Ellsworth Shawn and Mary Lee Booth. He was named Edwin Myers but the nickname Ted stuck for life. The family had a conformist background and he was thus admitted to a course in theology, to prepare him for the life of a preacher! He was growing up to be a strapping young man when, at 18, he was struck by diphtheria and the illness left him partially paralysed from the hips down. As he was bedridden, he despaired and wondered what would become of him and his life. One day, by chance, he thought of taking up dancing as a form of exercise for his immobilised limbs. But in those days, men who danced were seen in a derogatory light and were subject to a lot of ridicule. However, Ted soon plucked courage and started ballroom dance training with simple steps and guide. It certainly seemed to help his condition for, in a few months, he was walking. This early encounter with dance humbled him, and he began to see dance in a new light. He wanted to give dance something in return. By becoming a great dancer, he gave dignity to the male dancer. Selecting a group of young men, he prepared a series of dances glorifying the male form. With this, he toured extensively, thus totally eradicating the disdain for male dancers in USA. His became the first and only male dance company in America.   
​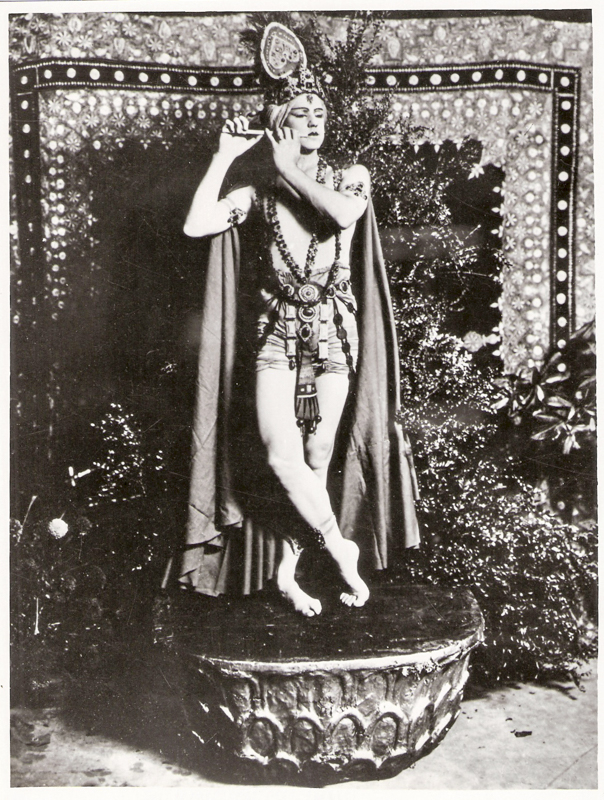 Ted Shawn as Krishna
 ​

Ted Shawn was just embarking on his career as a dancer when, in 1914, he saw Ruth St. Denis perform.  Ruth was born in New Jersey in 1877–80 (the date is uncertain) and started her career as an actress. Like Isadora Duncan, who preceded her, Ruth was a revolutionary artiste who felt the need to break from the limitations of ballet. She saw the salvation of the dance not so much in the rhythms of Classical Greek as in those of the Orient—Japan and India. Knowing fully well that the Western mind could not assimilate the content of these dances of the East, with their gestures and movements that have come down through generations as symbols of faith and legend, she made no attempt to reproduce them. Her aim was to give a fair and beautiful translation that would help American and European dance audiences come closer to Oriental cultures. In this she proved a huge success.  

Her many dances with Indian themes like 'Radha', 'Incense', 'Cobra', 'Nautch Dance' made many come closer to things Indian, and Ted Shawn too was drawn to her art and persona. He was convinced he had found a kindred spirit and convinced her too, and the two got married. Denishawn, the dance school and company, was born as a result of their coming together. Denis and Shawn toured and continued until 1932 during which time they trained countless dancers. The most memorable tour, from the point of view of Indian dance history, was in 1925, when the company landed at Calcutta and the only word they knew was nautch. They started making enquiries about where they could catch a performance, and only at the end of their 18-day stay did they succeed—that too through the American Consulate. As Ted Shawn explained to Mohan Khokar, 'During the British period dancing was frowned upon, due to mistaken norms of prudery, and all the Indians we met were embarrassed when we mentioned the word "Nautch" to them.'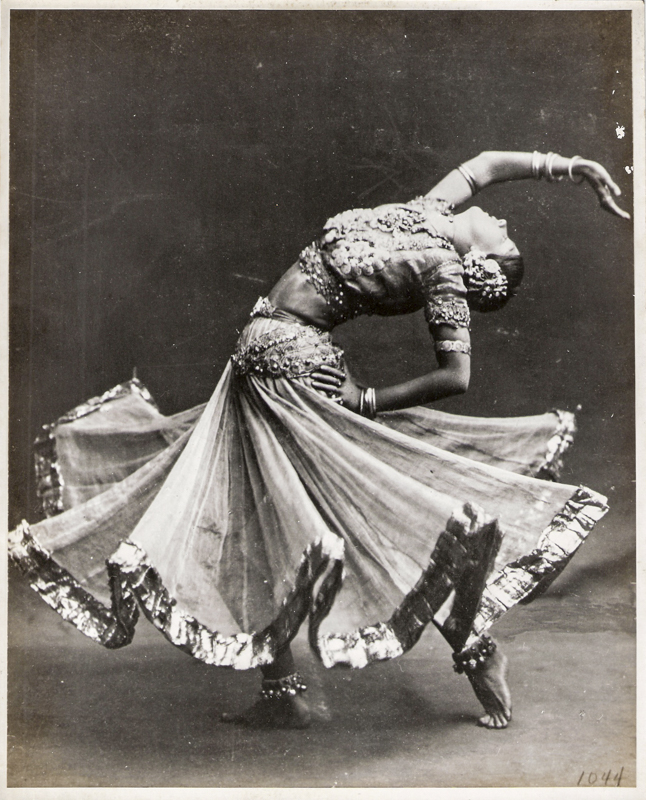 Ruth St. Denis in 'The Nautch Dance'
  
The Shawns were fortunate to see two star performers of the day—Bachwa Jan and Malika Jan, both performing Kathak. Watching Bachwa Jan, St. Denis could not contain herself and, as if in trance, got up and started improvising to the same music. This delighted Bachwa Jan so much that she unfastened the ankle bells she was wearing and proffered them to Ruth St Denis. In Calcutta, Denis Shawn performed at the Empire Theatre. Two of her favourite items that Ruth had included in her tour repertoire were, 'The Nautch Dance' and 'Dance of the Black and Gold Sari'—these two items were much appreciated not only in Calcutta but wherever the company performed. Ted ascribed this success to the inherent showmanship of Ruth. After Calcutta, it was Bombay, then Karachi.
  
After Karachi, in Quetta they had a chance to sample the tradition of young Muslim boys masquerading as girls and dancing something akin to Kathak. In Lahore, they had the good fortune to meet the leading Kathak exponent Pandit Hira Lal, who taught them the 'Mohr Nautch' or what became 'The Peacock Dance'. In Delhi, they had no engagement, so used the week to wander as tourists and went to Chota Nagpur to meet 'the rajah of the sandals', who had seen them perform in Calcutta and thus invited them to his kingdom. It was a delirious week watching tribals perform with joyous abandon. Next they went to Darjeeling, where they managed to see some Tibetan dances and learn the basics at the Bhutia monastery. In the south, they extended their trip to include Madurai, where they marvelled at the felicity of the celebrated devadasi Kamalamba, and then Hyderabad.
  
Their tour of India gave them many insights into the traditional dance forms of the country, and wherever they went they opened the eyes of Indians to the beauty and greatness of Indian dances, which were so far neglected during the long period of colonial rule. The fallout of this tour was the creation of the 'Cosmic Dance of Shiva' in which Ted himself adorned the role. For this, he commissioned a huge ring of fire made of metal at a Calcutta foundry, at the centre of which he stood as Nataraja—he qualified for the title since he was the Lord of Dance himself.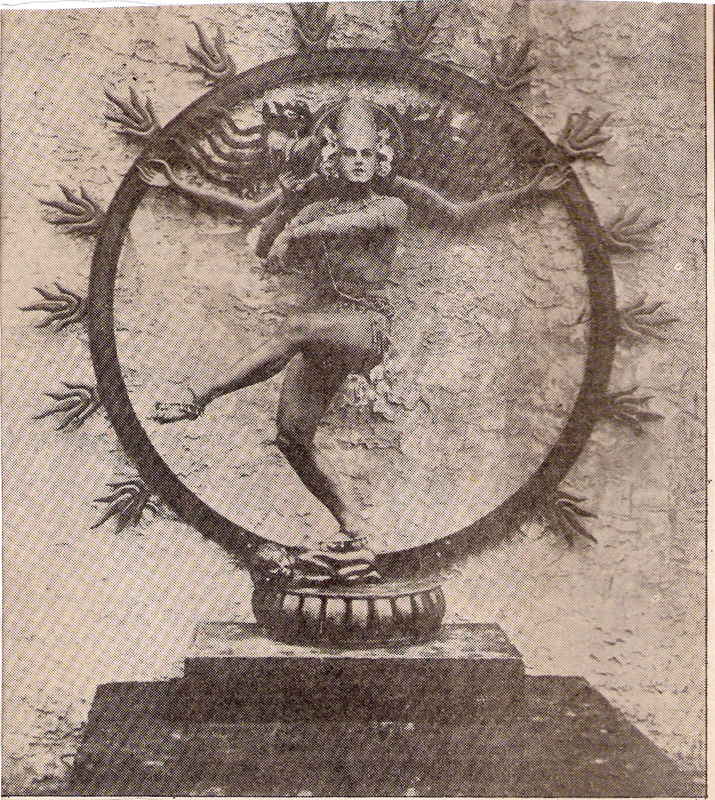 Ted Shawn as Nataraj
Ruth and Ted parted in 1932 and the same year, he founded a centre for adult education in dance which he called University of Dance and also launched the Jacob's Pillow Dance Festival. He had come to be acknowledged as the Father of Modern American Dance by the time he died January 9, 1972.
Research Associate: Ambika Panikar