An Untold Story of Displacement and Struggle
'The Partition of India may or may not be a major event in world history,' according to linguist and fiction writer Dr Satish Rohra, 'but for the Sindhi community, it is a very important and painful event; it split the community into two in separate countries.' The result, said Dr Rohra in an interview, is that a culturally 'complete community' was divided into two incomplete communities. There are several Partition-related poetic compositions in Urdu, Hindi, English and Sindhi languages, which touch the heart. This article attempts to present the influence of Indian Partition on the Sindhi community and Sindhi Partition poetry.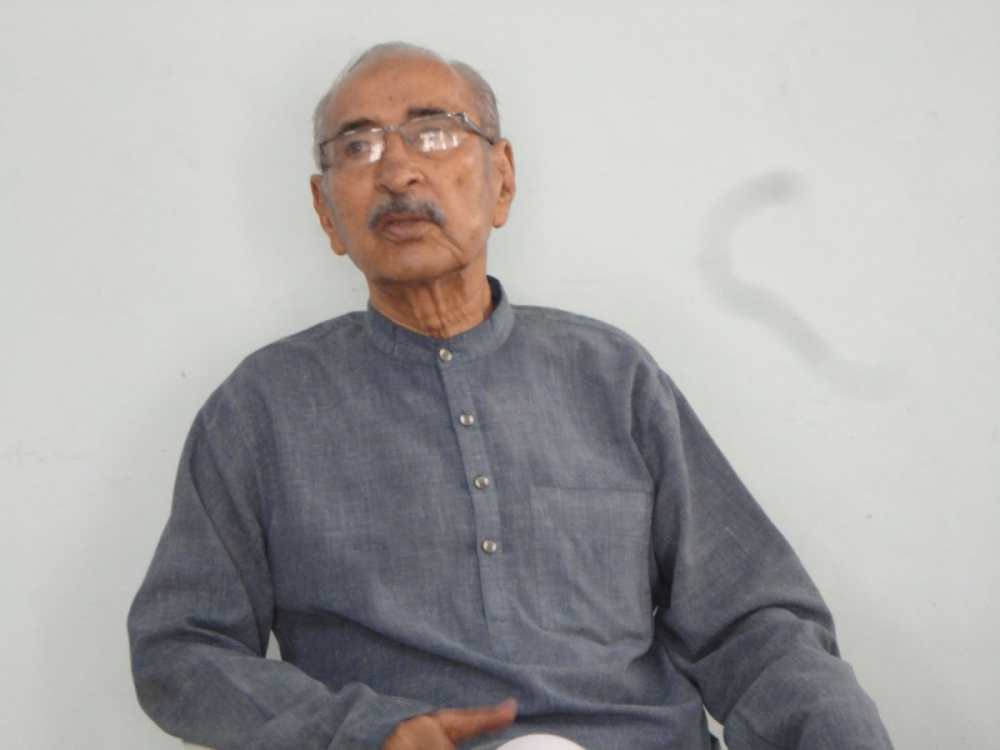 Satish Rohra (Photo by Menka Shivdasani)
Effect of Partition on the Sindhi Community
Seventy years ago, in 1947, India achieved Independence from British colonial rule. History and politics, however, conspired not only to offer Independence, but also to create new borders. Partition based on religious lines made Sindh a geographical part of Pakistan, and lakhs of Hindu Sindhis left their motherland to become a part of India. Sindhis had always been one community irrespective of religion; they believed that the Partition was temporary, and once the riots subsided, the situation would return to normal and people would come back to their homes. This belief and hope motivated Hindu Sindhis to leave their homes, business and land in the temporary care of Muslim Sindhis, which later lay open to claims.
Immigrant Sikhs and Muslims from Pakistan found new homes in Punjab and Uttar Pradesh, but for the Sindhi community, there were merely promises. Immigrant Sindhis started a new chapter in their history on the premise that there was 'No home to live, but the whole of India is ours'.
Separation from the homeland involved attempting to settle in a new land, a hard life lived in camps and barracks, insults and rejection from local communities, a new culture and a totally new environment. Despite economic, social and cultural difficulties, the Sindhi community transformed itself from sharanaarthi (immigrants) to ​purushaarthi (self-reliant and independent). The quarter century or so after 1947 were years of tremendous struggle for the Sindhi community in India. Along with the quest for basic necessities such as food and homes, they also made efforts to strengthen and preserve their cultural identity. The literary community took up their pens again, and expressed their feelings and experiences on paper. In Gujarat and Maharashtra, they launched several Sindhi-medium schools. Night colleges were also started. Literary groups, theatre groups, programmes on music, cultural and literary activities picked up. Efforts to give Sindhi language a constitutional status grew and many 'dharnas' and hunger strikes were held.
The Sindhi language belongs to the Indo-Aryan family, with its roots in the ancient Indus Valley. Despite this rich legacy, it was a long fight to get it recognised in India. Finally, on April 10, 1967, on Chetichand Day (Sindhi New Year's Day), the Sindhi language was included in the Eighth Schedule of the Indian Constitution. The story does not end here, however. Once the language was recognised, the fight for the script started. One group of scholars and eminent persons considered the Arabic-Sindhi script suitable, while another group considered this to be Islamic and hence wanted to adopt the Devanagari script. Perhaps this was a way to show their 'Indianness', though they also used the Arabic Sindhi script for their compositions. The Government of India recognised both scripts for Sindhi, and at that time it was felt that there was no further danger to the Sindhi language. However, this calculation proved wrong because the other influence of Partition is showing its effect after many years.
Independence proved a bitter fruit for Sindhis. For them, the euphoria of Independence soured because the community was split. Millions of Sindhis settled in India after migration, but without any well-defined geographical territory, they scattered all over the country. The geographical partition gave rise to a partition of community, language and culture, and its most damaging effects were a decay in resources for specific expression, the lack of a rural community, a disruption of marital and family ties and the loss of language.
The effect of India's Partition on the Sindhi community is clearly reflected in past, present and future timelines.
Sindhi Partition Literature
The Sindhi language symbolises an Indo-Gangetic cultural background and the literature is richly evolved, like the literature of other Indian languages. Although it is a mainstream language, Sindhi literature finds itself on the sidelines because of the lack of good quality translation.
Poetry and stories have been strong areas of Sindhi literature. While other languages such as Urdu, Punjabi, Hindi and English have taken up themes of Partition, and much research has been done, the pain of Partition is also visible in Sindhi literature, but because of issues relating to language, script and translation, it has not reached the masses unlike literature in other languages. There is tremendous opportunity for research in this area. Sindhi poetry, stories and novels reflect the various situations arising out of Partition; these include autobiographies and memoirs that speak of personal trauma.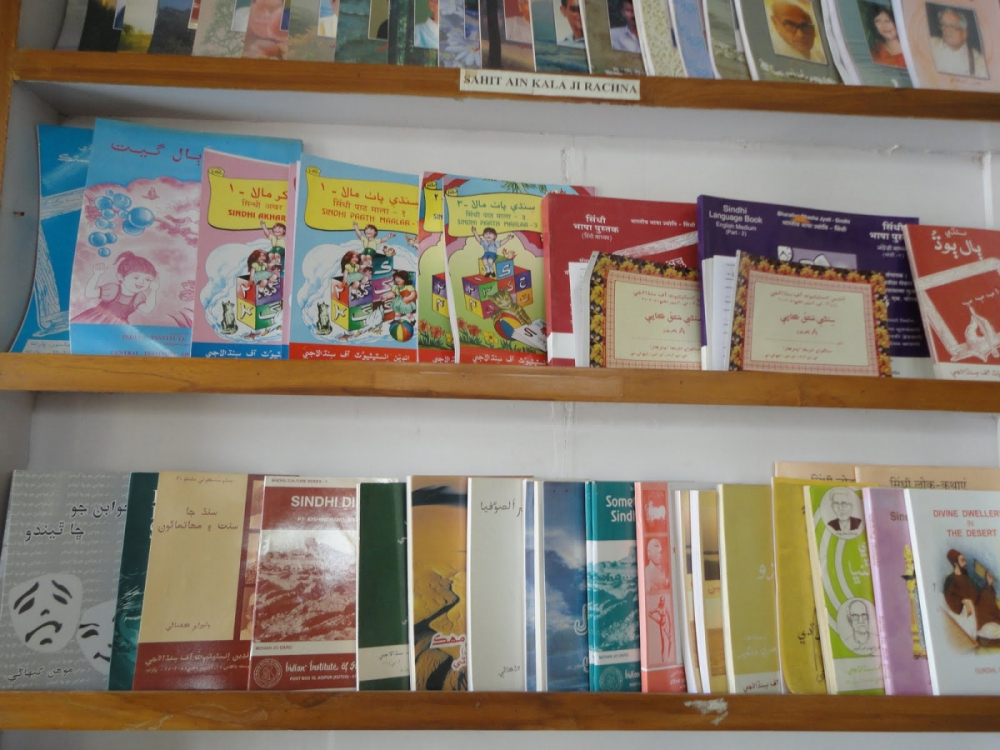 Sindhi Books at the Indian Institute of Sindhology
A great deal of creative work has taken place in the Sindhi language, reflecting the pain of Partition, memories of the motherland Sindh and the initial struggle in India after Partition. Partition literature in Urdu and Punjabi has been described as being 'hair-raising' or of the 'tear-jerker' kind. Sindhi Partition literature is different in this regard from other languages. In addition to the pain of Partition, it is also unique in that it reflects Hindu-Muslim harmony and the human aspect—the struggle for settlement, an attitude of self-respect and memories of the motherland. The Sindhi language had bonded Hindu and Muslim Sindhis together in spite of different religions. This probably was the reason that Sindh escaped widespread violence and damaging riots during Partition. This aspect formed the base for reflection of brotherhood, humanity and longing for the homeland in Sindhi literature, irrespective of its country of composition.
Some eminent poets whose works on Partition literature are worth mentioning are Lekhraj Aziz, Parsram Zia, Hari Dilgir, M. Kamal, Narayan Shyam, Arjun Hasid, Arjun Shad, Vasudev Mohi, Moti Prakash, Krishn Khatwani, Krishn Rahi, Inder Bhojwani, Nand Jhaveri, Popati Hiranandani, Hyder Bakhsh Jatoi, Tanveer Abbasi, Niaz Humayuni and Sugan Ahuja. Eminent prose writers like Narayan Bharati, Mohan Kalpana, Kala Prakash, Gobind Malhi, Kirat Babani, Sundari Uttamchandani, Hari Motwani, Harish Vaswani are also worth mentioning. The window of opportunity for further research work is unlimited in this direction; however, keeping in view the limits of this report, a few specific compositions shall be mentioned and analysed.
Literary compositions where writers long for and recall Sindh and its way of life reflect the brotherhood, warmth and gratitude towards their Muslim neighbours, friends and others; they are like a breeze of peace over the black days of Partition in Indian history.
Sindhi Poetry
In Sindhi poetry, the voices of Partition are sometimes silent; sometimes they scream, sometimes they stare at you or rebel; at other times, they moan with pain to shatter the inner soul. In poetry, these manifest in subtle suggestions and sharp arrow-like verses. In novels and stories, Partition is woven into the storyline. The intent and feelings, though similar, leave different effects on the reader.
Memories of Sindh, the pain of Partition, difficulties of migration and the struggle for settlement are recurring themes in Sindhi poetry.
There is a multitude of poems remembering the Motherland Sindh. Poets have preserved memories of Sindh, the Sindhu river, the village, local community, streets, food, fields and friends. Living far away from their motherland, this longing comes out as tears of helplessness or daydreams in the poems.
Poet Arjun Hasid with misty eyes full of tears and fading memory compares the misty eyes with an old map and writes this 'ghazal': 'See with these misty eyes, 'Hasid'/I am the map of old Sindh' (Hasid 1992).
Migrant and brave Sindhis in India started a new life here but could not forget Sindh. Sugan Ahuja says the restlessness of Sindhis is the restlessness of Sindh: 'Can't forget Sindh even by mistake/Sindh is restless in India.'
Inder Bhojwani remembers Sindh river on the banks of Ganges. He has used the contradictory metaphor very beautifully in his poem: 'Satiated by Sindhu's water, I have prayed to Ganges/On the banks of Ganges, should I forget Sindhu? (Bhojwani 1998:20)'
In India, the house was one's own but not one's homeland and several poets remained connected to their villages and towns. Nand Jhaveri could not forget his hometown of Shikarpur. In his poem O Shikarpur he writes:
Shikarpur was the name of a land
Shikarpur is not the name of any land.
Shikarpur was the name of a body
Shikarpur is not the name of anybody.
Shikarpur was the name of a soul
Shikarpur is not the name of a soul.
It was not only the poets born in Sindh but poets born in India as well who have felt the bonding and reflected this feeling in their poems. This sensitivity is reflected in poems written by Mahesh Nenvani, Rashmi Ramani and this writer. The few lines of Vimmi Sadarangani's poem 'Sindh Jiye, Sindh Wale Jiye' reflects the sensitivity of Sindhi poets, born in India, for Sindh:
For me the past is imagined
The present is in front
And the future—unknown and full of aspirations.
I fear, shiver and pray
Long live Sindh and long live Sindhis. (2011:99)
For Sindhis, Sindh is not just a geographical area but the symbol of their history, culture and life. Narayan Shyam writes that wherever there is a Sindhi, there is Sindh:
No one can distance Sindh from Sindhis
Sindh is in Sindhis, Sindh here, Sindh there.
The country is made not from earth, but people
'Shyam' wherever Sindhi is spoken, Sindh is there. (1980)
M. Kamal compares Independence as red vermilion (sindur) for a married woman (suhaagin) and the country with the partition in her hair (maang) where vermilion is applied: 'Ah! our Independence!/Got the vermilion, but lost the head.'
Shaikh Ayaz writes, remembering his lost Hindu countrymen:
I give you a puzzle.
What is that bird
Whose one feather is in one country,
The second feather in another country?
If you can solve this puzzle
Your eyes will overflow like a full water pot
And you can understand my pain. (2001:39)
The poison of religious bigotry and communalism creates havoc in society and Shaikh Ayaz's poem reflects how a poet feels about it:
There were two countries.
In an earthquake, both were demolished.
Then the Muslim rebuilt his Mosque and
The Hindu added his Temple,
And the Sikh built his Gurudwara.
The poet dug a grave for himself
Where 'azaan' (the call to faithful) from the Mosque,
Conch shell from the Temple,
The bell of the Gurudwara
Do not disturb his sleep. (2001:39)
Sindhis had also participated in India's freedom struggle. They were imprisoned and many died for the cause as well. But they paid a heavy price for Independence. 'Suhini Sindhuri' by Inder Bhojwani reflects this anger and sadness: 'Imprisoned for the country,/The country got freedom, we lost the country (1998:20).'
Partition broke Sindhi society on both sides of the border. Krishn Rahi writes to show his pain over this border:
What kind of border is this!
That side is land and more land
This side houses and more houses.
That side is a town of the Dumb,
This side a town of the Deaf.
What kind of border is this!
That side is dreams and more dreams.
This side is slumber and more slumber.
What kind of border is this!
That side has an enlightened Past
This side is a dead Future. (2002)
Many poems have been written on displaced life and the struggle for resettlement. These reflect the sentiments of those times, a feeling of foreignness, helplessness, holding on to self-respect even through the struggles, of self-confidence, a hard-working nature and the spirit of adventure.
After migrating to India, the Government asked Sindhis to file 'Claims' against their land, business, and house left in Sindh. This hurt poet Lekhraj Aziz so much that he wrote, 'What do you ask Sindh's property claim/My property is Sindh, my right is on Sindh' (1980).
Parsram Zia's poem 'Pohu-a Maau' gives a very touching picture of life in refugee camps. In this poem Pohu's mother narrates the difficulties of life in a refugee camp to politicians:
Washing clothes by the river, cursing the leaders,
Washing clothes with a sad face, deep is the wound,
Curses Pohu's Mother.
My saint will listen to my prayer,
Lal Saai (God Jhulelal) will teach a lesson to them
Dumped in a camp, with a pound of flour,
Curses Pohu's Mother.
I have heard that blankets have come, it won't be given to the needy.
One with a long reach will get the blankets,
Curses Pohu's Mother. (1980)
For the Sindhis, it was a confusing state; if they were Indians living in India, then what was their homeland? How would a Sindhi respond while speaking about the homeland? Everyone has affection and respect for one's village, town and country, and Sindhis felt the same way. However, migrant Sindhis had a bitter experience when they mentioned Sindh as their homeland. The two lines of Inder Bhojwani's poem is an illustration of this pain: 'If you remember Sindh, you are a traitor/Ganga! Nectar of Life! Who filled the poison in the blood? (1998:20)'
The new generation's birthplace is India and they are unaware of their roots in Sindh. It is hard for them to visit Sindh and even if they do visit, it would be like a tourist. This sentiment has been expressed by Krishn Rahi in his poem 'Sindh and Sindhi':
Those who are born here, they too shall be called Sindhis.
They will be unable to see Sindh being a Sindhi.
Like strangers they will visit Sindh.
People will say Sindhis have come to see Sindh. (1980)
Poet Harikant has never believed in mincing words and in his poem 'Atma-Vatma', he demands a share of land for Sindhis:
Our torn sky
I will stitch it myself.
For my roots to grow
Give us back my land.
Where there is a lot of resentment and anger against Partition, there are also voices of quiet minds adjusting to new situations. Hari Dilgir, who lived in Kutch (Gujarat) bordering Sindh, writes in his Ghazal: 'If Sindh is the Mother, Kutch is 'maasi' (Aunt)/Now 'maasi' (Aunt) is our Mother (1977).'
'Babool', a thorny plant grows extensively in the arid sandy soil of Sindh. It grows without water and has deep roots in the earth. Dholan Rahi in his poem 'Babur' finds a similarity between the Sindhi community in India and the Babool tree:
It can grow on any kind of arid infertile land.
Babool grows in any season,
Whatever trees are around.
It draws food from them, remains evergreen.
Seeing a Babool, I felt—
Is it not a Sindhi? (2006)
Undergoing hardship and by the dint of hard work and labour, the Sindhi community has settled down as a part of India. Some scholars compare the Sindhi community with the mythological bird 'Phoenix' which takes birth again from its ashes. Mahesh Nenvani describes the progress made by Sindhis:
Have been robbed but are envied,
We are dislocated but settled all over the world,
We are not in our land
Even then we are at heights
We are stars of the dark nights
Spread across the whole sky. (2002:28)
There is still hope, and many poets reflect this hope that the division of borders will be erased one day and Sindhis can meet their brethren and visit their homeland. Vasudev Mohi has this to say: 'You open a window from there, I will break the wall/That's how the exile of a race will end (2005:51).'
Krishn Rahi expresses desires of breaking the border and wishes to join the present and future:
You and Me together on this border
With the strength of body and soul,
Break, where it will break.
Bend, where it bends.
Human to Human relation
Bind, where we can bind.
Like a past mirroring today
Which fills the future with Life,
This will awaken the other side
and dreams get fulfilled this side.
Let your house be on land you own.
Let my house be in my land. (2002)
In 'Aman Ja Aasaar' by Prabhu Wafa, he has expressed a desire for peace and a good relationship between the two countries:
Sister here and Brother there, relations will not break.
Where we played in the streets, friendship will not break.
Let the high walls break, everyone meets lost friends. (1980)
One word in the Indian national anthem which has been very re-assuring to Sindhis is the word 'Sindhu'. K.N. Vasvani's poem 'Asiin Sindhi' expresses similar sentiments:
We Sindhis feel elated
When in the National Anthem we hear
'Punjab Sindh Gujarat Maratha'
Because it reassures us
That we, whom God
Chose for maximum sacrifice,
The Nation hasn't forgotten. (2009:53)
In the present times, there is a double danger on the Sindhi community's identity. There is a danger of the disappearance of the Sindhi language in India, and the second danger is to the cultural identity of Sindhis. The question of identity has also been raised in poems such as this one by Krishn Khatwani:
He was born in Karachi, educated in Mumbai
After a year's job in Hongkong, he opened shop in Dubai,
Married in Delhi.
His father during Partition
Refused to leave home.
His mother stays in a Sindhi temple in Baroda.
His brother lives in the US with his family,
his sister married a millionaire Chinese in Singapore.
Seeing other rich Sindhis,
He has developed an inferiority complex.
His new Plan –
Open an office in an aeroplane,
Open branches in every country,
Live a week in each country.
He believes
After forcefully losing one's own land
Sindhis have right over land all over the world. (2003:68)
In the present times, the use of Sindhi language has reduced and is a cause of worry. Seniors in the family who do not  know any other language but Sindhi are forced to talk to their grandchildren in broken Hindi and English. This has affected the Sindhi language as well. This pain as a parent has been expressed by Veena Karamchandani:
My son doesn't talk in Sindhi.
My mother talks to him in Sindhi.
He watches her face;
My mother accepts defeat,
Starts speaking in Hindi.
Stunned and surprised
I wish to ask
What's this Maa!
But can't speak a word.
I feel I have become dumb. (2006:92)
There is no doubt that Sindhis by virtue of sincere hard work have started a new life and earned name, fame and wealth. Wherever they have lived, they have adopted the local language and culture, thereby losing their identity. Arjun Hasid expresses this in one of his ghazals:
Driven out of my own country,
Its Lifelong separation.
This is how I  am split,
Spread all over the world.
How can I call any land mine?
I have left my home.
There is  no respect and worth,
Everyone says, I am only money. (1992)
Drowned in prosperity and outward show of wealth, the Sindhi community is ignorant of its heritage and losing contacts with its roots. Prem Prakash has expressed his pain through 'Bhagat':
And you can ask me all.
Don't ask my name.
Don't ask my identity.
Don't ask my home.
Don't ask my street.
Don't ask my town.
Don't ask my country.
But in a golden goblet
I can offer you wine. (2001)
Laxman Bhatia 'Komal' as in his poem 'Alif' reflects on the reduced usage of Sindhi language and the fear of losing Sindhi cultural identity:
Broken slate, torn notebooks
Zigzag lines on them
'Alif' alone, unarmed
Like a dead sentinel of a dead race. (1976)
As the use of language reduces and there is a lack of new generation writers in Sindhi, Shyam Jaisinghani also expresses his fear of the disappearing Sindhi identity:
Attack of fire missile in the palace of lacquer?
Who will survive? Who will stand?
History of language, race and culture
Which injured hand will write?
Arjan 'Shad' in his long poem 'Andho Doonho' expresses anguish at losing contact with the 5000-year-old Indus Valley Civilisational link:
In this exile
Homeland is an oasis.
Also the link of thousands of years of
History and Culture
Has been stolen from us. (1999)
The pathetic condition of the Sindhi community has been expressed by Ishwar 'Anchal' like this:
I am a refugee,
Victim of politics
Exiled from my homeland.
I have taken shelter in this land.
I am a refugee even after many years.
Wherever I am in the world
I am not wanted anywhere.
Literary people and educationists have raised and discussed this concern at different times. Hari Dilgir has expressed reduced readership:
Sindhi poets, great authors in India
Write a lot, but there are no readers.
They write themselves and read themselves
Feeling happy alone.
Sindhi poets write for themselves.
Their readers are they themselves.
Well, for whom have I written this poem? (1977)
Narayan Shyam has expressed this fear this way: 'Hope! It shouldn't happen that we read in books/That there was a Sindh and a language of Sindhis (1980)'.
In the present time, the situation is grave as the Sindhi language is rarely studied and infrequently used at homes. There is no readership, no publishers, no writers who are attempting to keep the language and identity alive. Vasudev Mohi feels this is murder of language:
This not a simple murder.
Simple murder is easy.
In this, every mother's tongue has to be cut from the base.
Not a word must escape.
Not a word must reach the ears of the child.
Then in front of each Father
Open the treasure of other languages.
Attach high rank positions with that language.
… Old published books
Don't leave it for termites.
One match-stick is more powerful.
Singers and artistes are passionate.
See that they remain happy, keep singing in other languages. (2005:51) 
The gap between the old and young generation together with the absence of a geographical, cultural and linguistic heritage has caused the severance of emotional and ideological heritage of the young generation. Vimmi Sadarangani's poem 'Baba ji Bhunbhun' expresses this situation aptly. When an elder of the family reminiscences on pre-Partition Sindh days and remembers his friends, young members in the family think the old man has gone senile:
We listen to Grandpa's mumblings
But do not understand.
He runs away, we catch him again.
This has been going on for years.
He abuses, cries,
His nose keeps running, tears keep flowing
To wipe it, he will pick up
Only his red, dirty and tattered handkerchief…
No one knows which Baksha, which Muhammad?
When Victoria reached Pakistan!
God only knows…
We feel sorry for grandpa
But what can be done—it's old age.
God save us from such old age! (2011:80)
This is a strange situation where young generation Sindhis are ignorant of the loss of identity, of a rich cultural legacy. This ignorance, along with a scattered Sindhi community, is making efforts to save the heritage less effective.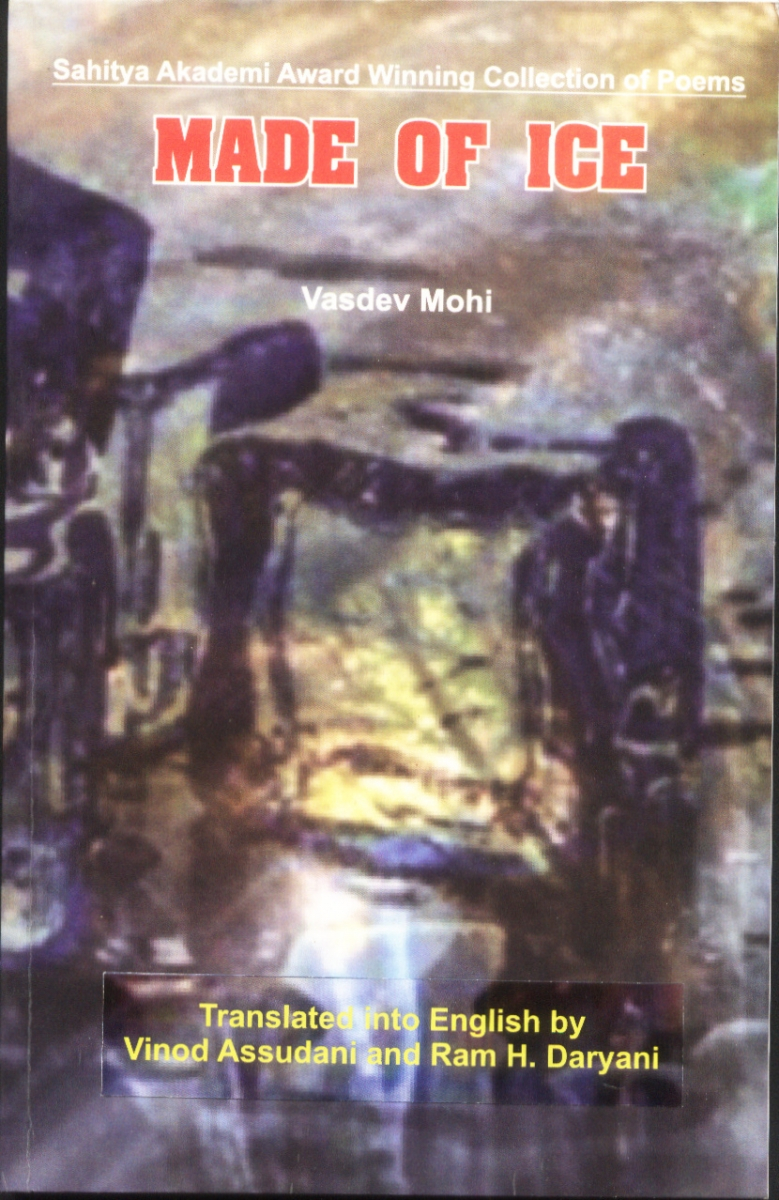 Sindhi literature has the elements of a rich literature and is comparable with other languages.  Partition literature in Sindhi requires serious study so that it can be compared with other literatures of Indian languages. India's partition was a geographical, national, emotional and ideological separation which had the most severe impact on the Sindhi community and the effects of it are likely to be severe in future as well. This can be an interesting area for inter-disciplinary research.
References
Ayaz, Shaikh. 2001. 'Vasudev Sindhu Bharati: Kranti Drishta Sheikh Ayaz', Surabhi.
Aziz, Lekhraj. 1980. 'Sindhu Ji Sik'. Virhaange Kha Poi Je Sindhi Shair Ji Choond. Delhi: Sahitya Akademi.
Bhojwani, Inder. 1998. 'Suhini Sindhurii'. Virhaango. Delhi: Sindhi Academy. 'Dilgir', Hari Daryani. 1977. 'Sindhi Kavi'. Pal Pal Jo Parlaau. Delhi: Sindhi Academy.
Hasid, Arjun. 1992. 'Ghazal No. 7'. Mogo. Delhi: Sindhi Academy.
Karamchandani, Veena. 2006. 'Goongi Piirhi', Surabhi.
Khatwani, Krishn. 2003. 'Sindhi', Surabhi.
'Komal', Laxman Bhatia. 1976. 'Alif". Jee-a-Jharoko. Delhi: Sindhi Academy.
Mohi, Vasudev. 2005. 'Hatya' (Hindi trans. Kamla Goklani), Surabhi.
Nenvani, Mahesh. 2002. Sindhi Phool Chatak Rang (Hindi trans. Kamla Goklani).
Prakash, Prem. 2001. Bhagat. Delhi: Sindhi Academy.
Rahi, Dholan. 2006. 'Babur' (Hindi trans. Kamla Goklani), Surabhi.
Rahi, Krishn. 1980. 'Sindh ain Sindhi'. Virhaange Kha Poi Je Sindhi Shair Ji Choond. Delhi: Sahitya Akademi.
Rahi, Krishn. 2002. 'Sarhad' (Hindi trans. Maya Rahi), Surabhi.
Sadarangani, Vimmi. 2011. 'Sindh jiye Sindh wara jiyan'. Sawal ki Talash Mein (English trans. Arvind Srivastava). Allahabad: Vibha Prakashan.
--- 2011. 'Muttering of Grandpa'. Sawal ki Talash Mein (English trans. Nameeta Asthana Saxena). Allahabad: Vibha Prakashan.
'Shad', Arjan. 1999. 'Andho Doonho'. Dharti-a jo Dard. Delhi: Sindhi Academy.
Shyam, Narayan. 1980. 'Ghazal'. Virhaange Kha Poi Je Sindhi Shair Ji Choond. Delhi: Sahitya Akademi.
Vasvani, K.N. 2009. 'Hum Sindhi'. Surabhi.
'Wafa', Prabhu. 1980. 'Aman Ja Asar'. Virhaange Kha Poi Je Sindhi Shair Ji Choond. Delhi: Sahitya Akademi.
Zia, Parsram. 1980. 'Pohu-a Maau'. Virhaange Kha Poi Je Sindhi Shair Ji Choond. Delhi: Sahitya Akademi.