From time immemorial, human beings have had a fascination for adornment. Flowers, leaves and feathers have been widely used to decorate the human body, as have—commonly in Aboriginal tradition—shell, stones, wooden cubes and bones. The use of metal ornaments in India is generally traced back to ancient traditions.  
Most traditional ornaments, especially those made of bronze, are now rarely in use in Chhattisgarh.  In the Bastar region in particular, a range of bronze jewellery, such as penjna and perri, used to be made by Ghadwa metal casters. These are occasionally still made on order at Kondagaon, Barkai and Jagdalpur.  The main centres for the fabrication of these ornaments used to be Champa and Ratanpur in Bilaspur District, Dhamda in Durg, and Aring village in Raigar.  Yet today, in a place like Champa, which used to be home to hundreds of jeweller families, one has to hunt hard to find even one bangle made of bronze. It is hard even to find the artisans who make jewellery.
Though the older generation continues to wear these ornaments, their popularity has declined. Traditional jewellery is no longer affordable. Jewellers now sell pajebs made of iron, polished with gilat, which is modestly priced, and favoured by the younger generation. 
Among types of old jewellery, kardhan, phully, painjna, bidhu, tora and maldar are still in use.  Some traditional ornaments are still being made in silver. In places like Bilaspur, Champa, Mungeli, ornaments are being made with new designs. gilat polished jewellery is generally sold at weekly markets.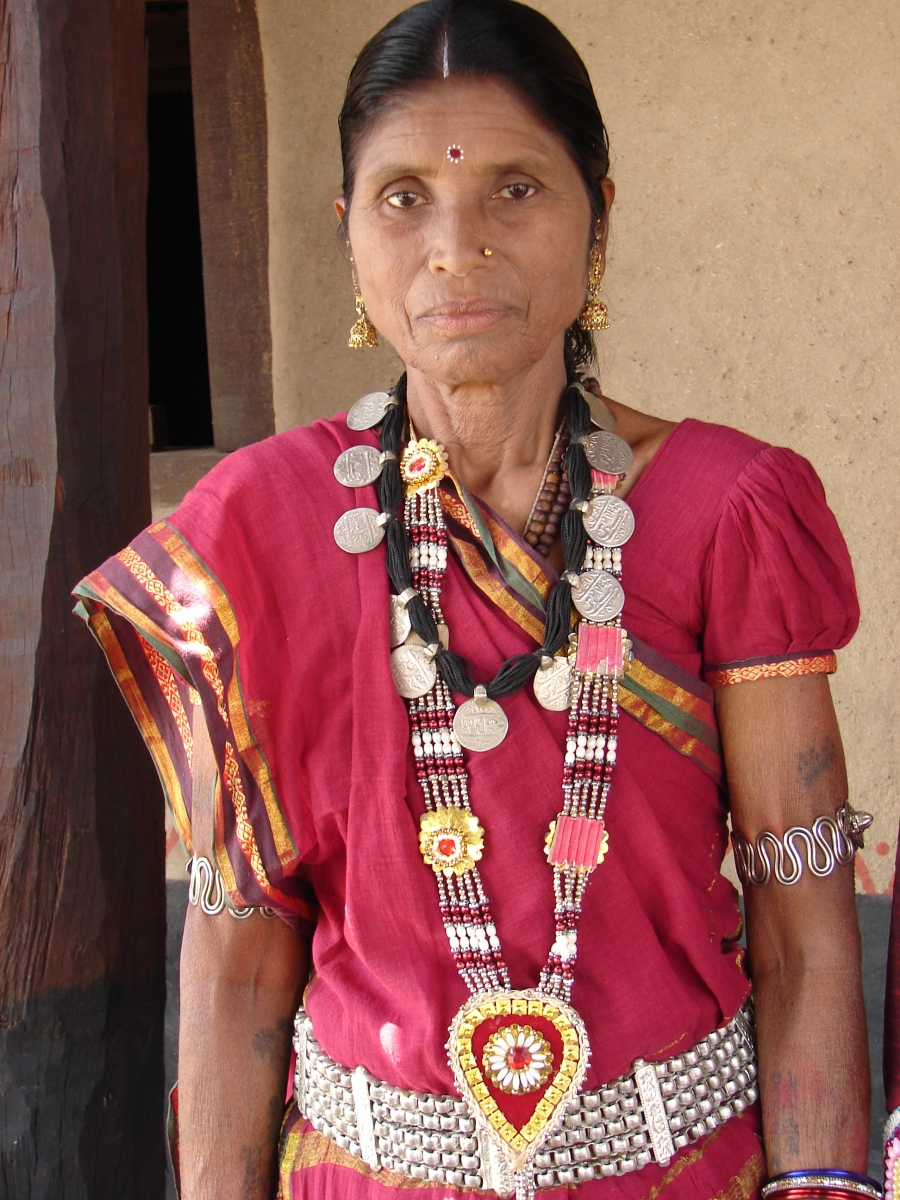 An interesting feature of the ornaments of Chhattisgarh is that they are more than mere bodily adornment.  While very striking, they have value also for the figure and physique of the wearer. The charpatta or kardhan for the waist, for example, is specially recommended to young mothers to avoid post-delivery flabbiness of the stomach.
The tribal communities of Chhattisgarh have a tradition of decorating and ornamenting their bodies, which is part of their distinct identity and style. Ornaments are made for every part of the body, including for the toes and hair. They may be classified according to the part of the body for which they are intended. 
The major groups of the jewellery of Chhattisgarh are listed below:
Ornaments for fingers and toes
Angushthana
Ornaments for the legs
Bichhiya
Peri
Santi/Sati
Paijeb
Lachcha
Painjan (Hollow)
Toda/Tora
Kada/Kara
Payal
Anwat
Arsijor
Choora
Kathal
Rajmol
Ornaments for the waist
Kardhan/Kardhani
Kamarpatta
Ornaments for the hands and fingers
Dauriya Parchhaiya
Mundari
Lapeta
Angoothi
Jhalar
Ornaments for the wrist
Harraiya
Kada/Kara
Banoriya (Katawali)
Kakani
Churi
Chain Kada
Ornaments for the arms
Nagmori
Bahuta
Phulwala Bahuta
Bajuband
Gajra
Kalivari
Tabiz
Pahuchi
Ornaments for the neck
Necklace
Tilari
Hasuli/Sutiya
Kaldar
Gotla
Dulari
Katua
Champakali
Charphokla
Hamel
Kanthimala
Dhanmala
Ornaments for the nose
Phulli
Phiephir
Nath
Ornaments for the ears
Jhumka
Tops
Dhar
Tarki
Karnphool
Khinva
Basuni
Gona
Nasikaphuli
Bali
Ornaments for the forehead
Lalat Patti
Matha Malai
Bal Ka Phool
Ornaments for the head/hair
Clip
Choti
Jhabli
Ornaments now not in use
These ornaments were in use until around the time of Independence. Most have been melted to make new ornaments. Very few jewellery artisans remain who have the skills to make these:
Bahuti (bronze), worn on the arm
Chura (bronze), worn on the leg
Tilari
Dulari
Surra
Pandit Kedarnath Thakur in his book Bastar Bhushan (1982) had described the ornaments of Bastar region of Chhattisgarh. According to his descriptions the Madia man worn thick kadas of brass and iron on their arms and wrists. Unmarried girls wore round the neck, six to ten sutia (hamel) of iron weighing six to eight kg. Besides these, they also wore a mala (necklace) of brass pieces, beads and cowries, a number of iron kadas on their arms and wrists, iron rings on each finger. Madia and Muria males wore the Kardhan round the waist and small rings of brass called Lurki in their ears. He has listed the following ornaments: gathai pairi, khotla pairi, dhari pairi, soodin pairi, bajni pairi for the legs; khadu, banhta and pata for arms and wrists; khinlwan for ears; jhotya and karli for toes; suta, rupaya mala, dhaan mala, kudru mala, khopdi mala and hansapai for the neck.
Description of Ornaments
Chhattisgarh has had a rich tradition of jewellery, with pieces designed for almost every part of the body. There is also a great variety of designs within each type. For example, there are several kinds of ornaments for the wrist, for the hair, for the wrist, etc.
Phulli
This is the most popular nose ornament amongst the women of Chhattisgarh, especially in Bastar.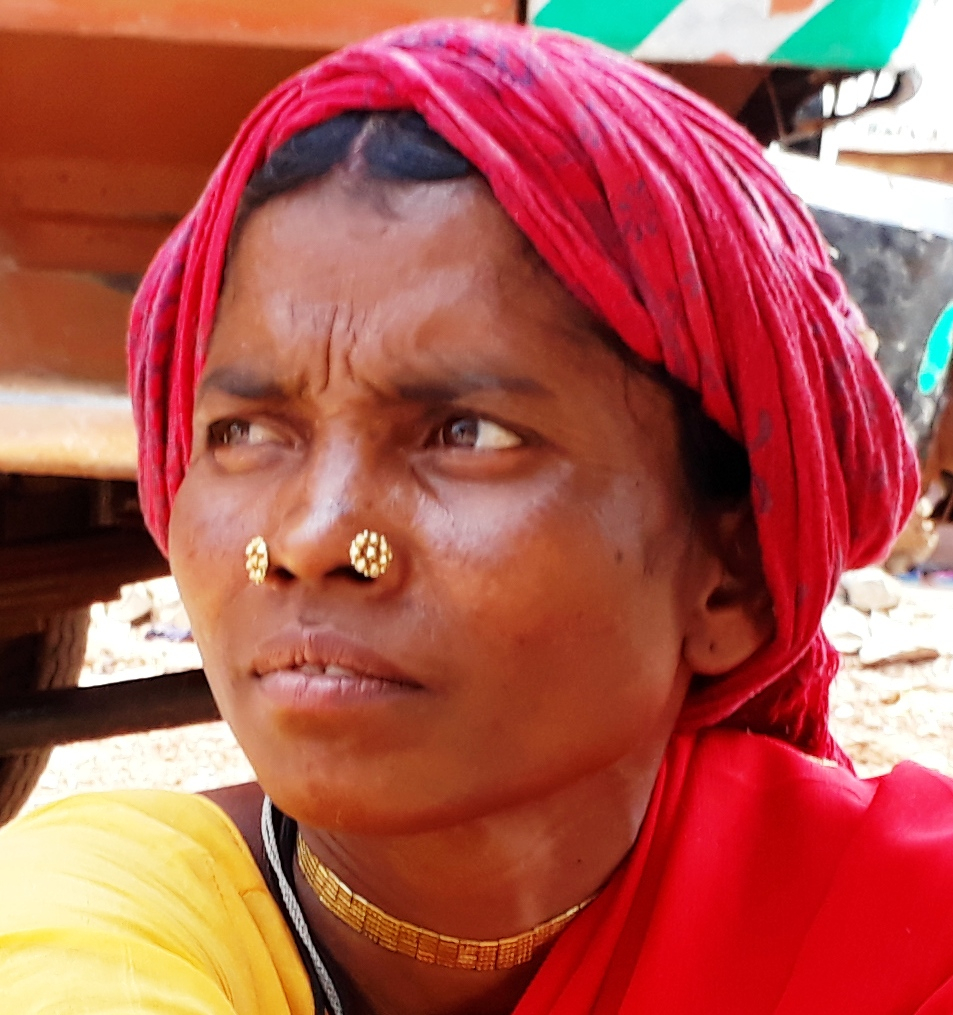 Bichiya
Bichiya is for the toes, and is worn only by married women.  Bichiya is not so popular amongst women of the tribal communities. It is made of silver or gilat, according to budget. Size varies from half to two inches, while weight may vary from 2 to 200 gm. The bichiya is made using a die and soldering. Common designs are kalashdar, itakat, gol and machchli. 

Peri
The peri ornament is for the legs, usually for the ankles, and worn by rural, including tribal, women.  Generally made of silver, gilat or dalda (an alloy of metals), the size varies from four to five inches, and weight from 100 gm to 200 gm.  Peri has floral motifs and is made with the help of die and wire. 

Santi
The santi (sati) is another type of anklet worn by married women of the Gond, Binjhwar, Vaishy, Sahu and Brahmin communities.  It is fastened with a screw.  Sati is made of silver or gilat, and varies from 50 gm to 500 gm in weight.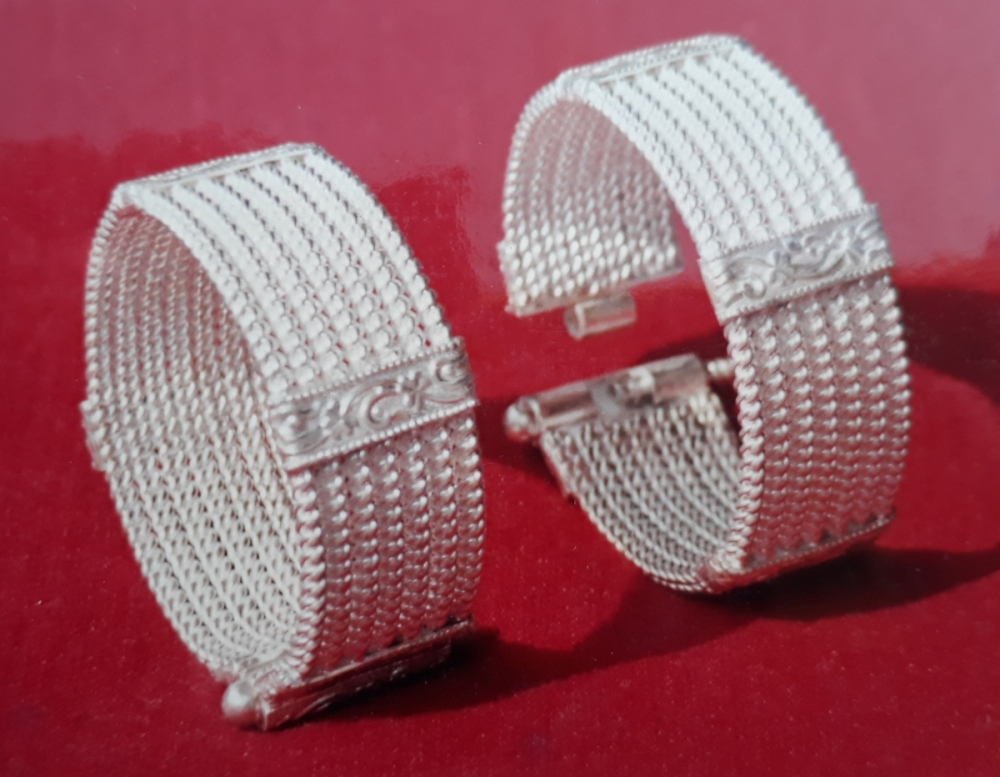 Paijeb
Pejeb or Paijeb, an anklet ornament, is worn only by the married Satnami women of Chhattisgarh. Fastened with a screw or clip, it is made of silver or gilat.
Paijab is given to a girl at the time of marriage.  There are many designs. A few goldsmiths make this item but the major supply comes from other places.  It is nine inches in size and its weight varies from 100 gm to 300 gm. The more common designs in paijeb are chiripan (with two or three layers) and jaliwali.  It is made using a die, bending and soldering.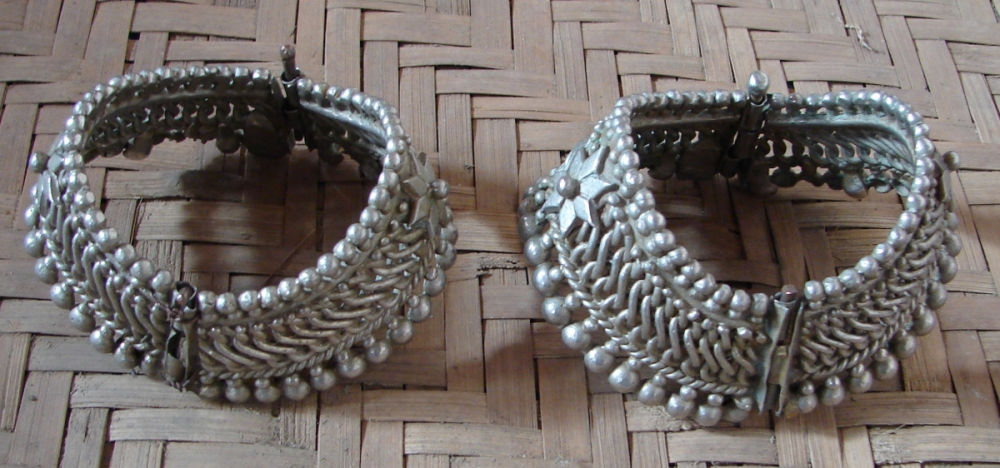 Lachha
Lachha is a type of anklet worn by women, which is fastened with a screw. gilat and silver are the materials used. Made by cutting, bending, soldering and die, a laccha is eight to ten inches in size, and 100 gm to 500 gm in weight. There are many designs in Lachha, of which wire-work is very popular.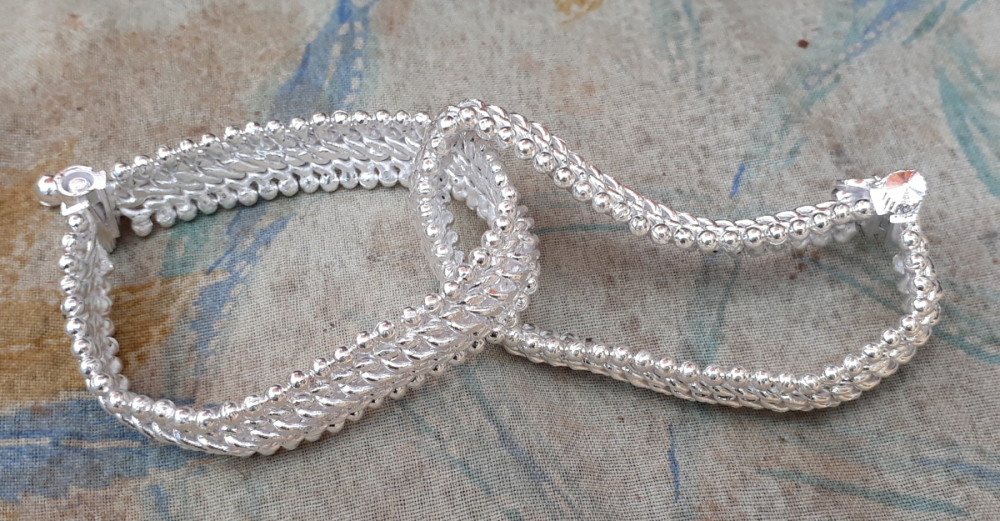 Paijan, Tora and Kara
These are a different type of anklet, available in gilat and silver. They are hollow and are used by women as well as children.

Payal
Payal is a modern-day anklet worn by women in the village or city.  Available in silver or gilat, the maximum weight of a payal is around 600 gm.  It is made with a die.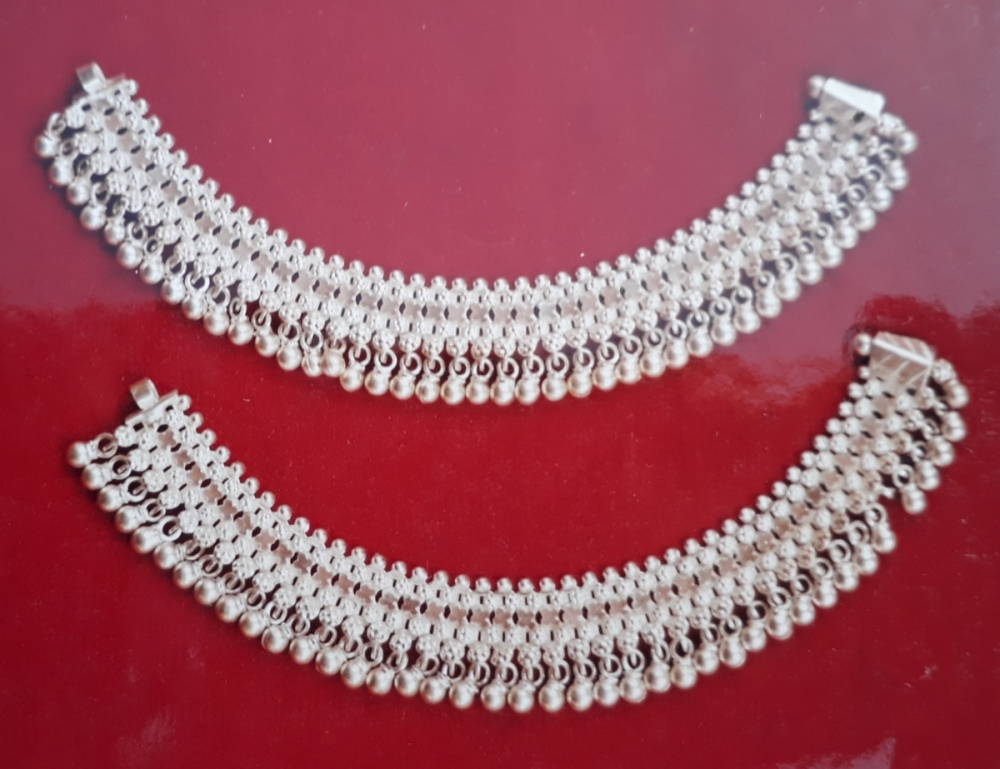 Anwat, Arsijor
These are rings for the toes. Available in brass, copper, silver and gilat, they are popular among the Baiga Agaria women.
Chura
This is an anklet used by women in tribal communities. They are made of silver and have simple designs. 
Kathal
The Kathal is another traditional hollow anklet used by the Agaria and Raut women of the region. It is made of silver, and is only very rarely made of gilat. Weight varies from 160 gm to 1000 gm.  It is a hollow pipe with flat spikes, like a jackfruit (kathal), hence the name.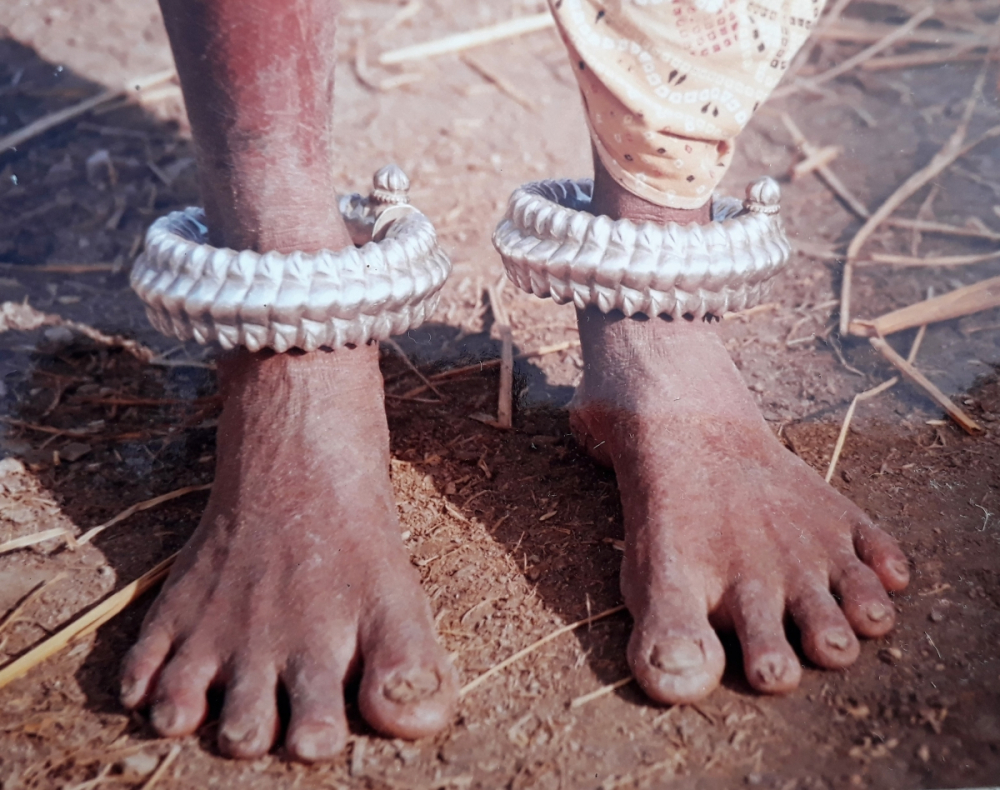 Kardhan
The kardhan is an ornament that is used by women of almost all tribes and castes in Chhattisgarh, but especially by Satnamis. It is a waist belt worn with a clip, which has the purpose of reducing the flabbiness of the stomach of a young mother after delivery. It is worn only by married women, not widows. The kardhan is made in many designs (especially jhalar and chainphas), in silver or gilat, depending on budget. Generally, the size varies from 25 to 38 inches, according to the size of the waist.  The weight varies from 200 gm to 2000 gm, depending upon the material and design desired by the client. The kardhan is made by soldering wires (silver or gilat) and with dies and moulds.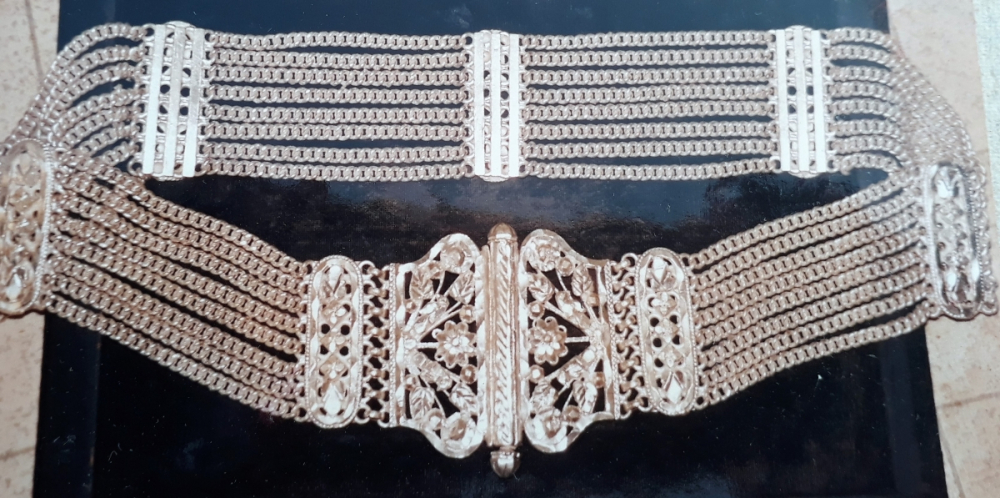 Kamar Patta
This is an ornament for the waist worn by women of all castes. It is hollow in shape and made of silver and gilat.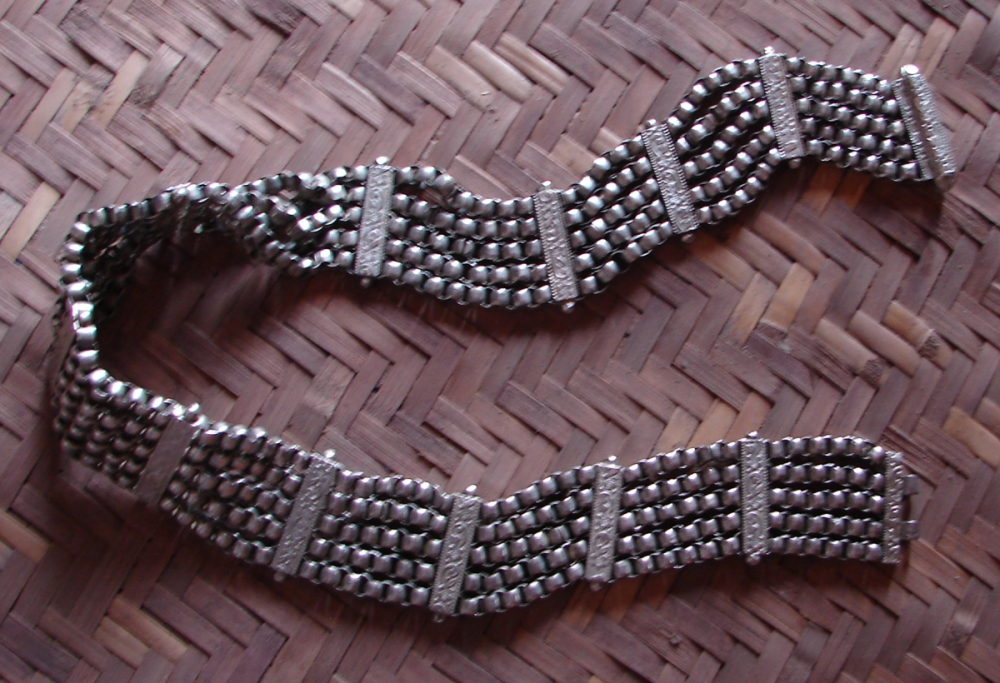 Duraiya-Parchaiya
This is a popular traditional ornament for women, worn on the fingers.  It is made of wires and covers the whole hand and all five fingers.
Angushthana, Chingh Mundri
These are rings for the fingers used during the marriage ceremony. Angushthana is for the thumb and Chingh Mundri for the little finger. The women of Sahu and Devangan communities are particularly fond of this ornament.
Harriya
This is a bangle-like ornament, commonly worn on the wrist by married women of rural and tribal communities in Chhattisgarh. It is made of silver, gilat and brass.  The size is between 1.5 to 2 inches, and weight varies from 20 gm to 200 gm. It is made from a single sheet and moulded into shape.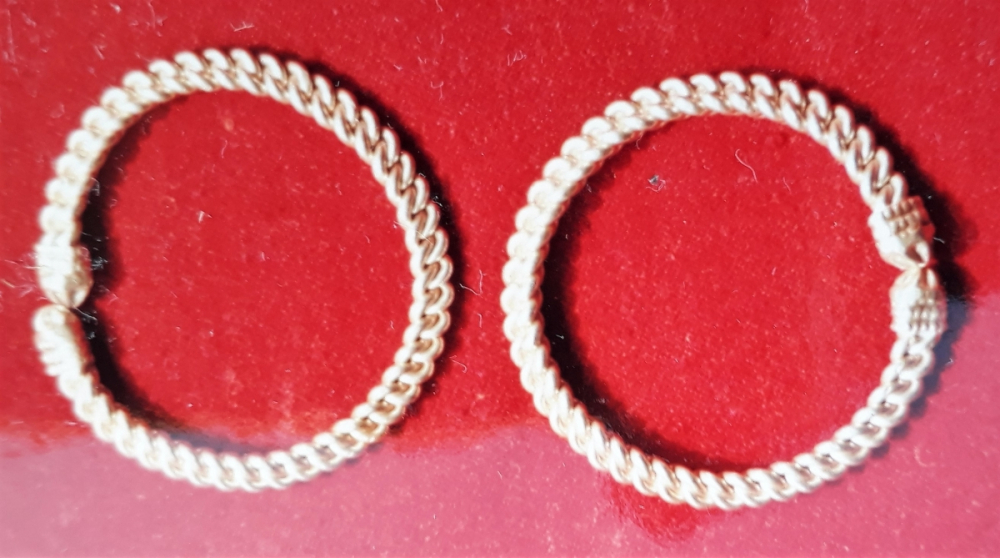 Kara, Kangan
Kara is another bangle-like ornament for the wrist commonly used across communities.  It is made of gilat, brass or silver, depending on budget. The size is two to three annas. The weight varies from 60 gm to 300 gm.  It is made by plain bending.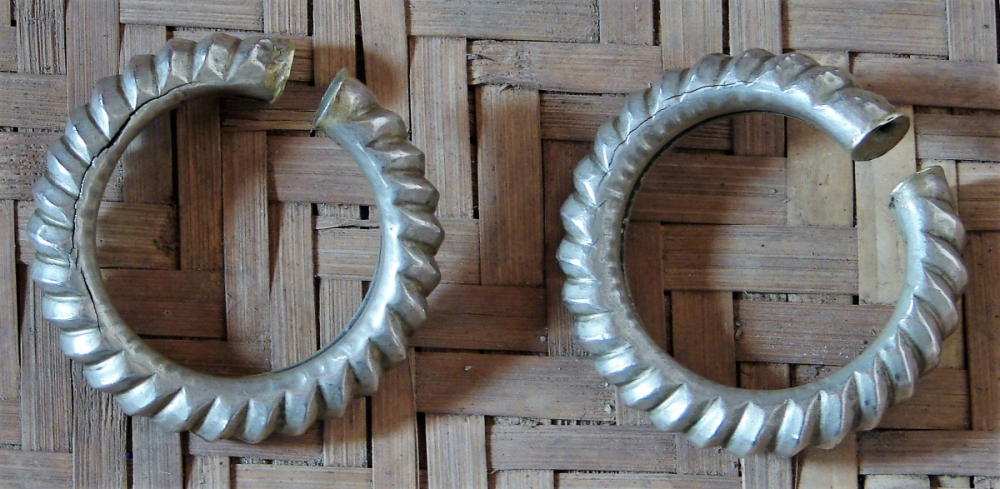 Banoriya (Kantawali)
Originally from Odisha, this is a traditional wrist ornament with spikes, designed for the purpose of self-defence, for women's safety. The women of Chhattisgarh, especially the Agarias, like wearing the banoriya. Made of silver or gilat, they weigh only 100 gm to 300 gm.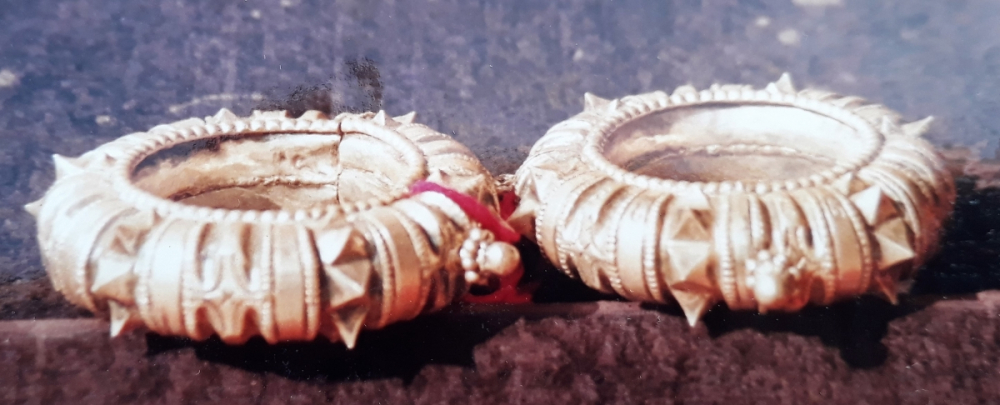 Kakni
Kakni is a bangle-type ornament for the wrist. Almost all rural and tribal women wear the kakni. It is made of silver and gilat. The maximum weight is 150 gm. The designs are tinkatia, panchkatia etc.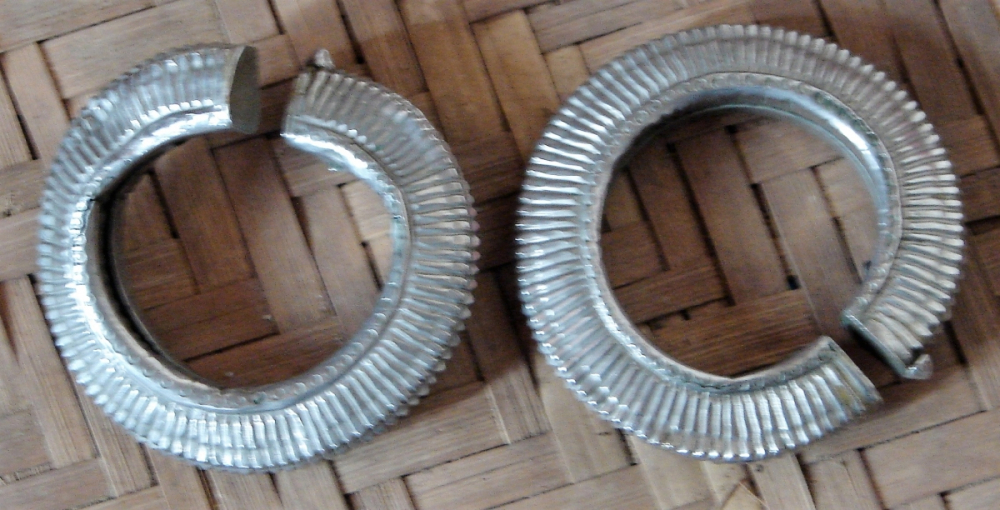 Churi
Churi is another bangle ornament worn by women. It is made of silver or gilat and worn during festivals.  The weight varies and can go up to 250 gm.  Churis are available in many designs, such as lahariya, Hiracut, Belahuri, Bhatia, Batar.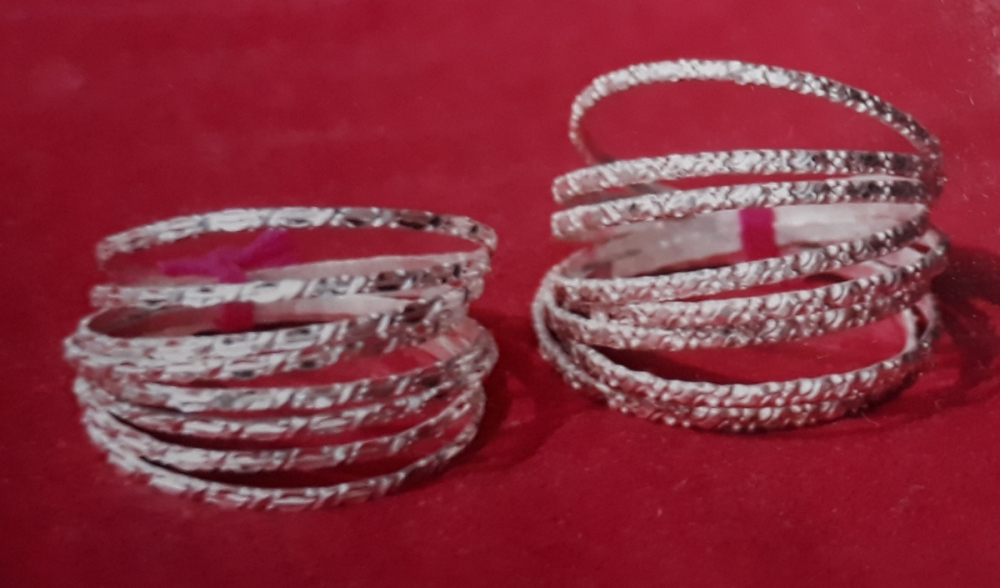 Pata
This is a simple kara-like bangle meant for widows and is made of silver sheet.
Chain Kara
Chain kara is a type of bangle for the wrist made of silver or gilat. The weight varies from 50 gm to 200 gm.
Nagmori

The Nagmori is an armlet worn by tribal women, and is especially popular amongst the Gond, Agaria and Raut communities. The Nagmori has a face of a serpent and is made of silver or gilat.  The weight of a Nagmori varies from 200 to 1000 gm.  Die and wires are used in its making.
Bahuti, Bahuta
These are the traditional ornaments worn on the arm by the women of Chhattisgarh. They are available in silver or gilat.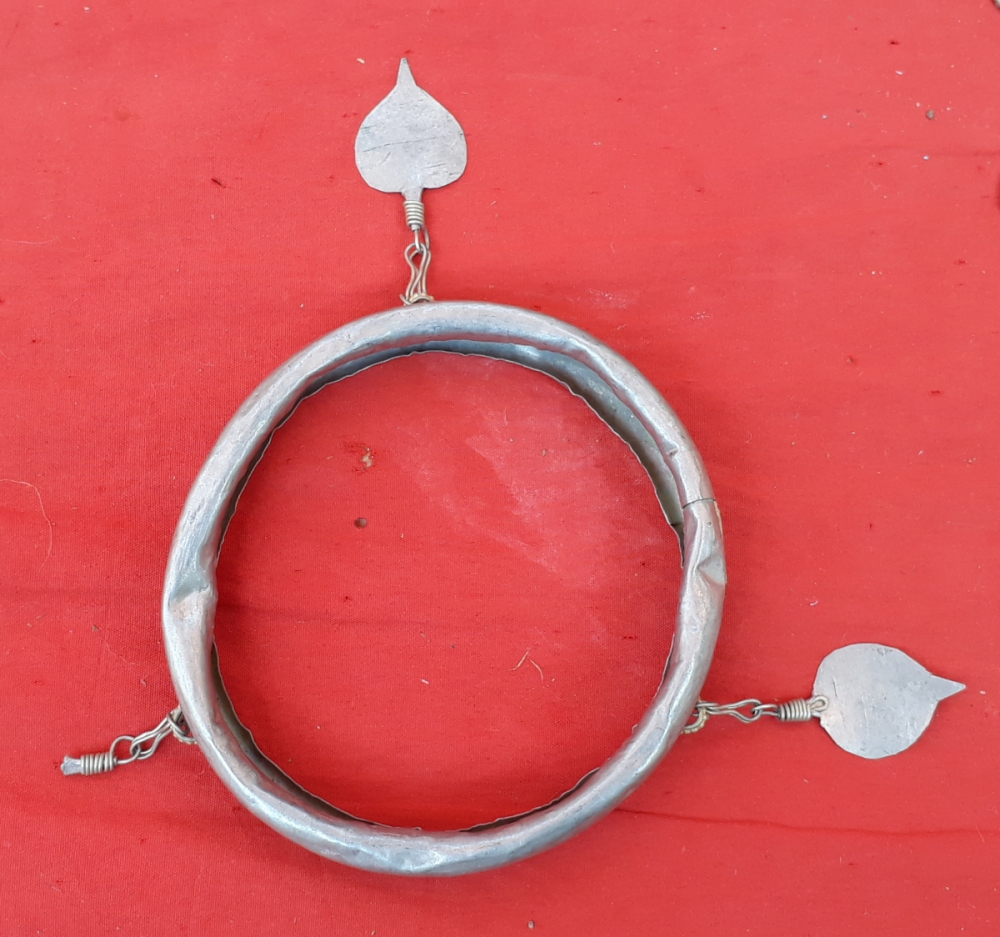 Necklace
The necklace has become very fashionable among rural communities in recent times. Made of gold or silver, it is worn by higher castes.  The weight of a necklace varies from 10 gm to 60 gm, depending on budget. Die and embossing processes are used.
Sanpsirhi
The neck choker type of readymade ornament has become very fashionable amongst rural communities of Bastar in recent times. The weight of a sanpsirhi varies from 10 gm to 60 gm. Die and embossing processes are used.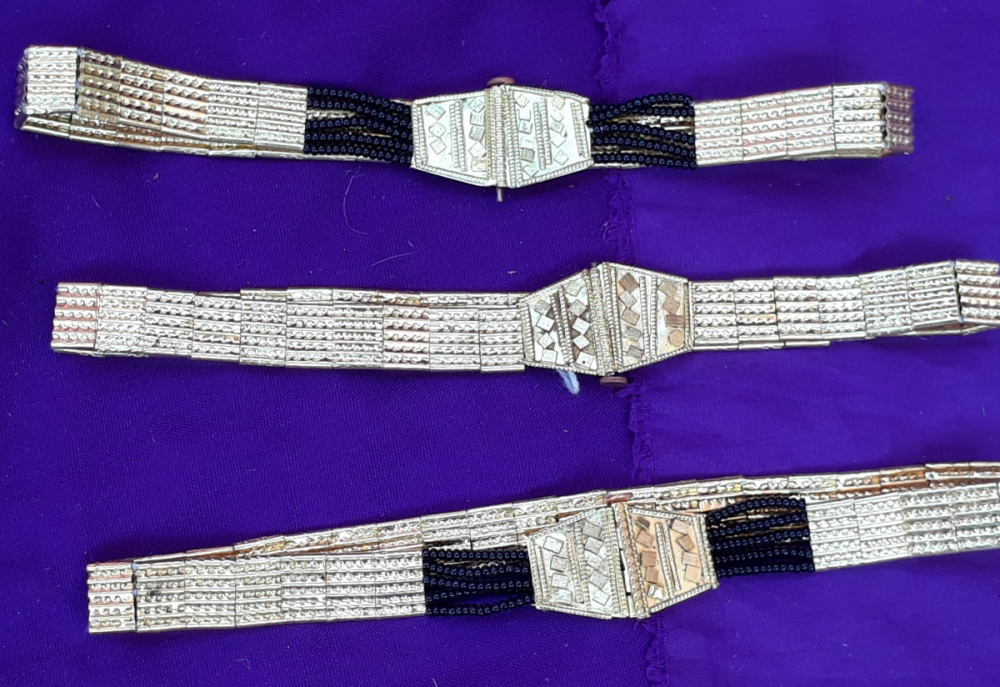 Champakali, Charphokla
These are the traditional necklaces of the Kanwar tribals. Women who cannot afford dulri or tilri (see below) buy champakali or charphokla.  These are made partly of silver and gold. 
Tilri, Dulri, Kantha
These are traditional neck ornaments worn by the tribal women of Chhattisgarh. They are made of gold or brass, and sometimes copper. Lacquer beads, which look like amla (Indian gooseberry) seeds are used as well. Modern necklaces have replaced tilris, dulris and kanthas.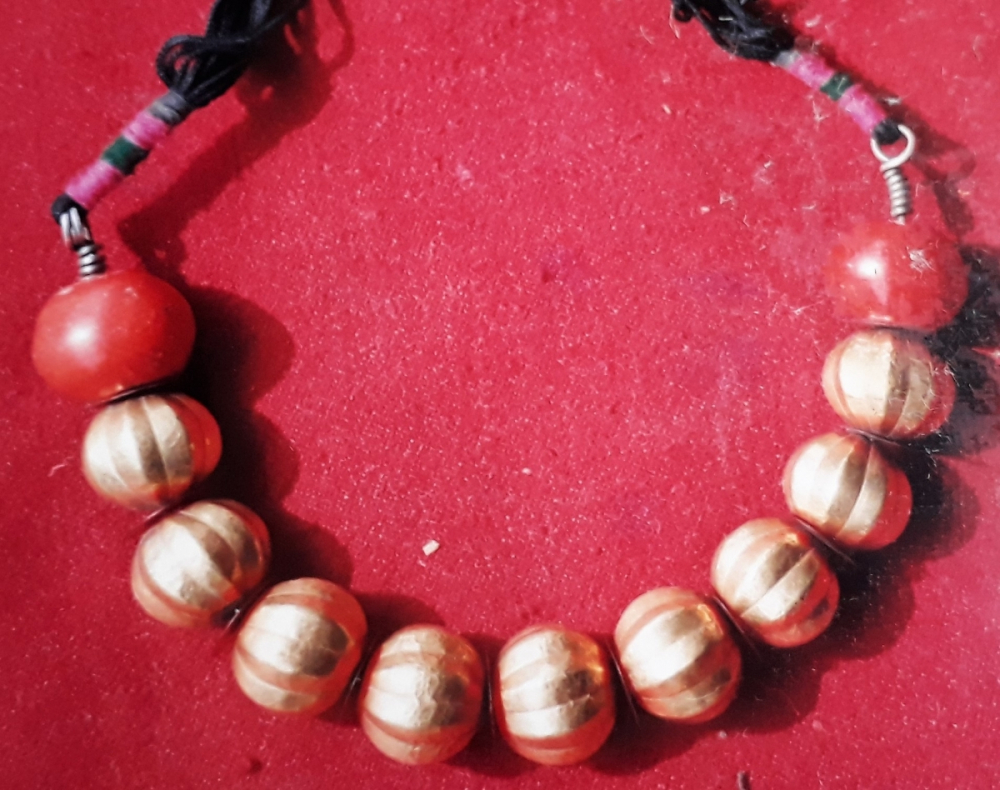 Husli, Sutia
These are traditional neck ornaments used by tribal women. Made of either silver or gilat, they are 20 to 50 tola (a tola is a little over 11 gm) in weight. The husli has a pipe structure.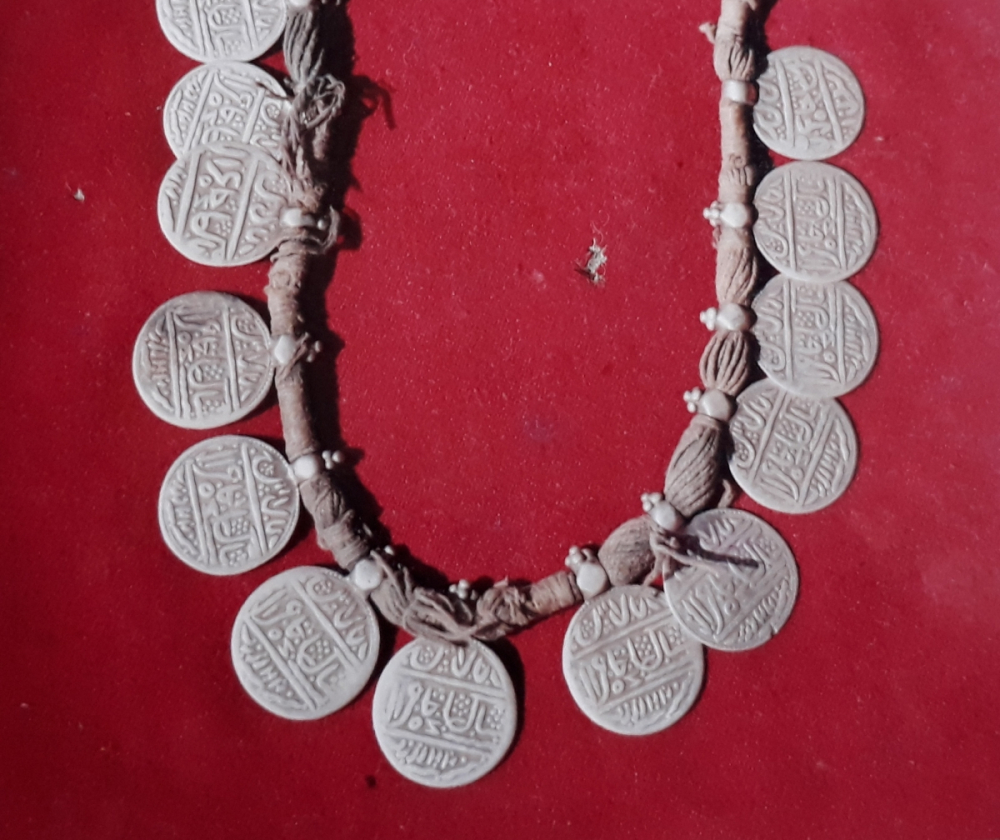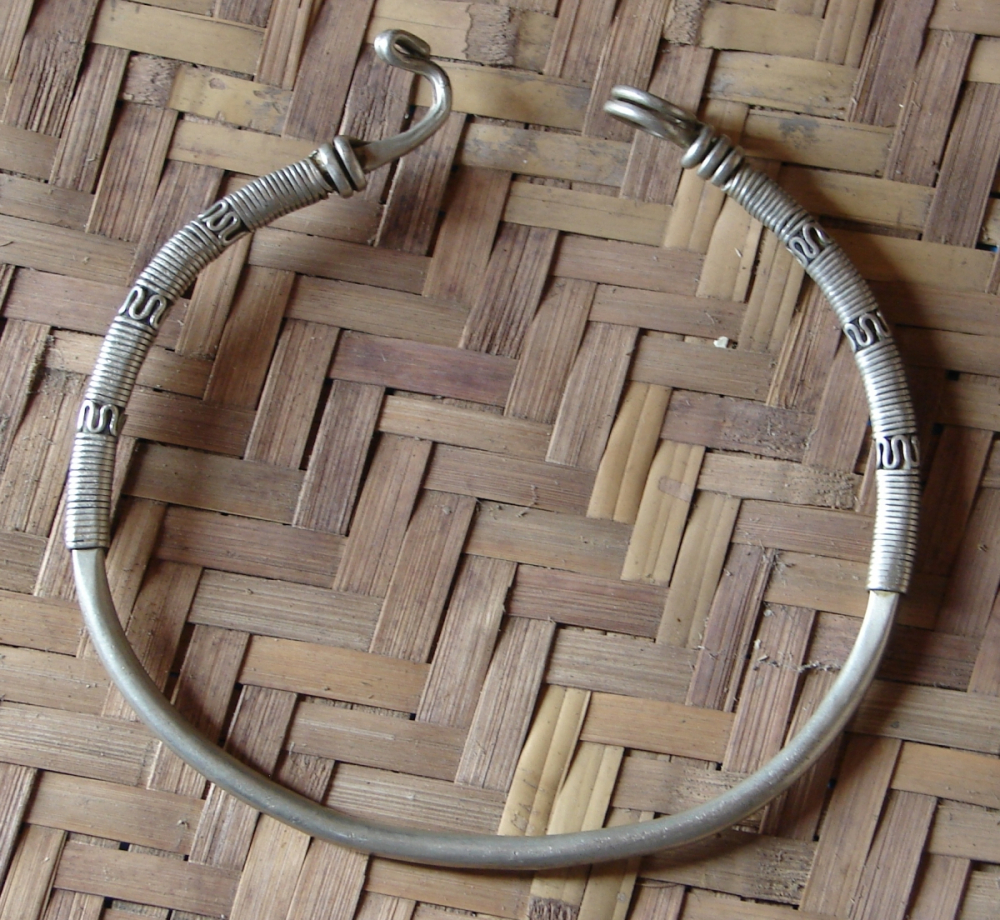 Gotla
This is a neck ornament for a child, meant to keep the neck straight.  Made of silver, the gotla is popular amongst the Yadava and Sahu communities.
Dhar, Khinwa, Karanphul
These are ear tops and earrings popular amongst all tribes and castes.  They are available in silver and gilat.  The Karanphul has the sarangaria design, whereas the khinwa and dhar cover the entire ear.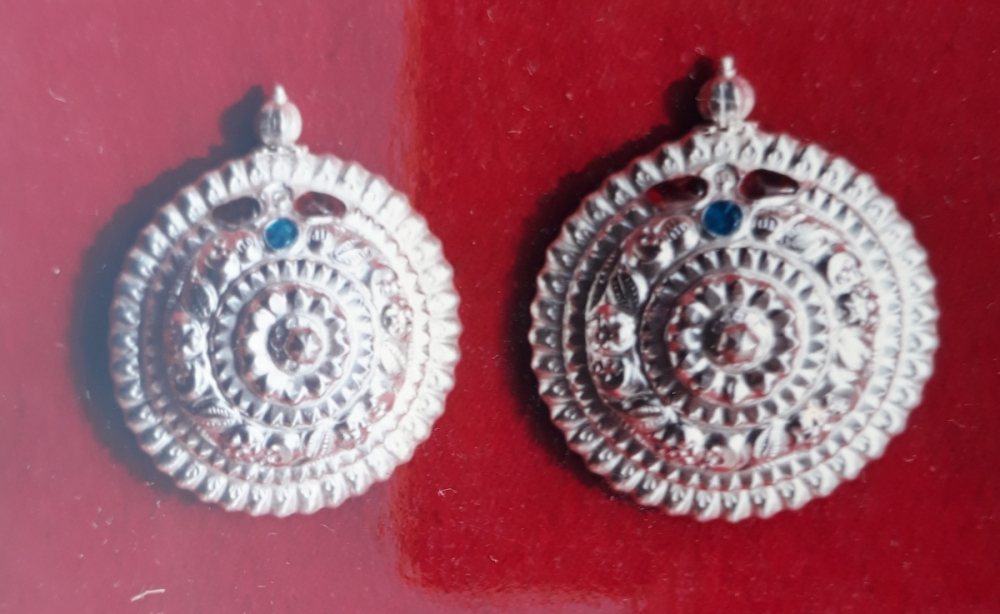 Latkan, Tops and Jhumka
These are ornaments for the ear, and used only by the higher classes in rural communities.  Available in many designs, the weight of these ear ornaments varies from 3 to 12 gm.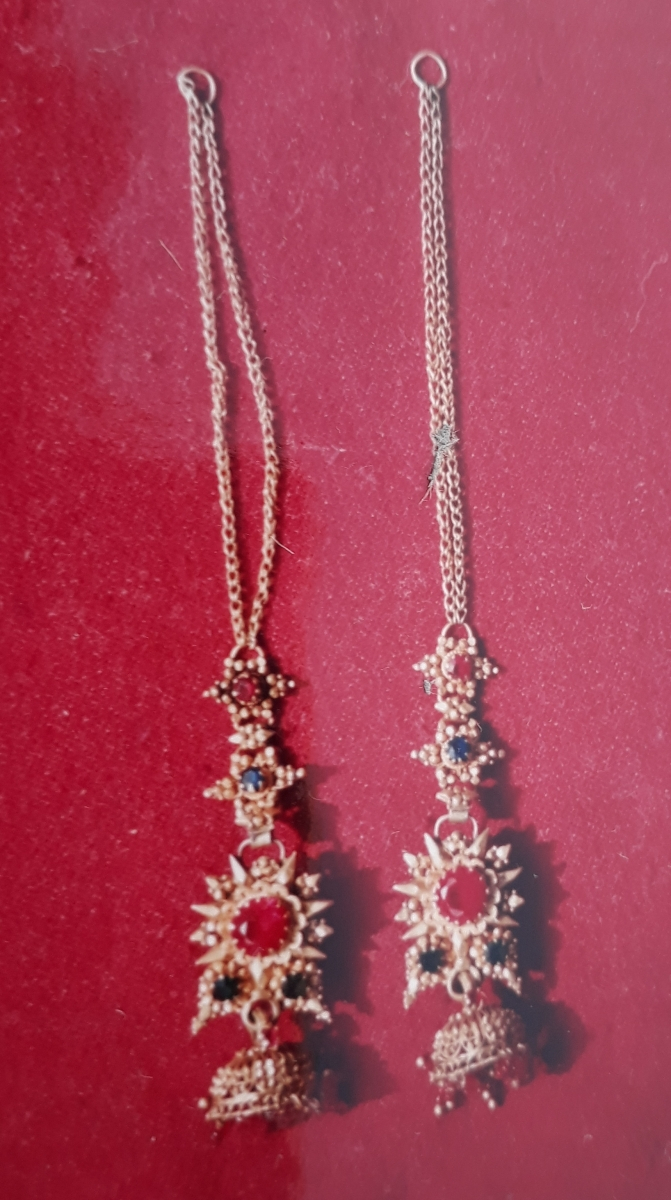 Clip 
These are hair clips, liked and worn by almost all rural and tribal women of Chhattisgarh. Available in a range of designs, the local artisans make the simpler ones while other more elaborate designs are brought in from Agra, Cuttak, Rajkot etc. Hair clips are available in both silver and gilat, in various sizes, and vary in weight from 15 gm to 30 gm.  Die, press and print processes are used to make the clips.
Choti (Jhabli)
Choti is used by well-off rural women.  It is 14 inches in size and is usually made of silver and gilat. It weighs between 30 gm and 70 gm. Made with die and print, the choti is available in various designs—floral motifs, peacock, chain, cross, etc. The simple chotis are made by local artisans while the meenakari chotis are brought in from Rajkot, Surat and Cuttack. Jhabli is used as hair ornament by the Thakurs.
This content has been created as part of a project commissioned by the Directorate of Culture and Archaeology, Government of Chhattisgarh, to document the cultural and natural heritage of the state of Chhattisgarh.