Just in his 20s, architect and artist Gordon Sanderson assumed charge of conserving and landscaping many clusters of historic monuments. As part of the series 'Reading a City', Sahapedia focuses on the young archaeologist's engagement with Delhi's architecture, and his fascination for the craftsman's skills. (Photo courtesy: ncbpt.org.uk)
Just in his 20s, architect and artist Gordon Sanderson assumed charge of conserving and landscaping many clusters of historic monuments – including in Delhi. He was fascinated by Delhi's architecture and skills of the craftsmen.
In February 1914, when the battle was raging in India and Britain on the architectural style appropriate for New Delhi, 15 sketches were published in The Builder magazine, titled 'What not to do at Delhi'. These were clever caricatures of the 'Indo-Saracenic' style of architecture used for public buildings in India from the 1870s. The artist was not an architect but a talented young archaeologist — Gordon Sanderson. Urged by the Viceroy, art historian E.B. Havell and the India Society of Oriental Art, architects Edwin Lutyens and Herbert Baker had agreed to incorporate elements of Indian architecture in their buildings.
Also read | Hazrat-i-Dehli: The Making of the Chishti Sufi Centre and the Stronghold of Islam
Sanderson admired and was knowledgeable about 'Indian' styles, but was well aware that they could look ludicrous if patched mindlessly on to buildings in a European scale.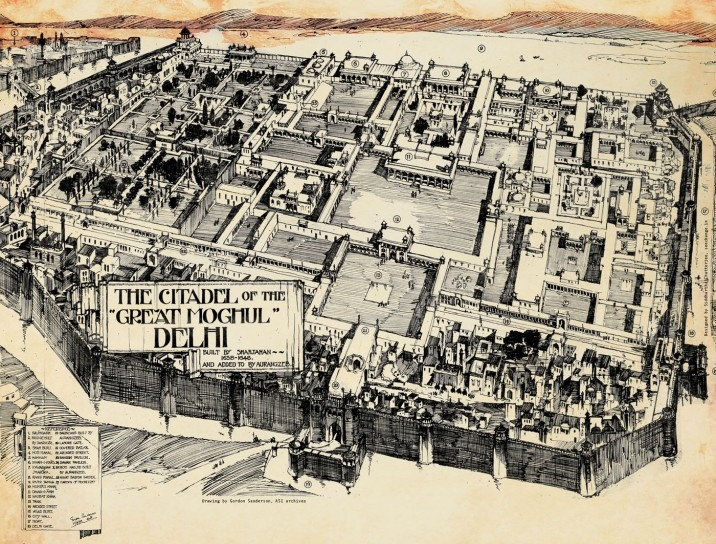 His Contributions
Sanderson (1886–1915) was an employee of the Archaeological Survey of India (ASI). If things had been different, he might well have continued to work with India's premier conservation agency, and perhaps succeeded Sir John Marshall as Director-General. But in August 1914, he chose otherwise.
At just 20, he had worked for Egypt's Cairo Public Works Department (PWD) and for a year in Scotland, as an architect, also writing and illustrating articles on vernacular and Islamic architecture. He then decided to apply for a position at the ASI and sailed out in December 1910. He was to spend the next four years in north India.
Those years were perhaps the best both for the ASI and the PWD. The Curzonian wind of change had made the ASI a fine confident institution, energetically extending 'protection' to historic buildings. Alongside, public institutions were being set up both by the government of India and by Indian rulers, and monumental architecture constructed for them.
Related | Syed Ahmad Khan and 'Remains of the Great' Delhi
In the coronation ceremony of King George V at the Delhi Durbar of 1911, Sanderson was given responsibility of three areas — the conservation of historic buildings, presenting the heritage through museums and exhibitions, and making decisions on modern architectural projects. He had his hands full, and he discharged his various missions with zest and efficiency.  
Sanderson had the joy of excavating and researching the great monuments of Delhi, which he loved so much. The landscape of the Qutub Complex and of the Lal Qila are today as Sanderson designed them then. It so happened that the beginning of the construction of New Delhi gave these structures a new importance ('A grand programme has been drawn up' announced The Pioneer at the time), as well as to those, like Jantar Mantar and Purana Qila, which were skillfully incorporated into the city design.
Also see | Domes of Delhi
The archaeological museums in Mathura and in Delhi's Red Fort were given new lease of life, and Sanderson put together the exhibition of Indian crafts, which had become a regular feature of every Durbar. Sanderson and the able and scholarly Maulvi Zafar Hasan began work on a definitive encyclopaedia of the historic buildings and ruins in Delhi. It remains a classic work of reference, but he did not live to see it completed.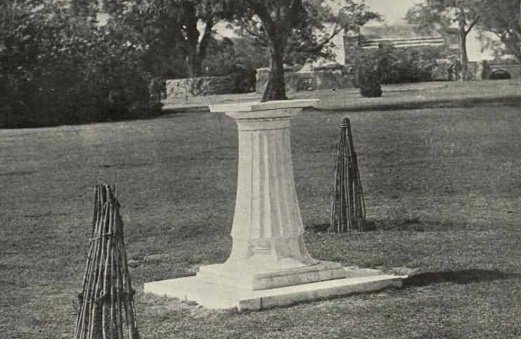 The Unusual Person
Sanderson was interested not only in the works of artists of the past, but also of works of the living ones. E.B. Havell's India Society of Oriental Art asked the government of India to instruct its officers to collect material "relating to the living traditions of Indian Art and Architecture". [1] The order came in March 1911, and Sanderson — already busy with the preparations of the Durbar — took out time to travel through north India, interviewing masons and craftsmen and taking copious photographs. Sanderson completed his report in three months — he was the only person who delivered. He would have liked to cover much more ground, but he was urged to publish. 
Also read | How Cities have been Interpreted over Time
Types of Modern Indian Buildings — which he co-authored with J. Begg and was published by the Government Press, United Provinces, in 1913 — remains a landmark book. It bore the stamp of a very unusual person, who could connect tools, designs, time taken, the necessity of supervision and the instances where the craftsmen should be allowed freedom to innovate, as well as the need for harmony between building and furnishings.
Of the places Sanderson visited, Bikaner (in Rajasthan) pleased him in particular, with its resemblance to medieval European towns, its homes that "represent(ed) the life and character of their occupants as do the small cottages . . . on a Yorkshire moor", [2] and its enlightened maharaja.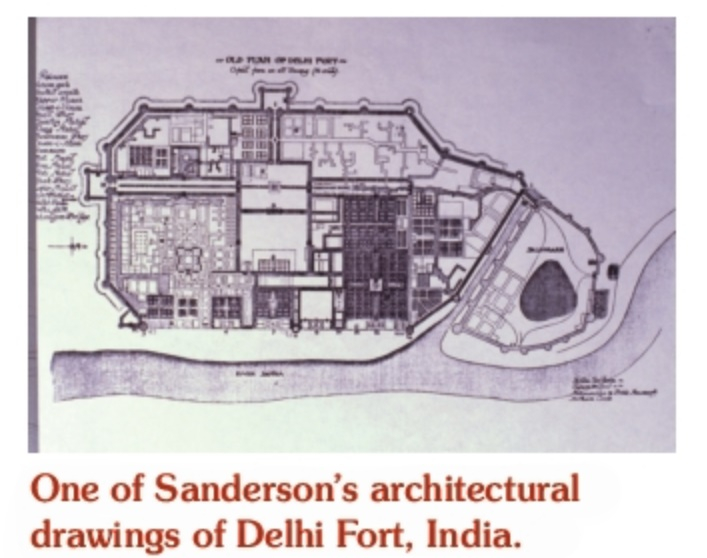 Sanderson's Legacy
It was typical of Gordon Sanderson that when news came of Britain joining the European War in 1914, he did not hesitate to get enlisted in the army. He resigned from the ASI and went to Dehradun for military training and left for Europe in early 1915. He was killed on the Western Front on 13 October, 1915, a month short of his 29th birthday.
They shall grow not old, as we that are left grow old:
Age shall not weary them, nor the years condemn.
At the going down of the sun and in the morning
We will remember them.   
—Lawrence Binyon, a year earlier, September 1914[3]
The monuments of Delhi also remember Sanderson's legacy. In 1919, Sir John Marshall announced that a marble sundial in his memory would be installed in the lawns of Qutub Minar, which he had landscaped. The inscription reads Transit Umbra Lux Permanet ('The shadow passes, the light remains').

This article is the sixth of a nine-part series on Reading A City by Dr Narayani Gupta on The Print.
---
Notes
[1] Secretary of State to Governor-General of India, Education Department, March 1911, quoted in footnote 24 of Chapter 4, A Work of Beauty: The Architecture and Landscape of Rashtrapati Bhavan, ed. Narayani Gupta (Delhi: Publications Division, Government of India, 2016), 22­–24.
[2] Niall Campbell, Gordon Sanderson 1886–1915 (note on Sanderson written by his grandson Campbell), (Delhi: Archaeological 'Survey of India').
[3] 'For the Fallen', The Times (London: September 21, 1914). The poem was written a few weeks after the First World War began. During these weeks the British Army had suffered casualties at the hands of the German Army at the Battle of Mons.