India has a rich history of serpent worship. The hooded serpent, known as naga or sarppam, is venerated and worshipped in different parts of the country. In the book The Sun and the Serpent written by religious historian C.F Oldham, serpents are described as demigods who are 'the celestial serpents belonging to Surya' (the sun god). Oldham says: 
It is to these ancient deities, rather than to the great gods of the Brahmins, that the Hindu people first turn in times of trouble. To the Naga, they pray for rain for their crops… they pay their vows in time of pestilence or famine. To these also, they offer the first milk of their cows and first fruits of their harvest.[1]
 Serpent worship or ophiolatry is deeply rooted in the tradition of Kerala since time immemorial. The sarppakavus (serpent groves) in many parts of Kerala are maintained and protected by Hindu families. (Fig. 1)  Each kavu (grove) has a protector family that is supposed to ensure that the kavu's flora and fauna is not disturbed or destroyed, and they conduct occasional pujas and lights lamps. It is believed that cutting down trees and killing snakes in a sarppakavu is a sin which invites the curse of the serpents. Sarppakavus in Kerala are rich in exotic flora and fauna, especially medicinal plants.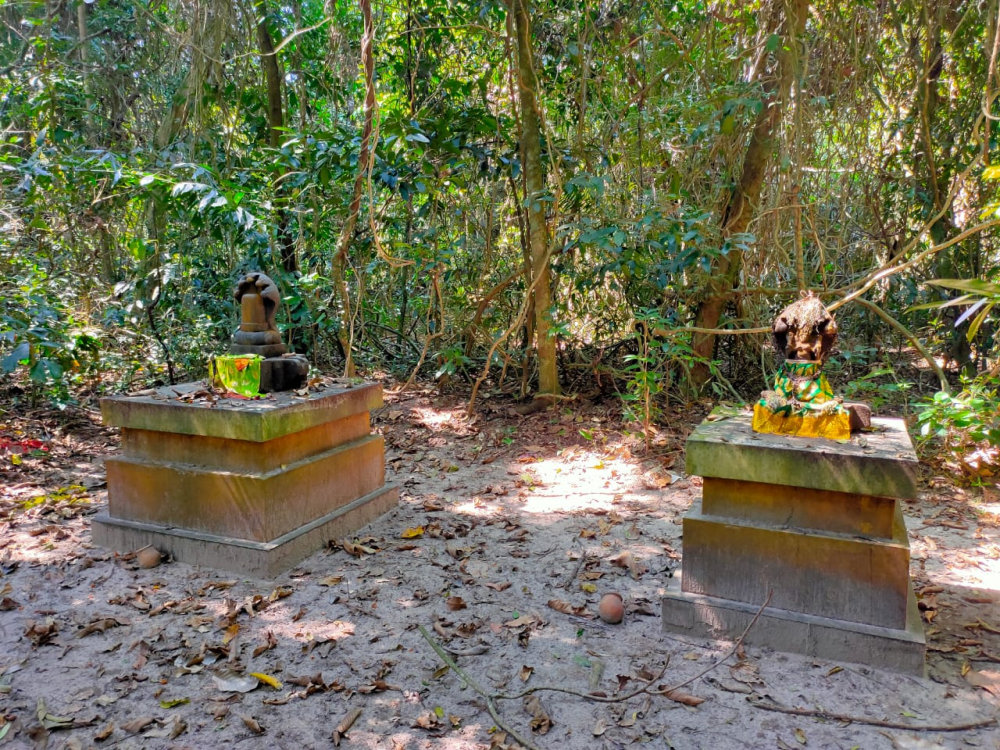 Apart from the sarppakavus found in Kerala, one can also find many other kavus (groves) dedicated to local deities and demigods. They are broadly categorised as mrigadaivakavukal (dedicated to animal gods) which includes the sarppakavus, ammadaivakavukal (dedicated to mother goddesses), and purushadaivakavukal (dedicated to male gods). 
Serpents in Mythology
The epic, Mahabharata has a very popular myth about the origin of major serpent deities who are worshipped today. Mahabharata's slokas, from 657 to 2197, tell the story of two sisters, Kadru and Vinita, who were married to Sage Kashyapa. Pleased by the devotion of his wives, Kashyapa granted one boon to each of them: Kadru asked for a thousand powerful and valiant sons, and Vinita asked for two sons more powerful than her sister's.[2] According to the story, Kadru gave birth to a thousand serpent children—the gods of patala (underground) in Hindu mythology—and is considered the mother of the whole serpent race, whereas Vinita had two sons, Aruna and Garuda. 
Lord Anantha and Lord Vasuki are often called nagarajas (kings of serpents) and are significant deities in Hindu mythology. Anantha has a thousand hoods and is often depicted as the closest accompaniment of Lord Vishnu; the image of Vishnu reposing on Anantha is much celebrated in Hindu art and literature as the iconic ananthashayana (Vishnu sleeping on Anantha) posture. It is believed that when Vishnu took the Krishna avatar, Anantha accompanied him as Balaram, and when Vishnu incarnated as Sriram, Anantha took birth as Lakshmana. 
On the other hand, Vasuki is often associated with Lord Shiva. Shiva is called nagabhushana (the one who is adorned with snakes), and he wears Vasuki around his neck. Vasuki also played an important role in the 'Samudra Manthan' (churning of the milk ocean) episode described in the Mahabharata and Vishnu Purana. He was used as the rope tied around Mount Mandara to churn the milk ocean, Palazhi; in the process, Vasuki vomited a deadly poison called kalakuta, and Lord Shiva consumed it to protect the world. 
In Kerala, serpents are often seen as guardians of ancestral treasures. They are considered the protector deities of a clan or family. Believed to be possessors of a rare gem called nagamanikya (serpent stone) which turns fortunes from rags to riches, serpents are said to guard family treasures for centuries underground. It is said that in the time of crisis or poverty, when the family members pray to the serpents, the treasure surfaces itself. 
Pambumekkattumana Illam in Thrissur district of Kerala is very famous as a serpent worship centre. It is said that, years ago, the illam (Brahmin household) was suffering from utter poverty, and its nampoothiri (male head) went to do penance at Thiruvanchikulam temple at Eranakulam; pleased by the devotion of the naampoothiri, Nagaraja Anantha gifted him the nagamanikya. Since then, Pambumekkatumana became famous and prospered. 
Serpents are also considered to be fertility deities in Kerala; childless couples often perform the uruli kamazathu ritual for serpent deities to be blessed with a child. They are considered to be gods of earth, so farmers pray to them for good harvest and rain, conduct pujas and give offerings. Mannarasala Sree Nagaraja temple located in Harippad in the Alappuzha district of Kerala is famous for its uruli kamazathu ritual. Uruli is a traditional vessel used in Kerala households. Couples visit the temple and turn the uruli upside down in front of the sanctum sanctorum, accompanied by ritualistic chanting; it is believed that a serpent does penance under the uruli for the couples, and they are blessed with a child. 
Rituals of Serpent Worship in Kerala
In Kerala, there are two very important centres of serpent worship: Mannarasala temple and Vetticode temple. Both the temples are believed to be consecrated by Lord Parasuram after he created the land of Kerala. The day of ayilyam (the ninth star in Hindu astrology) every month is considered as an auspicious day, and special pujas are conducted for serpent deities on that day. Ayilyam festival of the Malayalam month Thulam (October–November) is celebrated with great pomp and grandeur in Mannarasala temple; at Vetticode temple, the Ayilyam festival is celebrated in the month of Kanni (September–October). 
Pulluvan pattu
The Pulluva community, which is a 'backward caste' of the Hindu religion in Kerala, has an intrinsic relation with serpent worship. It is believed that the Pulluvan pattu (hymns dedicated to serpent deities) sung by them has a special power to invoke the serpent deities. They use specialised folk musical instruments like Pulluva veena, Pulluva kudam, andilathalam. Pulluva veena or naga veena is a single-stringed instrument similar to the violin; traditionally, it is made out of hollow wood and skin of udumbu (a monitor lizard found in Kerala) but now, artificial materials are also used in making Pulluva veena. Pulluva kudam is a pot-like instrument with strings attached, which is made from mud or metal and covered in calfskin. Ilathalam is a metallic instrument usually made with bronze; the miniature model of an ilathalam known as kaimani is also used while singing Pulluvan pattu. Each of these musical instruments symbolises the Brahma-Vishnu-Shiva trio; Pulluva veena is considered as Lord Shiva, Pulluva kudam is considered as Lord Brahma, and ilathalam represents Lord Vishnu. 
Sarppamthullal
A very important ritual associated with serpent worship in Kerala is sarppamthullal (dance of the serpent). This ritual is conducted in three parts: 
People draw elaborate colourful pictures on the floor with sarppakalam (images of serpents) with natural colours. 

(Fig. 2)

Each colour is also associated with symbolic implications; green symbolises fertility and is made by crushing leaves of gulmohar and bead tree, rice flour is used to make the white colour symbolising purity, black means strength and is made by burning rice chaff and powdering charcoal, yellow made from turmeric powder shows faith, and red made from a mixture of turmeric powder and lime (calcium carbonate) is anger. The kalam (figure) is drawn by members of the Pulluva community of Kerala and is regarded as their birth right.

Once the drawings are completed, the Pulluva people start singing the Pulluvan pattu with musical instruments specific to the serpent worship ritual. 

Men and women dance in a frenzy in serpent-like motions to the tune of Pulluvan pattu and rub out the sarppakalam. Pulluvan pattu invokes the serpent gods and it is believed that anyone standing near the sarppakalam is possessed by the gods. When asked, the devotees in trance identify themselves as Nagaraja, Nagayakshi or other serpent deities and bless the gathering. The ritual culminates when the sarppakalam is erased completely.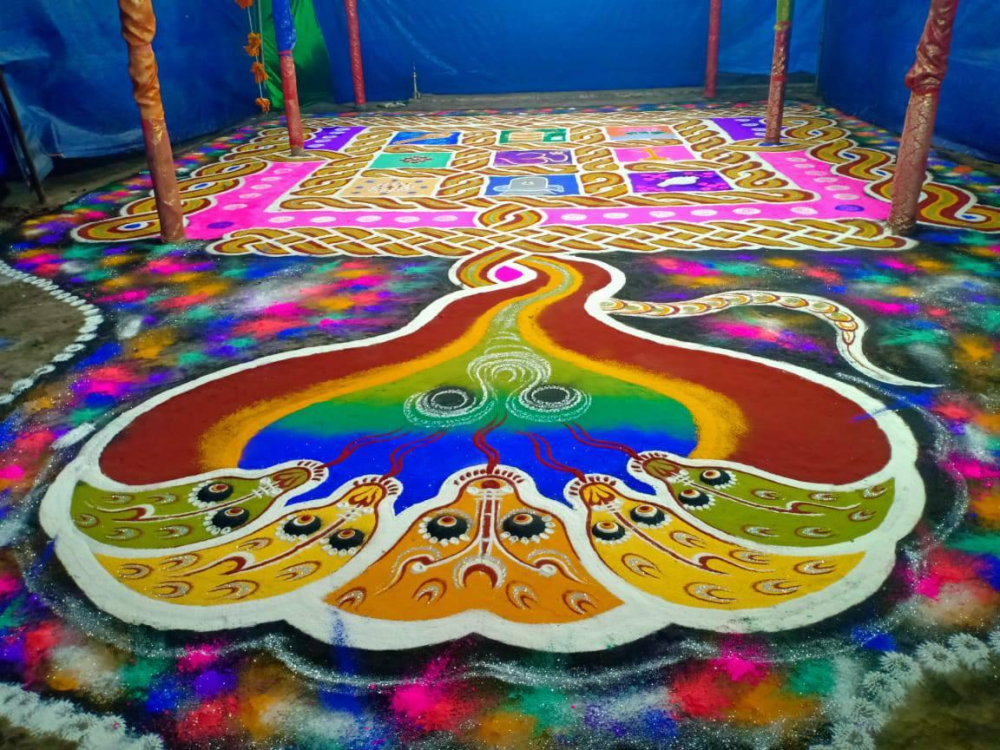 Noorum Palum
Noorum palum is a mixture of turmeric powder, rice flour, milk, tender coconut, and banana given as offering to the serpent deities in temples and sarppakavus in Kerala. The priests draw kalams of serpents and other religious symbols on the ground to invoke the deities and the noorum palum is gradually poured into the kalam accompanied by incantations.  
Sarppabali
Sarppabali is a symbolic ritual of feeding the serpent deities. It is conducted to ward off sarppashapam (the curse of serpents) and sappradamshanam (snake bites). Often performed at night, sarppabali involves drawing a sarppakalam with five colours—yellow, white, red, green, and black. Usually, the kalam drawn for sarppabali has the image of five-hooded Nagaraja to whom the noorum palum is offered with ritualistic chanting. (Fig. 3) It is believed that once the puja is over, the serpent deities come to the kalam to devour the offerings.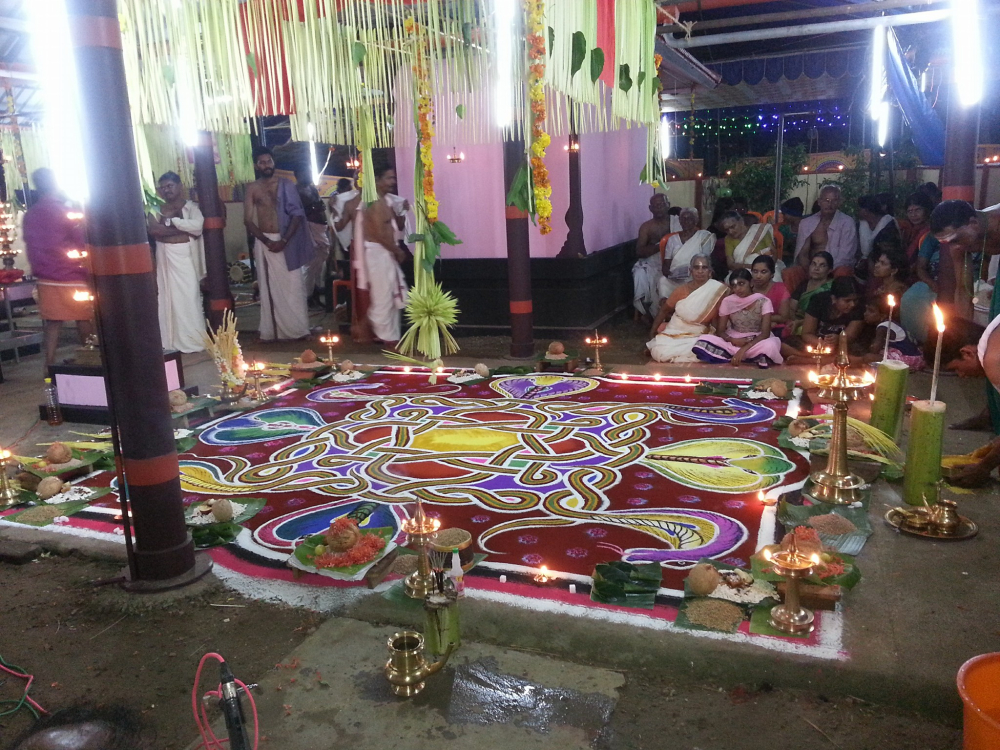 Serpent Deities and Iconography
The eight most important serpent deities worshipped in Kerala are known as the ashtanagas (eight nagas). Just like human beings, the deities are also categorised into four different castes namely, Brahmin, Kshatriya, Vysya and Shudra. The eight deities are considered to be the guardians of the different eight directions and are attributed different symbols.
| | | | |
| --- | --- | --- | --- |
| DEITIES | CASTE | DIRECTION ATTRIBUTED | SYMBOL |
| Anantha | Brahmin | East | Lotus |
| Vasuki | Brahmin | Southeast | Blue Lotus |
| Shanghapala | Kshatriya | North | Umbrella |
| Gulika | Kshatriya | Northeast | Half Moon |
| Thakshaka | Vyshya | South | Swastika |
| Mahapathma | Vyshya | Northwest | Trident |
| Karkotaka | Shudra | Southwest | Lotus |
| Pathma | Shudra | West | Lotus |
Apart from the ashtanagas, the other serpent deities worshipped in Kerala are the Maninaga, Karinaga, Paranaga, Kuzhinaga, Nagayakshi, and Nagachamunndi. The idols of serpent deities are often made out of chlorite stone. In specific cases, panchaloha (a combination of five metals—gold, silver, iron, copper, and zinc) is also used to make the idols. The sculptors in Kerala have classified chlorite stones into three: purusha (male), napumsaka (nonbinary), and sthri (female). Thus, purusha stones are used to make male naga idols like Nagaraja, and sthri stones are used for female naga idols like Nagayakshi, Nagakanni, and Nagachamundi. The iconographic text, Silparatna gives extensive details about the making of serpent idols. Most commonly, these idols are made in a therio-anthropomorphic structure in which the head is of a human and the body is of a serpent. The head has an odd number of hoods varying from a single, three, five, or seven, and so on. (Fig. 4) However, there are also theriomorphic (complete snake with single or multiple hoods) and anthropomorphic (complete human with single or multiple hoods) idols. (Fig. 5)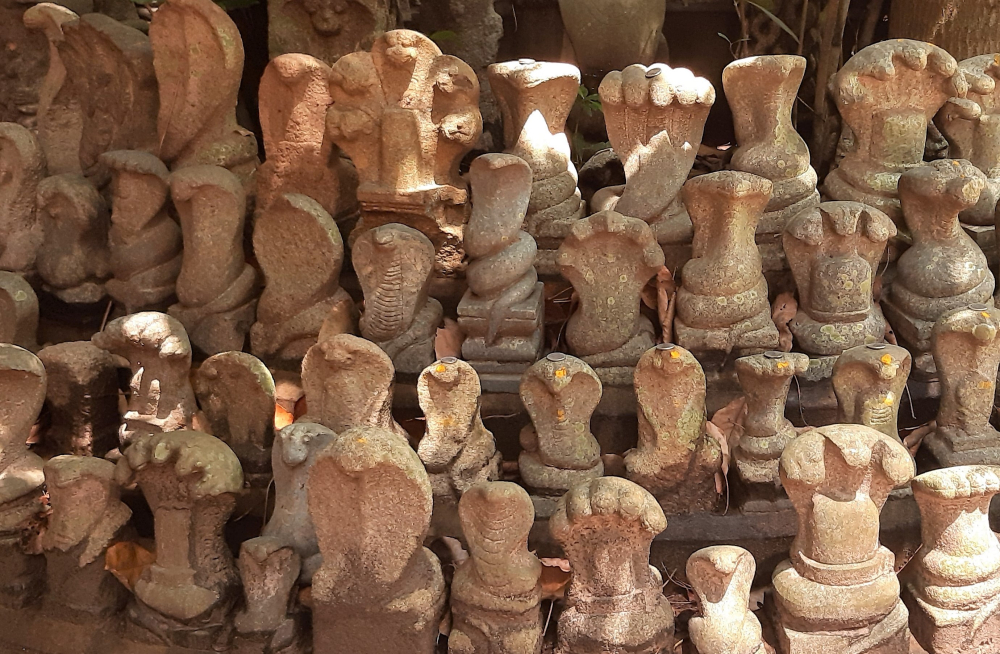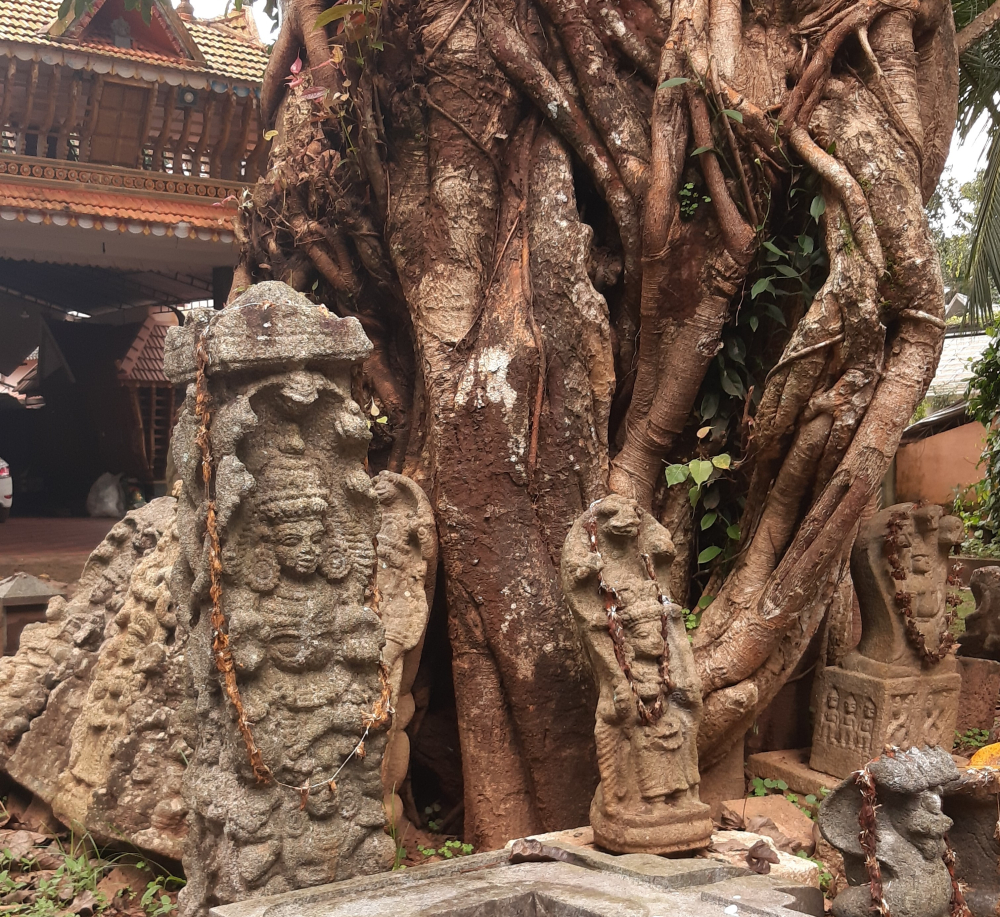 Notes
[1] Oldham, The Sun and The Serpent.
[2] Mani, Puranic Encyclopaedia: A Comprehensive Dictionary with Special Reference to the Epic and Puranic Literature. 
Bibliography
Agrawala, P.K. Studies in Indian Iconography. Jaipur: Publication Scheme, 1994. 
Fergusson, James. Tree and Serpent Worship. Chennai: Asian Educational Services, 2006.
Gopi. B. Pulluvarum Sarppampattum.  Alappuzha: Kalam Books, 2006.
Mani, Vettam. Puranic Encyclopaedia: A Comprehensive Dictionary with Special Reference to the Epic and Puranic Literature. Delhi: Motilal Banarsidass, 1975. 
Nair, G. Ravindran. Snake Worship in India. Publications Division, 2017. 
Oldham, C.F. The Sun and The Serpent. London: Archibald Constable and Co. Ltd., 1905. 
Panicker, Kavalam Narayana. Folk Culture in Kerala. New Delhi: National Books Trust, 1991.