Senior cinematographer Ramachandra Babu talks to V.K. Cherian about his experience of working with John Abraham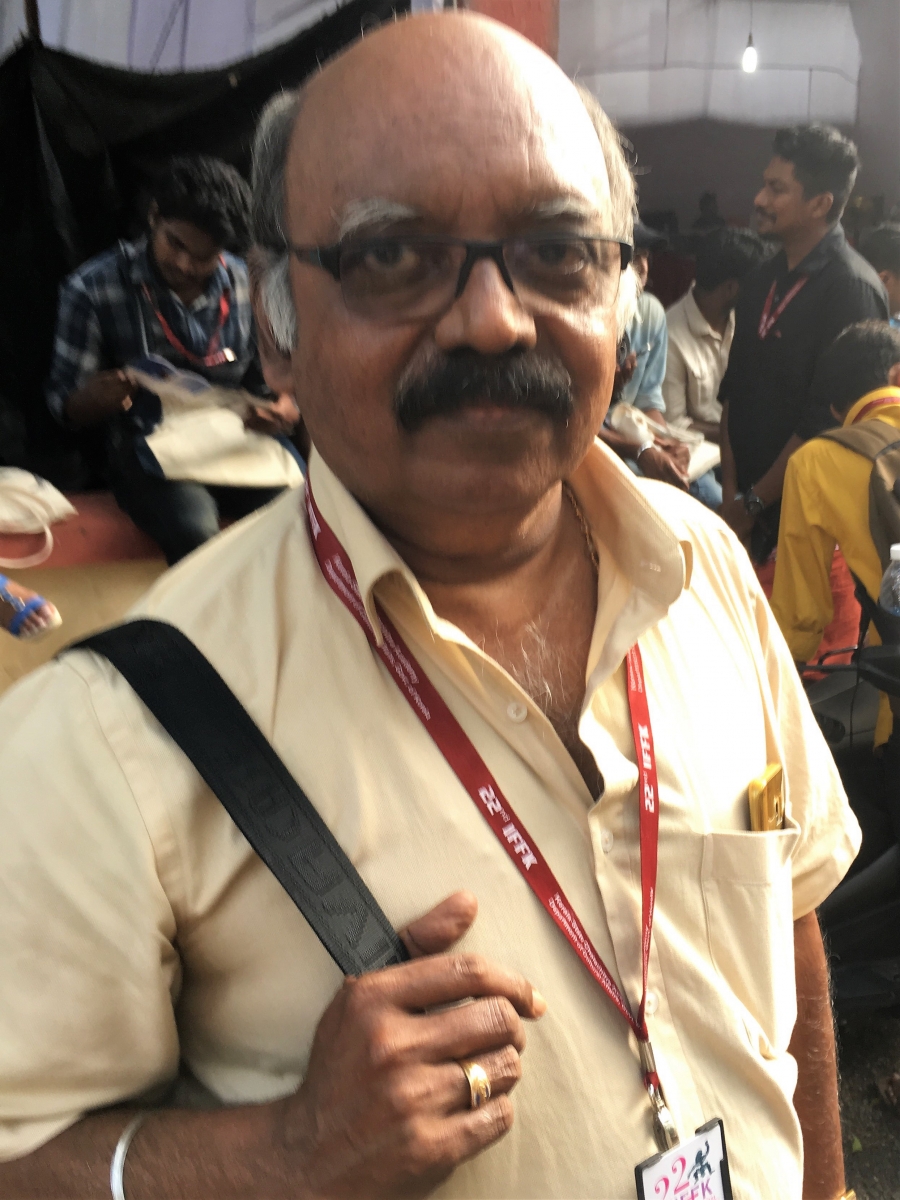 Ramachandra Babu, a cinematographer, worked with John Abraham for his first two films. Babu is a national award-winning cinematographer who has worked with many eminent film-makers of Kerala.
The following are excerpts of an interview with him:
V.K. Cherian: How did you end up with John and his first two films as the camera person?
Ramachandra Babu: John was my senior's senior at the Film and Television Institute of India (FTII). Azad was a year senior. I came to Madras during my final year at FTII. Azad had already worked as an assistant in films like Kuttedathi. John and Azad were discussing a film and I met them at Madras. I was told about the film and informed that Azad's batch and roommate at FTII, Ramachandra, was to be the camera person and asked me to assist Ramachandra. I agreed, as I was keen to be part of the film industry. Later, I got a letter from John and Azad saying Ramachandra has some issues and I will have to do the film. The letter is given in my blog.
My exams were not over at FTII, as there was the strike of 1971. There was a delay in my final exams and viva. But then, I got a letter informing me that the shooting will begin in May and I started for Madras. First, we stayed at the office of Minnal (the producer of John's first film). Minnal was a Muslim gentleman and his original name was Mohammed something. He was a film journalist and ran a film advertising firm. They used to publicise films in media.
When they started the production, they hired another flat at Mahalingapuram, near Nungambakkam. We stayed there - John, Azad, me - and others who came from Kerala for acting. It was a production office-cum-residence. The shooting schedules took a long time. The first schedule was long. Then I went to Pune and finished my exam. I was back for more schedules, as Madras had all the facilities and we organised it at short notices.
Sound was Devadas', and he was senior to John. Devadas, in Chitralekha and later in Chitranjali studios of the Kerala government, came with a tape recorder. We used sync sound a lot for John's first film itself. Now, they use sync sound in bigger events.
VKC: I saw the film as a student and remember the scene where Adoor Bhasi, jumps across the barbed fences. How did you achieve those special effects in those days?
RB: We kept the camera static and exposed it frame by frame. Almost like in animation. After each shot, Adoor Bhasi changed his position. Hence, we had to spend a day each for each shot. I used to calculate the distance and then calculate to shoot, so that we achieve the jump effects. It was a new thing.
VKC: When was (Donkey) Kazhuthai made?
RB: It was after two years. It was a long break with lot of funny incidents. We used to stay in Madras…Azad will go to Kerala. My job was to buy food for John and also ensure he did not get his drinks. But I had to go to Pune. As I came back, someone called me down in the flat. It was a policeman and John was arrested for drinking. He had gone out for a drink. Nungambakkam did not have too many flats. The area was empty. John was walking behind a girl and she got scared by his looks (John was bearded and had unkempt hair). She started walking briskly and John followed her. She began to run at one point, and John dittoed. Then, the people in the nearby slum assembled and caught hold of John and handed him over to the police.
The police came to our flat and saw a few rum bottles too. It was the period when prohibition was enforced in Tamil Nadu. They questioned me about the bottles. I told them that the bottles were used during the train journey from Pune for collecting water. I had to show them my train tickets. Then I told the producer and he took John out on bail. The next day, he was produced before the court. Many people were tried for drinking. The Judge asked each what they did for a living. If someone said carpenter, the Judge would ask him to pay Rs 5 as fine. If someone said rickshaw, again Rs 5 as fine would do. When John was asked what job he did, he said he was a film director, the Judge fined him Rs 25. There was another incident involving the producer T.E. Vasudevan too and John had to be sent to Kumbakonam for a month.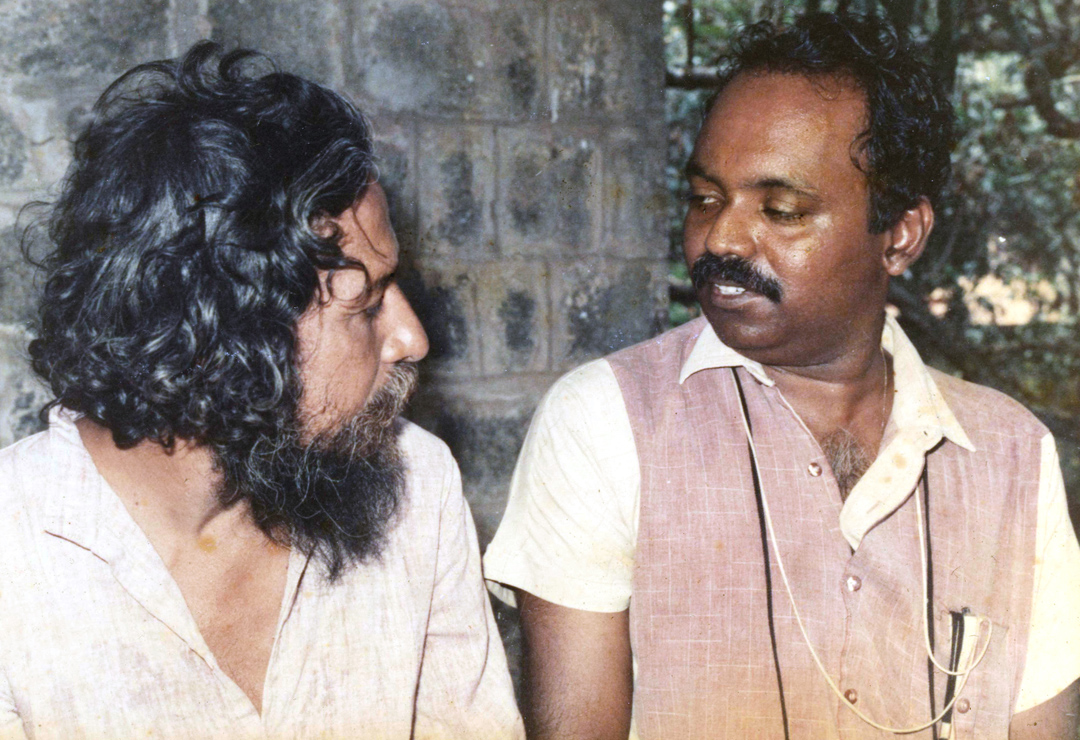 John Abraham with Ramachandra Babu
VKC: Who composed the music for his first film?
RB: The music was composed by M.B. Srinivasan. They had a good relationship from the beginning. John had the freedom to go to his house any time of the day.
VKC. He used to say, 'Camera is the all-in-all – it shows the world and the films.'  How was your experience working with him? Both of you worked together in your first film?
RB: Since we both studied in the same institution, I could sense what John wanted. When he asks for a shot, I never had any doubt. He will sometimes give a reference of a cinema which we had seen. We had a smooth going. We finished shooting. It was not a film of John's liking or style. But we finished it. The script was by Azad. It was based on a French film. John said it is not our film and we must disown it.
We even wrote a scene, using alienation techniques. We made the set like that of a smoking joint and all the technicians of the film were assembled. The scene was that of smoking ganja and then they announced that they are disowning the film. We even shot a day with all that. But the producer did not allow it to be a part of the film. He edited it out. I still have a still picture of the scene -- editor Ravi, John, the associate cameraman and me.
VKC: How was the beginning of the film, Donkey in a Brahmin Village? Venkat Swaminathan did the script and it took one-and-half year to shoot?
RB: John's sister, who was in Singapore, had come back and settled in Madras. John did not have a film for a few years. His sister agreed to fund the new film. Venkat Swaminathan wrote the script and M.B. Sreenivasan agreed to act. The shooting was with local artists. The shooting was smooth. John did not drink during the shooting. His sister organised it in the evenings, He was disciplined. For about ten days it went on. Then it rained during the shooting. It was a small place and an agraharam. During rains, each one had gone to the nearby houses to take shelter. When the rains were over, we found John totally drunk, as someone had given John local arrack. The shooting schedule broke after that incident. 
The new schedule was after a long time. The continuity and other things were looked after by local teams. John lost interest in the film. The little donkey grew big. After a year's break shooting began again. I got busy and could not work on it. The rest was shot by my assistant Anandakuttan. I was busy during the period.
VKC: What is the best film of John's according to you?
RB: As I see it, his best films are the ones which he has not made. Like Joseph the Priest. The script was by Zacharia and he even recorded music with Yesudas, who himself composed the music for the song. Backer was the producer. Yesudas even sang the song 'Eli eli'. After the recording, nothing happened. He also planned other projects in Tamil. If he had done all that, he should have been a greater filmmaker. He will show great interest at one stage, discuss it intensely and then leave it.  He had planned a film with a Dalit professor in Tamil and wanted Sivaji Ganesan to act in it. He was well read. We do not know when he read it all. He had wide information about many things. He was aware of many writers and I came to know many of them through John.