Interview with John Abraham compiled by V.K. Cherian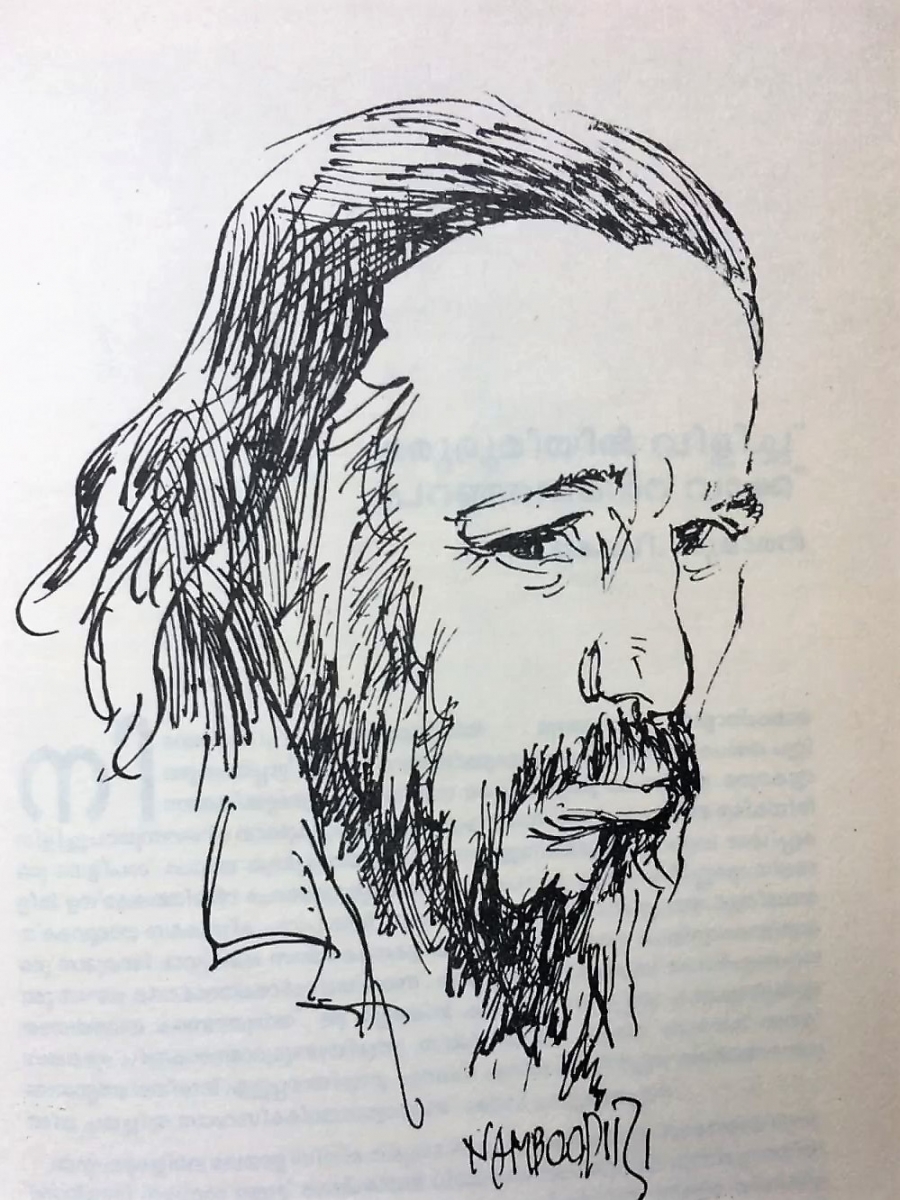 Question:  Is cinema an individual creative work of a director or is it a collective art of a group of creative people?
John Abraham: Cinema is not a collective art. A film directed by John Abraham is entirely of his own, just John Abraham's. I take the decisions (not others). I am the Hitler of my cinema.
Q: What is  the role of the cinematographer and editor in a film?
J.A.: What makes cinema is its cinematography. But I (as a director) am the first to shoot and edit the visuals. Everyone else is collaborating with me. They are being technicians and must be able to understand and appreciate my artistic reflexes. Whatever it is, they can but only help me improve my cinema, not just contribute to it.
Q: What is the role of actors in a film?
J.A.: Actors are not a major issue in a cinema. I can make a film with Prem Nazir (the popular Malayalam actor then), maybe with ten songs in it.  But it will just be my film (not actors or anyone else).
Q: What about music and cinema?
J.A.: The thought that music is needed where the director fails is entirely wrong. Music can be avoided in a cinema. But, the decision is that of a filmmaker.
 Q: Is screenplay an essential unit of cinema? Many a times Malayalam cinema has become a product of the screenplay writer (like that of M.T. Vasudevan Nair)?
J.A.: Only if a director is a moron, the cinema becomes that of the screenplay writer's. The screenplay becomes a key factor when the director fails.
Q: How is cinema and sex linked?
J.A.: I have no plan to make a 'vulgar' cinema. I have no intention to sell sex and make money and hence I do not make a sex-sexy cinema. Sex is a divine concept in Indian thought process from time immemorial. Look at Khajuraho, Guruvayoor temples, the thought (sex as divine) is clear. Sex is very much intense in Dravidian concept too. When medieval European communities rejected sex, we whole-heartedly accepted it.
Q: A cinema is black and-white and colour. Is one better than the other? There is a feeling B&W has more sharpness?
J.A.: There is no issue as such between B&W and colour films. There is no issue of sharpness at all.
Q: How do censor rules influence cinema? Is the censor board a necessity?
J.A.: He (censor) is trying to censor my thought process, imaginations. That is like chopping my hand off. I do not make a cinema to destroy my country. We still follow the British rules in these.
Q: Has Indian cinema crossed over a Satyajit Ray? Indian cinema has two streams. That of Satyajit Ray and Ritwik Ghatak (Ray School and Ghatak School). What do you think?
J.A.: Satyajit Ray is a great filmmaker. His carries a Victorian romanticism and his style is neo-realistic. Ghatak is an intense and violent filmmaker. His films attack you with its content.
Q: Is there any basic difference between films of socialist countries and that of others?
J.A.: They are anytime better than us. I saw films of Zanussi (Krzysztof). They are critical of their governments. And the governments are allowing it too. We have not had the privilege of making such films yet.
Q:  Is it not a miracle that a film institute trained filmmaker has made a non-pretentious film? (Agraharathil Kazhuthai, Donkey in a Brahmin Village)
J.A.: None of us have learned filmmaking from FTII. None has been taught the art of film direction either. Just as little kids have learned, A, B, C, D, E, we have learnt about cinema. No one can write like J.P. Sartre, or Jorge Luis Borges, after having learned A, B, C, D. We had no idea about cinema. We saw the world film classics at the Institute. We were excited about knowing a new medium of art. If someone has developed a taste to enjoy good cinema, they cannot see reality in the old style. Anyone can see a film on his own style and has the right to analyse it in his/her own way. I can only state my approach to films. I do not approach the film in the 'Brechtian' way. We Indians give more importance to emotional quotient. My approach to films is more emotional than intellectual. I want people to see my films, when I make it. If they do not see it, I feel I am big failure as a filmmaker.
Q: How do you see 'personal cinema'?
J.A.: I consider personal cinema as a sort of masturbation. I am interested in making film, which the common man can enjoy. I love my people. None of us can escape from those we love. I am very particular that my people (audience) must see my films and understand it. You may ask as to what am I trying to communicate through my film, Donkey in a Brahmin Village. The answer is not simple.  My desire is to express fully through my films.
I worship Dravida concept of Shakti (strength). You can also see lot of elements of Christian mythology in my film. The Donkey and Christ has lot of similarities. The murder of Christ was seen as a major miracle in those days by his people. They built churches in his (Christ's) name.  At the end of the film (Donkey…) all my characters reach the place where the donkey was killed. Through choreographed movements, my camera shows each of their faces. I am trying to picturise the myth of the miracle. Thus, I can discuss many a layer of the film.
Q: You talked about direct communications with people. Have have your films Donkey... and Evil Deeds of Cheriyan achieved this?
J.A.: I have no idea whether I have fully achieved it (communication). I tried my best. I never tried to cover up anything. You must remember that this is a generation under the influence of opium (commercial cinema). I am not the first filmmaker. The audience has been polluted from the word go as far as cinema is concerned.  The 70 years of history of cinema tells us about that (pollution). We must pierce that and go through it. The shit of Hollywood is here in Malayalam even with filmmakers like P. Bhaskaran. I made  Evil  Deeds of Cheriyan with all seriousness. But it failed to communicate. But the Donkey... is not a failure, though I did it not so seriously.
Cheriayachan failed to reach the people, due to the style I adopted for it, not its theme. Donkey had a literary flavour, it tells a story. Cheriyachan is not like that. I think I made this film for a special audience. Cheriyachan represents a middle-class farmer. His attitude to land and the labourers is shifty. I do not think I explained that aspect enough in the film. The film is about an imperialist person with schizophrenia developing a phobia about police. The visual mockery of the same is depicted in the scene where he climbs atop a coconut tree. Even after all that, I could not touch the real down-to-earth audience. I should have been more careful while making it.
Kayoor (film) will not be like that. I am going to ask them (the audience) questions. Do you want this suppression to continue? Don't you want liberation? Don't you want freedom? Don't you need food? Will you just succumb to your fate?
Basically, I am a humanist. I have certain concepts about a society. I am deeply interested in the liberation of my society. I do not want them (society) to perish. Hence cinema must be educational. That is why I do not make commercial films and try and approach films through an educational angle to help my audience achieve a self-realisation.
Q: Is the meaning of education just sensitisation or something else?
J.A.: It encompasses everything. It is making a person humane. A Guru or a teacher's effort is bringing a person to his thought process. Sensitisation means, to make the person strong enough to even question me.
There is no way out to wake up dead consciousness. For the last 70 years, the commercial films have given the image of film stars as larger than life and hence, the audience have become submissive to this image. That is why we need a third eye. The vision through the third eye is a burning experience. Our eyes and ears are old. I am addressing a de-sensitised society.
Q: So, you knew that you are adressing such an audience while making Donkey and Cheriyachan?
J.A.: Yes, that is why I made Donkey in a simple style. It has a humorous outlook. I could not have it in Cheriyachan. Not just that I cast an actor known for his humorous roles in Cheriyachan's role. The name of Adoor Basi bring smiles among the audience. The casting was deliberate to create the alienation. The audience came to see the film to laugh, but they went back upset. I never allowed a humorous scene in the film, despite demands for it.
Q: You mean to say that the actors need stylisation?
J.A.: A creative work is not real. Stylisation is part of a work of art. If you must portray reality, you can make a documentary. You need just a camera for it. I do not need to be there behind the camera. When I stand behind the camera, I became part of the reality in front of me. When I participate in it, stylisation happens. Reason it becomes my view point.
Q: You mean to say every film must have stylisation. Can it not be part of the theme?
J.A.: You are looking at it from a literary standpoint. Cinema has only photography, no theme. It does not have limitations; it is an open medium. Our issue is the literary education. That has created a situation in which we cannot look at film minus a literary outlook. We do not have a simple visual thinking. In Europe, television is bringing out visual education. We are still telling stories through words, be it grandmothers' story or Mahabharata or Ramayana. For us, words are prime. And words are symbolic too.
Q: How did you end up working with Mani Kaul in Uski Roti?
J.A.: Soon after passing out from FTII, I had the privilege of working with Mani Kaul in Uski Roti. I loved the content of the film. It was a play in the same name of Hindi playwright Mohan Rakesh. I joined Mani (Kaul) in Delhi to work on the script of the film. I also got an offer to work on a documentary of Himalaya for Films Division. The assigned director met with an accident and hence they gave me the film to make. That was my first assignment; it does not mean that was my first film.
After the shooting of the film when I was back from Himalayas in Delhi, Film Finance Corporation had sanctioned the loan to make Uski Roti. Mani and I stayed at Mohan Rakesh's house and prepared the detailed script for the film. I was the first to visit the location. I did not like the film during the preview. I did not like the form. Uski Roti was a sentimental story. If you dry out the sentimentality and give a format like the one in the film, it is hypocrisy. If there is a sentiment in the content, it must be there in the screen also. I also said the same to Mrinal Sen once, after seeing Akash Kusum. It is a film about a musician, but without even a song. That is not right. Just as adding songs to films without any reason, eliminating a song where it is needed is also bad. If something which needed to be added is omitted, it is either ignorance or intellectual pretension.
Q:  Cheriyachan is the only film about your ancestral milieu. How come that happened?
J.A.: I started off Cheriyachante Kroora Krithangal (Evil Deeds of Cheriyan) in 1980. That is a story which I know very personally. It is very close to my heart, a political experience. I went through lot of confusion while writing the script. There was a farmer's struggle in Kuttanad (his ancestral place) and six of them were killed and escaped from the scene. But there was someone in between, a Congress worker, a petty bourgeoise. He was my relative too in real life. He escaped from there and joined the seminary.
The film starts with the guilt complex about the incident and the mental tension of that Cheriyachan.  I had no intention to go into the political events, but wanted to concentrate on the events propelled by the agony of Cheriyachan about the incident. That is the story of the film.
Q: How do you describe the making of Amma Ariyan (Report to Mother)?.
J.A.: The film does not have a conventional format or a popular style. So, the characters are not imaginary, but incidental of the situation. In a way, they appear based on the situation. The original idea of the film itself is a paragraph-long report. The report could be based on a character, sometimes of an event and it could also be from the point of view of the director. That does not mean it is a unique style. Objectivity becomes key only in some situations. Otherwise, based on the picturised events, I brought in my subjective outlook to clarify a point in the film.  For example, apart from the dialogues tracks, I used my own commentary and sometimes that of monologues of the characters to clarify a point.
I have used realism as per the concept of music symphony. That is music and counter-point. There are two contradictory beams of music, which are totally different. That is the basis of the approach to reality as shown in the film.
(Compiled and translated from the interviews of John Abraham from the book 'John Abraham - An Anthology of the Studies on the Life and Works of John Abraham', edited by K.N. Shaji, translated in Malayalam in 1994 by V.K. Cherian)