Channapatna toys have many unique features. One of the most significant aspects of this handicraft is how safe it is for children. The colours used are made of non-toxic paints so that even infants and young children can play with them. Traditionally, vegetable dyes were used, but now, artisans and toymakers in Neelasandra (the home village of these toys and the only place in Karnataka where the toys are still hand-made) as well as in a small-scale production centre in Channapatna, use non-toxic, non-chemical colours. Artisans prepare the colours in the form of long candle-like sticks and then apply them to the toys.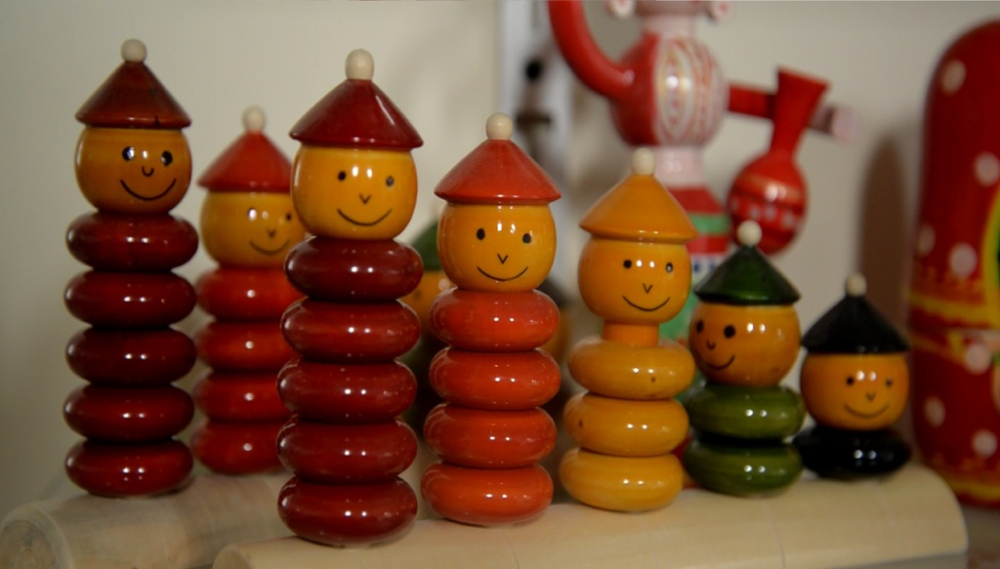 Fig. 1: Attractively coloured Channapatna toys, which are non-toxic and non-chemical. Photo credit: K.B. Sachin
Sahebzade Syed Mansoor Ali, a descendant of the fourth son of Tipu Sultan, the king of then Mysore State from 1782 to 1799, explains during an interview, 'Make in India was not started now, it was started 250 years ago; people had skills and innovative ideas, they made toys with ivory wood. Herbal vegetable oil was extracted from vegetables and fruit leaves and converted into colours. Those colours—like they got yellow colour from yellow fruits and green colour from green fruits—were not harmful to children and were herbal as well as natural. This was a great invention; French and Persian people visited India and were surprised to see such beautiful and natural toys. And so they requested Tipu Sultan and his minister to export these toys and handicrafts to their countries.'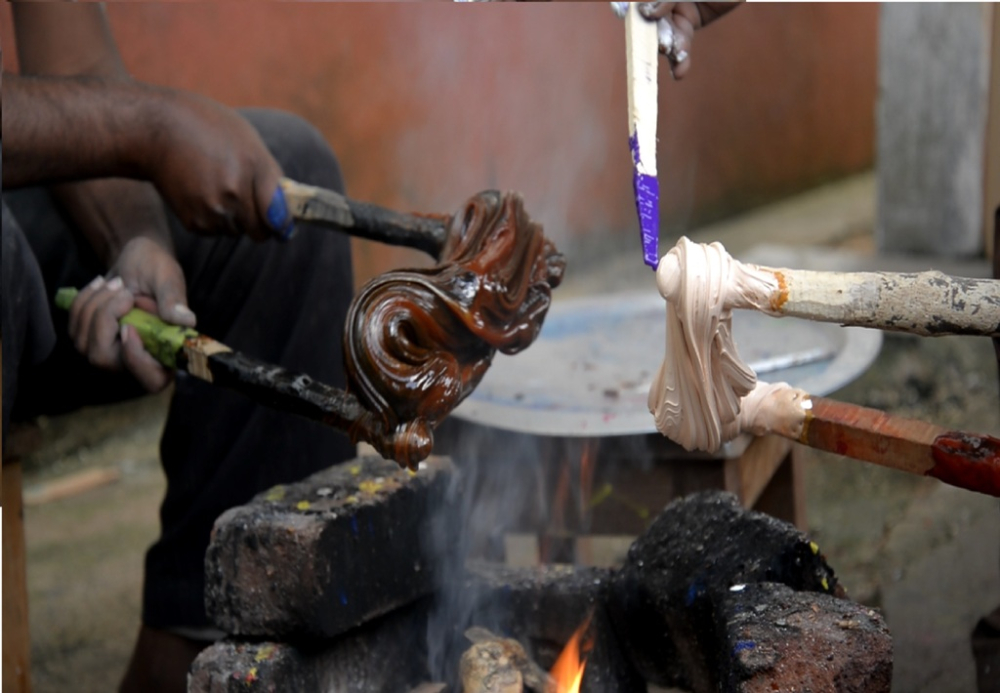 Fig. 2: Shellac is heated over flames to a semi-solid consistency at the Shilpa Trust. Photo credit: K.B. Sachin
According to local artisans, however, the cost of extracting vegetable or fruit dyes is very high, which makes them expensive compared to the non-toxic, chemical-free colours that are now used. As B. Venkatesh, who owns a small-scale unit in Channapatna, explains during an interview, 'Making vegetable (or fruit) dyes is a very costly process; we can use such dyes and make toys only if we have specific orders. Even otherwise, we use non-toxic, non-chemical dyes made from insect secretions, like cocoons. We get these from West Bengal and process it ourselves to make coloured sticks like candles; in fact, most of our artisans are trained to work in every aspect of toy making. The aargu (shellac) as we call it in Kannada is heated over fire till it melts into a semi-liquid state—bunches of aargu (shellac) are stuck to one end of a stick and are melted over fire till they coagulate. Once coagulated, natural colours are added and mixed thoroughly; once the colours are thoroughly spread, the coagulated mass is laid into long candle-like sticks till they freeze again into a solid state.'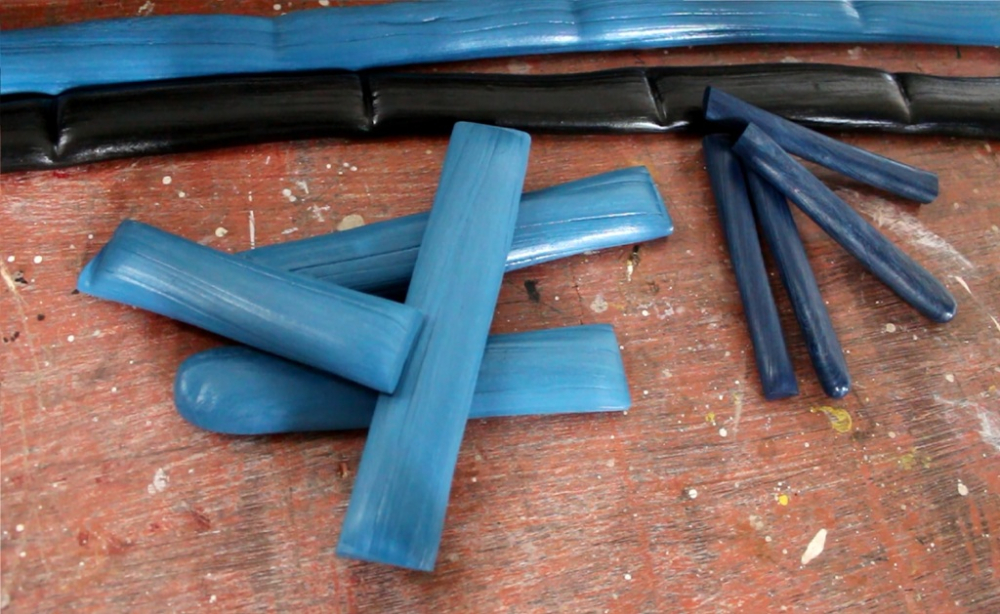 Fig. 3: These coloured shellac sticks are ready to use for colouring toys. Photo credit: K.B. Sachin
Most artisans—both in Neelasandra and in the more mechanised units—have learned to prepare these non-toxic, non-chemical colours. There is unanimous consensus that this is one of the most unique features of these toys, and the artisans continue to maintain this 225-year-old tradition, despite threats from cheaper imitations, Chinese-made toys, and plastic replicas. Shilpa Trust (Self Help Initiative Linking Progressive Artisans) is a non-profit organisation established in 1988 and registered in 1993. It trains and employs men and women in every type of toy making. 'Our products are absolutely eco-friendly and child-friendly as we use non-toxic colours. We get this aargu from Bengal and Maharashtra and prepare the colours by ourselves', remarks Mr Dilip, Shilpa Trust Production Manager during an interview. While most units procure shellac from Bengal, a few toymakers report that they get it from Maharashtra.
Colouring the toys requires a specialised skill, and over time, the artisans learn both manual and machine-assisted methods of doing so. Turning the toys on their lathes, they apply the colours that melt and spread on the surface due to the heat generated through friction. As Mr Krishnappa, who has been in the trade for over 45 years, explains, during an interview, 'Every aspect of toy making is an intricate process, and at every stage we need to polish the components with dried cactus leaves to ensure that the toys are smooth and even. We then apply the requisite colours which get absorbed into the soft wood because of the heat generated by the friction created between the wood and colouring stick. How much ever a person is trained before taking up this job, we learn most of the skills involved only by experience. Every artisan will take about six months to reach near perfection. After the colours are applied to the components or toys, we have to scrub them again with cactus leaves to ensure there is even absorption of colours.'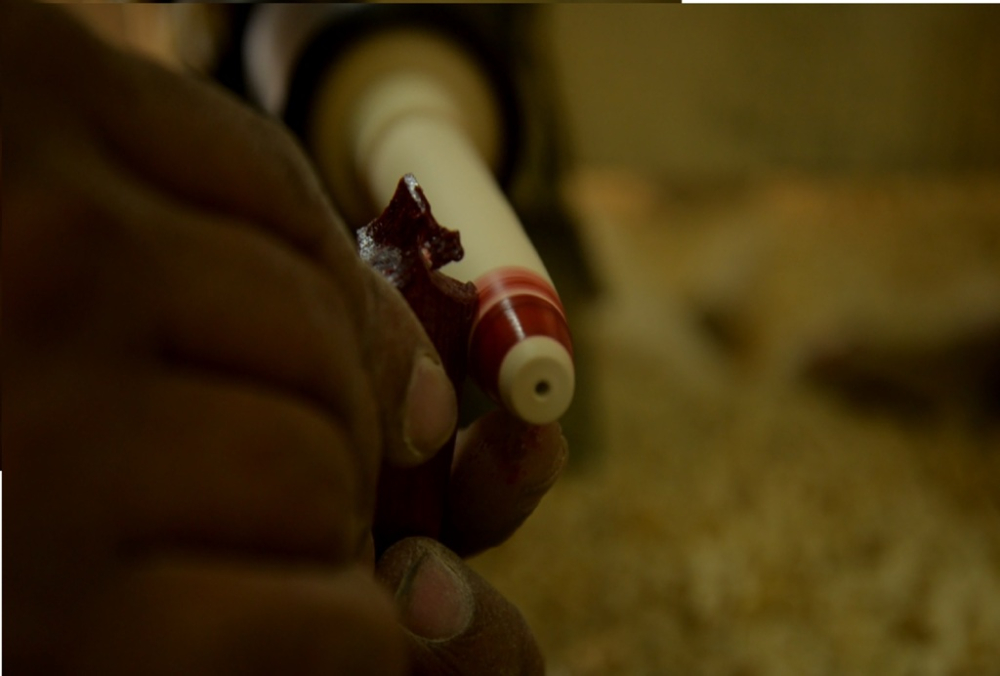 Fig. 4: An artisan carefully applying colour to a component of a toy, while it turns on a lathe. Photo credit: K.B. Sachin
Despite competition from Chinese plastic toys, even artisans who to make the toys by hand report that it remains profitable. The unique features of the craft, such as the use of non-toxic, non-chemical colours, as well the artisans' passion for their work, appear to have helped sustain an industry popularised more than 200 years ago. Receiving recognition in the form of a GI designation from the World Trade Organisation has given these craftspeople the exclusive rights to market these toys under the Channapatna name. This seems to have given the handicraft a special impetus, and it is hoped that it will make them more popular globally. Jogaiah, who has been practising this vocation for more than 60 years from his home in Neelasandra village, remarks,
This is a profitable vocation now as there is a demand for these toys. Today, this vocation continues to be a profitable profession. Even after deducting material costs, I earn a profit of nearly Rs. 300 per day. I am the eldest of four brothers, and all of us learnt this trade from our father.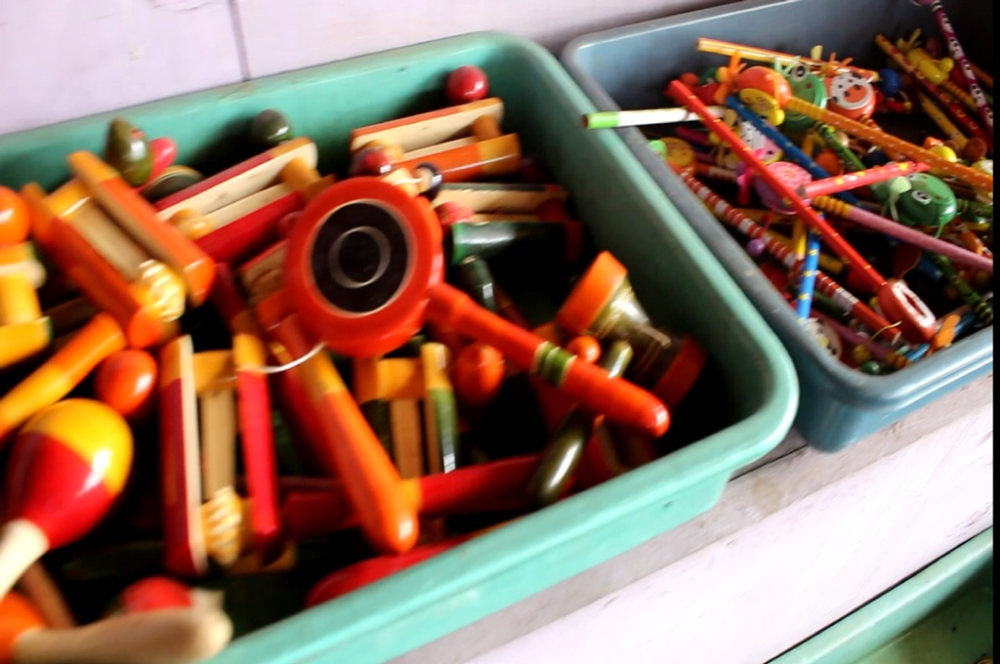 Fig. 5: Colourful toys for children, which are very safe. Photo credit: K.B. Sachin