The artisans of Channapatna — known as the 'Land of Toys' — are banking on the superior quality of their products to rejuvenate interest in their over 200-year-old art form, both in India and abroad. The World Trade Organization's Geographical Indication gives them exclusive rights to sell their toys under the Channapatna name. With the one-and-a-half-year-old Prince of Bhutan being the most recent recipient of these unique wooden toys, Channapatna handicrafts adorn houses across the globe and were also gifted to former United States President, Barack Obama, during his visit to India.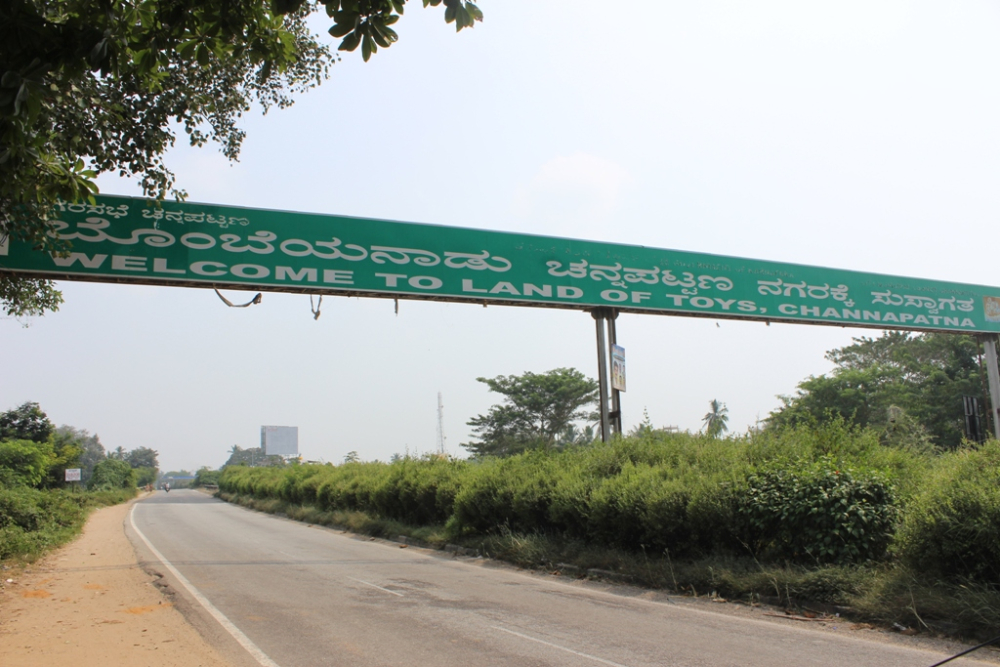 Fig. 1: A welcome arch announcing Channapatna as the 'Land of Toys'
While enterprising entrepreneur-manufacturers are trying to revive the export market, the demand for Channapatna toys in India, as well as their superior quality and safe construction, has enabled them to withstand competition from other types of toys and from poor imitations, especially from China. Channapatna toys are largely made out of 'soft' ivory wood (known as alae mara—ಆಲೆ ಮರ in Kannada) and artisans in both manual and mechanised units use non-toxic, non-chemical colours, which they make themselves. This ensures that the toys are safe for children of all ages. Channapatna — which has earned the sobriquet 'Land of Toys' — is a small town about half way between Bengaluru and what was formerly the princely city of Mysuru. Local entrepreneurs and artisans involved in making these unique and environmentally safe toys explain that Channapatna can well be described as the 'Land of Woodcraft' rather than the 'Land of Toys'.
Fig. 2: An ivory tree cut and ready for shaping as toys
Mr B. Venkatesh owns a small-scale unit called Sri Beereshwara Arts and Crafts, where these wonderful toys are made. He explains, 'If we trace back the history of Channapatna, we will find that the artisans of this town have been associated with woodcraft from time immemorial. At one time, Channapatna walking sticks were a symbol of prestige among the elderly elite as the sticks with rounded handles gave them a royal elegance; later on, Channapatna handles for umbrellas were unique (this style faded away once umbrellas started getting plastic handles and those made of other materials). Now we are continuing this unique art form of making non-toxic, safe toys.'
Tipu Sultan, the ruler of what was then Mysuru State between 1782 and 1799, is credited with providing the first impetus to make these toys globally popular. According to experts and the local people of Srirangapatna—the capital city during the reign of Tipu Sultan and, before that, his father Hyder Ali — he was a great economist and innovator, advocating a strong export-import policy to ensure prosperity for his kingdom, during which time he also encouraged Persian artists to buy these toys.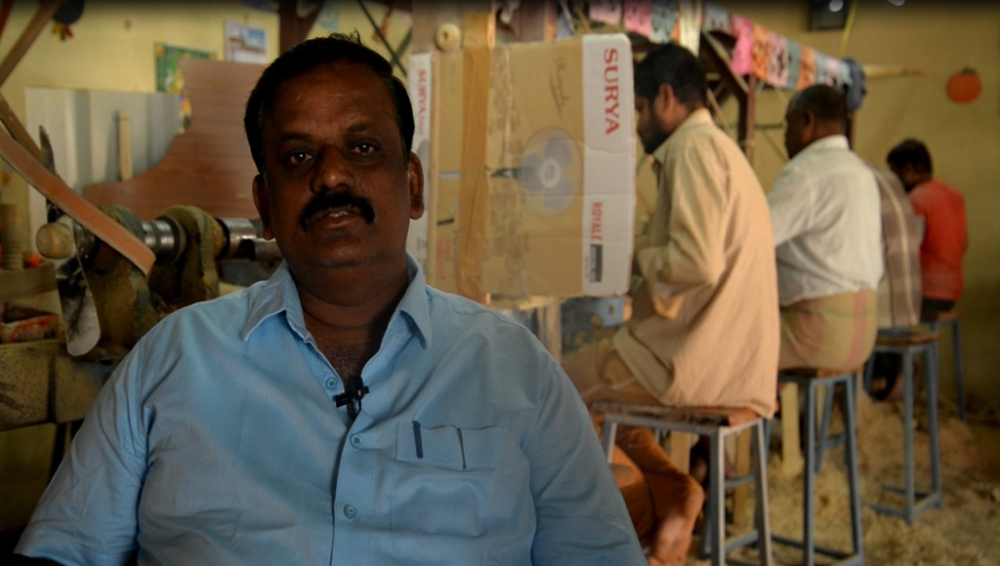 Fig. 3: B. Venkatesh, a first-time entrepreneur, runs a small-scale toy unit
Historically, Tipu Sultan has been credited with contributing to the prosperity of Channapatna artisans as well as with the popularisation of the handicraft beyond the confines of Channapatna and Mysuru State. However, there are different schools of thought on Tipu Sultan's exact role in popularising the Channapatna handicraft.
During our visit to Channapatna and Srirangapatna, different people—artisans, traders, ancestors of families involved in toy making, experts, and local people—gave different perspectives on how Tipu Sultan had promoted the Channapatna handicraft. While some believe that Tipu Sultan brought artisans from Persia to train the Channapatna artisans, others claim that this is not true, and that he had encouraged traders from Persia to buy the toys, thereby creating an export market for them. Sahebzade Syed Mansoor Ali, the seventh-generation descendant of Tipu Sultan, claims that 'Tipu Sultan was a master innovator', and that he encouraged international trade to the benefit of his kingdom.
Mr Mansoor Ali, who now lives in Bengaluru, has studied Tipu Sultan and his reign extensively. He continues, 'The legacy of Channapatna toys, both handmade and machine-made, still continues; it was a creation of the people, made with their own skill and effort. Tipu was a great innovator and his administrative innovation is still alive in the form of Channapatna toys. He actually encouraged the handicraft art by providing 25 to 30 acres of land where nearly 250 to 300 artisans worked. He took this decision in consultation with his administrator and minister Dewan Poorniah Pandit. The Persian link is that he encouraged export of the toys to Persia as also to Egypt, Iran, China, Turkey, and a few other countries. The United States was not in the picture then.'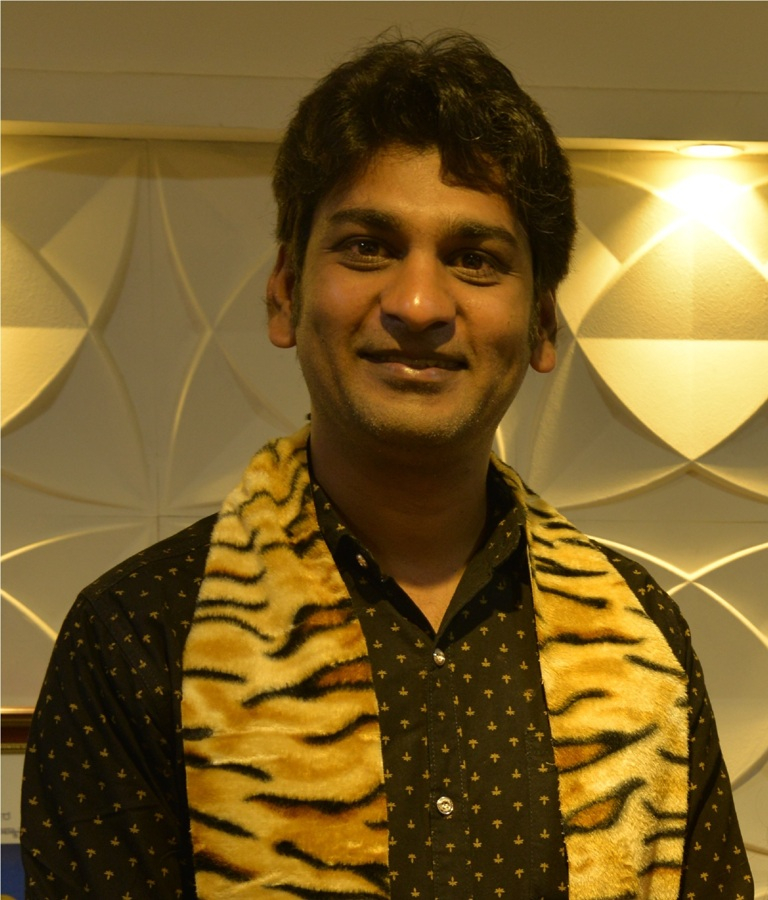 Fig. 4: Mr Sahebzade Syed Mansoor Ali, seventh-generation descendant of Tipu Sultan
According to Mr Mansoor Ali, the export of the toys was a great source of revenue for Tipu's kingdom, which was known as Sultanate Khudadad. According to the Karnataka Government Gazette, the state still earns a revenue of Rs. 2,000 crore per annum from handicrafts and toys. This is testimony to the fact that Tipu Sultan's industrial innovation is still alive. A lot of traders from overseas, including those from Persia, visited Srirangapatna. Tipu Sultan specifically created the Daria Daulat Bagh — which translates to water or overseas, money, park or meeting place — to hold meetings with overseas traders and strongly encouraged the export of indigenous products, largely Channapatna toys.
Interestingly, Tipu Sultan's administrative language was Persian, not Urdu or Kannada. 'Tipu Sultan issued 6,000 farmans (orders) and all are in Persian. Tipu Sultan used Persian as his administrative language and not Kannada or Urdu—in fact, Urdu was still in its nascent stages of development then', states 87-year-old Mr Karimuddin, a retired professor of Kannada and resident of Ganjam (a village about two kilometres from Srirangapatna). Six generations ago, Mr Karimuddin's ancestor helped Tipu Sultan's family following the death of Tipu Sultan in the war against the British.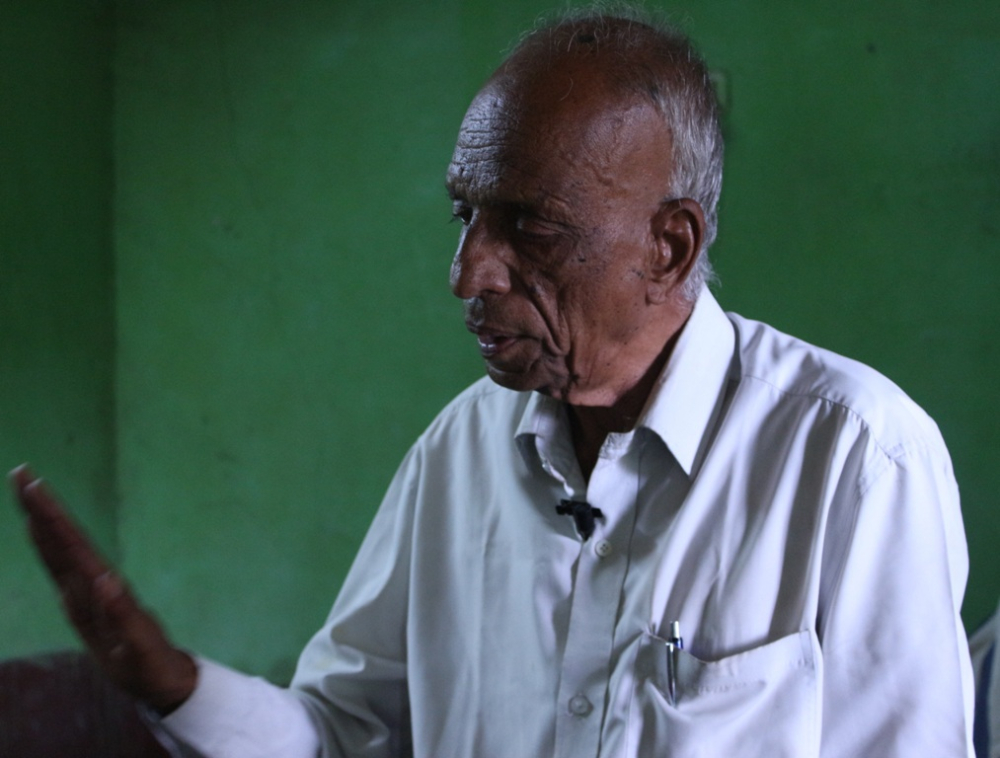 Fig. 5: Mr Karimuddin, 87-year-old retired Kannada professor and a resident of Ganjam, Near Srirangapatna
The toys come in various shapes and sizes. The present generation of entrepreneurs, especially those running small-scale units, are innovating to meet current market demands. While the colourful toys, decorative home pieces, and wooden rocking horses are well known forms of this handicraft, there are many more delicately carved and decorative items. Kitchen utensils include a special wooden cup known for its curative aspect—water stored and consumed from this cup is said to reduce blood sugar levels and is a great boon for diabetes patients. Brown elephants of various sizes, as well as many more handmade and machine-made items, adorn the shelves of showrooms as one travels from Ramanagaram to Mandya via Channapatna.
Workers show a rare passion for their profession as they manipulate wood and machinery to craft amazing toys. They pay attention to every detail while creating every element of the toy, whether it is hand-crafted or machine-made.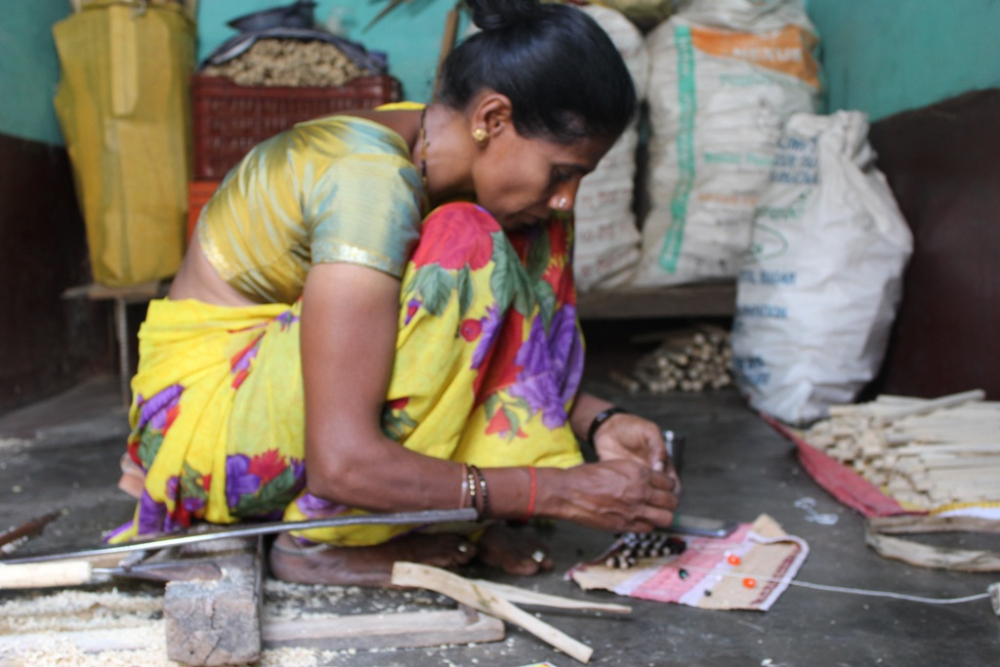 Fig. 6: Artisan Rukamma at work in her Home in Kalanagar, Channapatna
If Tipu Sultan was the first person to promote Channapatna toys, then local resident Syed Bawa Saheb Miyan, or Bawas Miyan, was as important in popularising Channapatna and increasing the scale of production. While some people have tried to link Tipu Sultan and Bawas Miyan, establishing such a link historically has proven impossible, as Tipu Sultan died on May 4, 1799, while Bawas Miyan lived in the early 20th century. In 1904 and 1909, Bawas Miyan travelled to Japan to learn about lacquer and toy-making processes. Several members of the community believe that Bawas Miyan and his son-in-law, Syed Yedulla, were largely responsible for expanding the production of handicrafts in the region. Syed Ameer Parveez, a sixth-generation descendant who still lives in the now-dilapidated house of Bawas Miyan, vouches for this.
Following his return from Japan, Bawas Miyan started a school to train the unemployed youth of his time in handicraft making, because of which he came to be known as 'Master' Bawas Miyan. Mr Syed Ameer Parveez recalls with pride, 'School Bawas Miyan Saheb was working in a lacquerware training centre in Channapatna after completing his FA [equivalent to eighth or ninth standard in India during the British Rule] and went to Japan twice, in 1904 as well as 1909, to learn about new designs and colouring processes that can be used for wooden toys. I am not sure about the exact source of funding for his trips and believe that his father may have sponsored them. On his return to Channapatna, he set up a training centre for the unemployed youth of Channapatna on the art of toy making and painting. He taught them to make the toys and other handicrafts manually. That is why he is known either as 'School' Bawas Miyan or 'Master' Bawas Miyan. Following the death of Bawas Miyan in 1914, his son-in-law Syed Yeddulla took over the training school. Syed Yeddulla was a mechanic by profession and decided to introduce lathes for making of the toys. Thereafter, toy-making became a prosperous craft in Channapatna.'
Shadab Khan is a fourth-generation toymaker in his family—they own a toy shop. He says, 'My family has been in the business of toy-making for more than 100 years. My great grandfather, Shabasha, was trained by Bawas Miyan, and since then, the practice has been continuing through the generations in my family. My father, apart from making toys in a factory, also has a showroom for selling the toys and I am following in his footsteps.'
The toys are truly unique from the raw material — ivory wood — to the finished product. At the outset, the toys and the process of making them are not harmful to nature or to their makers or users. The wood of the ivory tree, which grows abundantly in the forests of Karnataka, particularly in the Channapatna area, cannot be used for any other purpose. It cannot even be used as firewood, as it generates a lot of smoke. Mr Venkatesh explains, 'The ivory tree is a gift of Nature to makers of Channapatna toys, and it is unique in many ways. The tree grows by natural dispersion and takes about 10 years to reach its full size. Any attempt to manually sow the seeds will not yield the same result. There is absolutely no harmful effect in the entire process of toy-making. Though this handicraft has been around for more than 200 years, there is no dearth of raw material. We get a sufficient supply of raw material from neighbouring regions, including Ramanagaram and Magadi. Farmers on whose lands these trees grow approach us directly for selling wood.'
He adds, 'The wood from this tree cannot be used for any other purpose; the sole use of this tree is making Channapatna toys. The biological name of this tree is Wrightia tinctoria and it also has another great feature. It has absolutely no adverse impact on the health of workers, unlike some other kinds of saw dust. Even after working for three or four decades, workers haven't suffered any health issues despite being surrounded by so much of saw dust from this tree.'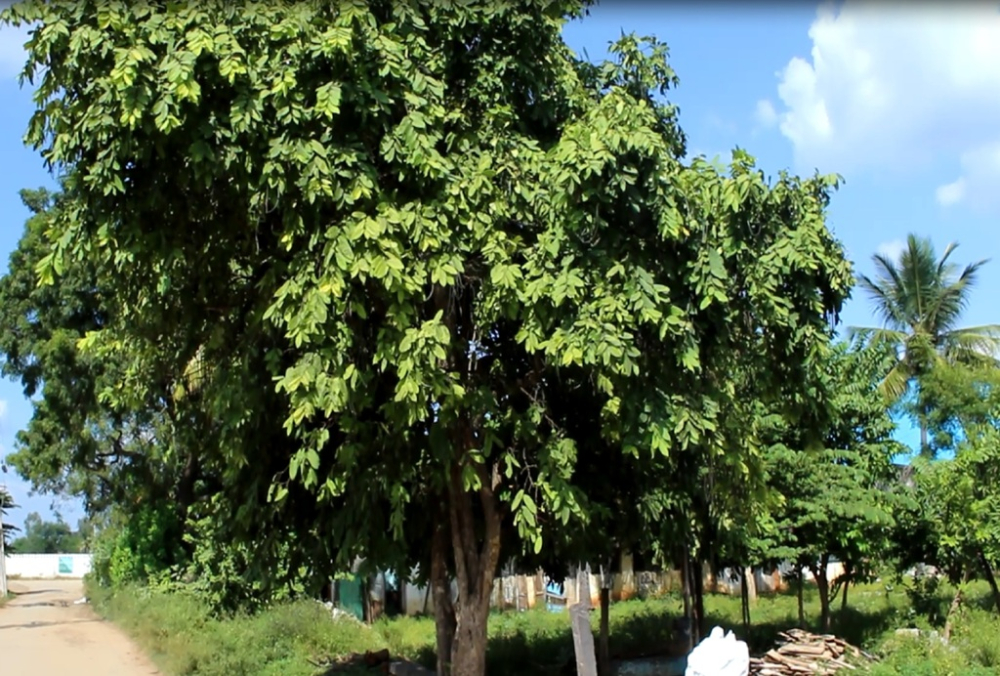 Fig. 8: An ivory tree in Channapatna town, which takes about ten years to grow fully
While most toy and handicraft manufacturing in the small-scale sector is mechanised with the use of specialised lathes, a small segment of Channapatna society in Neelasandra, a hamlet about six kilometres from the main township, still makes the toys by hand. It is a tradition that has been handed down for generations in practically every family in Neelasandra, which would have remained a quiet unknown hamlet—like lakhs of such hamlets in India—but for the Channapatna toy-making handicraft.
According to the 2011 Census, Neelasandra is located in Channapatna taluk, Ramanagaram district,  Karnataka. As per 2009 statistics, Neelasandra is a gram panchayat. The total geographical area of the village is 228.18 hectares with a total population of 675 individuals, and 162 houses.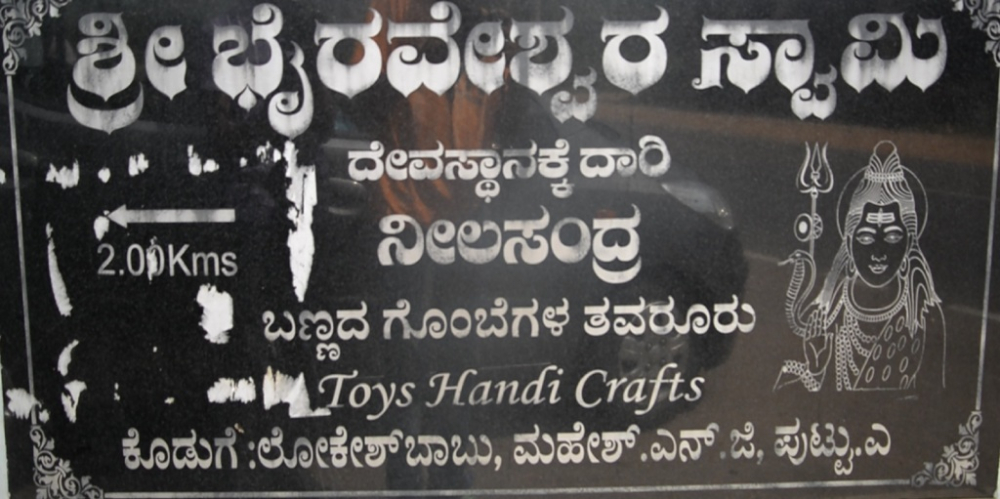 Fig. 9: The signboard shows the way to Sree Baireshwara Swamy Temple, Neelasandra, the home of coloured toys
'Today, such handmade toys are only made in Neelasandra; previously they were made in other villages such as Byadarahalli, Hunnur, Yellakere as well, but now it is confined only to Neelasandra. We are four brothers and all of us are in Neelasandra and we are in the same vocation,' says Mr Jogaiah, a senior citizen of Neelasandra who has been manually making such toys for 60 years.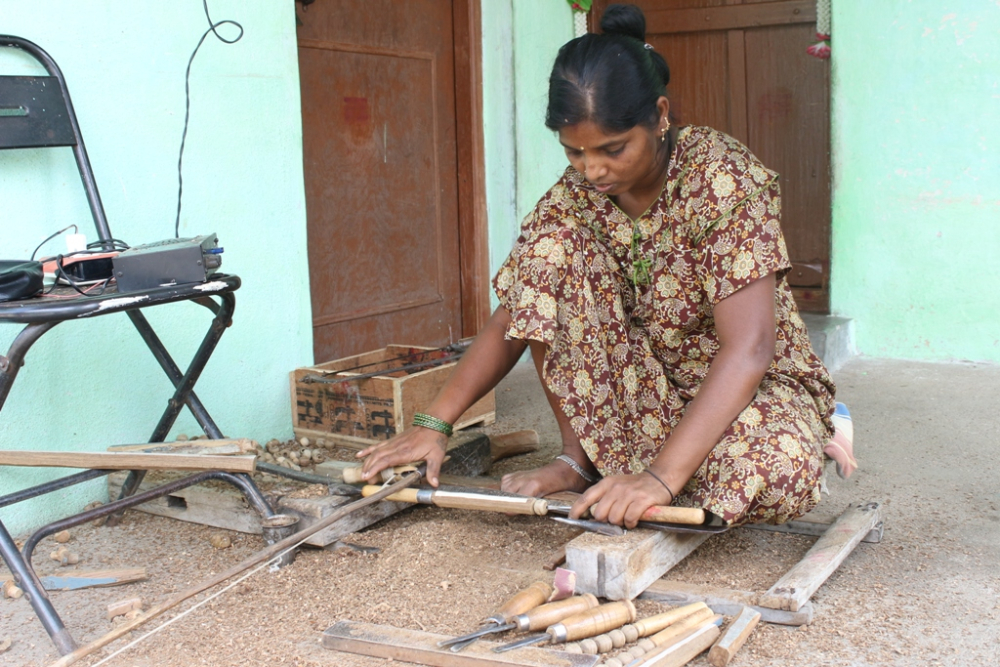 Fig. 10: Ms Uma, who works at home in Neelasandra to earn some extra money
For Ms Uma, who makes toys at her home in Neelasandra, the vocation is an useful additional source of income, and working from home helps her manage her time effectively. She says 'My husband is a teacher and I have two school-going children. It is very convenient for me to work from home. I start at about 8 a.m., and continue till about 2 p.m. I have studied up to SSLC (10th standard) and learnt this handicraft from my parents though they tried to dissuade me. I started learning this handicraft when I was in eighth standard and have now been making toys for 15 years. Working on machines or lathes was never an option for me as I don't know how to work on such equipment. If I was doing some other profession, then I would have to go in the morning and return in the evening—that would have been very inconvenient. The government has not given any specific incentives for women in this vocation.'
Kalanagar is a combined residential and commercial locality provided by the government for the few artisans of Neelasandra, where artisans still make toys by hand. The rest of the handicraft industry is mechanised and spread across the length and breadth of Channapatna. While the highway is dotted with various showrooms, the units are all situated in residential localities. Interestingly, most of the owners have also learnt the handicraft from their families and work alongside their labourers in a very congenial atmosphere.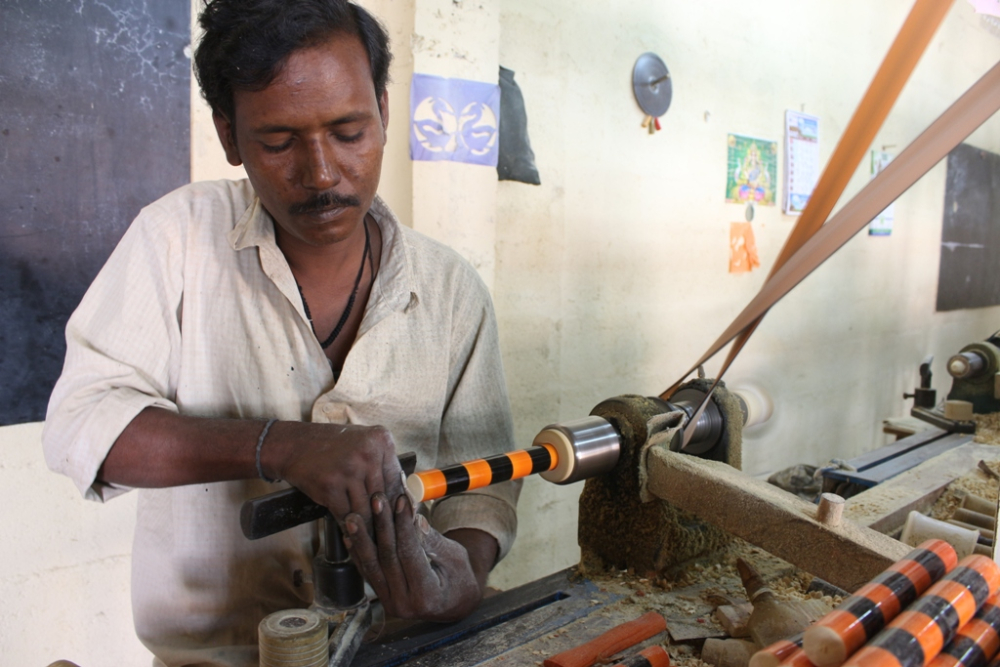 Fig. 11: An Artisan at work in a mechanised unit in Channapatna
Mr Venkatesh explains how he transitioned from being a manual labourer to a small-scale entrepreneur with reasonable success. He explains, 'My father was an artisan who made toys manually at home. I was fascinated with his work and would observe him at close quarters. The entire process of doll-making was amazing, especially how colours are applied to the toys, and this kept me engrossed. Though my father dissuaded me from learning this handicraft, I insisted on learning it by observation. Like in any other profession, one can hone one's skills over a period of time with experience. I studied up to PUC (12th standard) and decided to get into the toy-making business despite strong opposition from my father.
'I got some guidance from some organisations, including government organisations and non-government organisations. The guidance was on making toys to suit the present generation and on how to market products, the government also launched some design and development programmes on making these toys more attractive. I participated in some of these programmes, especially those relating to use of non-toxic, non-chemical colours, especially since some toys were being made specifically for children. The government and Shilpa (Self Help Initiative Linking Progressive Artisans) Trust trained us on using non-toxic, non-chemical colours. We learnt a lot from the training programmes and applied our knowledge with a view to export the toys, and we did get a good response from the international market. Today, there are 25 labourers in my unit and we have got a good market for our products.'
According to Mr Venkatesh, being innovative in the use of existing machinery and equipment as well as in the design of toys to meet current market demands are the keys to success. He says, 'The saw mill existed even during my father's time, but for some reason people used the saw mill only for limited purposes. My father used to cut the logs with an axe and chisel them to the required lengths to make the toys. I use the saw mill more extensively; in fact, I have installed a mini saw mill in my unit. I also decided to switch over to the mechanised process of making toys, instead of continuing the manual process. Today, I have about 25 labourers working for me and have also set up my own showroom for selling the toys. I also reach out to other markets in India by participating in exhibitions in various cities. We make our own colours using shellac or aargu as we call in Kannada, which is an animal product, similar to cocoons. We get this from Bengal and process it locally to prepare the required colours.'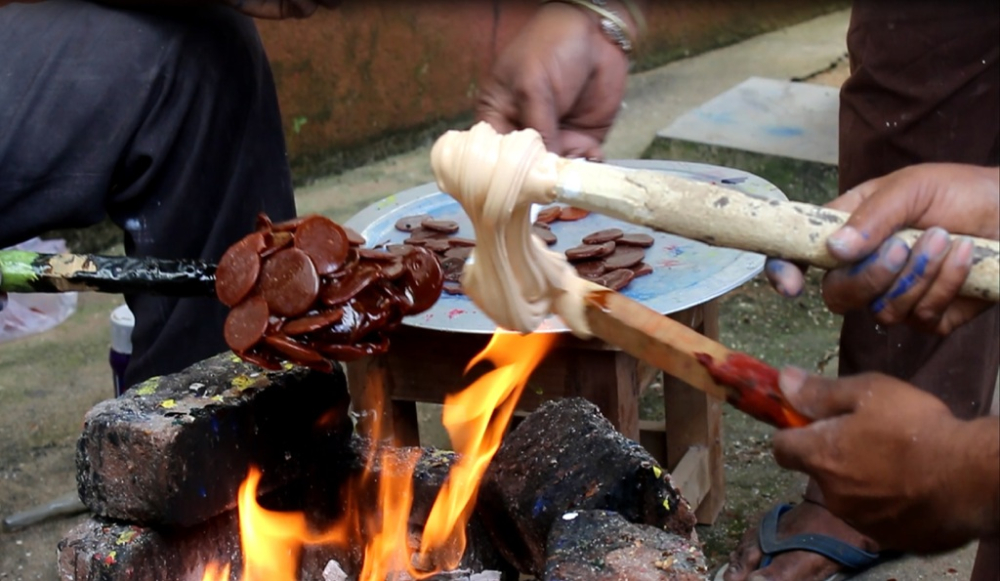 Fig. 12: Artisans at Shilpa Trust heat shellac to prepare non-chemical colours
Manual or mechanised, these handicrafts require dedication and devotion to create. Artisans need to be immensely passionate about their craft, as they need to breathe life into every toy they make. Though some artisans in the present generation are trained by organisations such as Maya Organic, they still need to hone their skills by working with machines and by observing the work of senior artisans.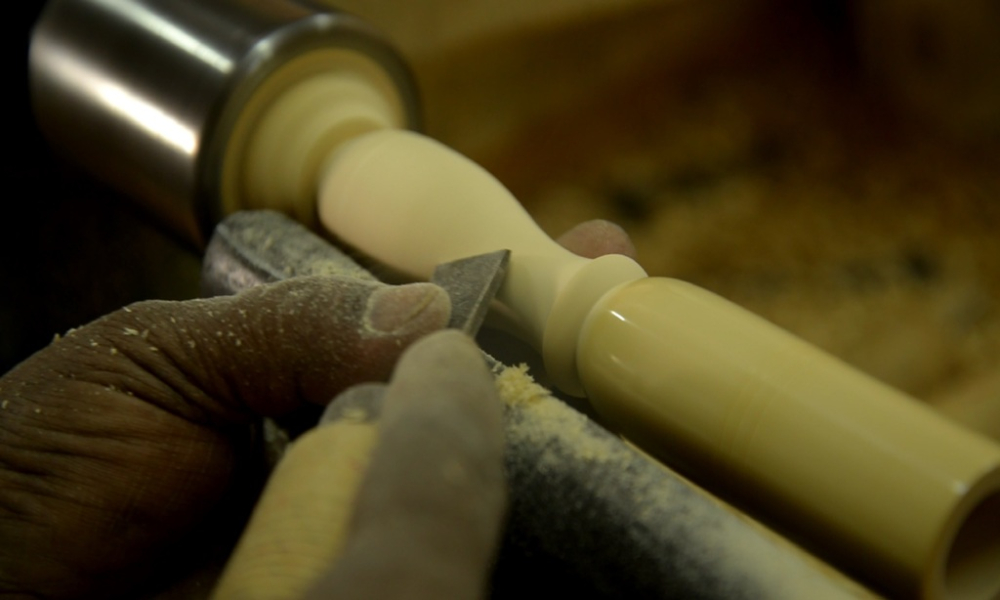 Fig. 13: Artisans now work with lathes to make the toys
Mr Krishnappa is a senior artisan with 45 years of experience in the profession, who now works at Beereshwara Arts & Crafts. He explains, 'The proficiency of an artisan only grows with experience, how much ever initial training they may get. They need to observe and learn from senior artisans and from experience. I learnt this handicraft from my uncle, who owned a small unit to make the toys in his home. After his demise, there was a family issue and I started working for others. I have been plying this trade for 45 years now, and over the years, I have fine-tuned my skills. This is a high precision vocation and one really needs to be passionate about making these toys. Every component of the toy-making process requires complete attention and there are many people involved in the toy-making process.'

Fig. 14: Proper polishing is very important to ensure that the surface is smooth and can absorb colours evenly
Explaining the intricate process of toy-making, Mr Krishnappa says, 'We first need to turn each component on the lathe to make the required shape. We then have to precisely assemble the components, chisel them to the required shape, and polish them using dried cactus leaves. We then apply the requisite colours, sometimes by placing the toy on the lathe itself, or in some cases such as the tops, through another manual process. The colour is added onto the toys by turning them on lathes or manually and the friction melts the colour stick and the colour is applied. We learnt this art on our own by observing others, including family members, from a young age and have honed our skills over the years. Though younger artisans are given some basic training, they still need to improve their skills by observing us and learning from experience. Over a period of time, artisans can pick up many intricate skills, especially if they are keen on learning the handicraft and pursuing it.'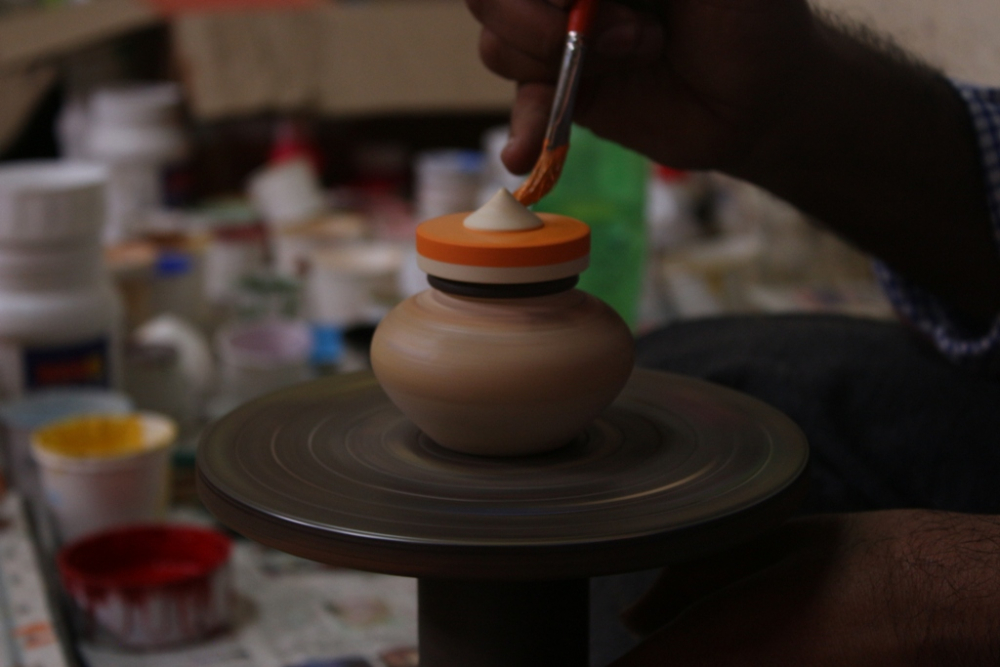 Fig. 15: An artisan colouring a toy manually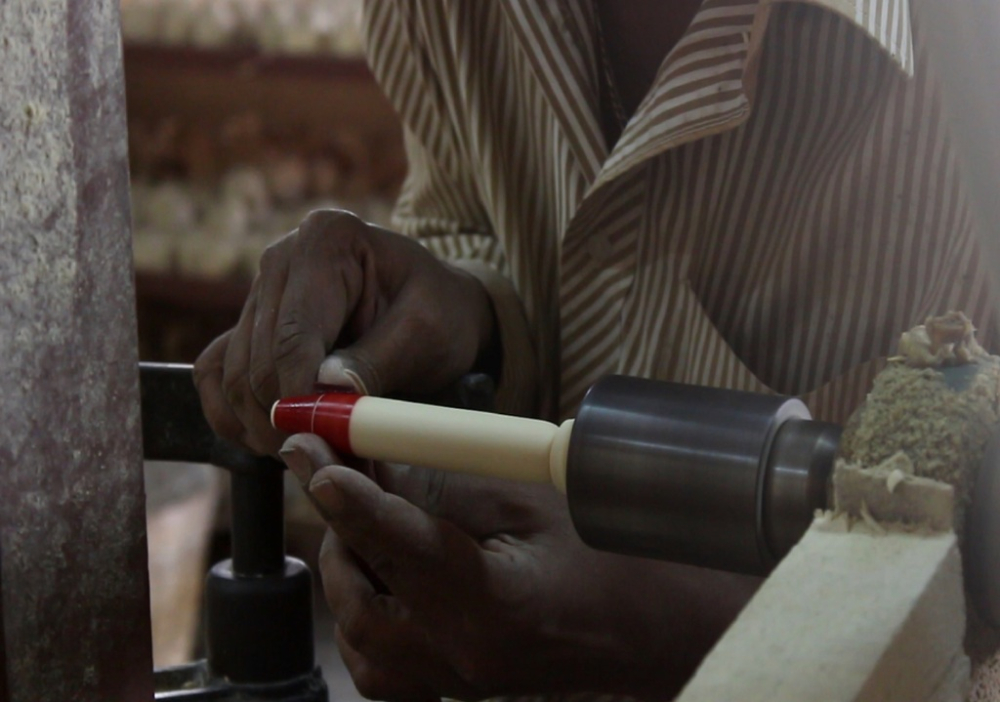 Fig. 16: An artisan applying colours to raw materials on a lathe
For Mr Raju, a mid-level worker with about 15 years' experience in the profession, the art of toy-making is all about passion. He says emphatically, 'Making these toys requires a lot of passion—unless we are deeply involved in what we do, we cannot make the right kinds of toys. I am an SSLC (10th standard) drop-out and have been fascinated by the art of toy-making from a very young age. I underwent a three-month training course and have now been working for more than 15 years in this industry. After working in other units, I joined this unit—Sri Beereshwara Arts and Crafts—about five years ago. On days when I am not in the right frame of mind, I don't work as I feel I will not be able to make the right kinds of toys. The entire team, including our owner, works in a very informal and jovial atmosphere. We keep exchanging friendly banter as we work on the machines, and that really keeps us going. All of us work with a passion that is very unique to this industry. We hardly take any long breaks, maybe once in a year during the Dasara festival we take about four or five days and travel to ensure we come back refreshed and rejuvenated.'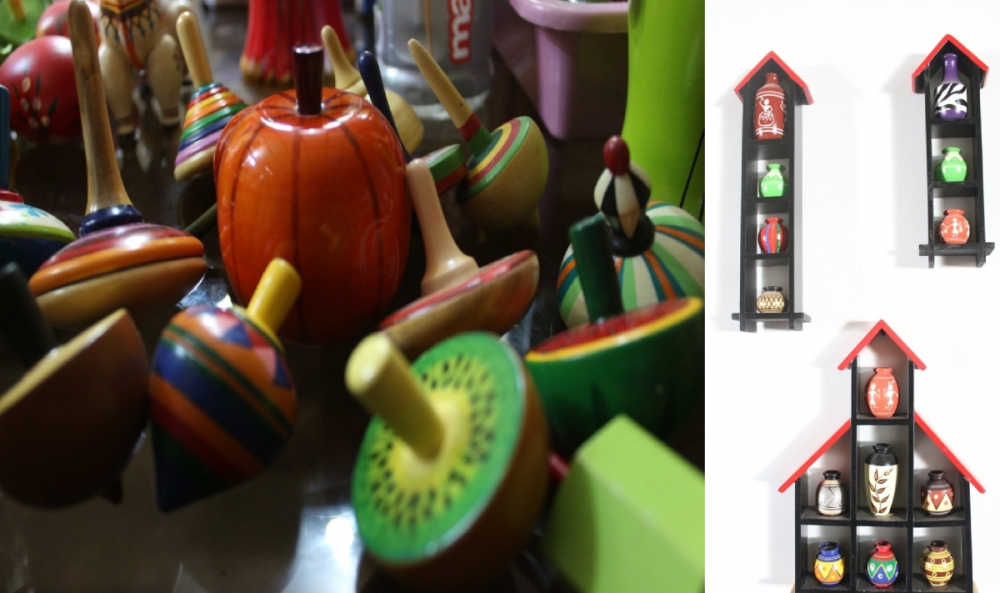 Fig. 17: Finely finished toys on display
Handicraft units are spread across Channapatna, with a toy-making factory on practically every lane. There are also two main locations where the toys are made. One is in Kalanagar, where artisans from Neelasandra stay in 'quarters' provided by the government; and the other is Channapatna Crafts Park, a sophisticated Common Facility Service Centre with state-of-the-art woodworking machines. According to the official website, 'Channapatna Crafts Park is a registered society with representation from the Department of Industries & Commerce, Government of Karnataka, Karnataka State Small Industries Development Corporation Limited, Visveswaraya Trade Promotion Centre, Karnataka State Handicrafts Development Corporation Limited and six manufacturer exporters'.
Since this industry largely operates in the unorganised sector, organisations such as Shilpa Trust and Maya Organic are trying to create a platform for artisans to work and grow professionally. Mr Dilip, who works as Production Manager at Shilpa Trust, remarks,
'Shilpa Trust was started in 1988 by Mr Madhvacharya; now his son Mr Bhupathy runs this organisation as the Managing Trustee. The trust was registered in 1993. There are 230 artisans registered as members with Shilpa Trust, and our aim is to provide a vocation for all. We especially train women artisans and have so far trained 12 women of whom seven are still working with us. Our products are child-friendly and eco-friendly as we use non-toxic colours. We provide all our registered members with life insurance policies, conduct an eye check-up camp every year, and regularly conduct health check-up camps. I too come from a family involved in handicrafts—I have been working for 10 years now and am the third generation in my family involved in the making of handicrafts.'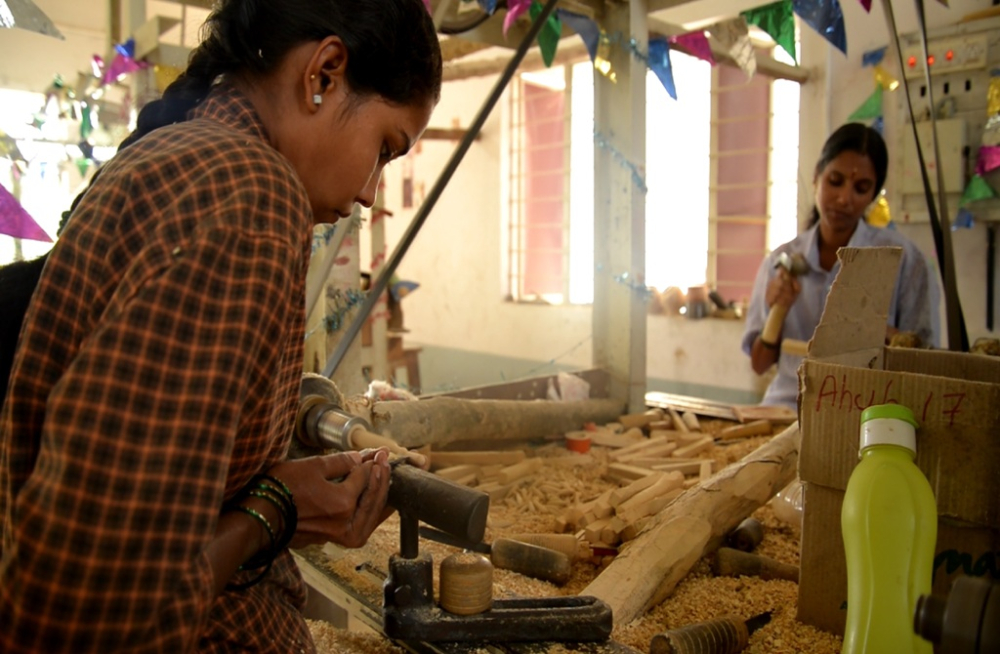 Fig. 18: Women artisans at work at the Shilpa Trust, Channapatna Crafts Park
Though there has been a drastic fall in the number of units and people making these toys, both manually and mechanically, the sector as a whole seems to have withstood threats, including poor imitations from China and plastic toys. The export market was also thriving at one time, but for some unknown reason, the toymakers failed to establish themselves on a long-term basis. Even so, many entrepreneurs and artisans have great hopes for the revival of the export market and believe that the industry has the potential to thrive in the long term. Very few artisans and manufacturers complained of inadequacy in returns, though some felt that they could be better rewarded—especially those making toys manually—as the end product fetches a handsome return. The increase in the cost of raw materials, however, was a common cause of concern among all sections of the handicraft industry.
A very senior artisan who still practises the vocation comments, 'At one point of time, there was great demand for these toys in foreign markets. A foreign lady (I can't recollect her name) first visited Channapatna and was very impressed with these toys. She took back some of the toys to her country and then started visiting Channapatna regularly and popularised the toys abroad. After she died, a gentleman was the conduit for sending our toys abroad. Around this time, a group of sellers and toymakers formed an organisation and decided to directly explore overseas markets. They met with great success; unfortunately, in their greed to make quick money, they started compromising on quality and that led to a fall in exports. Though we face some competition from Chinese and plastic toys, there is still high demand for the toys as far as I know in the Indian market.'
Mr Venkatesh explains further, 'We have sustained this handicraft for more than 200 years, and we have survived threats from Chinese and plastic toys. About 30 years ago, nearly 5,000 to 6,000 people or half [the] Channapatna population was involved in handicraft-making. Now this has declined to about 1,200 people who make such toys. The demand for Channapatna toys has revived as people have begun to realise that Chinese toys are harmful, and people have also realised the importance of purchasing products made in India. Also, there has been a practice of displaying toys during Dasara festival from the time of kings, and the practice continues today; so, we get a lot of demand from people during such festivals to make traditional toys. We exploring the market in terms of demand, we have now started making puzzles, which are a big hit in the international market.'
The demand for innovative toys now comes from multinational corporations, including Microsoft (especially puzzles), who are now choosing to present these wooden toys to their employees during internal functions.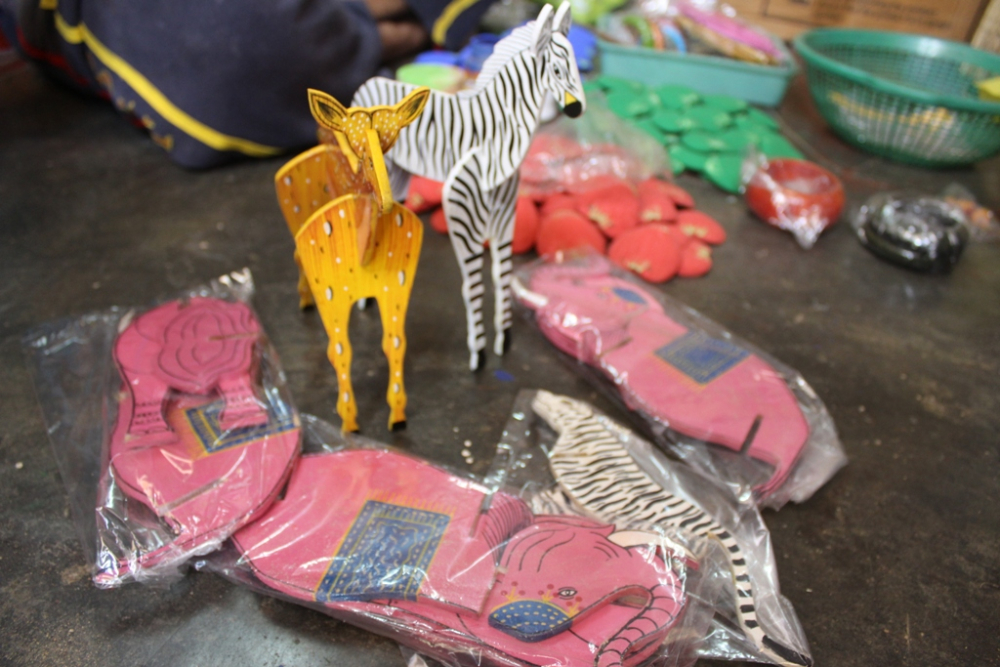 Fig. 19: Safe-to-use wooden puzzles for children
Ravikumar, who works as a technician in a private industry, has been in the business of making and selling toys for nine years and believes that the toys have a great future in the international market. He says passionately,
'As a native of Channapatna, I am aware that this handicraft is over two centuries old. Though you may find imitations from China, Russia, or Japan, Channapatna toys are unique, and are as popular globally as [among] the huge Indian population. Though I work in a factory as a technician, I decided to set up a factory as well and market these Swadeshi (made in India) toys. I have about 33 labourers working for me and have already exported the toys to Australia and Switzerland. I am looking forward to expanding my global market and will soon launch a website as well as ecommerce platforms for the same. There is no comparison to Channapatna toys in the world.'

Fig. 20: Attractive toys adorning the shelves of sales outlets on the Bengaluru-Mysuru Road
Most of our interviewees were positive about the growth and sustainability of this art form. The only note of dissent regarding the profitability of this handicraft business came from Ms Rukamma and her husband, Mr C. Papanna—originally from Neelasandra but now living in Kalanagar in Channapatna,
He says, 'At this point of time, it is a hand-to-mouth existence for us though middlemen who buy the toys from us make a big profit. The government has allotted us these quarters, but the government has not given us the property documents. saying we have to pay for this accommodation. Without property documents we are not able to raise loans. We have a son and two daughters. Our son, who studied up to PUC (12th standard), worked with us for 10 years, but has now gone off to Bengaluru to seek greener pastures. He feels that there is no profitability or sustenance in this profession. We have learnt only this handicraft and don't know any other work, so we continue this vocation for a livelihood.'
There also appears to be consensus that the handicraft has the potential for a sustainable future, but this would require the collective effort of all stakeholders—grassroots artisans, small-scale entrepreneurs, sellers, non-governmental organisations (NGOs), and governments—to ensure that the toys get better global market exposure and that benefits are shared among all.
Nizam Ali Khan, a Channapatna resident and former exporter who now does social work, strongly believes that there is an opportunity to revive exports with financial and technological help from the government. He says,
'I was an exporter of Channapatna handicrafts till about 15 years ago. It was a very profitable venture then, but 15 years ago, the world was hit by American and European economic crises. Our exports suffered badly, and we were further hit by competition from Taiwan and Korea. But I still think we can revive the export market with support from the government, especially with finance and technology.'
Mr Sahebzade Syed Mansoor Ali, the seventh-generation descendant of Tipu Sultan, rounds off his conversation by saying,
'Channapatna toys are safe and natural; even today, many children play with these toys. The see-saw horse of Channapatna is still popular among children, as also the other animal-shaped toys. The business has sustained and will continue to sustain. I request the government and international agencies to recognise Channapatna, like NASA is recognised as the pioneer of the rocket, as a 'Land of Toys', 'Land of Wood', and 'Land of Woodcraft'.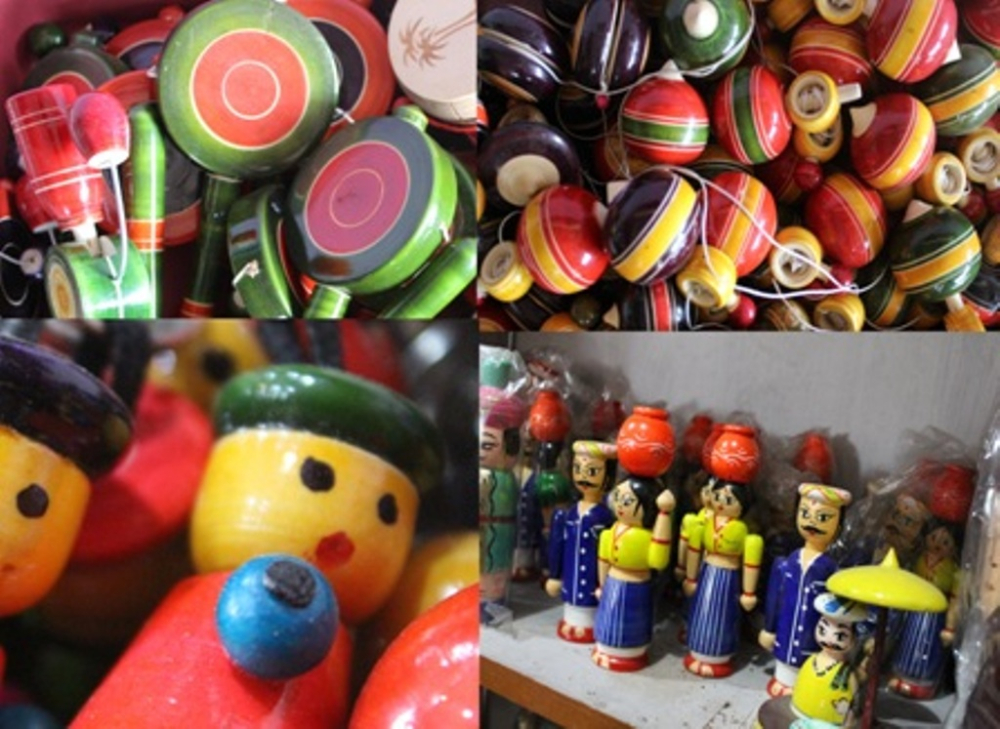 Fig. 21: Colourful and attractive toys