Srirangapatna, about 20 km from Mysuru, holds special significance as the capital city of the erstwhile Mysore State of Hyder Ali and Tipu Sultan. The fall of Tipu Sultan's empire on May 4, 1799, following his defeat at the hands of the British in the Fourth Anglo-Mysore War, led to Srirangapatna losing its elite status as capital city. Today, Srirangapatna, located in Mandya District, remains an important pilgrimage destination because of the Sriranganatha Temple and the confluence of the tributaries of River Cauvery with River Lokapavani to form the Triveni Sangam (merger of three rivers).
Fig. 1: A street in Ganjam, the township of common people during Tipu Sultan's reign. Photo credit: K.B. Sachin
However, for many residents of Srirangapatna and Ganjam—a small township about 3 km from Srirangapatna—the reigns of Hyder Ali and Tipu Sultan remain 'golden eras' in their collective imagination. In fact, the popularity of the Channapatna toys, and the growth and prosperity they have brought the region, are attributed to Tipu's innovative trade practices that resulted in the export of the toys to Persia as well as other foreign countries. Apart from innovations in trade, Hyder Ali and Tipu Sultan are also credited with imbibing the best practices from neighbouring regions to ensure the growth and development of their kingdom.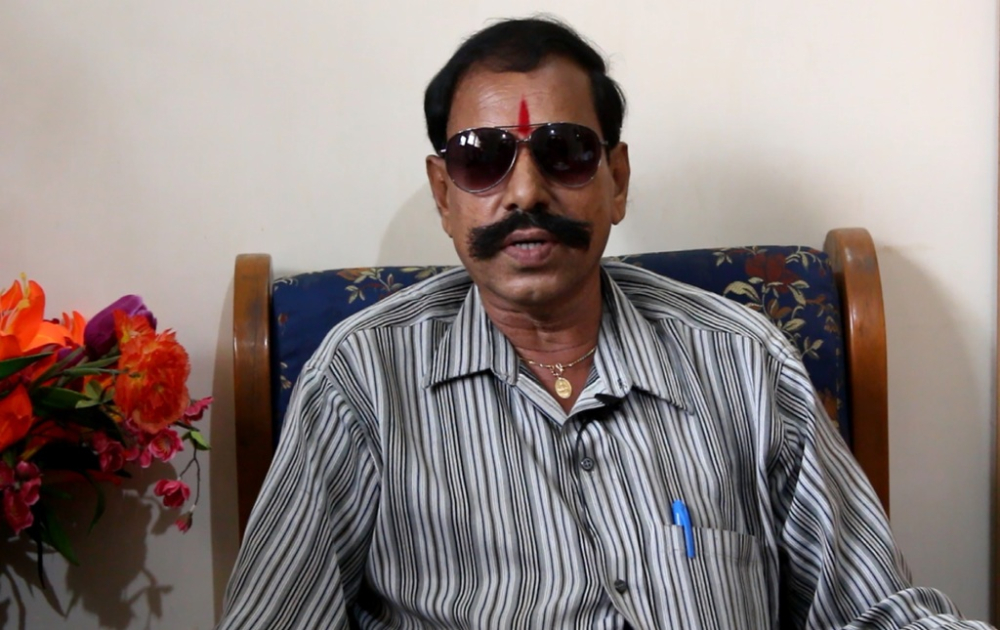 Fig. 2: Srirangapatna Rajput native, Kuber Singh, whose ancestors made weapons. Photo credit: K.B. Sachin
Tipu Sultan famously invited visitors from other parts of the country and also utilised the services of local experts to ensure the development of the region. While Rajputs had migrated to the region almost a thousand years ago seeking work as ironsmiths, a community of Chitragaras (painters) migrated to Srirangapatna to paint Tipu Sultan's Daria Daulat Bagh (a venue used for meetings with foreigners). Some members of both communities still live in Srirangapatna and Ganjam, but they have taken up jobs outside their original ancestral vocations. 'Ganjhas (fort or palace) was the place where rulers lived; ganjam was the place where the common people lived. The maximum range of Tipu Sultan's missile was 1.5 miles, so he ensured that the civilian population of his kingdom was located beyond that distance to ensure their safety,' explains 87-year-old retired Kannada professor Karimuddin, whose ancestors have lived in Ganjam for six generations.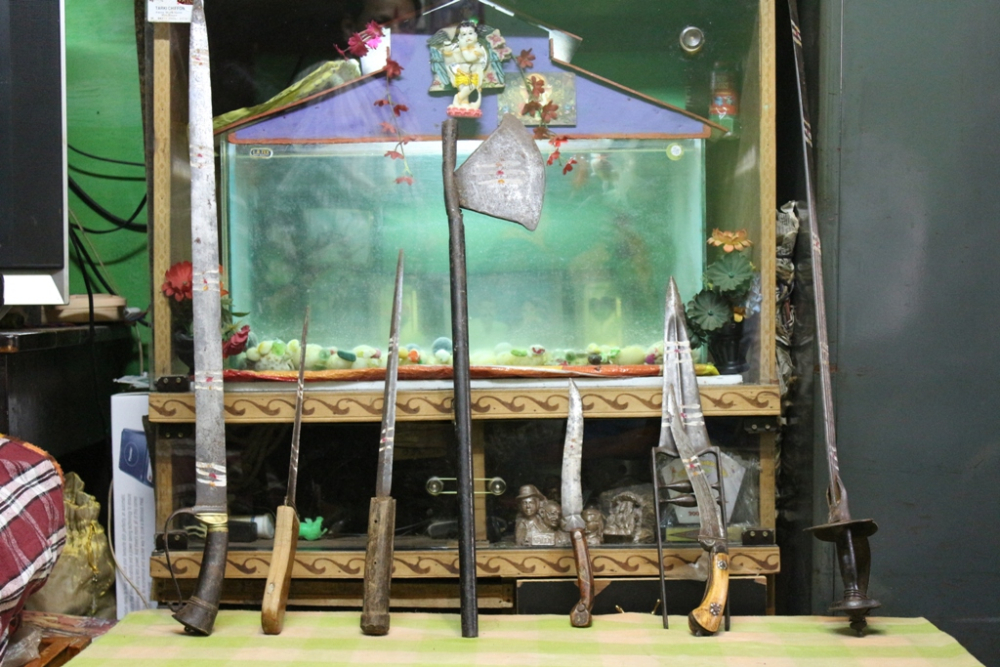 Fig. 3: Ancient weapons of war, which are now articles of worship in Rajput families. Photo credit: K.B. Sachin
'Srirangapatna is a fort city with a three-tier fort wall; it is one of the strongest forts in Karnataka, even when compared to the Chitradurga Fort. This fort has a 1,200-year history—Paalegara Hebbara Thimmana Nayaka constructed it when Nagamangala was the capital of the region. This place was also known as Gautham Kshetra, as Gautham muni (sage) had performed penance here. Hoysala Vishnuvardhana's younger brother then established it as Udayapura, and it became Srirangapatna after the construction of the Sriranganatha Temple,' recalls Kuber Singh, a Rajput whose ancestors had supplied weapons of war, such as swords and knives, to the kings of the region, including Hyder Ali and Tipu Sultan.
'There are archaeological constraints to developing Srirangapatna; the township and the monuments need to be preserved as they are. My ancestors migrated many centuries ago, during the Vijayanagara regime. As ironsmiths, they supplied secure grills for forts as well as weapons for war. With the fall of the empire and the increasing use of modern combat weapons, we have stopped making traditional weapons of war. But even now I have with me a few weapons that I worship during Dussehra. The real purpose of Ayudha Pooja is to worship weapons, but today people do pooja to cars and buses,' remarks Kuber Singh, who now runs a wrist watch repair shop in Srirangapatna.
'Our ancestors, known as chitragaras, were very famous for painting work. They migrated from Hubli (now Hubballi) and Solapur at the behest of Tipu Sultan. Brought here to paint the Daria Daulat Bagh, they then settled down here. Following the fall of Tipu Sultan's empire, our ancestors engaged in carpentry work, especially in the making of bullock carts. In fact, their masterpieces were the wheels of the bullock cart, which they carved out of teak wood. Unfortunately, today, we do not have a single piece that showcases their artistic skills. Even today, a street in our locality is called Bullock Cart Factory Road. About seven or eight families migrated to Ganjam, and at present there are about 30 families here,' say senior members of the community, T. Prakash and Ashok Kumar.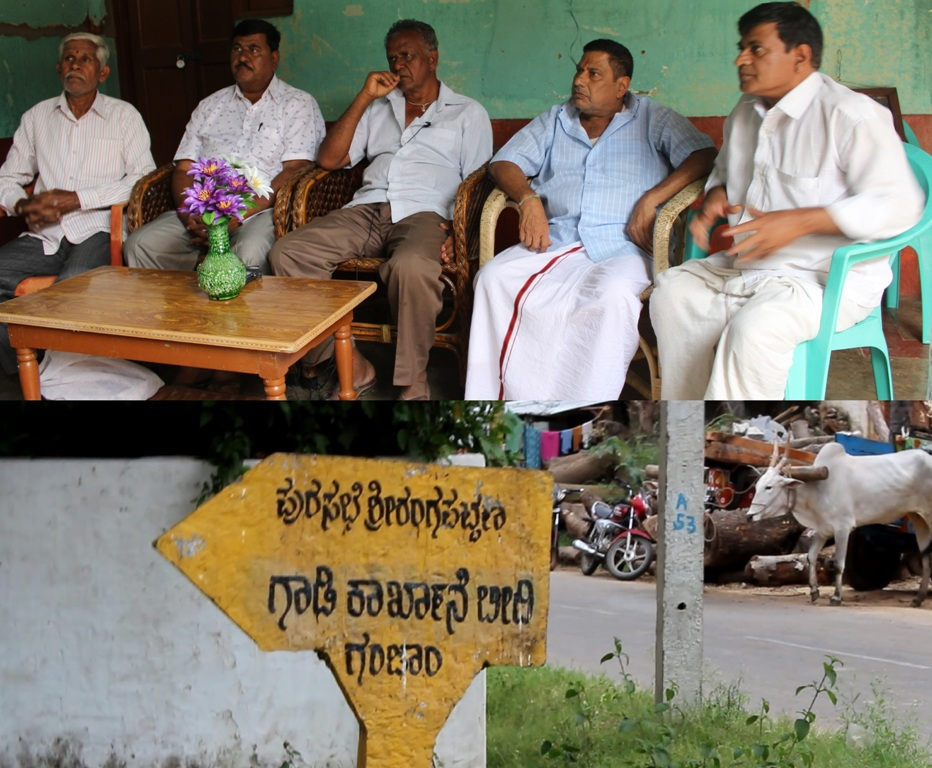 Fig. 4: Members of the Arya Vysya Samaj explain how their ancestors migrated to Ganjam; below, a street sign that reads, 'Bullock Cart Factory Road'. Photo credit: K.B. Sachin