Best known as a young revolutionary who took up arms against the British establishment, Bina Das numbers among the heroes of Indian history—alongside Bhagat Singh, Rajguru, Preetilata Wadekar- who took up arms against the colonisers. This short memoir, published by Zubaan Books, movingly recounts the story of her involvement in the shooting of the British Governor of Bengal, Stanley Jackson, at the Annual Convocation Meeting of Calcutta University in 1932, her subsequent incarceration, and her growing involvement in politics. Despite her importance in Indian history, Bina Das disappeared from public view in later life and is rumoured to have passed away in anonymity in Rishikesh. (Photo courtesy: Zubaan Books)
Here we have an edited excerpt from Bina Das' memoir, which captures the momentous time around February 6, 1932, when she attempted to assassinate Jackson, in the Convocation Hall of the University of Calcutta. It gives insights into the context and history of the times that inspired Das to take the path that she chose.
As we looked around, we found the dark sky over Bengal growing darker every day. On one side a handful of young boys and girls were throwing deadly challenges, and on the other the enraged British lion retaliated in tempestuous frenzy. In blind fury they stamped across the country seeking revenge. The brave youngsters were not deterred by the ruler's anger. They confronted them with defiance.
The British government was invincible in its fighting strength, with its vast armoury and even vaster army of skilful I.B., S.B., police and military force. And the youth from Bengal? They were alone, helpless and unarmed. They were moving forward in dead secrecy without any help or sympathy from anyone.
Their countrymen feared to help them openly. Only a few of them had the courage to acknowledge their action in private. But they knew they had their place in the innermost hearts of the people. Their sacrifices were working to untie the knots of servitude and cowardice that were keeping the country in shackles.
On this battlefield, it was impossible for us to sit idle. We had been working for this and had waited so long for its fulfillment.
I approached a friend (not of our group) and coaxed her to give me a revolver. Within a short time, the university convocation was to take place. The Governor of Bengal would be present there. It would be a great occasion to register my protest against the empire.
There was no hesitation in my mind. Not for a moment did I think that the tiny instrument of death in my hands could be the cause of a person's death and consequently announcing the end of my existence. My mind had become totally impervious to all emotions. I was just a tiny part of a vast programme.
But I was doubtful about my success. I was aware of the humiliation of failure, and especially with my extra-sensitive nature, I dreaded it.
Further, I had little experience with arms, and I had never handled a revolver. Only once had I gone out shooting with friends with a gun. My friends had shot at birds, but I had only aimed at a leaf on a tree. I hit the leaf, but at the same time, I received a tremendous backthrust. The revolver was such a tiny object that I was totally at a loss about how to handle it.
I requested my friend to let me practise with it. But there was no time and we could find no private place where I could practise. My friend assured me, 'It's alright, others have also used this without previous practise. I believe Benoy Bosu also had no time for practise.'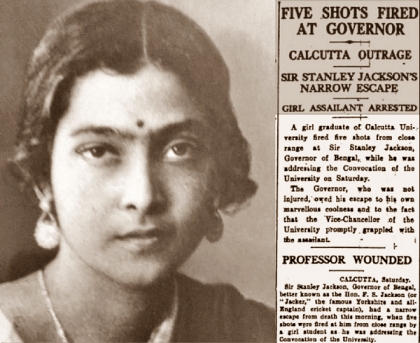 For the time being, I was assured. But little did I know then the difference between 'Bina Das' and 'Benoy Bosu'!
I had another reason for hesitation: my parents. I wondered how they would react; if they would be able to bear the enormity of my action. They were already puzzled at the change that had come over me after I had joined the underground movement. Unlike my previous enthusiastic self, I had become withdrawn and reserved. They could learn nothing from me about my daily work. So their disapproval was evident.
One evening I went out, telling them I was going to a friend's place. I returned late at night. My mother was waiting for me with worry written on her face. Father had gone to look for me at my friend's, where he learned that I had not been there. I had never seen my father so angry. In silence, I bore their chastisement, and all of us spent a sleepless night.
I told my friends that I could not live such a life of falsehood. But to them, it was daily fare. Within a couple of days, my father's anger was gone, and he took me in his arms and soothed my hurt. Chutudi had explained to my parents that I could do no wrong; rather, they were being unfair in doubting me. I had faced their anger stubbornly, but their tender words brought tears to my eyes. The façade was most difficult to bear with my parents. At times I felt like confiding in them. But friends exclaimed, 'Are you crazy? Never do such a thing. It will not only put you in trouble, it will endanger every one of us.'
But, on the final day, they did learn the truth. And even though they were in tremendous shock, they were still just as forgiving. They knew their daughter would do anything for her motherland. They knew she had done no wrong.
In the Series | Kaifi Azmi's Love Letter to Shaukat, Written in His Blood
On the sixth of February, two days after convocation, my parents were brought to the I.B. office. I was shocked to see their appearance; the change that had come over them was unbelievable!
The I.B. officer requested my father, 'Ask her to tell us who gave her the revolver. We'll release her as soon as we learn that.'
I sternly rebuked them, 'You don't know my father. He will never ask me to be a traitor.' The officer did not persist. My father shed endless tears. My mother went from one to the other with the anxious request, 'Please look after my daughter. Please be kind to her. We love her so much.' Her love for me had made her a beggar. I wrote this letter to my parents from prison:
'Hurling a thunderbolt on our heaven-like abode,
Rocking the tiny nest with the rudest shock
With my work done I stand here today.
But still I hear loving voices all around,
Father's warm embrace and Mother's tender heart
Calling their wayward daughter
To the safety of their bosom
Away from all the rigours of the road.
Do not call me. Let me lie here alone.
Holding on with my two weak hands
To my life's work,
My greatest glory, my greatest shame
You did not like my work
My motherland has turned her face
But, lo! On my futile life's work
Lies my creator's benediction.'
Excerpt reproduced from Bina Das: A Memoir, published by Zubaan Books with the permission of the publisher.