Trucks are universally known for their utility in freight transportation. But in South Asia, they have a special place in the public imagination: they are seen as mobile canvasses for art with their bodies decorated with colourful paintings and artistic expressions. A significant part of truck art includes poetic expressions that many connoisseurs identify as truck literature, which represent a truck professional's worldview. 
The expressions painted on trucks often deal with ideas of home, belonging, identity, loneliness and travel, among other things. Written on various parts of a truck's body in calligraphic form, these expressions are often meant for humour but also carry deeply philosophical messages about life, livelihood, and death. Mostly comprised of one- to four-line shayaris, these expressions are reflections of contemporary politics and society in India. (Fig. 1)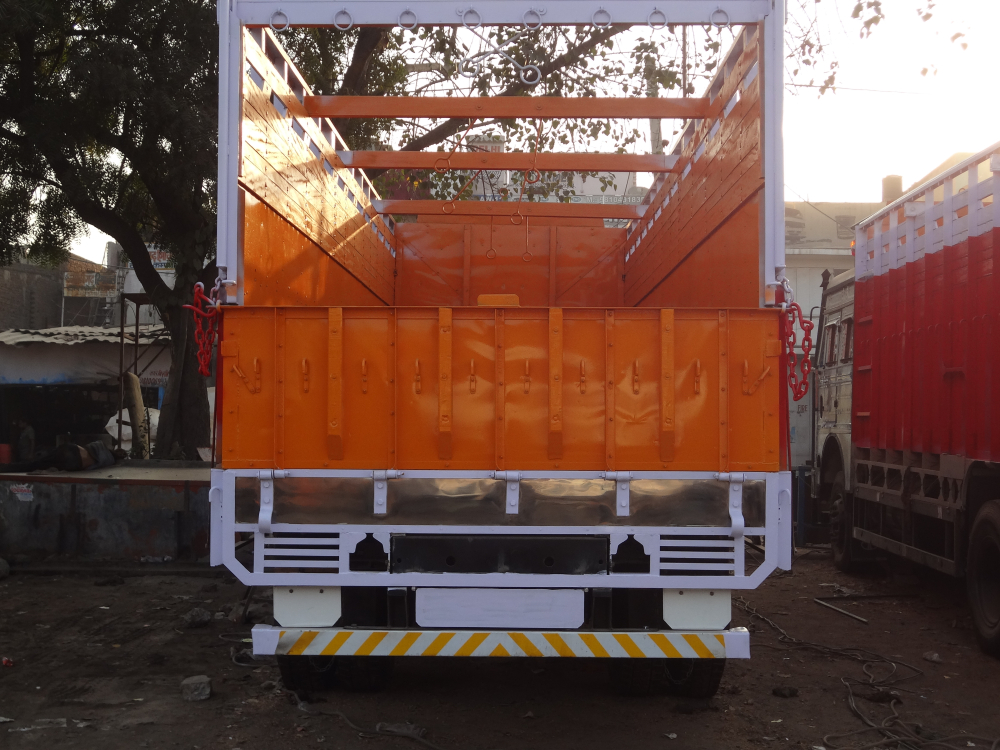 Truck Literature: Definition and Variations
It is useful to explore truck literature as an alternative genre of literature. Although 'alternative literature' is a millennial coinage to denote web-based literary production in the age of the Internet, truck literature could be categorised as literature produced in an 'alternative literary space'. Truck literature is a genre of writing that originates and thrives in movement. As a mobile literary form, truck literature forms a significant part of the South Asian public imagination, although it has yet to attract the scholarly attention it deserves. 
One reason for such neglect is the distinction between 'high' and 'low' culture with truck literature belonging to the latter category. Several writers who have written about truck literature have considered it a lowbrow kind of writing that is aimed at entertaining the 'subordinate' sections of the society. The power of truck literature, however, lies in its very engagement with the masses. Just as theatre performances and art exhibitions are not only held in theatres and galleries but also in real-world environments, literature can be found outside the normative textual spaces. Such alternative literary spaces cater to a wide readership outside of existing forms of media including books. Truck literature involves writings on several issues including the trust on hard work, a sense of attachment to a caste-community, and philosophical adages that speak of life and death, among other things. (Fig. 2) The writing begins when a truck is freshly repainted. Once the painting of the whole body is complete, the painter writes couplets, quartets or phrases on the bonnet in consultation with the owner or the driver. The painter often maintains a diary with stock poetry or phrases from which the owner or the driver can choose their favourite lines based on the theme provided by the trucker.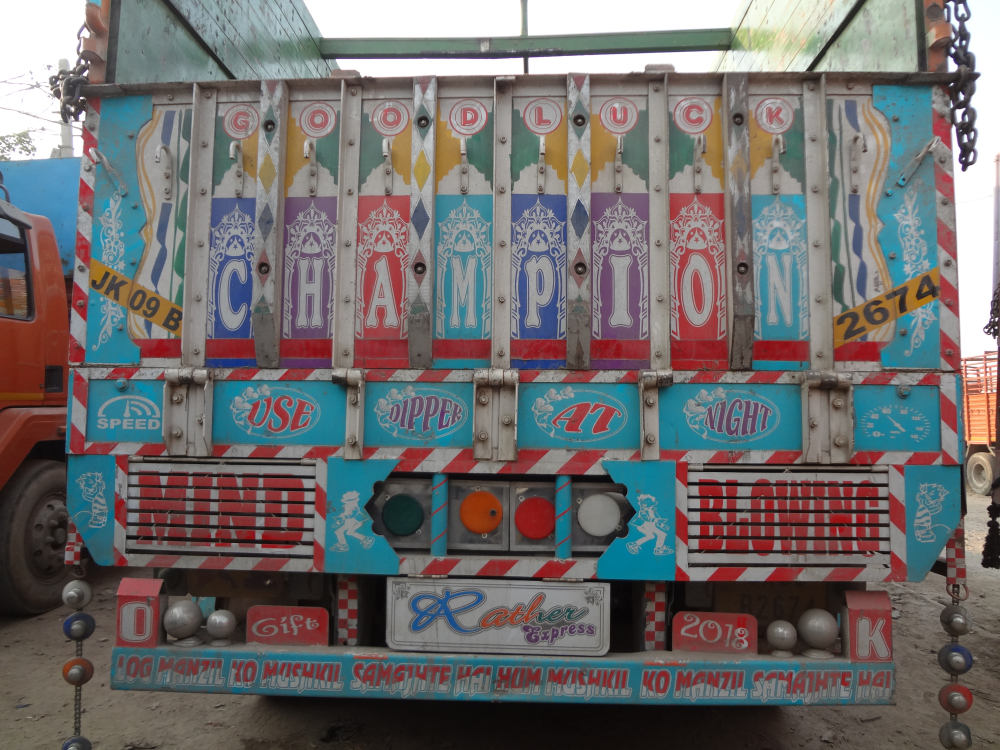 Writers and photographers who have written on or photographed truck art extensively have failed to focus on the calligraphic part of the art. Researchers working on truck literature as a genre have to depend on publicly sourced photographs on the Internet and sift through the thousands of photographs that bear shayaris (Urdu for poetry) that form truck literature. However, there is a host of new writings that discuss the various aspects of truck art and include in their discussions an analysis of the writings that form an essential part of the genre. 
In her dissertation 'Visual Semiotics of Truck Art in India: From Art on Trucks to a Digital Art Style', cultural scholar Ashima Madan writes that truck decoration 'is a symbol of the trucker's love for his truck and desire to make it appear like a home; and indexes the length of the route – the more time a driver spends in a truck, the more he tends to decorate it.'[1] While Madan stops short of mentioning the phrase 'truck literature', her dissertation includes discussion on the writings that appear on the trucks. Truck literature and truck art have found resurgence in contemporary art practices. For the journalist Zachary Slobig, trucks represent 'bold expressions of individuality and repositories of masculine, laboring pride. Drivers treat their rigs as evolving works of art, periodically commissioning a new illustration from roadside artists like one might collect tattoos.'[2]
The popular legitimacy of truck literature is self-evident in its diversification to include mediums other than trucks themselves. Other vehicles such as smaller pickup trucks and autorickshaws often carry writings similar to truck literature, but some writings are specifically related to the smaller vehicles, an example being the aspiration of a pickup truck to become a truck when it grows up: 'Main bhi bada ho kar truck banunga'. (Fig. 3) Madan in her dissertation writes extensively about how the artistic and decorative aspects of a truck have caught public imagination in South Asia as well as found a place in the market and in digital space.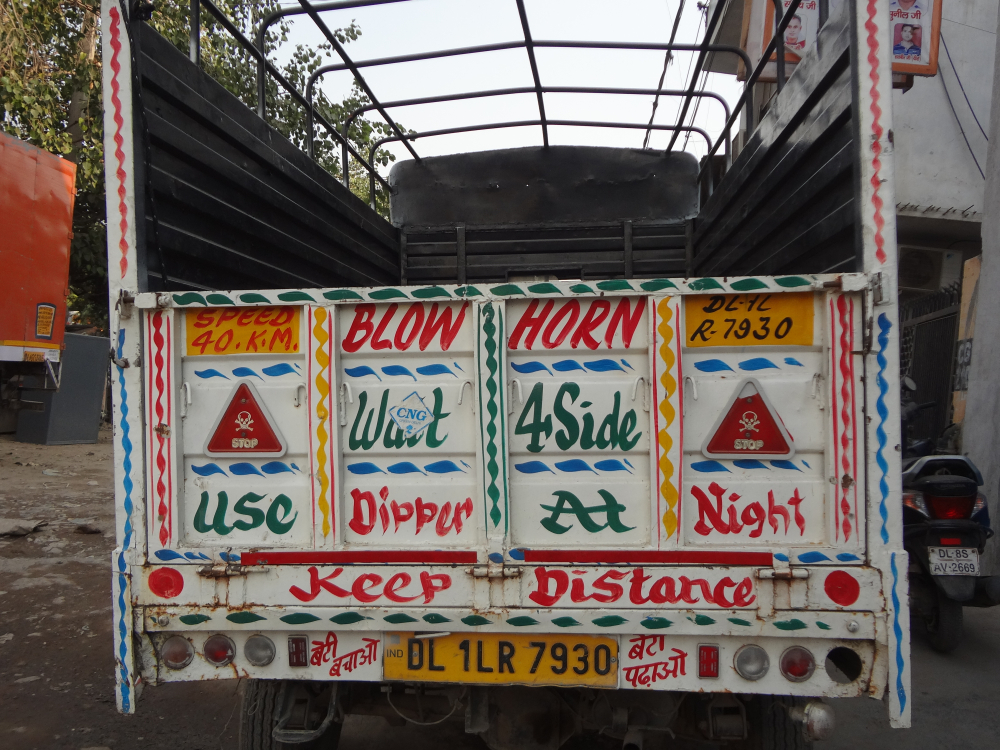 Truck literature forms an essential part of the decoration of a South Asian truck. From India to Pakistan to Nepal, a host of similar slogans appear in various languages, while there are particular slogans that are region specific. According to journalist Matthieu Aikins, truck art in Pakistan and southern Afghanistan stands out for 'an unparalleled apogee' although trucks are decorated in India, Bangladesh and other Asian as well as South American countries.[3] Aikins writes that a typical Pakistani truck 'might be festooned with dozens of stamped metal plates, lavishly painted panels detailing birds, saints, and landscapes, a high wooden prow of carved wood, and a long skirt of hundreds of chains with bells on their ends, giving the vehicles their common English moniker, "jingle trucks".' 
Durriya Kazi, an artist and professor who has researched Pakistani truck literature, writes in the essay 'The Writing on the Walls, Trucks and Autos: A Glimpse of Pakistani Visual Poetry', that the writings are 'attempted conversations with "someone out there", an amplification of one's presence in a society that renders the common man invisible. "Whispering in our ears", these writings express personal feelings, outrage or simply indignation, loss, desire, or a moment of reflection.' For Kazi, truck art comes from the Sufi tradition of decorating shrines and holy sites to earn religious merit. Speaking to Aikins for the Pulitzer Center, she says it is based on the idea that if we do not honour the truck, it will not give back to us.[4]
While talking specifically about Pakistani truck art, Kazi explains how the stylistic conventions of truck art are undergoing a transformation. The rear panel, according to Kazi, is particularly interesting to observe cultural trends. Kazi adds that the space that once featured martyrs from the anti-Soviet jihad, or nationalist heroes from the wars against India—and, at one point, Princess Diana—is today occupied by a voluptuous Pashto actress or the portrait of the owner's child or even the owner himself. For Kazi, the eclecticism of Pakistan's truck art is testament to the country's fertile diversity since it exhibits regional styles as well as differences across ethnic groups. That is true of Indian truck art as well; truck art and literature in trucks registered in various parts of India differ tremendously even if they replicate certain styles and phrases such as 'Horn OK Please', for instance, ubiquitously. Among Nepalese trucks too, there are many similarities and difference depending on the linguistic and regional variations that characterise Nepalese society.
While charting out the distinction between trucks that ply in India and Pakistan, Madan writes, 'Unlike Pakistani trucks that are almost always distinctive and heavily decorated, Indian trucks drape a "corporate kitsch" look in that they have a set of prescribed common features according to the Central Motor Vehicle Rules, 1989 but are also uniquely imaginative and filled with bright colours on top of that.'[5] She further adds, 'Since the hassle of applying for a national permit is tedious and dependant on bureaucratic and authoritarian individuals, the encoders tend to make other painting decisions that will please the RTO officials such as including national pride imagery and relevant public announcement on their trucks.'[6]
In Nepal, truck literature, known locally as truck sahitya, has drawn the interest of writers and editors. There are several social media sites, especially Facebook pages that publish truck literature and photographs regularly. As early as in 2002, a Kathmandu-based journalist, Subida Guragain, published a compilation of shayaris under the title Trucksahitya: Sankalit Sirjanaharu (Truck literature: Collected creations). In the book, Guragain includes hundreds of shayaris and one-liners he curated from the bodies of trucks and buses. Speaking with The Kathmandu Post, Guragain said he decided to compile the verses because they represented diverse views. According to him, 'The verses capture the general atmosphere of the country and what working class people talk about.'[7]
The trucks in the subcontinent often convey through signs the items they carry. They do so with paintings of the products or by hanging the actual object. Speaking with Nicole Crowder in The Washington Post, Dan Ekstein, who photographed truck art all over India for his book titled Horn Please says, 'Trucks carrying perishable goods often string a garland of their product (tomatoes, bananas, etc.) across the front of the truck to show what they are carrying and that they shouldn't be delayed by the police, which can be an issue.'[8]
Trucks also use more such utilitarian art such as 'Horn Please', which is a ubiquitous phrase inscribed on trucks. According to Ekstein, the phrase dates back to the time when trucks lacked side-view mirrors and other vehicles needed to honk when they wanted to overtake. 'Even today, the horn is an indispensable tool on the road. It lets other drivers, as well as the bicycles, motorcycles, pedestrians, ox-drawn cards, and other animals on the road know that you are there.'[9]
Empirical Instantiations: Life of the Driver
Truck is a second home for truckers, and truck literature represents that feeling. As Madan writes, 'A truck is like a home for its driver.'[10] For truck drivers who are on wheels for days—and at times even months—on end, a truck becomes their second home. Journalist Sheena McKenzie, writing for the CNN, says truck driving 'entails long months on the road, and these hefty vehicles transformed into mobile homes away from home, kitted out with bunk beds and photos of loved ones far away.'[11] Similarly, speaking with McKenzie in the same article, Shantanu Suman, graphic designer and director of the documentary Horn Please, says home is a constant concern for truck professionals: 'Since they're missing their kids and wives, they like to decorate their trucks with ornaments to remind them of home.'[12]
In her review of Ekstein's book for The New Republic, Maia Booker writes, 'The drivers take great pride in their picturesque trucks. In a way, they are an extension of the personalities of their drivers—mostly young men who work long hours, moving all sorts of goods throughout the country. The brightly coloured vehicles, adorned with everything from paintings of deities to pop culture references, offers a snapshot of an India caught between tradition and modernity.'[13]
Trucks provide drivers with the agency to express themselves as they do not normally have access to traditional forms of expression such as books and media. So, they turn the poets of the road through truck literature. Their life is spent on the truck, and it is on trucks that they leave their memories in the form of poetry. Truck literature, therefore, provides them with a mirror to see their own lives in the form of poetry and one-liners. Some trucks include writings that speak of the precariousness of being a driver. One such writing reads 'Aye malik, kyon banaya gaadi banane wale ko/ Ghar se beghar banaya gaadi chalane wale ko' (Why did you create the creator of a truck, My Lord/ The one who drives a truck has become homeless). 
'The truck is my life. This world doesn't matter to me, for my truck is what makes my world. And when my life would come to an end one day, my truck is what'll make my hearse,' says Mohammad Abbas, a J&K truck driver in the documentary Horn Please.[14]
Since truckers consider their profession a life-long journey, they take references from Hindi film titles to reflect their experiences. This is why several writings that appear on the bodies of trucks include phrases such as 'Mere hamsafar' (My fellow traveller) and 'Ham hain rahi pyar ke' (We're the fellow travellers of love).  
A significant part of truck literature includes truck professionals' trust on their hard work and the blessing of the almighty. One shayari that is often written on Nepali trucks is 'Bhagya le nidhar ma mutirako raicha/ Ma bhane pasina samjhera puchhirahey' (My fate was urinating on my forehead/ But I kept wiping it thinking it was sweat). But truck literature is also often replete with self-glorifiying writings such as 'Humein jo mita sakey zamane mein dum nahin/ Hum se zamana khud hai, zamane se hum nahin' (There's no one in the world who can deny my existence/ The world is at my disposal and not the other way round).
Another important thematic aspect of truck literature is formed of philosophical adages on the question of life and death. An explanation for this is that the driving of truck involves a great risk of accidents, which is why drivers like to ruminate on the value of life and the inevitability of death. The line 'Soch kar socho, saath kya jayega' explains that thinking, as it asks the onlookers to think long and hard on what they would take with them when they are dead. 
Truck professionals also use their trucks as a platform to create awareness about safe driving practices. This is evident in slogans such as 'Sadak suraksha, jeevan raksha' (Safe driving saves lives) and 'Use dipper at night' and the ubiquitous 'Horn OK Please'. There are also slightly more aggressive messages that exhort drivers to follow safe driving rules, such as 'Dhire chal pyare, zindagi anmol hai (Drive slow, My Dear, for your life is priceless), and those that inform the public about the need to be careful while dealing with trucks, such as 'Latak mat beta, patak dega' (Don't hang on it, or it will throw you to the ground). (Fig. 4)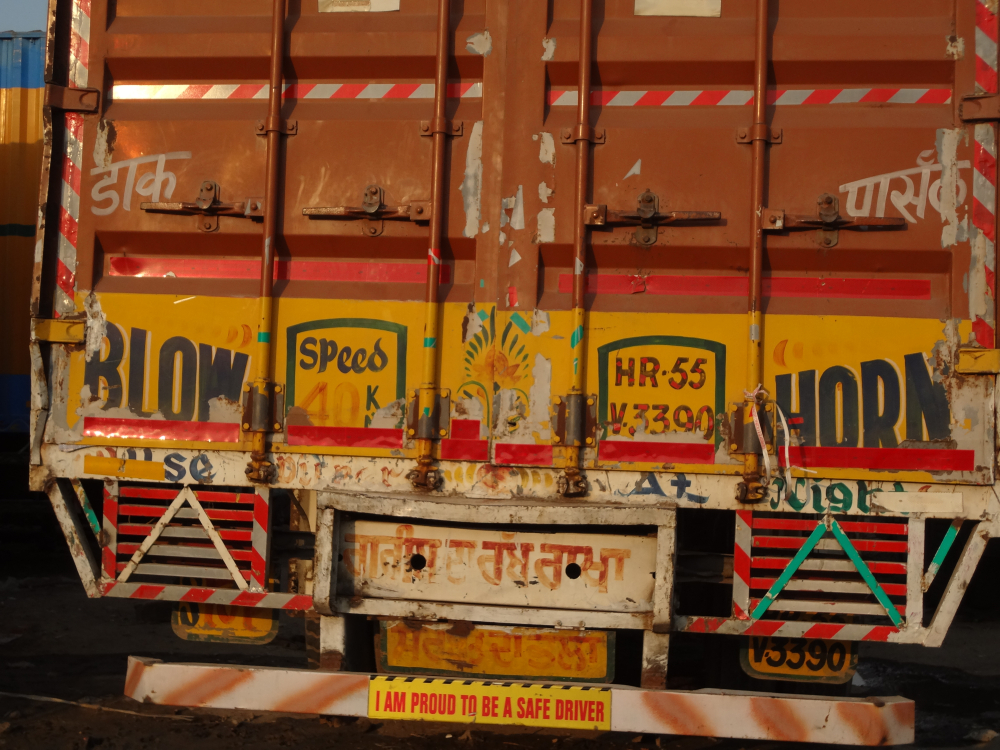 Caste and Racial Undertones: Problematics of Truck Literature
Trucks also carry identity markers such as linguistic, caste, and community affiliations. The language in which truck literature finds its way on the body of a truck often depends on the ethnic, caste or linguistic affiliation of the truckers. Trucks registered in Punjab, or those that have Punjabi-speaking drivers or owners, often have truck literature written in Punjabi. 
It is common for truckers to paint their specific caste on the trucks. Phrases expressing caste and community affiliations on trucks include 'Gurjar mail' (Gurjar carrier) and 'Jat ke sherni' (Jat's lioness). Those belonging to Dalit castes use iconography, mostly in the form of the image of Babasaheb Bhimrao Ambedkar. Punjabi truckers often get the image of Shaheed Bhagat Singh painted on their trucks. In addition, religious slogans appear very often on truck bodies. These include names of Hindu gods and goddesses and blessings, and Islamic symbols, including 786.
Some of the writings have racial undertones. These include the various linguistic versions of 'Buri najar waale tera munh kaala' (Don't look with evil eyes or you'll have a black face). 'Buri nazar wale…', which marks its presence on the bodies of many South Asian trucks, speaks of the belief among truckers that they must do something to ward off evil eyes. The reference to a black face is also often considered an insult, as it connotes 'ugliness' in large parts of South Asia. 
For Krzysztof Iwanek, the belief behind the phrase is based on 'an assumption that if somebody glances at our possession with jealousy some calamity may befall us (or the people close to us).'[15] For Iwanek, '(A)n Indian truck is in a way a miniature of India.' It expresses, Iwanek writes, 'the driver's attachment to his family and values, his community and religion, his concern about working out the rules of cooperating with other people, his country's rising population and corruption, among other thoughts.'[16]
Although shayaris, couplets or quartets form the bulk of truck literature, its definition may also be expanded to include other writings on the truck, such as the names of the hometown of the truckers. This gives the truckers a sense of attachment to their permanent homes even as they travel to different locations for long periods of time. In other instances, truckers glorify their hometowns by comparing them to other places, such as 'Jannat-e-Kashmir' (Kashmir is heaven) for Kashmiri trucks and 'Yeh neem ka ped hai, chandan se kam nahin/ Yeh Lucknow hai, London se kam nahin' (A neem tree is not inferior to a sandalwood/ Lucknow is not inferior to London) for trucks in Lucknow. The invocation of home, though, is not limited to hometowns. Truckers often showcase their attachment to the nation through patriotic statements such as 'I love my India' and 'Mera Bharat mahan' (India is great). (Fig. 5)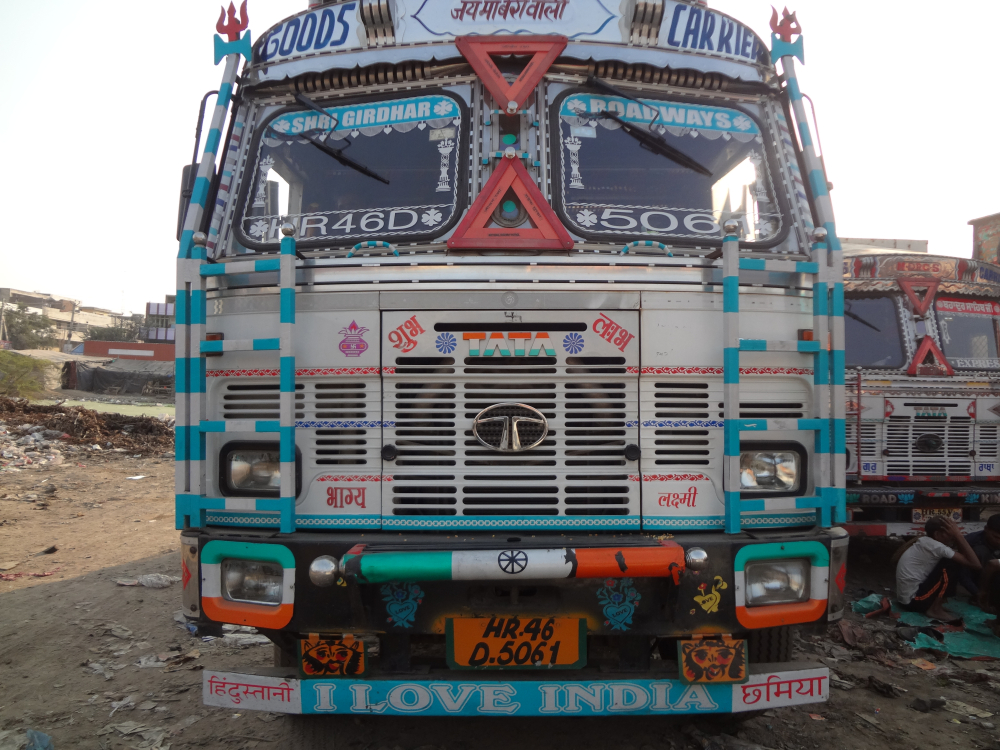 Letters from the Jilted Lover: Expression of South Asian Masculinities
Masculinist expressions of romance form the most significant and constant theme of truck literature, exemplified by lines such as 'Hans mat pagli, pyaar ho jayega' (Don't laugh, silly girl, for I might fall in love with you), 'Dil kisi ke pyaar mein bekarar mat karna/ Hum thehre pardeshi humara intazaar mat karna (Don't let your heart pinning for someone/ Don't wait for me, for I'm an outsider), and 'Koi shayar koi pagal koi bepir ban jaye/ tumhari tasveer jo dekhe woh khud tasveer ban jaye' (Some become poets, some crazy and some emotionless/ Those who see your picture become pictures themselves). 
There are also more pithy phrases that reveal how a trucker defines himself in love, such as 'jakhmi diwana' (brokenhearted lover) or 'ghayal premi' (hurt lover). Other such writings include 'Gussa nahin pagli, pyaar chahiye' (It is not anger but your love that I need, You Silly Girl) and 'Dekho magar pyaar se' (Do look, but with affection). 
Regional and linguistic variations of truck literature exhibit the expression of love in more diverse ways. Nepali trucks, for instance, carry writings such as 'One one turning one one wife/ Driver ko zindagi golden life' (A driver has a wife at each turning/ A driver has a golden life) and 'Ma marein bhane mero sharir ma postmortem garna nadinu hai/ Mero mutu ma timro naam bhetinda anushandhan ma fasauli' (When I die, do not let them do an autopsy on my body/ For they will find your name inscribed on my heart and drag into the investigation).
As a visual representation of the life and thoughts of truck professionals, truck literature forms a significant field of study. A study of this genre provides insights into the worldview of a particular section of professionals who make trucks and travel a part of their lives. Truck literature, as art form as well as poetic expression, is especially significant because it flourishes outside of the normative domain of literary production and reproduction such as books. Importantly, it challenges the notion of 'high' literature, as it expands the idea and definition of what constitutes literary production both in terms of style and mode or production. In that sense, truck literature represents an alternative mode of literary production in India and South Asia, and its acceptability is evident in the way it has infiltrated popular culture. In recent times, while truck literature has gained more traction in social and mainstream media as well in popular culture, it is in decline in terms of the space it gets as an art and literary form due to various policy and technological changes. 
Bibliography
Aikins, Matthew. 'Pakistan's Truck Art.' Pulitzer Center. May 16, 2013. Accessed March 12, 2021. https://pulitzercenter.org/reporting/pakistans-truck-art.
Aryal, Timothy. 'Verses on vehicles—art or annoyance?.' The Kathmandu Post, June 18, 2019. Accessed March 12, 2021. https://kathmandupost.com/art-entertainment/2019/06/18/verses-on-vehiclesart-or-annoyance.
Booker, Maia. 'India's trucks look like a fantastic acid trip.' The New Republic. January 8, 2015. Accessed March 12, 2021. https://newrepublic.com/article/120703/horn-please-indian-trucks-dan-eckstein-photos.
Crowder, Nicole. 'Horn please: The colorful band of Indian truck drivers.' The Washington Post, November 5, 2014. Accessed March 12, 2021. https://www.washingtonpost.com/news/in-sight/wp/2014/11/05/horn-please-the-colorful-band-of-indian-truck-drivers/
Iwanek, Krzysztof. 'Awes-truck: Indian Trucks Ride to Fame.' The Diplomat, August 18, 2016. Accessed March 12, 2021. https://thediplomat.com/2016/08/awes-truck-indian-trucks-ride-to-fame/.
Madan, Ashima. 'Visual Semiotics of Truck Art in India: From Art on Trucks to a Digital Art Style.' MA Dissertation, University of Dublin, 2018.
McKenzie, Sheena. 'Pimp my ride: The psychedelic world of Indian truck art.' CNN. August 6, 2015. Accessed March 12, 2021. https://edition.cnn.com/travel/article/india-truck-art-travel-design/index.html.
Mirche, Istling, and Shantanu Suman. Horn Please: The Journey of Indian Truck Art. Accessed March 12, 2021. https://issuu.com/shantanusuman/docs/hornplease_presskit_mar2016.
Slobig, Zachary. 'The Psychedelic Customized Big Rigs of India.' Wired. November 20, 2014. Accessed March 12, 2021. https://www.wired.com/2014/11/psychedelic-customized-big-rigs-india/.