Arunachal Pradesh, the easternmost Indian state, displays a rich and diverse Buddhist culture; both Theravada and Mahayana Buddhism are practised here. While the Tibetan form of Mahayanist art and culture present in western Arunachal Pradesh has been documented, the Theravada heritage remains mostly underrepresented. 
Numerous Theravada Buddhist monasteries are spread across southeastern Arunachal Pradesh, mostly in Changlang and the newly formed Namsai district (which was earlier a part of the Lohit district). Traditionally, these monasteries are maintained by the community funds of the surrounding villages; with their modest yet prepossessing art and architecture these monasteries naturally attract the viewer's attention. The premises of these monasteries consist of a main prayer hall with images of Buddha, monks' hostels, kitchen, stupas, community hall, the Bodhi tree and other small shrines of Buddha and subsidiary deities. 
Theravada Buddhist communities of Arunachal Pradesh believe in subsidiary deities along with the Buddha; the subsidiary deities were assimilated into Buddhism from the regional belief systems. This is an old Buddhist practice, dating back as early as second century BCE; although Theravada is considered to be more orthodox as it is the older doctrine, it could not avoid the assimilative process.
In Theravada tradition, Buddha is distinctively kept at the top of the hierarchy and the subsidiary deities seen in relation to events of the Buddha's life. Among the Theravada Buddhist communities of Arunachal Pradesh, the popular subsidiary deities are Mucalinda (the serpent king), Vasundhara (the earth goddess), Upagupta (a powerful Buddhist saint regarded as protector deity), and Sivali (the patron saint of travel and harbinger of fortune). Their small idols made from wood, metal or marble are donated to the monastery by the devotees, and are mostly placed in the prayer hall near the Buddha statues. In recent years, large-scale cement sculptures have emerged as a popular form to construct immoveable images in the monastery's premises. 
Mucalinda: The Protector of Buddha
Mucalinda is regarded as the naga (serpent) king who once protected the Buddha from a thunderstorm and flood while he was meditating. Mucalinda Buddha is the visual representation of Mucalinda protecting the Buddha.[1] Mucalinda is always shown with the Buddha and never alone; he is worshiped by the Theravada community of the state for his association with the Buddha. 
It is believed that after achieving enlightenment, Gautama Buddha sat in seven different places for seven weeks in meditation to experience the bliss of emancipation. At the sixth place, there was a strong thunderstorm that lasted days. The serpent king Mucalinda was on the tree under which the Buddha was meditating; seeing the Buddha in trouble, Mucalinda came down to help him. Mucalinda coiled his body around Buddha and put his hood over him as a canopy. The storm was so strong that it brought a flood but Mucalinda kept the Buddha safe so that he could complete his meditation—the water in the tank (Fig.1) in the Mucalinda Buddha images illustrate that flood.[2] This episode is mentioned in several Pali and Sanskrit texts of the first to fourth centuries CE with some minor variations.[3]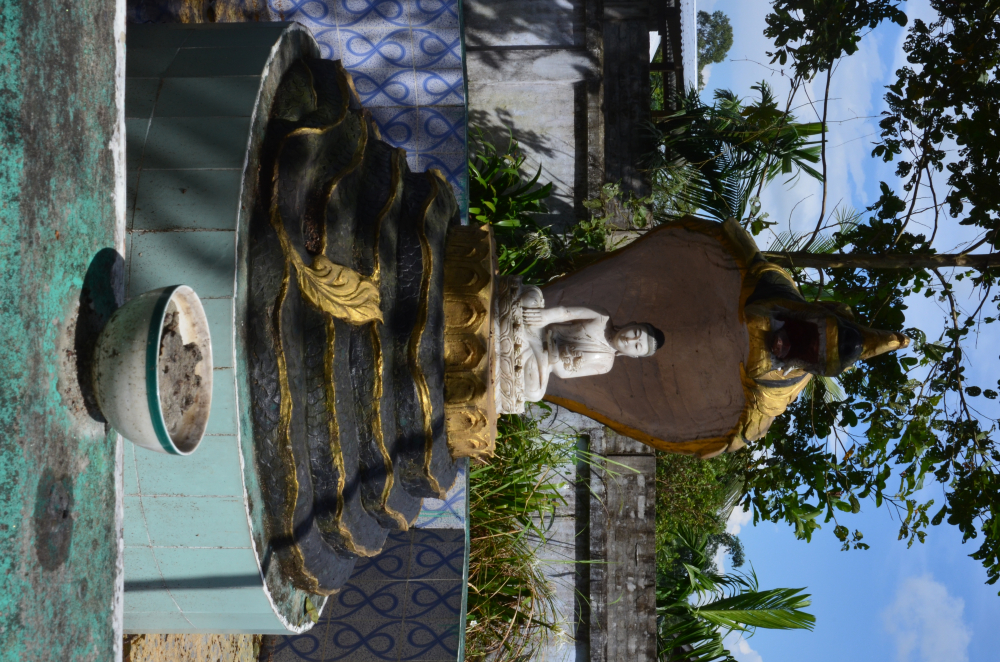 In this image, the meditating Buddha sits on a lotus on the coil of Mucalinda whose hood makes a canopy over his head (Fig. 1). In these images, Buddha can be seen in bhumisparsa mudra (earth-touching gesture), gyana mudra (gesture of knowledge) or dhyana mudra (meditating gesture). Most of the Mucalinda images seen in the monasteries of Arunachal Pradesh are made either of cement or clay; the image is often placed in the centre of a water pond, above the water level. 
In Arunachal Pradesh, Mucalinda Buddha image is found enshrined in a stupa in Goju Buddha Vihar, Changlang district. The Mucalinda Buddha image is popular in many places in Southeast Asia, such as the north and northeast regions of Thailand where the religious belief of naga is prominent.[4] It is also featured on votive tablets and stone plaques illustrating the major events of the life of the Buddha, and distributed throughout Buddhist Asia.[5]
Vasundhara: The Earth Goddess
Vasundhara (earth goddess) is a popular subsidiary deity in the Theravada Buddhist community of Arunachal Pradesh. Found as a standalone deity, her image is present in almost all Theravada monasteries of the state. (Fig. 2) She stands straight and tilts her head down towards the side to wring her long hair; although in some of the images, the head tilt is missing. Sometimes her hair touches the ground that appears to be flowing underneath. Large-scale concrete sculptures of Vasundhara stand in the monastery premises, usually near the Buddha's shrines or the stupas, while small statues of her in metal, marble or wood are kept near the Buddha's images in the prayer halls; she is also placed as a guardian deity in front of Buddha's shrines. (Fig. 3).Vasundhara wears a two-piece garment: a long skirt and a long-sleeved top; the colour of her attire varies but a prominent use of golden colour is common across the images. She also wears a tiara-like golden headband that is sometimes substituted with a full crown.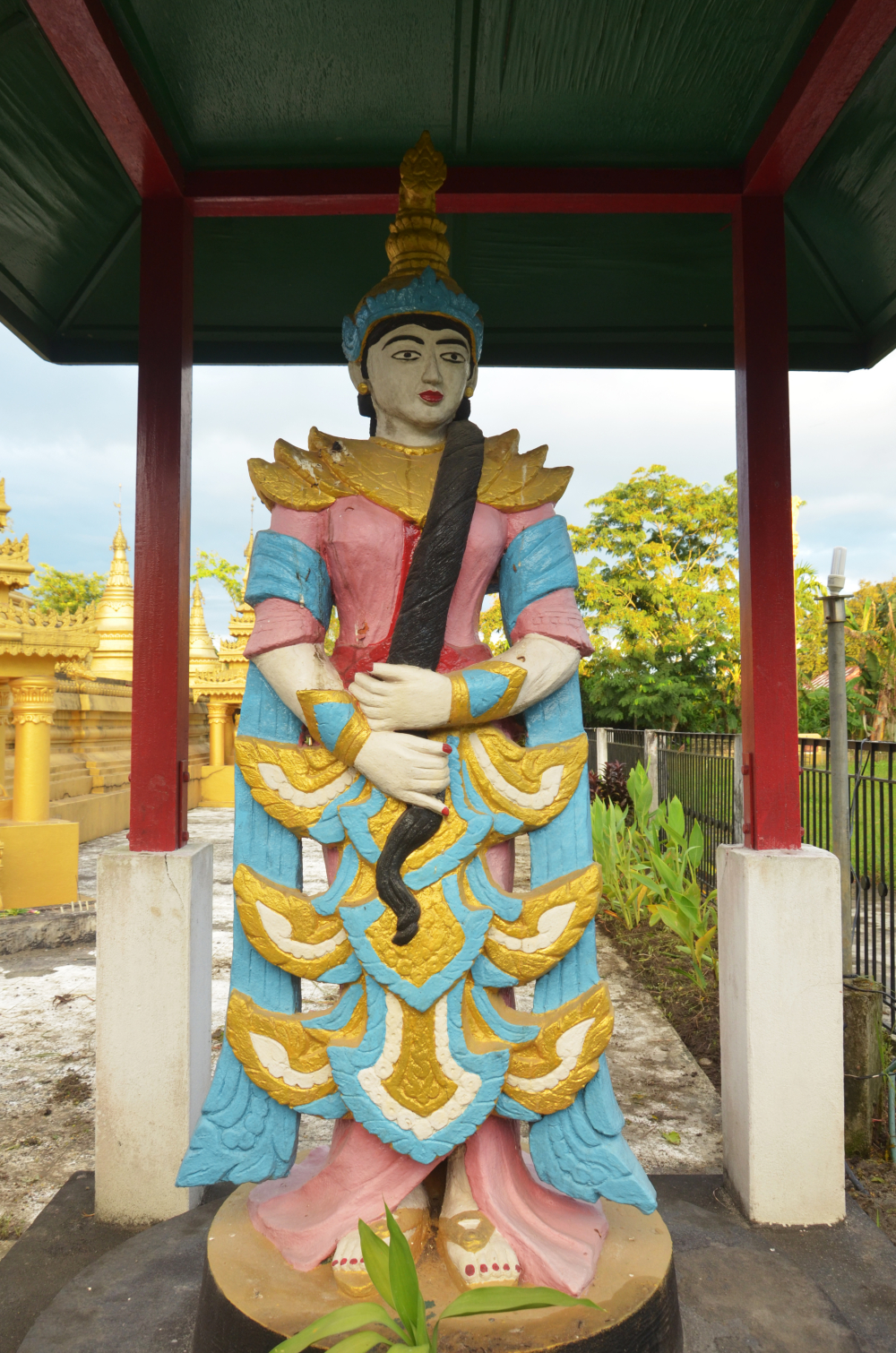 The legend of Vasundhara is related to the Buddha's Mara Vijaya (victory over evil) episode—Mara is the personification of evil in Buddhism. Mara Vijaya is a popular Buddhist episode, according to which Mara, with his army, went to disturb Gautama Buddha's meditation with an aim of stopping him from achieving enlightenment. Mara's forces shot arrows on the Buddha, but they turned to flowers before touching him. Failing to harm the Buddha with his weapons, Mara tried to trick him. He claimed the Buddha's seat by saying that he is the actual owner of that seat and his army was witness to this fact; he then asked the Buddha to produce witnesses from his side. The Buddha touched the earth as the witness of all his deeds of the present and previous lives, and the earth responded to his touch by stirring up a huge earthquake and flood to drown Mara's army. Watched by the earth, the Buddha continued to meditate and achieved enlightenment.  
In Buddhist mythology popular in the region, Vasundhara personifies earth, who, on Buddha's appeal, wrung her hair to create the flood that washed away Mara's army. Her presence is important in Theravada monasteries as she is regarded as the official witness of all religious donations. A donation is sealed by pouring water on earth, a ritual that informs the earth of the deed. By doing so, the donors ensure that, in return of the donation made, they will receive help in the future in case they are caught in life's troubles.
According to Elizabeth Guthrie, lecturer of Buddhism, Southeast Asian Religion and New Religious Movements, University of Otago, New Zealand, who has conducted her doctoral study on the origin and development of the legend of Vasundhara, the classical texts and traditional biographies of the Buddha do not mention the earth deity. The description of the earth deity wringing her hair during the event of Mara Vijaya is found only in the recent popular texts of Southeast Asia.[6] As stated by Guthrie, the imagery of a Buddhist earth deity emerged in Indian art where she appeared holding a pot of jewels near the Buddha in the Mara Vijaya episode; this concept travelled to Southeast Asia, most probably from Bodh Gaya (where Gautama Buddha is said to have attained enlightenment), through votive tablets where she appeared in her current visual form between the seventh and eighth centuries CE.
The iconography of Vasundhara in Southeast Asian art developed through centuries to take many forms and gestures. The image of Vasundhara is still very popular in Southeast Asia where she serves the same purpose of bearing witness to donations; however, unlike in Arunachal Pradesh, there she is seen in a stylised posture raising one hand up to hold the topknot of her hair while pulling her hair back with the other hand, creating a twist in her body. 
Upagupta: The Slayer of Mara
In most of the Theravada monasteries of Arunachal Pradesh, one can observe small idols of Upagupta near the Buddha statues in the prayer hall. Identified by his unique posture and attributes, Upagupta holds a begging bowl in his left hand that rests on his lap and his right palm is placed inside the bowl as if he is taking out something from it. (Fig. 4) Sometimes, his head is tilted, looking upwards as he sits in padmasana; his attire is a typical monastic robe that leaves a shoulder bare. The Upagupta idols are made of metal, marble or wood. Apart from these small statues, large-scale cement sculptures of Upagupta are found in some monastery premises near the prayer hall; the large sculptures are similar in design to the small idols but they are placed under an ornate shrine or shelter, which is often surrounded by an artificial pond and adorned with decorative motifs and carvings of mythical creatures like nagas and dragons. (Fig. 5)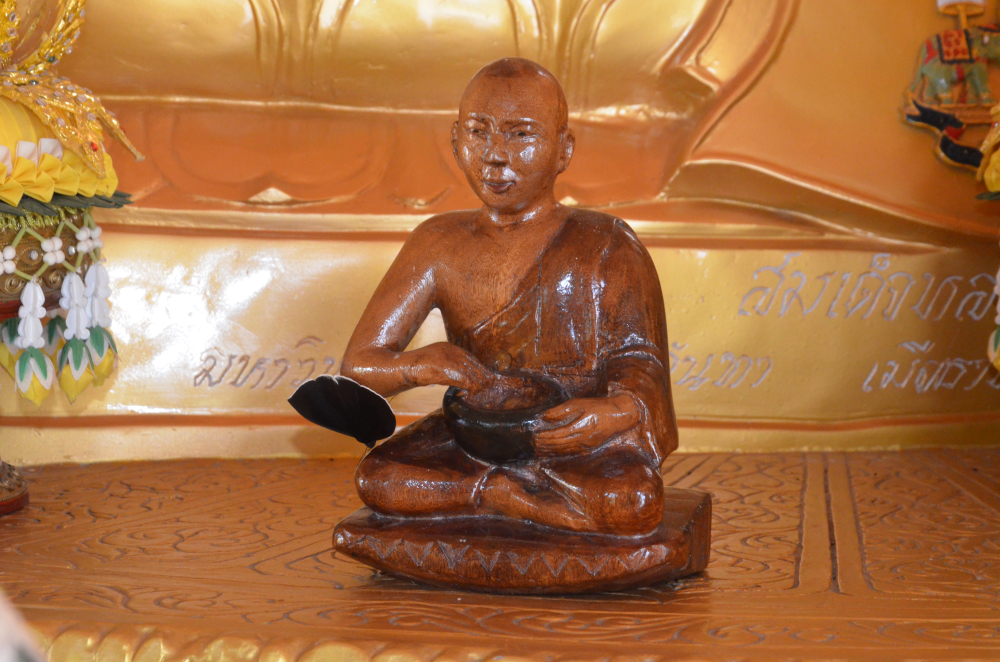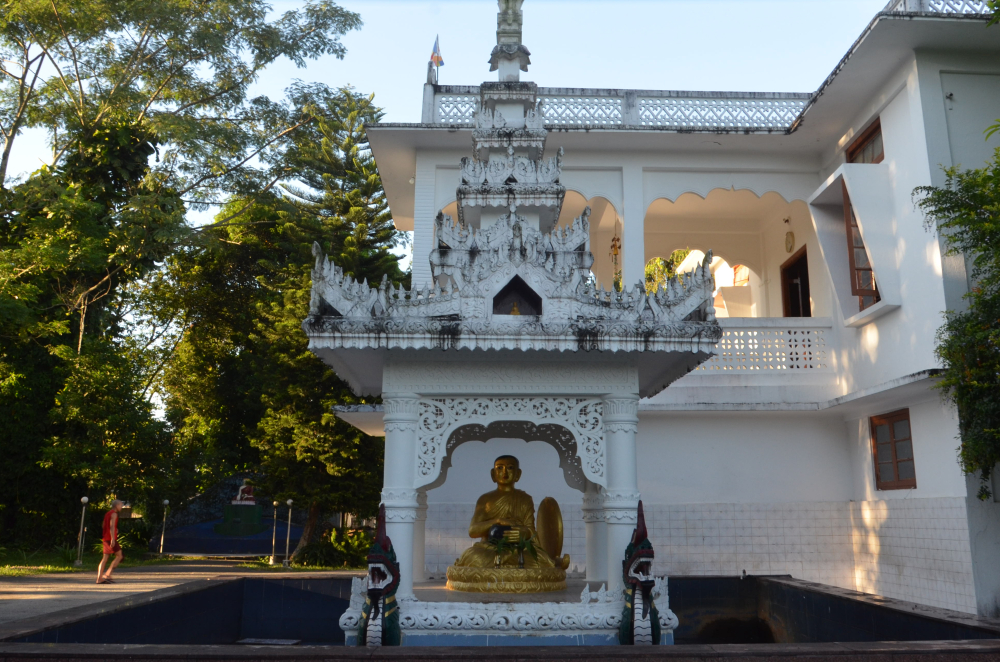 Upagupta is believed to be a powerful Buddhist monk who defeated Mara in a religious ceremony organised by Mauryan emperor Ashoka. According to a legend, Upagupta was invited by Ashoka to a ceremony that celebrated the construction of stupas on the Buddha's relic. In this ceremony, he is said to have battled the demon king Mara and defeated him[7], for which Upagupta is also known as Mara Vijay Arhat Upagupta. It is said that after his defeat, Mara reminded Upagupta that he was immortal and would return to wreak havoc on Buddhism and its followers once Upagupta is dead. It is then that Upagupta decided to go to the naga's world under water, so that he could live longer and continue to protect Buddhism and its followers from Mara until the arrival of the future Buddha. Many Theravada Buddhist followers thus believe that their protector deity, Upagupta, is still alive under water. Whenever a ceremony is organised, Upagupta is worshiped for protection from any kind of hazard that can disturb the celebration, specifically natural calamities such as thunderstorms and rain. It is believed that Mara comes in the form of these calamities whenever there is an auspicious occasion, and the worship of Upagupta eliminates these hazards.  
According to John S. Strong, Buddhist scholar specialising in the legend of Upagupta, the stories of the deity, like many other Buddhist saints, are intertwined with myths to the extent that it is not possible now to establish the historical facts or to demystify the life of Upagupta.[8] From available sources, the little historical information Strong could gather is that Upagupta was a Buddhist monk who lived in the region of Mathura in northern India approximately between the third and first centuries BCE. A popular monk with several disciples, Upagupta also wrote a Buddhist text which is now lost. The famous Chinese monk and traveller Xuanzang, who visited India in the seventh century CE, in his writings mentions that after Upagupta's death, his monastery in Mathura became a site of pilgrimage.[9]
Apart from Arunachal Pradesh, Upagupta as a subsidiary deity is also popular in the Southeast Asian countries such as Myanmar, Laos and Thailand. Different narratives are associated with Upagupta in these places and simultaneously varied representations of his image have developed. 
Sivali: The Harbinger of Fortune
The image of Sivali is usually placed outside the main shrine of the Buddha, where he stands with a walking staff, an alms bowl and a shade for protection from the sun. (Fig. 6) He has a calm expression with a slight smile and is considered a harbinger of fortune. He is the patron saint of travel and is therefore represented as a travelling monk. In contrast to the other subsidiary deities, Sivali's images are not as frequent in the Theravada monasteries of Arunachal Pradesh.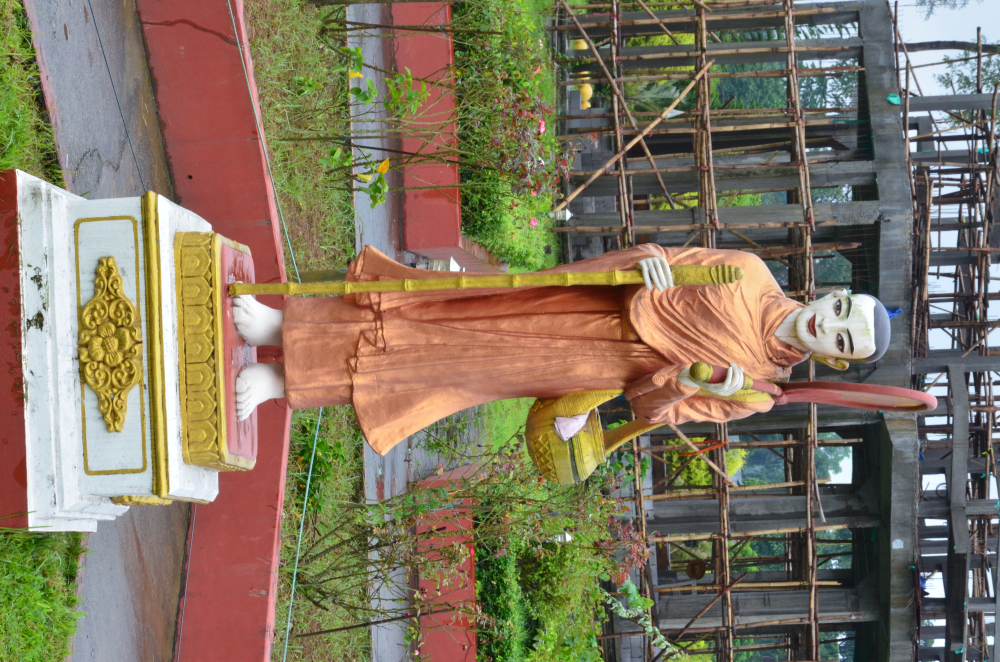 According to the legend associated with Sivali, during the time of the Buddha, there lived a king named Koliya whose wife, Suppavasa, became pregnant. Their unborn child brought a great deal of fortune to the kingdom, including timely monsoon which ensured an abundance of crop production. However, at the time of birth, the queen was not able to deliver the baby. On the queen's suggestion, Koliya invited the Buddha for his blessings. Upon receiving the Buddha's blessings, Suppavasa delivered a baby boy and named him Sivali, who later became a disciple of the Buddha. In his presence, monks always received an abundance of good food and clothes, among other things, as alms, and he became famous as the heralder of good fortune. Even during the monks' travels through deep forests and deserted landscapes, they never fell short of food in Sivali's presence. The Buddha praised him as a great monk of fortune, and advised the monks travelling long distances through uninhabited land to take him along. Thus, Sivali is worshiped for good fortune, food and prosperity. He is also popular in Sri Lanka and Thailand, where his image engraved in bronze is kept in most homes.[10]
---
Bibliography
Bhattacharyya, Benoytosh. The Indian Buddhist Iconography. New Delhi: ABI Prints & Publishing, 1924.
Conze, Edward. Buddhism A Short History. Oxford: Oneworld, 2008.
Dutta, Sristidhar, and Byomakesh Tripathy. Buddhism in Arunachal Pradesh, New Delhi: Indus Publishing,2008. 
Guthrie, Elizabeth. 'A Study of the History and Cult of the Buddhist Earth Deity in Mainland Southeast Asia.' PhD thesis, Department of Philosophy and Religious Studies, University of Canterbury, 2004.
Keown, Damien. A Dictionary of Buddhism. New York: Oxford University Press, 2003.
Nageswara, C V. A Survey of Theravadi Buddhist Monasteries of Assam and Arunachal Pradesh. Guwahati: Vivekananda Kendra Institute of Culture, 2007.
Pierre,Jean, and Gaston Aubert. 'Nāga-Buddha Images of the Dvāravatī Period: A Possible Link between Dvāravatī and Angkor.' Journal of the Siam Society, no. 98 (2010): 116–150.
Sasanavangsa, Mahather. Mara Vijayi Arhat Upagupta. Sivsagar: Pradeep Kr. Shyam, 2008.
Shyam, Nagen. A Living Art—The Mucalinda. Edited by Sukhen Shyam. Karbi Anglong: Man (Tai Speaking) National Council, 2016.
Strong, John S. The Legend and Cult of Upagupta: Sanskrit Buddhism in North India and Southeast Asia. Delhi: Motilal Banarsidass, 1994.
Tu, Phan Anh. 'The Significance of Naga in Thai Architectural and Sculptural Ornaments.' Asianscholarship.org. 2007. Accessed April 1, 2018. http://www.asianscholarship.org/asf/ejourn/articles/Phan%20Anh%20Tu3.pdf.
Wickremeratne, Swarna. Buddha in Sri Lanka: Remembered Yesterdays. Albany: State University of New York Press, 2006.