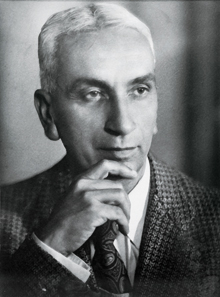 S.L. Parasher. Source: http://www.thesundayindian.com/en/story/partition-pangs-etched-forever/23/47924/
S.L. Parasher (b. 1904, Gujranwalan, West Punjab, present-day Pakistan; d. 1990, New Delhi) is an artist well-known for his versatility. He completed his Masters degree in English Literature from Forman Christen College, Lahore, in 1929. He met M. Abdul Aziz, a renowned painter of his time and later the Principal of the Government School of Arts at Kabul, and was deeply influenced by him. Under the guidance of Aziz, Parasher trained as an artist, and went on to achieve proficiency in landscape painting, portraiture and clay modelling. Talking about the beginnings of his career as an artist Parasher once said: 'When I say I joined the profession in Lahore, it was that I met my master M.A. Aziz. I had also met Roop Krishna, Chugtai and other artists of Lahore. It was a great change for me to be associated with these great artists and to have training from my master. My interests were literary before I had joined this profession' (Mago 2004).  
Roop Krishna, a student of Abanindranath Tagore and a graduate of Slade College of Arts, London, also influenced Parasher to an extent. It was Roop Krishna who persuaded him to join the Mayo School of Art, Lahore. In 1936 Parasher joined the college as a lecturer in Fine Arts and Crafts and later, in the same year, he became the vice principal of the college, succeeding B.C. Sanyal. While working in the college, Parasher was introduced to various craft techniques, such as designing furniture, silver and copperware, as well as the scope and limitations of the various mediums.  
With the Partition, however, the situation changed drastically and Parasher had to move to India along with his family. He had to leave behind all his sculptures and paintings at his residence in Lahore, arriving in India empty-handed, except for a newspaper cutting of his sketch of Rabindranath Tagore that he had made in Lahore (Dhamija 2004).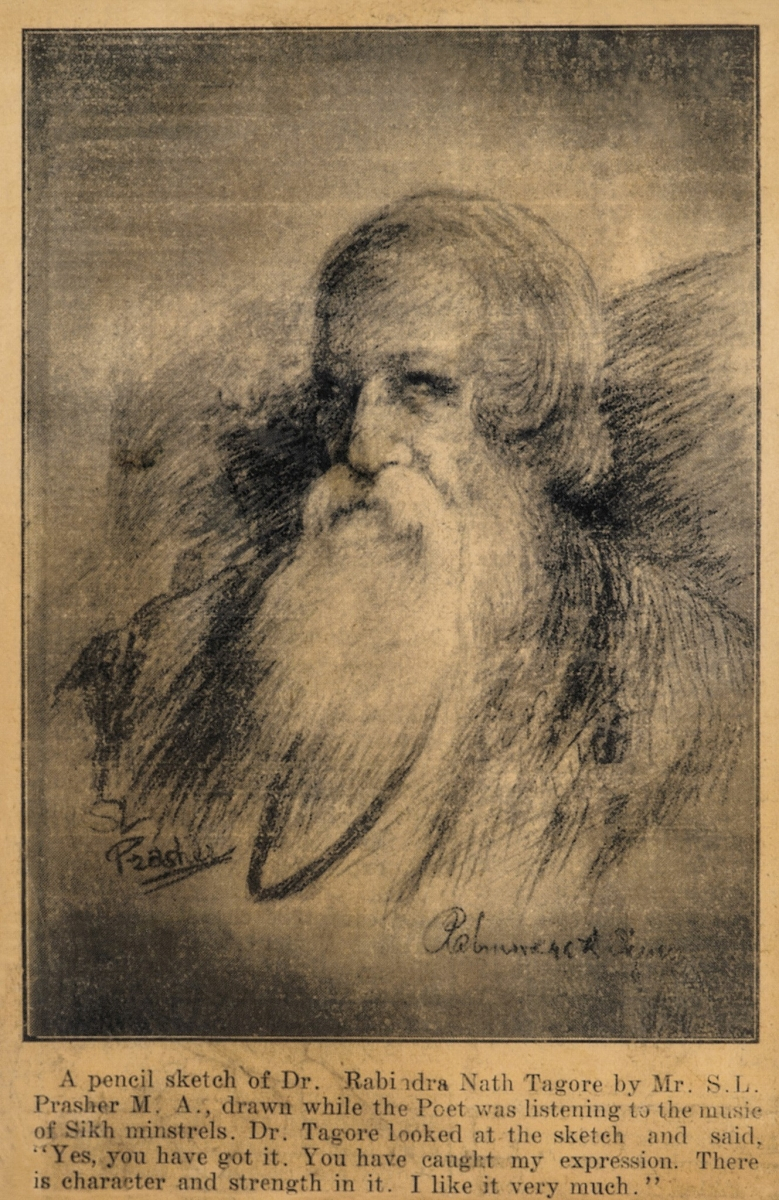 A pencil sketch of Rabindranath Tagore made by Sardari Lal Parasher in 1931. He drew the sketch while Tagore was listening to the music of Sikh minstrels. After looking at the sketch Tagore said, 'Yes, you have got it. You have caught my expression. There is character and strength in it. I like it very much.' Source: S.L. Parasher 1904–1990, Time, Space, Light, Consciousness
In India, his first job was that of supervisor in a refugee camp in Baldev Nagar, Ambala. This job entailed taking rounds in the camp where refugees were staying. The atmosphere of separation, confusion, fear and anguish that he observed in the people around him in these camps was documented by him in several sketches. This phase of his life left a lasting impression on Parasher, and he later made sculptures which narrate the horrors of Partition.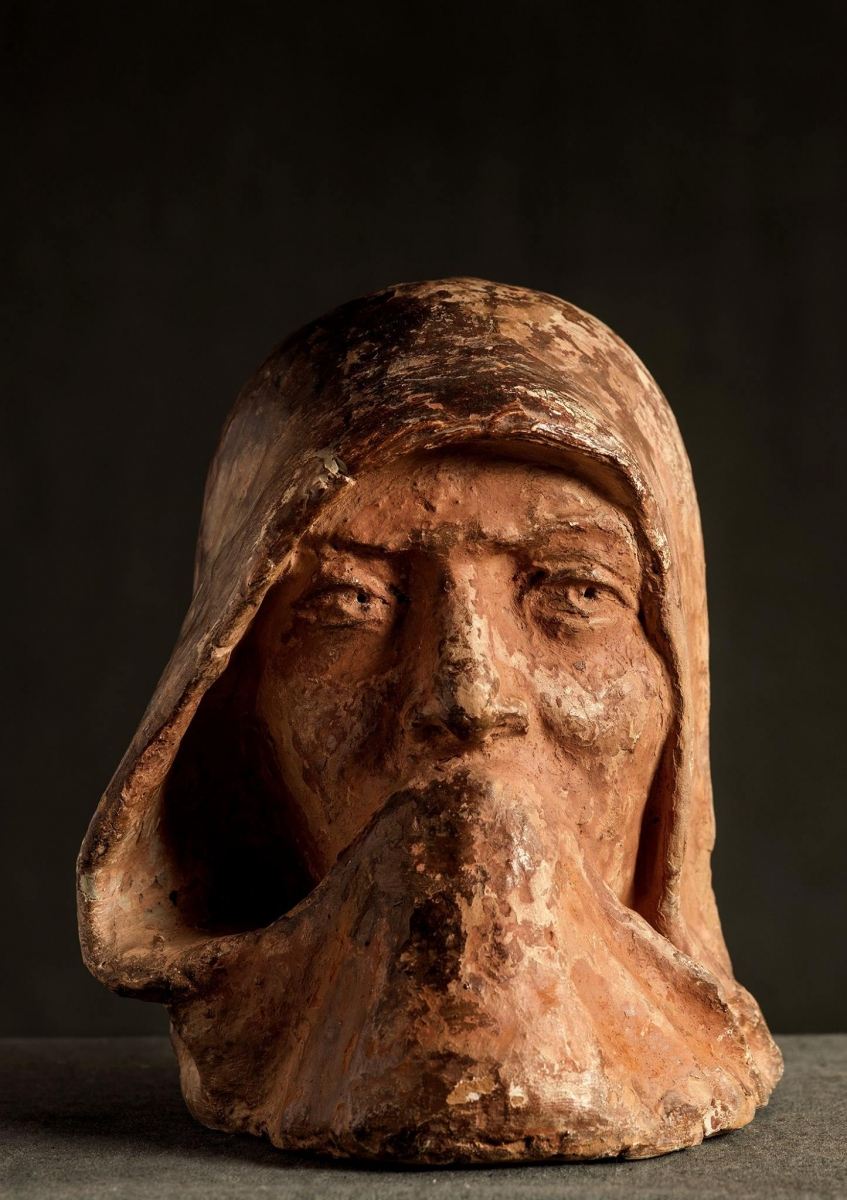 A sculpture made by S.L. Parasher during his time at the refugee camp in Baldev Nagar (1947–48) Ambala. Source: http://www.imgrum.org/user/partitionmuseum/3497128151/1566545348243402212_3497128151
In 1951, the Government School of Arts and Crafts was established in Shimla under the leadership of Parasher, and he was appointed as its founder-principal. In order to encourage students, he arranged numerous art activities such as exhibitions and workshops in the school. Parasher's paintings depicted the local life of Shimla during the time spent in the hill station. Some of the remarkable works worth mentioning here are Potter's Hill (1953), Grasscutters (1954), Mahunaag (1955–57), Mountain of Shadow (1956) and Langoors (1955–57) in oil, and sculptures like Thirst, Lonely Pilgrim, Goddess of Death, etc.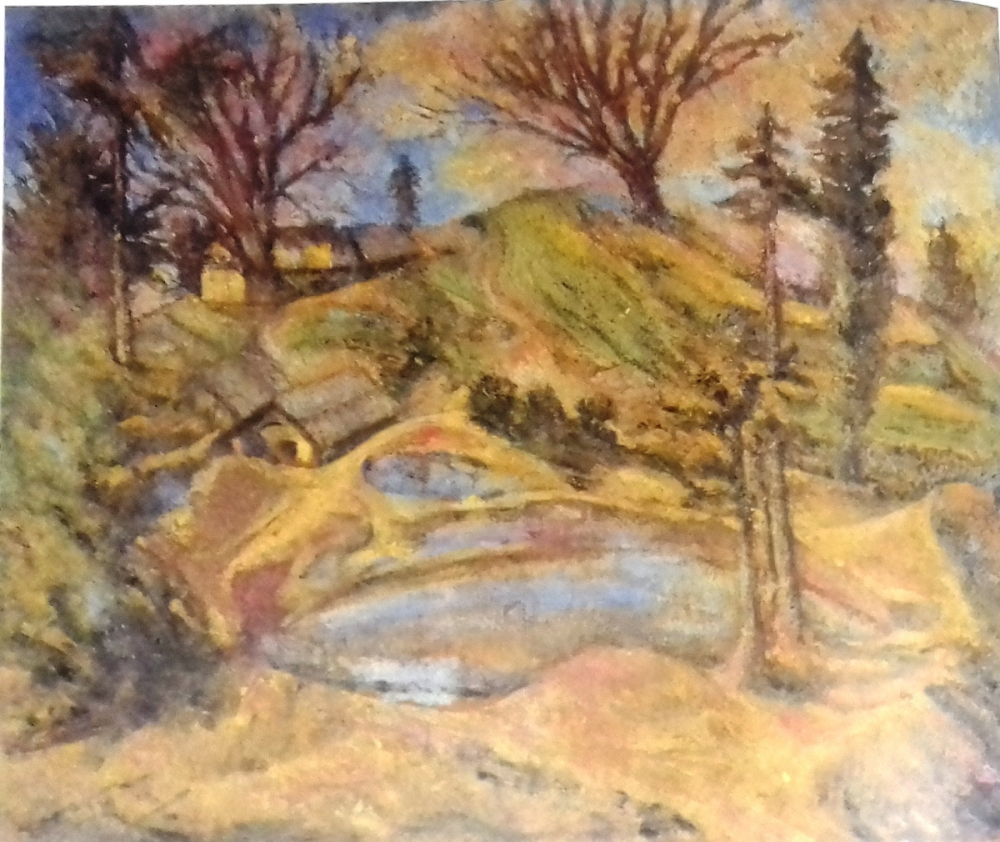 Potter's Hill 1952; Oil on hardboard. Source: S.L. Parasher 1904–1990, Time, Space, Light, Consciousness
S.L. Parasher was not only a painter but was also an etcher, muralist, sculptor and writer. His versatility is evident in his works over the time. While, initially, Parasher's paintings were realistic and depictions of daily life, his later paintings turned towards symbolism and spirituality for inspiration. Again, he experimented with various mediums, such as stone, cement, concrete, metal, and wood for his sculptures. Not only was he an expert in various crafts, such as carpentry, blacksmithy, lacquer work and jewellery, his early experience as an English teacher and inherent inclination towards literature found expression in his short stories and essays written in both English and Punjabi. He also initiated the publishing of an illustrated monthly journal The Sarang and was also the editor of the same (Singh 1991). Parasher's thirst for knowledge and curiosity for learning led him to delve into the history of fine arts, artistic techniques and practices.
After his retirement in 1959, Parasher moved to Delhi and began to work independently. In 1963, he took up the post of Director, Regional Design Development Centre, Mumbai, and worked there for the next three years. Back in Delhi, he began to dabble in abstract art. In 1963 he began to work on a mural in Government College for Men, Sector 11, Chandigarh. His design was selected by Le Corbusier. Describing this incident, S.L. Parasher (2004) wrote in an essay:
The sculpture mural in steel, Vidya Valanj (States of Knowledge), in the Government College for Men, Chandigarh was my first essay in designing for a specific wall in a building. When I was invited among others to submit a design for the proposed mural, I never thought that my design would one day be built…. I made sketches, drawings, changed them, redrew them, agonized all the time over how to relate my concept to the character of the architecture…
His mural Vidya Valanj attracted the attention of Mulk Raj Anand, who wrote, 'He entered a fertile phase of his development which is likely to reveal the nuances of a sincere search for the meaning of life' (Mago 2004).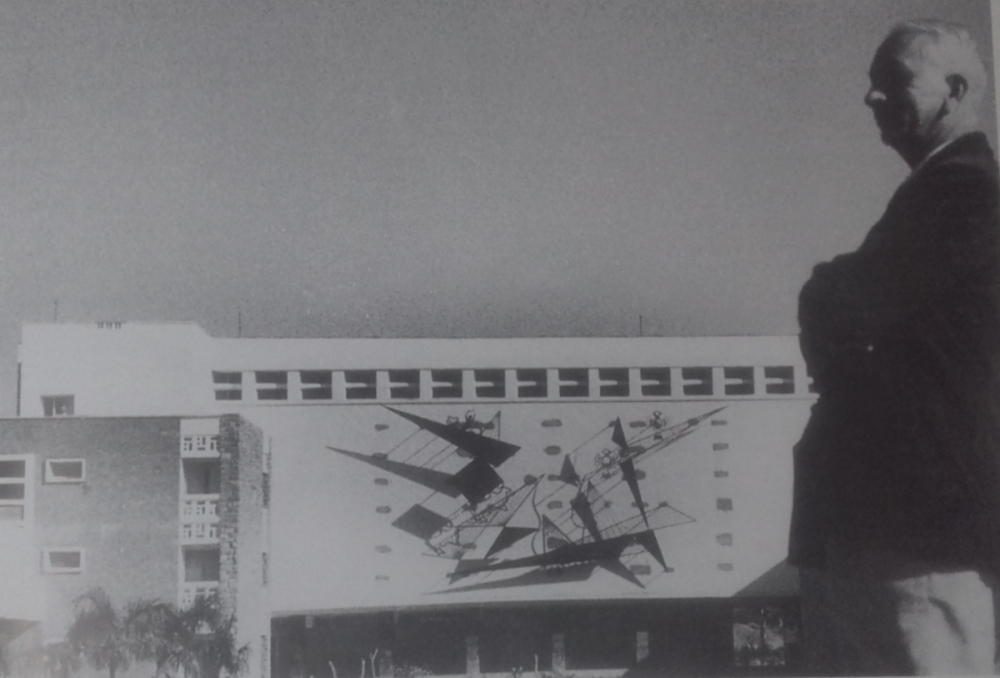 S.L. Parasher with his mural Vidya Valanj (1964). Source: S.L. Parasher 1904–1990, Time, Space, Light, Consciousness
Post Vidya Valanj, Parasher continued to receive commissions to create murals and sculptures for various institutions and government bodies. In 1967, he made a 40' x 20' mural with ceramic tiles for Nirman Bhawan on the theme of Cosmic Energy. In 1968, he designed a giant 16-feet landscape sculpture for the Leisure valley, Sector 10, Chandigarh, titled Un-Divided Punjab.  
After his demise, in 2004, his children, son Raju and daughters Prajnaparamita and Bela, decided to display the works of their father at his permanent residence and studio in South Extension II, New Delhi.
References
Dhamija, Jasleen. 2004. 'Parasher Sahib: The Painting Dervish.' In S.L. Parasher 1904–1990, Time, Space, Light, Consciousness, edited by Prajnaparamita Parasher and Sandy Sterner, 27. New Delhi: SarNir Foundation.
Mago, P.N. 2004. 'The Spiritual in Parasher's Art.' In S.L. Parasher 1904–1990, Time, Space, Light, Consciousness, edited by Prajnaparamita Parasher and Sandy Sterner, 34. New Delhi: SarNir Foundation.
Parasher, S.L. 2004.  'States of Knowledge.' In S.L. Parasher 1904–1990, Time, Space, Light, Consciousness, edited by Prajnaparamita Parasher and Sandy Sterner, 54. New Delhi: SarNir Foundation.
Singh, Kapur. 1991. 'S. L. Prasher.' Roopa Lekha All-India Fine Arts and Crafts Society XXIX.