Satish Gujral, one of India's foremost modernist painters, experimented with his creativity, in his art, through a diverse range of media. From painting on the theme of Partition, loss and violence to moving to muralism, Gujral's oeuvre is expansive and varied. We revisit his rich artistic legacy. (Photo courtesy: Satishgujral.com)
Satish Gujral created his own personal experiences on the canvas for the world to see. In an interview published in India Today in the mid-1980s, Gujral said, 'Partition provided me a reason to discover my inner temperament. . . If it had not been suited to that tragedy, I would not have been able to paint it.'[1]
But no one medium defined Gujral, one of India's most significant modernists who passed away at the age of 94 on March 26, 2020. The artist experimented with his creativity, in his art, through a diverse range of media. As the India Today piece notes: 'Gujral. . . shed styles and mediums as fast as a quick-change artist. Paint, wood, metal, paper collage, ceramics, architecture and a lot else. . . served his artistic whims. The medium [became]. . . his message.'[2] The foundation for his art was a deep sense of emotional loss, a physically debilitating condition (leaving him with a leg injury and a permanent loss of hearing at the age of 10), all of which found its way on canvas through colour.
Also read | The Life and Work of Artist Abani Sen
Born in Jhelum in 1925 in undivided India, Gujral began reading Iqbal and Ghalib as a young adult. Confined to bed for most of his childhood—as he describes in the 2012 documentary A Brush with Life—Gujral says, 'Once you start living in a world that is created by a poet or a writer you lose touch with real life. It is what built my personality.'[3] Going to Mayo School of Arts, Lahore, to study Applied Art at the age of 14, Gujral later joined the J.J. School of Art, Mumbai.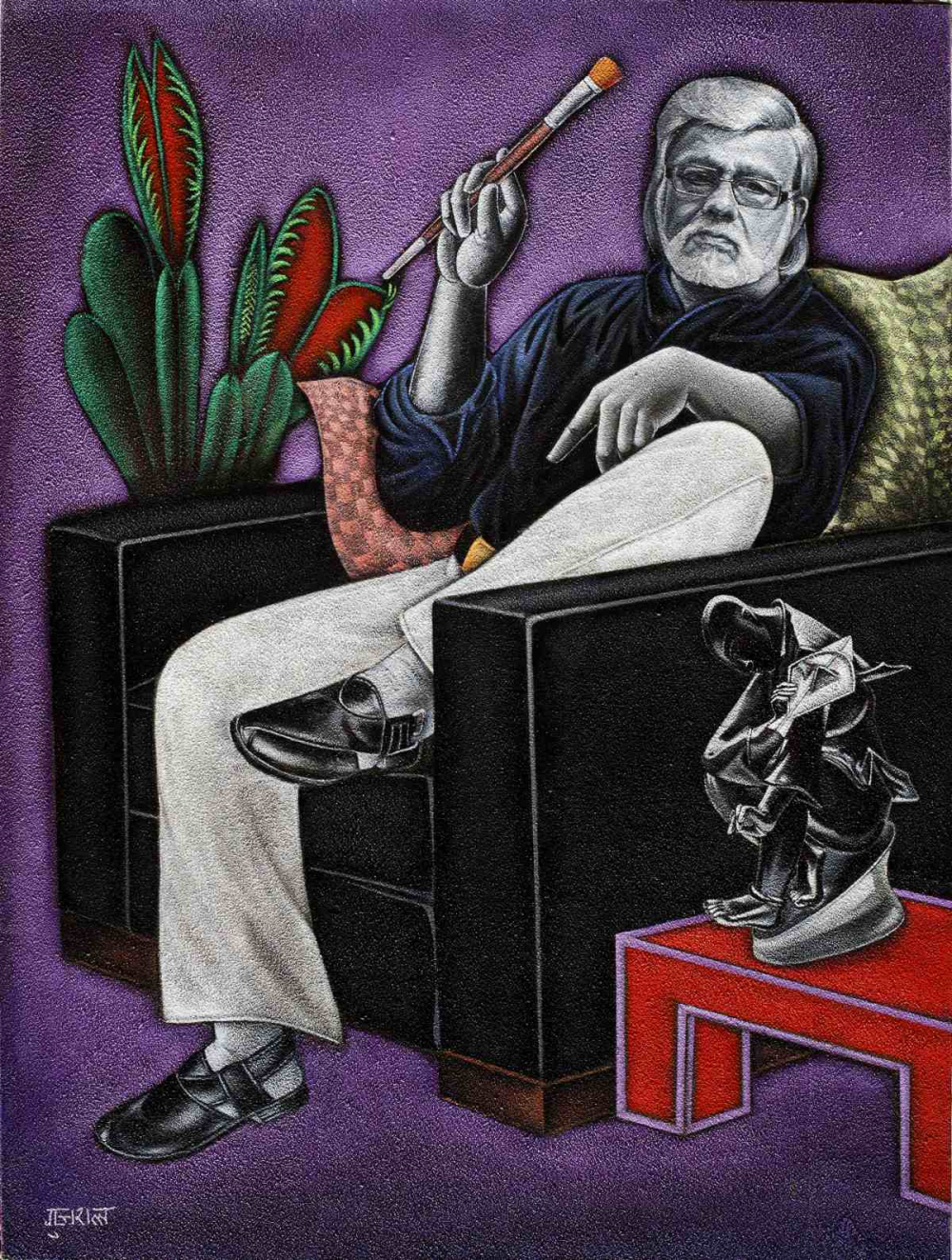 Learning painting techniques from these illustrious institutions but eventually infusing his own experiences in his art, Gujral began painting 'man's cruelty to man'.[4] In the course of his illustrious six-decade career as an artist in various media and genres, critics have taken note of not just his contribution to art but also his active voice in citing the importance of public art. In his obituary for Stir World, Rosalyn D'Mello writes, 'public art [was] a genre he pivotally pioneered not just through numerous murals he made, many of which still survive on the facades of government buildings in Delhi, like Shastri Bhawan, or the Delhi High Court, but also by communicating to the country's first Prime Minister, Jawaharlal Nehru, the significance of public art.'[5]
'I thought easel painting was meant for the money. You paint and you end up in a drawing room,' Gujral says.[6] In the 1950s, a scholarship to Mexico to apprentice under artists such as Diego Riviera and David Alfaro Siqueiros allowed Gujral to understand the value of ushering art out of confined gallery spaces. In 2016, when his sculpture Trinity showed at Bikaner House, New Delhi, Gujral reiterated this sentiment: 'I hope there comes a time, in the near future, when all forms of art are available for public viewing and become a way of life and communication.'[7]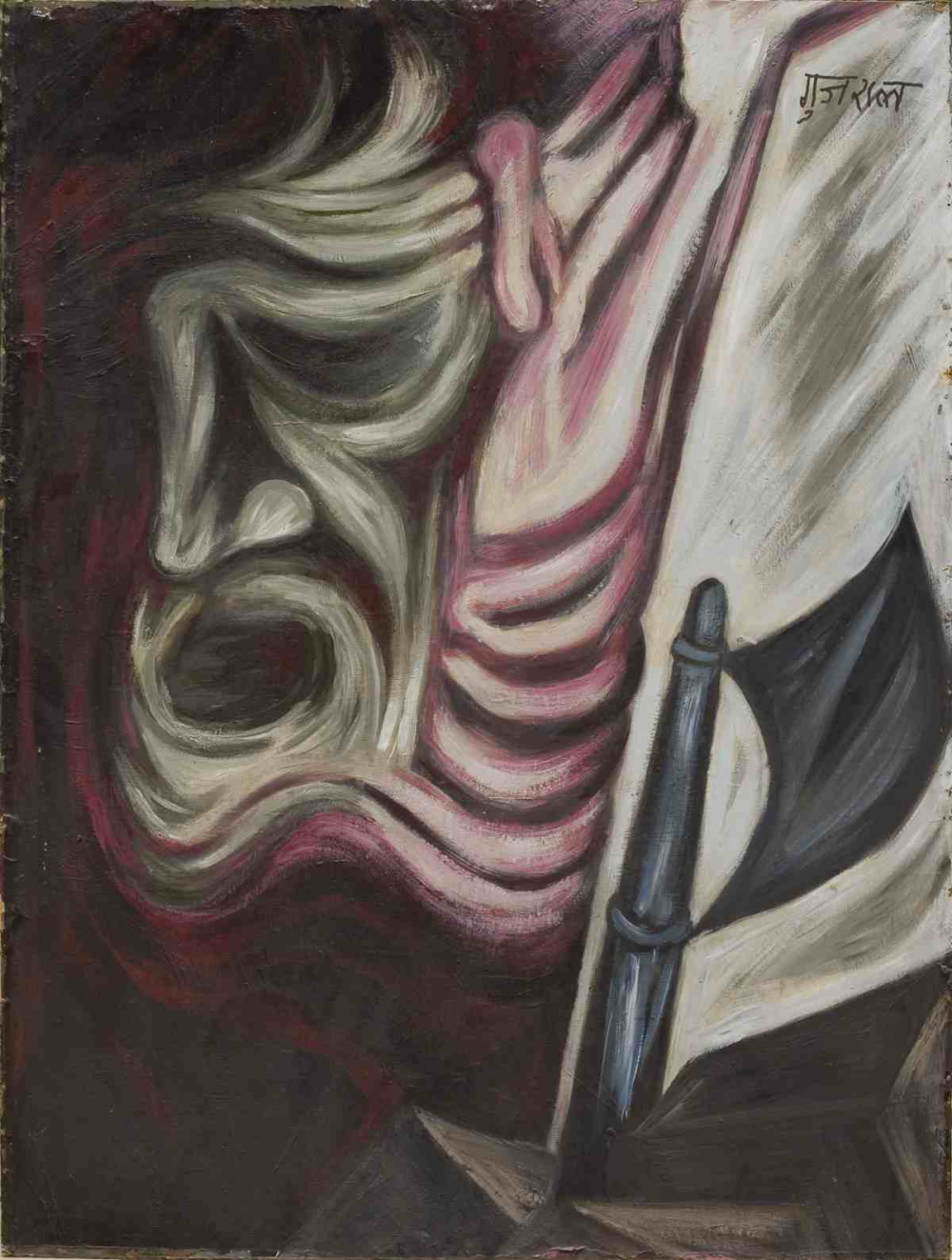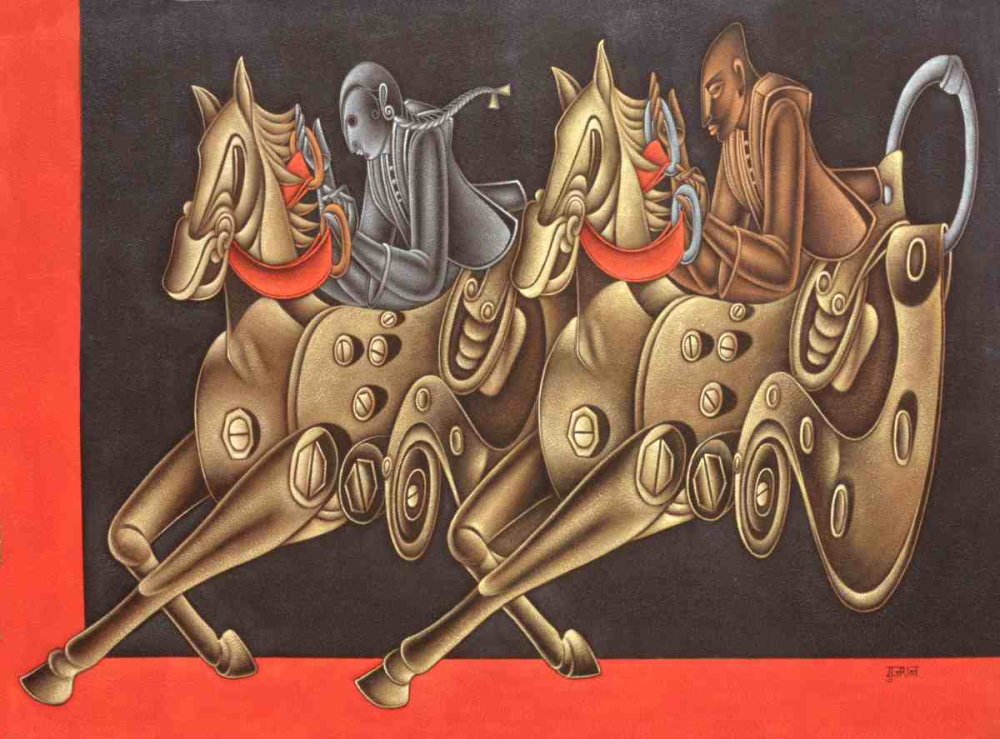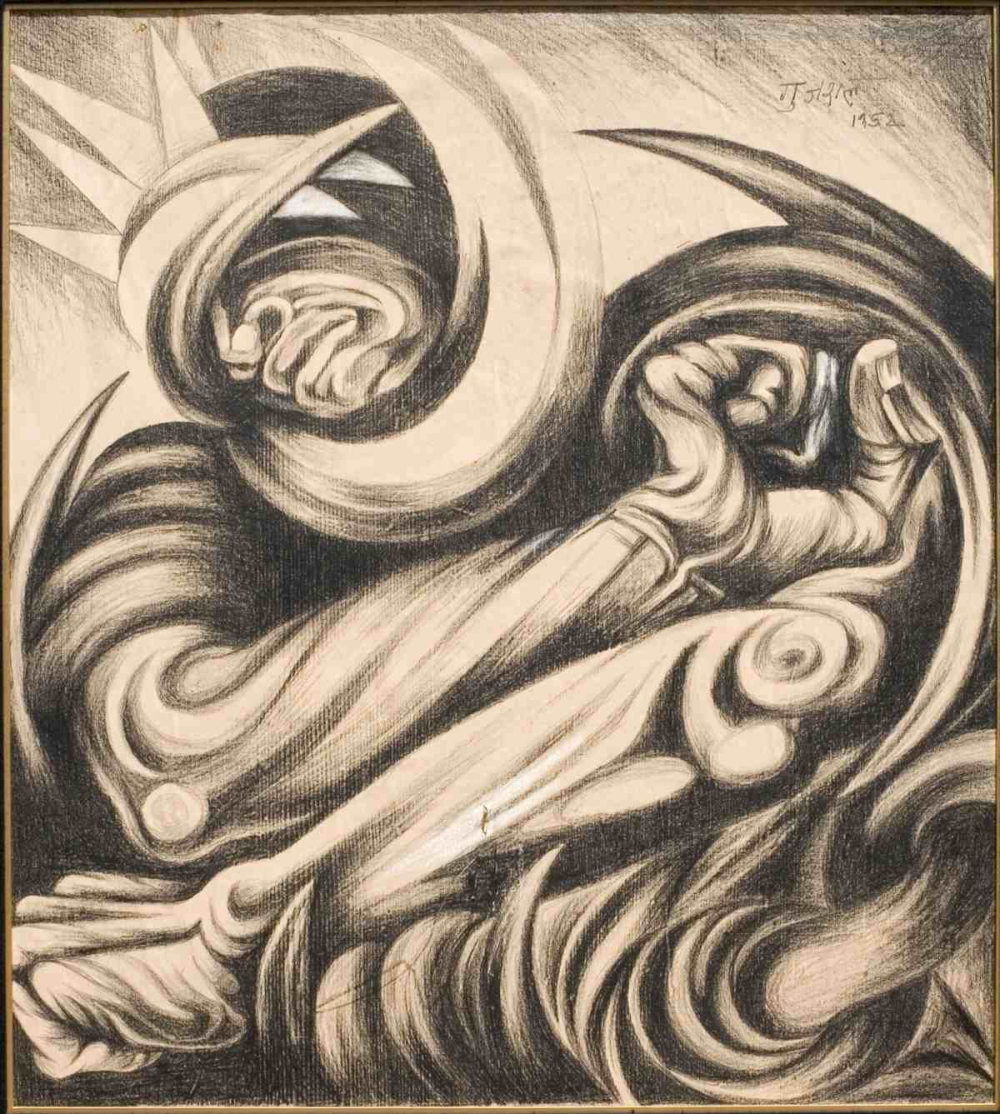 From painting on the theme of Partition, loss and violence to moving to muralism, Gujral, after a brief hiatus, did a significant series in in burnt wood in the mid-1970s. He was inspired by the 'sculptural possibilities and rich tones of a burning log.'[8] Critics remark that this series (the deep black of the charred wood by contrasting it with shades of red, brown and gold) exhibits the versatility of the artist, branding him as a fine draughtsman with a distinctive style.
Also read | Abani Sen in the Eyes of a Son: In Conversation with Prabir Sen
The late 1970s and '80s allowed Gujral to tap the architect within. The Belgian Embassy in New Delhi, for which he was the architect, commissioned to him in mid-1980s, bears the testimony to his vision—of expansive, flowing lines and a keenly aesthetic eye for detail. Though he was criticised at the time, Gujral's architectural talent was eventually recognised even as he continued to design other structures, including India Islamic Cultural Centre, New Delhi; Indira Gandhi Centre for Indian Culture, Mauritius; Al-Moughtara Farm, Riyadh; Goa University, Goa; Embassy of India, Kathmandu, among others.
Being widely collected globally, in 2016, at the Christie's auction, Gujral's early canvas, The Despair, depicting the trauma of Partition, pegged at $10,000 ended up fetching $125,000. Art critics, however, strongly feel that Gujral's is an 'overpraised, yet understated legacy'.[9] Despite being hailed a 'genius' by art critics such as Charles Fabri and Richard Bartholomew, art critic Gayatri Sinha's obituary of Gujral described him as someone whose 'location in art history now demands more critical attention.'[10]
---