Panika weaving traditions of Bastar
Bastar in Chattisgarh and Korapat in neighbouring Orissa are home to tribal culture and traditions nurtured by  lands rich in natural resources in terms of minerals and verdant forests.
Tribals do not adhere to strict binding rules and regulations for artistic expression. Therefore a tremendous amount of freedom of imagination and naivety can be seen in tribal art and craft forms. Each individual community expresses its own identity through a sense of aesthetics that evolved out of specific aspect of their history including migration patterns and contact with people.
One such weaving tradition particular to this region are woven textiles dyed with Aal. The textiles that are created are Pata, used mainly as a sari by tribal women and Phenta, used as turban or shoulder cloth by their men.
Weaver  communities in the region
The craft of dyeing yarns with Aal and weaving them into textiles is a traditional form that was carried forward across generations. In the absence of written records, oral and personal communication collected during the course of research point to its practice for at least two hundred years.
The three main castes of weavers in the region are Panka, Mahar and Chandar.  Of these the Pankas weavers mostly belong to the Kabirpanthi sect. Weavers from Mahar and Chandar castes are in a minority in  Bastar.
The weavers start training their children in dyeing and weaving at the age of 10-12 and by the age of seventeen or eighteen, they become skilled weavers. Dyeing is done mainly by women.
Preparation for Weaving
The throw-shuttle pit loom known as mangtha is made up of sagwan i.e. teak wood or saal (Shorea robusta). Weavers get their looms made on order from carpenters (badhai) . The simple pit-loom can weave plain weaves and can be adjusted to create a varied or complex patterns such as figure or geometric patterns. However the beauty of its production depends largely upon the skill of the weaver.
 Pit loom in a shed adjoining the house of the weaver
Earlier the yarns were of 10's and 20's count, which were hand spun and hence coarse. They were used for making all types of textiles including 'Patas' and 'Angocchas'. Presently finer cotton mercerized yarns of 60s and 80s counts are also used in weaving.
As a pre-loom process, the yarn for warp and weft are prepared as per the required length of the product to be woven. These preparatory processes are tedious and time consuming as the yarn gets entangled repeatedly and hence require weaver's skill and patience.
Board warping technique is used for making warp. The hank is taken and is stretched out on the hank stand (Plate 2). The yarn is now stretched from peg to peg, from one side of the frame to the other side, as wrap is made and is crossed over to form the lease. When the warping is complete, two fingers are inserted in the lease and the ends are taken out one by one from the warping board and passed through the dents of the reed with the help of a reed hook. After the denting is complete, the ends are carefully drawn through the head eye of harness. The lease rods are inserted at the crossing point, so as to keep the two layers of warp separate.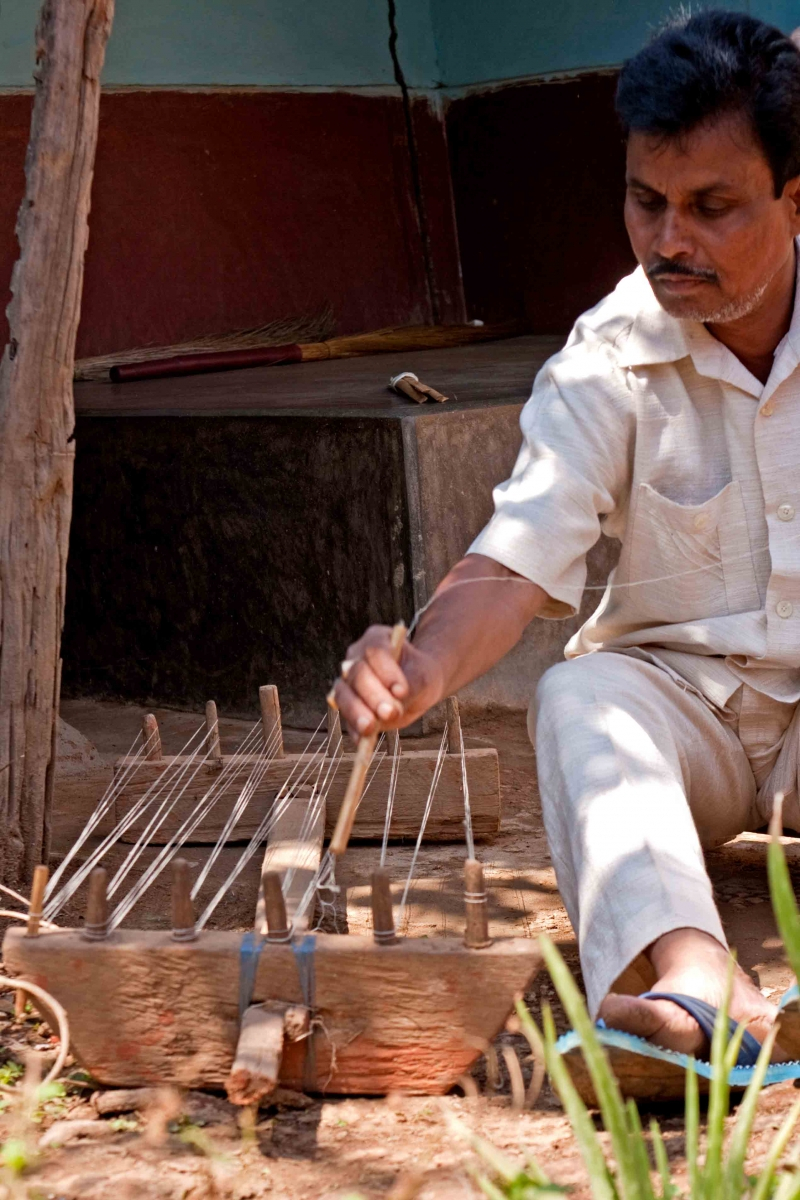 Preparation of warp
At this stage again the yarns are coated with rice starch. This is done in the streets by dipping the yarns in the bowl of rice starch in small sections and rubbing between hands . The warp yarns are treated with a light rice starch to increase its strength.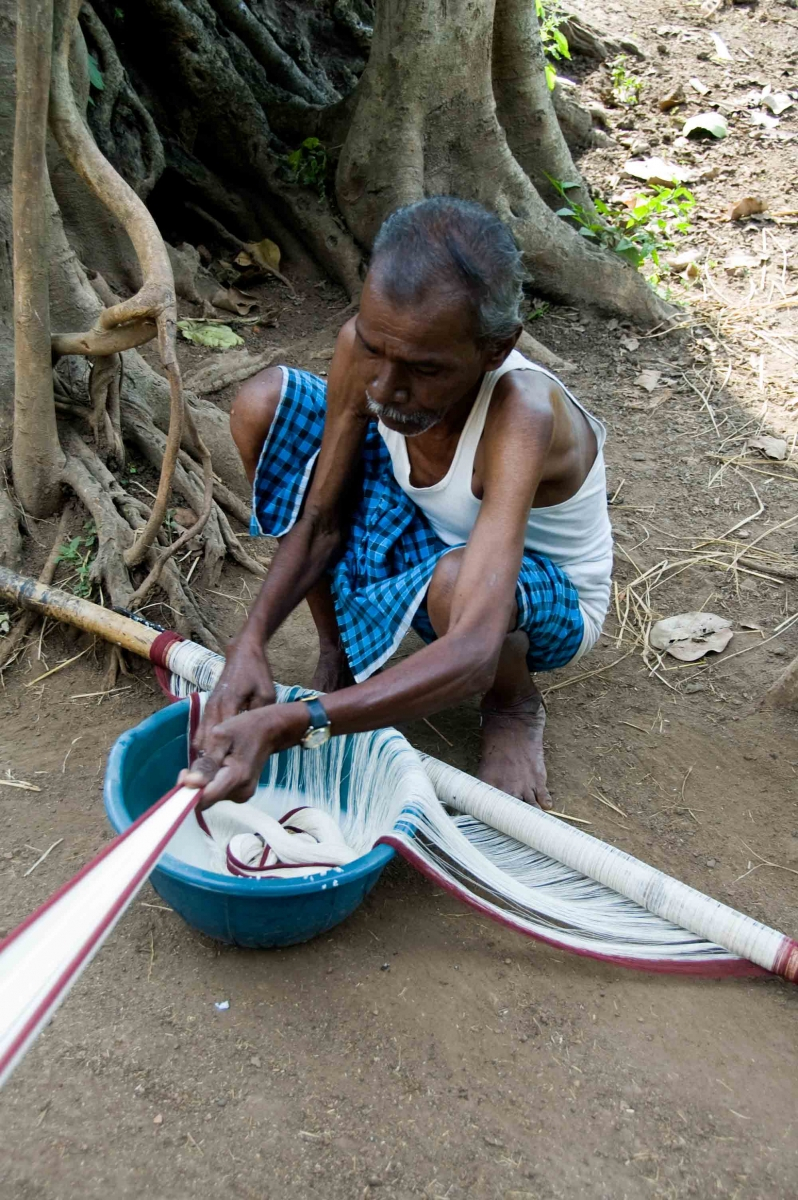 Sizing of warp with rice starch
It is then spread out and kept under tension. A bamboo brush is passed through the warp, back and forth, so as to separate each end from other . Oil is also applied on the wrap for the lubrication so that the yarn slips well through the reed and harness during the weaving. The yarn is dried by giving a tug from both ends of the length and is then ready to be put on the loom.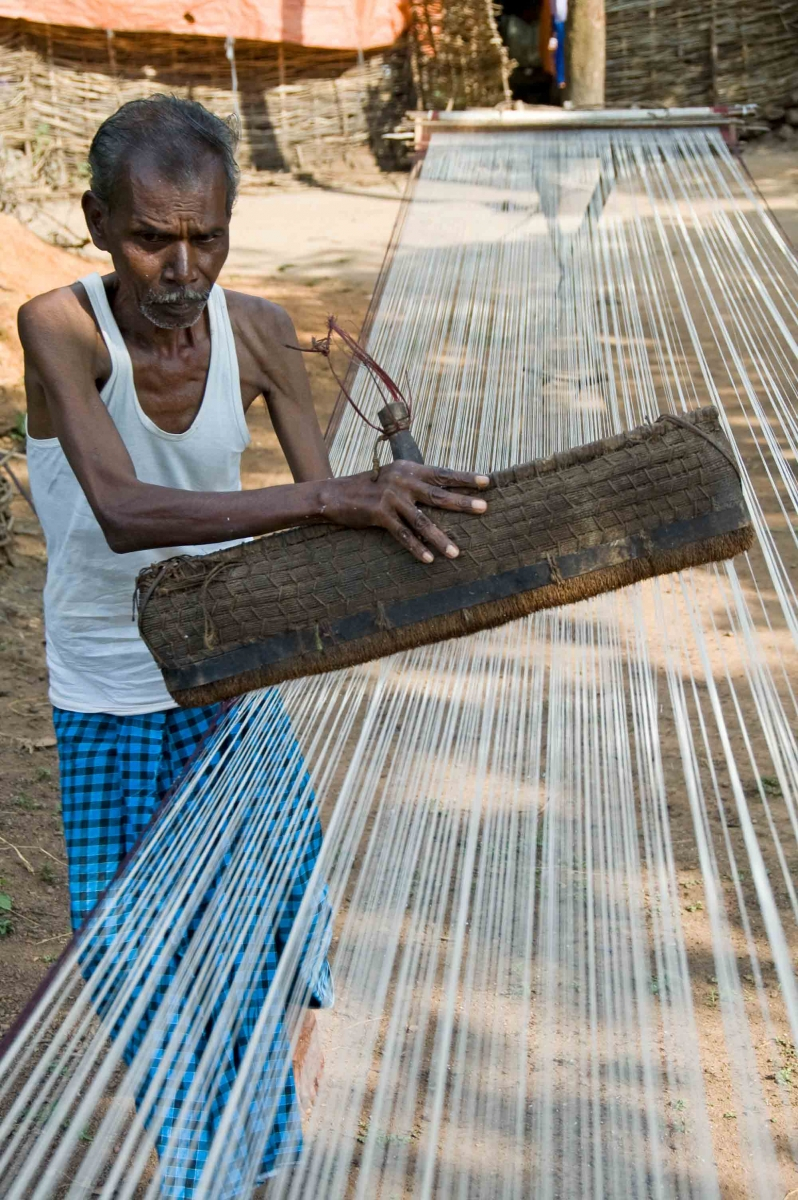 Brushing to separate the yarns
The yarns for weft are taken and tied on the tosar (a long wooden rod with one tapered end).The tosar is rotated by left hand and simultaneously moved up and down by hand, in order to wind the yarn on it. Due to this movement an elongated ball of weft yarn is formed on the tapered end, known as guccha which is placed in the shuttle .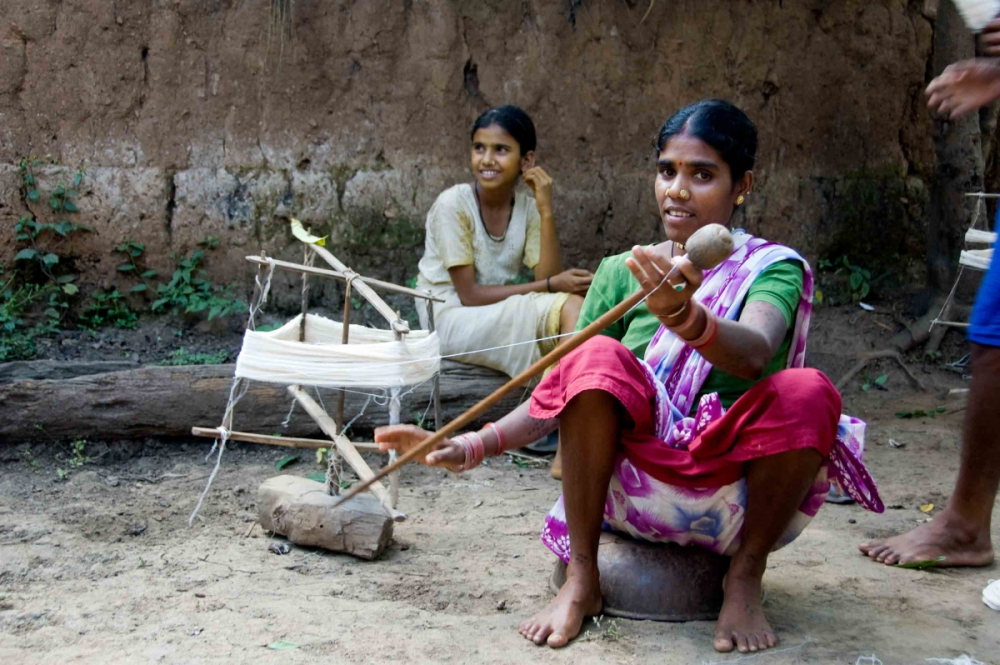 Preparation of weft on a rotating rod
Weaving Process
The characteristic feature of the weaving is the use of Aal dyed yarns to make the designs by interlocking extra weft weaving technique. The weaver throws a shuttle from one selvedge end across the width of the cloth by one hand, and catches the same at the opposite selvedge end by other hand. The paddles operated by foot change the position of harnesses to create shed before each weft insertion. This operation is repeated till the entire piece of fabric is completed.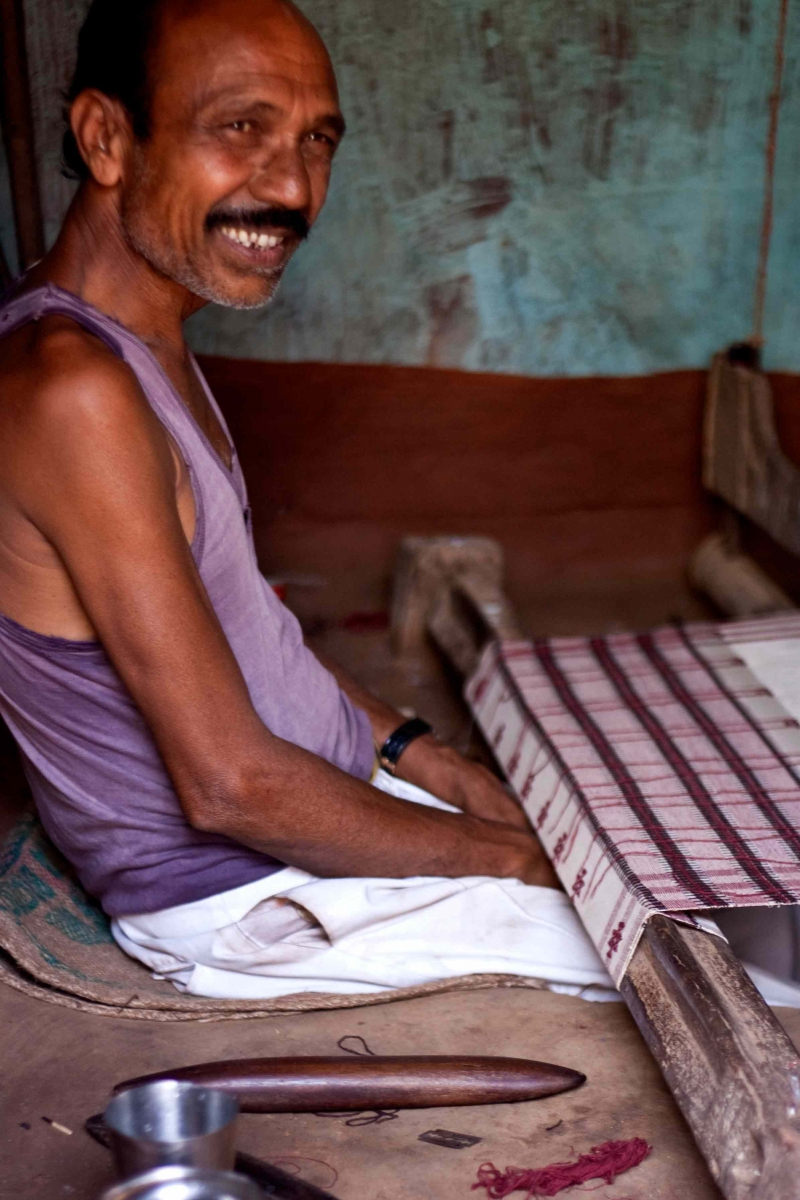 Insertion of extra weft with hands
The patterning for the motif is done by extra weft insertion, without the use of dobby, jacquard or even a design graph. The weaver does not refer to any written instruction but follows his own visual sense to weave intricate motifs. The designs are created by lifting yarns by finger to insert extra weft yarns. The colored borders are simultaneously made by using the technique of three shuttles; two separate ones for the borders and one for the field of the Pata. The yarns of the two adjoining shuttles interlock on the joints to form straight line or serrated pattern as per the requirement of the design. The use of three shuttles to create two colored borders is known as phera.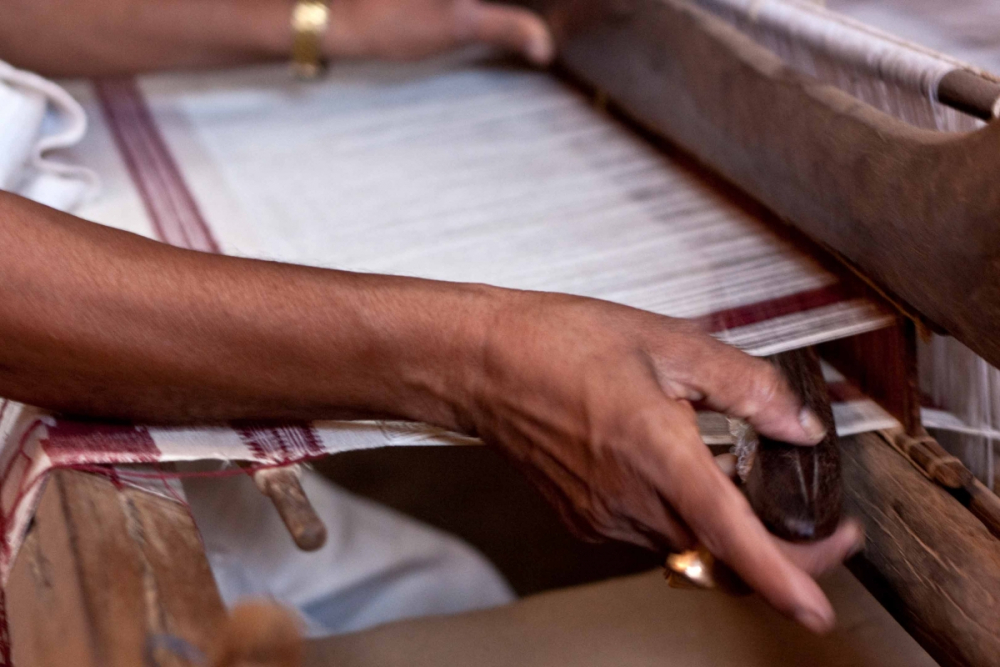 Insertion of weft in the warp shed
As such there is no ritualistic or social significance of the motifs, colours or the placement of the motifs in an Aal dyed traditional textile. Only one specific design Mai luga had social significance, as they were made especially on order during the wedding season. These were gifted to the bride's mother by the groom on the marriage and were made on order on a specific budget.
The Pata nomenclature showed that they were given different names on the basis of width of the borders, edgings and plain bands appearing in the pallu in Aal dyed yarns . These names also enabled weavers to refer to specific designs when taking orders.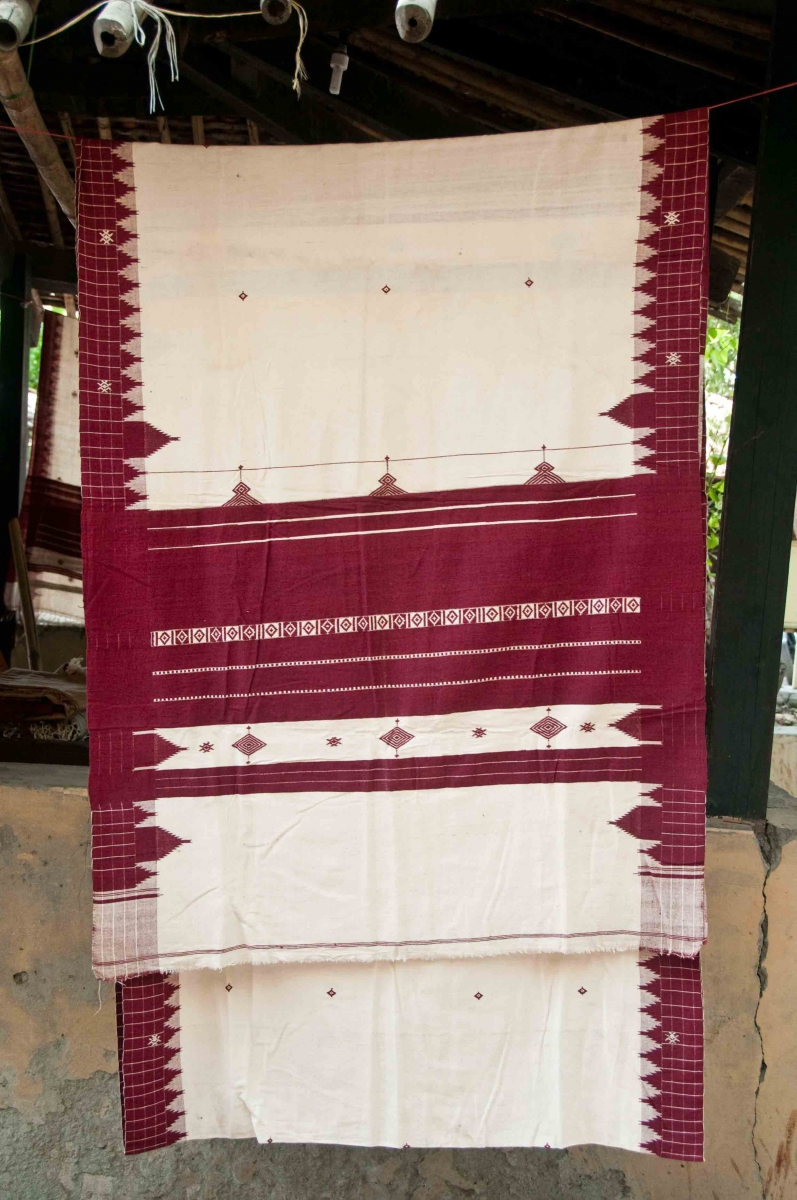 Traditional Pata
These patas were known by specific names, depending on the layout of the motifs and the borders. Some of these were for daily wear, but certain patterns were reserved for bridal wear or as a gift for the bride's mother, as mentioned earlier.
Designs and Motifs
Inspired by legends and folklore, evolved by their everyday life, the motifs and patterns found in their crafts have deep significance for the contemporary makers and users. The motifs normally seen on Aal dyed textiles in the region were divided into animals, insects, birds, human figures and objects around them. Apart from these, some motifs can be categorized as geometric patterns inspired from nature.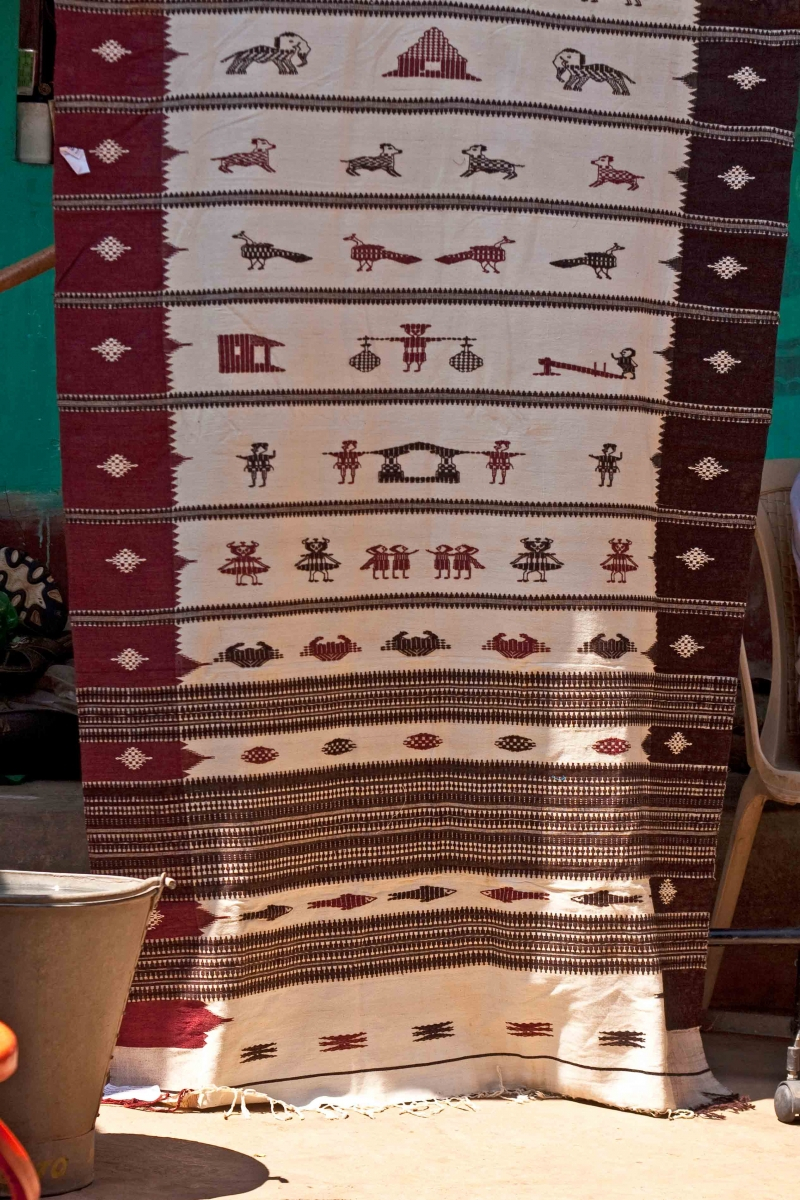 Contemporary aal dyed and handloom panel with traditional motifs
Some common motifs are:
Animal motifs: Crab (Kekra), Tortoise (Kachua), Fish (machari or sukshi), tiger (Cheeta), Deer (Chiter), Lion (sher), snake (saanp)
Bird Motifs: Peacock (mor or mujur), Pigeon (pankha), Duck (batakh), Swan (Hans), Sparrow (Chidiya), Eagle (Cheel), Cock fight (murga ladai)
Insect motifs: Butterfly (pipli, titli, prajapati), Leech (Jorunphul), Lizard (Jhitpiti), caterpillar (sorthiphul)
Objects: Axe (Pharsa), Pot (Handi or kumbha), net(Jaal), Boat( Naav or donga or dongi), Hut(Ghar), umbrella(chhata),airplane (viman or hawai jahaz), palace(mahal)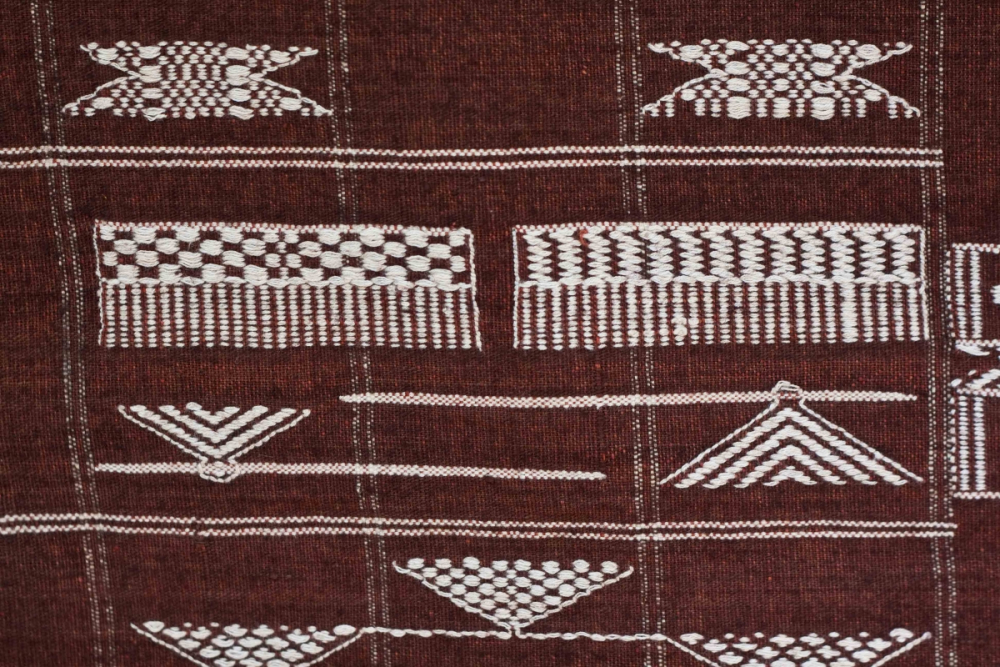 Objects as motifs in weaving
Plants: Leaf (paan), flower (phul), sarai Tree (sarai jhad) mango leaf (amapaan)
Geometric motifs: Cat's paw (Billi khoj), Fly head (makhi mundi), tiger's paw (baghkhoj), lion's paw (Sherkhoj)
Motifs which were commonly used in Aal dyed products in Chattisgarh were Kanghi (comb), Doli dandi(decorated poles carried during the worship of goddess), Chatar( umbrella), Bairag (rifle), Baja (trumpet), Nangara (drums), Rath (ceremonial chariot with 8 wheels).
Conclusion
The dyers of Kotpad and the weavers of Bastar have been forced to move on and take up other occupations due to almost negligible demand for the traditional wraps. The local demand for the saree has been on a decline due to exposure to other cheaper, more decorative and synthetic alternatives. Synthetic sarees are sold for almost 1/8th the cost of the Aal dyed wraps and are easily available in weekly markets in various hues and patterns. Synthetic sarees are also easier to wash and maintain compared to Aal dyed ones. However, every woman has an Aal dyed sari in their sparse wardrobes for sentimental reasons, which are often inherited. It is significant to note that the Aal dyed traditional textiles are treasured and are now worn only on special occasions due to their high cost and maintenance. These are specially worn for celebration of Dusshera, Pujas, weddings and festivals to celebrate first harvest known as nayikhani.
Apart from cotton, weavers were also using wild varieties of silk obtained from Jagdalpur and Bilaspur. Mixing of two different variety and thicknesses of yarns in warp and weft were also experimented with.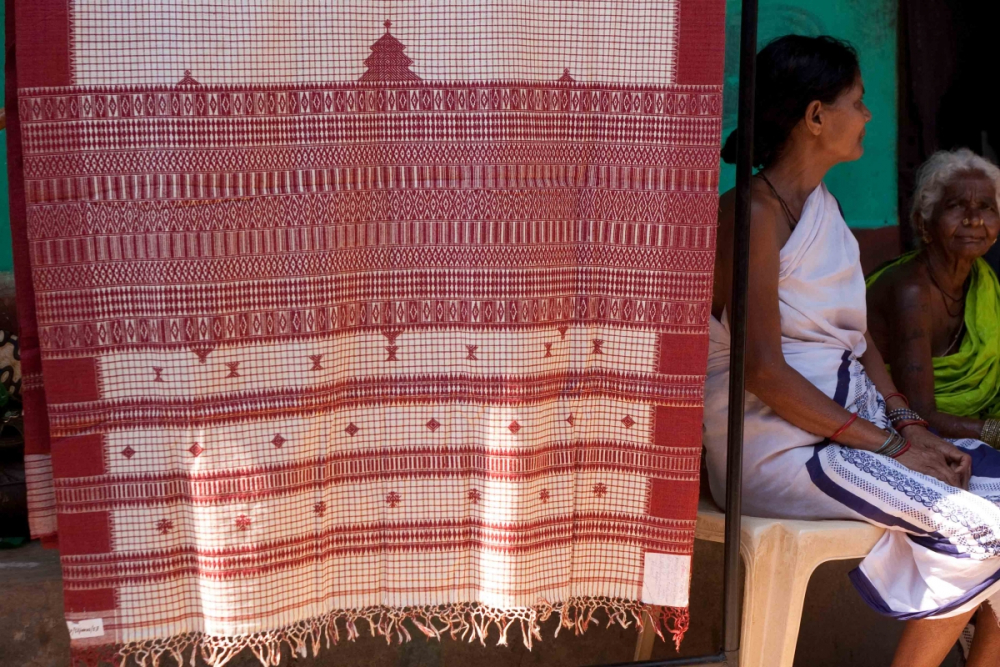 New Patas for urban market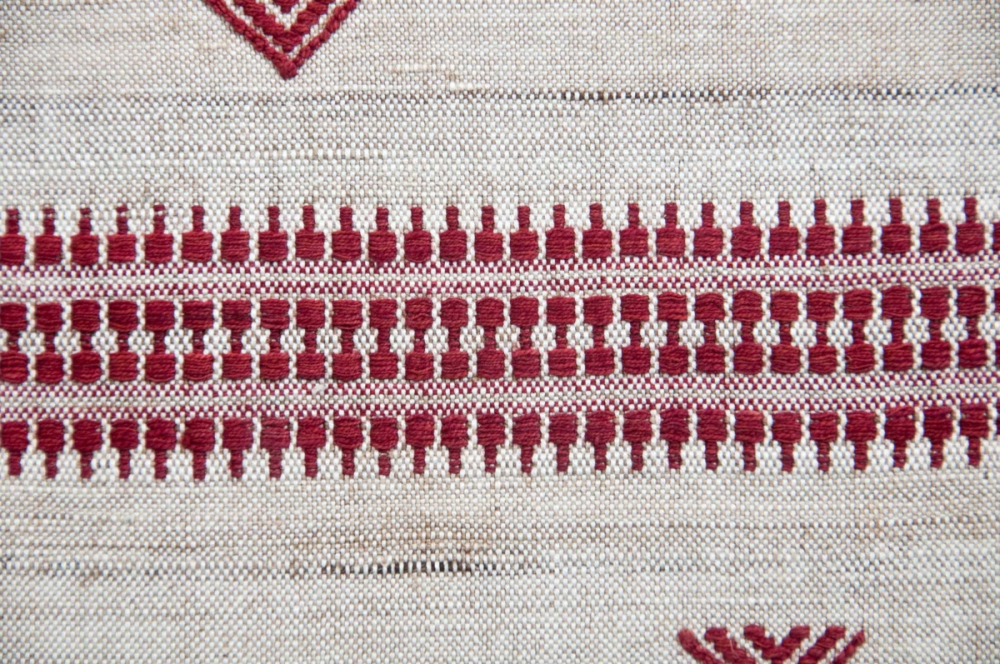 Traditional border patterns for pallu (end piece)
In depth knowledge of flora or the environment gathered through oral traditions enabled the sustainable processes and material usage for many textile traditions. This knowledge will survive if supplemented with innovation in design, inclusion of new sustainable raw material and acceptance by people. Despite all the shortcomings, and  in spite of increasing urbanization and globalization of consumer tastes and market demand, we are still very optimistic regarding the craft sector. It is truly outstanding that in India, even today, craft traditions are alive and thriving and are still a living part of India's cultural and social life.
References
Dhamija Jasleen, 'Indian folk Arts of India', National Book Trust, India, 1997
Dasra –Catalyst for Social change- A report presented in 2012
Doshi Saryu, 'Tribal India- Ancestors, Gods and Spirits', Marg Publication,Bombay, India,1992
Jaitly Jaya, 'The craft Traditions of India', Luster Press Pvt. Ltd, 1990
Krishna Pravir, 'Bastar- atit se agat', Rajiv Gandhi Vikas Mission, Bastar
Lynton Linda, 'The Sari', Thames & Hudson, London, 1995
Manohar Aashi, Shah Shampa , 'Tribal Arts and Crafts of Madhya Pradesh', Mapin Publishing Pvt. Ltd., Ahmedabad in association with Vanya Prakashan, Bhopal, India1996
Postel Michel, Cooper Zarine, 'Bastar folk art-Shrines, figurines and memorials' Project for Indian cultural studies publication VIII ,1999, Franco-Indian Research Pvt. Ltd
Russell R.V & Hira Lal Rai Bahadur, 'The Tribes and Castes of the Central India', Anthropologica Publications, Oosterhaut .N.B-The Neatherlands,1969
Sarkar Amitabha, Das Gupta Samara, 'Spectrum of Tribal Bastar', Agam Kala Prakashan, Delhi, 1996
Singh Martand, Chishti Rta Kapur, Sanyal Amba, 'Saris of India- Madhya Pradesh', Wiley Eastern Ltd. and Amar Vastra Kosh, New Delhi, 1989
This content has been created as part of a project commissioned by the Directorate of Culture and Archaeology, Government of Chhattisgarh, to document the cultural and natural heritage of the state of Chhattisgarh.