Yakshagana in the coastal region of Karnataka is known for its sophistication, which it has achieved over many years. The classical dimensions achieved through its journey are, fascinatingly, the result of the freedom given by folk traditions, which is where it actually originated. As a component of the region's folk culture, Yakshagana relates to the everyday life of people very closely. This equips it with the unique quality of being able to react and respond to the common milieu in which it exists. Yakshagana, as a classical art form, therefore, continues to enjoy the benefits associated with folk art and has become very popular.
Chikkamela is a variant of the Yakshagana tradition, where the roots of its folk origin are evident. In Chikkamela, the artistes go to the designated houses and perform select portions of prasanga (text).
Association with Temples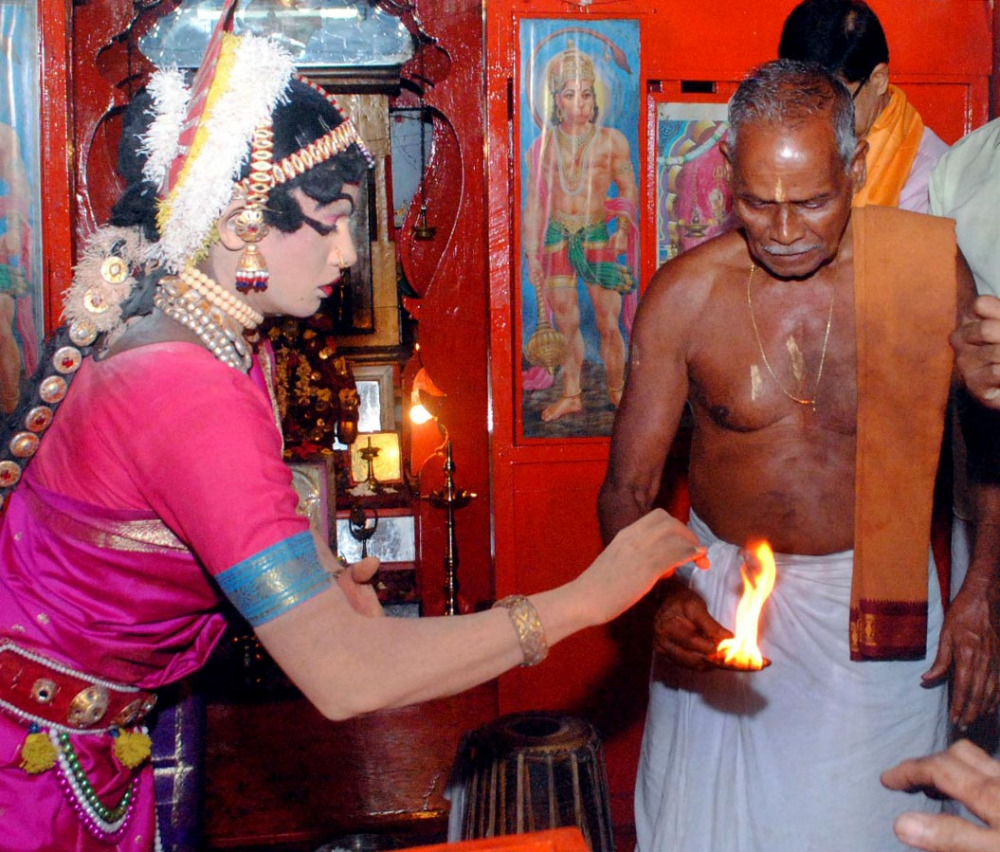 Fig.1. Invoking blessings of the deity
Yakshagana, as a temple art, has formed an integral part of the cultural and religious life of coastal Karnataka. The annual performance season invariably begins and ends by invoking the blessings of the deity of the temple to which the particular Yakshagana Mela or troupe is attached. Even the commercial troupes (the ones not attached to temples) have to adhere to the tradition of performing specific sacred rituals.
Though for Chikkamela, adherence to the above-mentioned custom is not mandatory, the nature of the form itself necessitates that the troupes pay obeisance to their deity. Artistes wear anklets in front of the main deity and carry out a very brief performance, before embarking on their seasonal performances. After the performance, they even offer a part of their earnings to the deity, as a token of gratitude—only then do they share the profit among themselves, according to hierarchy. Thus, we can say that Yakshagana, with all its variants that came from the temple, is still intimately attached to the temple. Being a meeting point of sacred and secular entities, the Temple has brought together the flavours of folk and classicality simultaneously.  
Chikkamela: Seasonal Need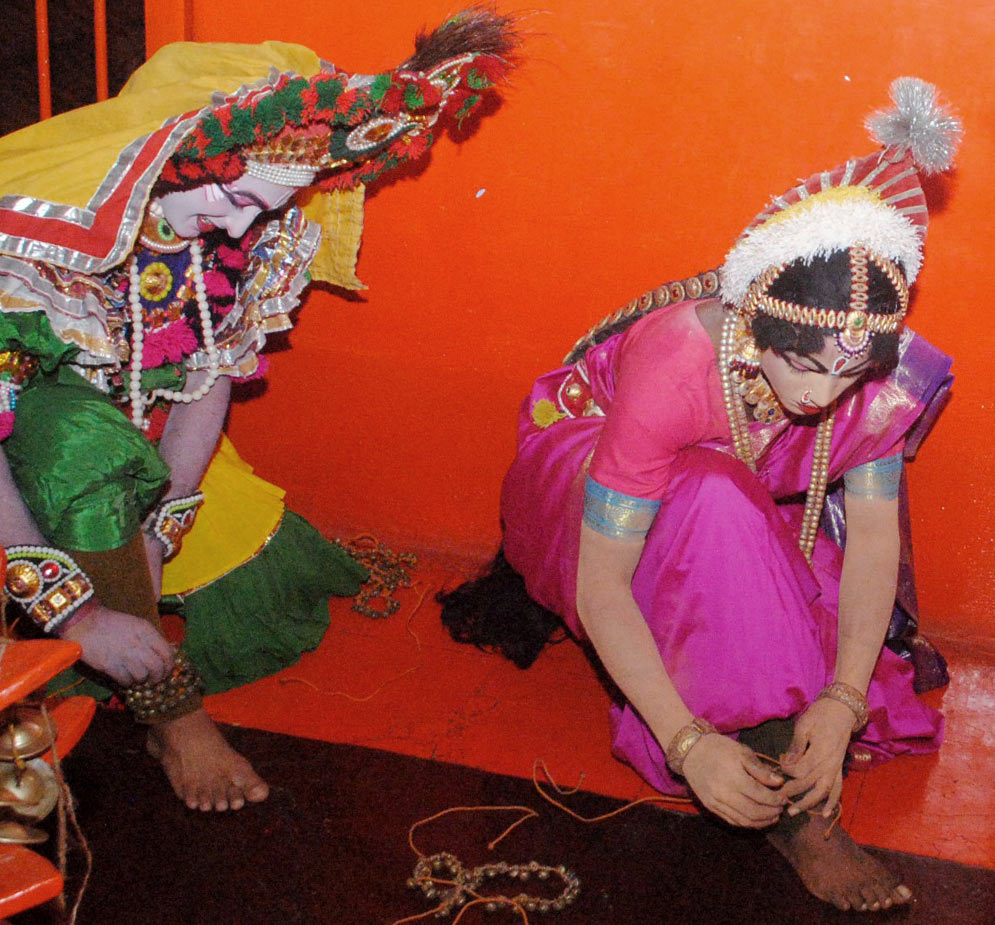 Fig. 2. Tying anklets
The period between Diwali and Pattanaje (November–May) is considered the busiest for professional Yakshagana troupes. The beginning of the monsoon season in June signals the end of the annual season of Yakshagana. The artistes return to their villages to take up farming or trade, to meet again only the following year for the next season. 
In earlier days, the troupes weren't financially strong enough to facilitate transportation for their artistes and the hefty equipment. The artistes were expected to carry their costumes and make-up elements (veshada pettige) with them, wherever they moved. Carrying huge headgears and elements for elaborate facial make-up was a big challenge. The organiser's situation was not easy either. Organising a Yakshagana event was difficult, and everyone could not afford to do it. Taking all these factors into consideration, it must have been decided to suspend performances for the six rainy months when the challenges mentioned above doubled.
Then again, the artistes who were daily wagers did not come from well-settled families. Many of them did not own agricultural land and most of them probably had no other source of income. Illiteracy was also one of the major drawbacks. They only knew how to perform, and in order to sustain a livelihood and keep their creative instincts alive, they began to engage in off-season performances such as Tala-Maddale (the oral Yakshagana). Being free from costume, dance and other stage conventions, there were hardly any logistical challenges to take care of. It was easier to put up performances and it served as a platform for learning and rehearsing for the upcoming seasonal boom.
The artistes who lacked dialogue skills but craved action began to arrange miniature versions of Yakshagana with minimum stage requirements. They created smaller groups and performed for a lesser honorarium. The top-rated artistes were not part of such troupes. This led to the origin of Chikkamela, literally meaning mini troupe.
So the rains, in a sense, restricted and promoted the flow of life and art simultaneously.
Set-up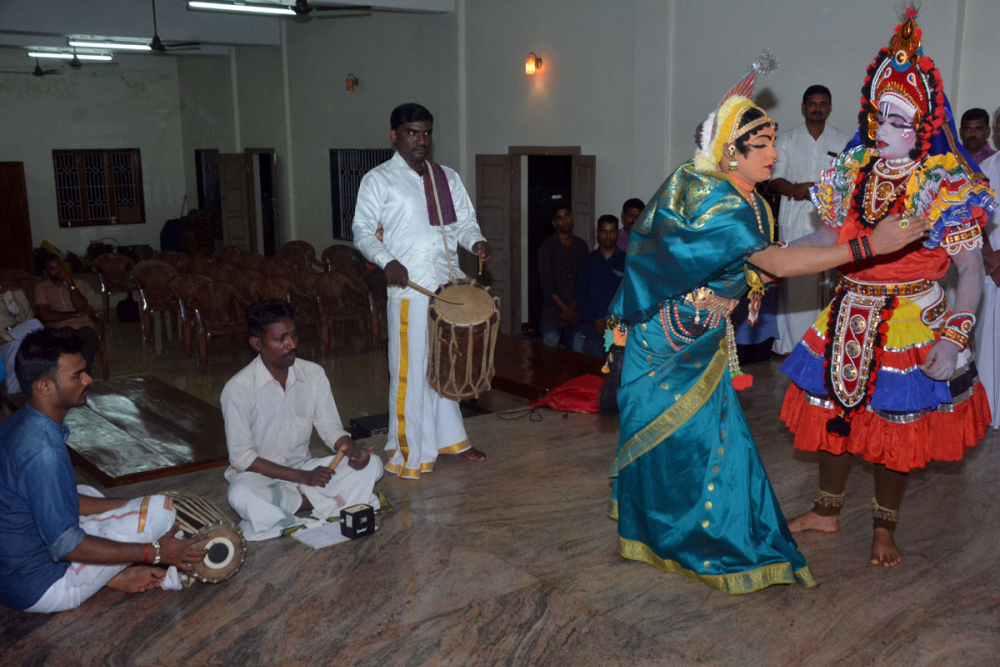 Fig. 3. A Perumude Chikkamela troupe initiating its annual activities 
Today Chikkamela is in high demand. Yakshagana is performed in open-air stages, while Chikkamela is held indoors and is of a far lesser magnitude. It is an art which is more like door delivery. Though it is considered as miniature Yakshagana, the artistes try to compensate by applying more care to their costumes. They wear colourful costumes, make-up, decorative turbans, etc.
It is not an easy task for the artistes to visit many houses daily during the rainy season, especially wearing heavy costumes and ornaments, and carrying delicate musical instruments. They have to take extra care to see that the Yakshagana dress is intact for four to five hours.
A Chikkamela troupe consists of a male character (purusha vesha) and a woman character (sthree vesha). The accompanying team includes the bhagavata or lead singer, a drummer (maddalegara) and one or two assistants, as opposed to a Yakshagana Mela, which has a minimum of 12 characters. Chikkamela is also called Panchakoota, meaning a set of five people.
The performances begin at dusk and continue till 10.00 pm at night. The family head invites the troupe for performing in the house. The troupes have a few houses to perform at, every night. Earlier the artistes would walk to the destined houses, through the night, with gaslights or kerosene lamps, risking threats from animals and trials of heavy rains and floods. Nowadays, transportation is arranged in spacious auto-rickshaws.
Beliefs associated with Chikkamela
People in coastal and Malnad regions of Karnataka believe that inviting Chikkamela troupes, constituted by temples, to perform in their houses, will remove the obstacles created by vaastu dosha (flaws of vaastu or the ancient system of design and construction) and bring harmony and prosperity in homes. It is a popular belief that musical instruments are auspicious and symbolise wealth. Even today many believe that the sound of Yakshagana instruments and dance would destroy evil forces. People also offer harake seve (a ritual) in the form of money, gold and silver, etc. This custom has brought fame and name to some troupes.
Performance and Customs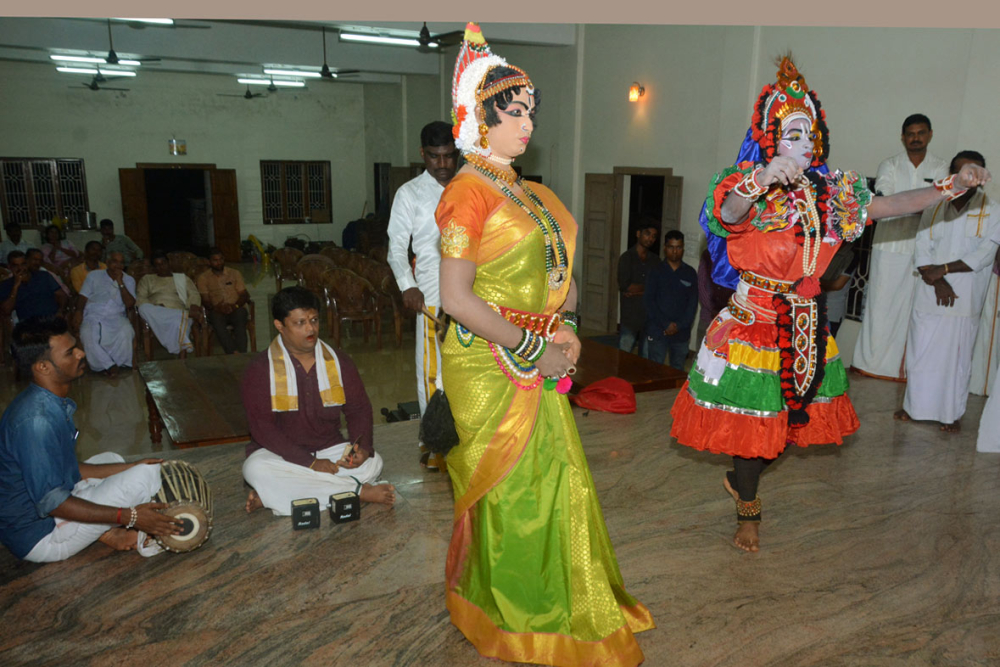 Fig. 4. Another troupe beginning its annual performances
Chikkamela is like a mini theatre involving minimum participants, both in terms of the beholder and performer. The dance and himmela (ensemble of percussion instruments) beat would be similar to that of Yakshagana, except that chende (a musical instrument; sort of a cubical drum) is not used here.
As soon as the Chikkamela troupe enters the house, the house owner greets the artistes. The troupe leader draws the swastika (religious symbol of peace and divinity) as prescribed in Agama shastras (ancient Hindu scriptures) and offers prayers by performing a small pooja. After this, they perform short episodes based on mythological stories of Radha–Krishna, Shiva–Parvati, Rama–Sita, Krishna–Satyabhama, Rati–Manmatha, Bhishma–Ambe, etc. Chikkamela is also known as Radhakrishna Mela which is named after the popular epic characters Radha Krishna Vesha. Earlier the artistes were obliged to stick to episodes with only two characters because of the circumstances, but now it has become the norm.
Usually, the performance spans between ten minutes to an hour, based on the family's request. They also take into consideration the family's request for a specific prasanga, provided that the Bhagavatha is familiar with it. Some performances are based on historical incidents as well. These performances may or may not vary in all the houses they visit.
After the show, the residents give offerings and tokens of gratitude in the form of small amounts, along with betel leaves (veelya). There is no fixed remuneration. The spectators from the neighbourhood who gather to watch may also offer money to the artistes—but the artistes are not supposed to bargain for more facilities or higher honorarium. Later, the troupe moves to other houses. If the performance consists mainly very short episodes of 10 minutes or so, the troupe may end up doing 15–20 shows in a night.
The Chikkamela troupe usually visits and performs in the nearby houses within the village or town limit. Sometimes they do extend the performance to neighbouring villages if they are invited. In such cases, they accommodate themselves in the bhajanamandir (prayer hall) or the temple premises of respective villages. At times, they are invited to stay at the houses of the sponsors.
Chikkamela Today
In the first half of the last century, Yakshagana did not enjoy the same dignity and respect from society. Many families were not entertained to watch it even in the open theatre. In such a situation, Chikkamela was considered as asking alms for livelihood.
Predominantly in rural areas with little or no transportation, Yakshagana is enjoying immense popularity nowadays and its exponents are honoured just as great stage artistes are. The troupes undertake tours from July to September.
In the morning, the troupes distribute pamphlets or request letters to the houses in the village. In the evening, the artistes go to the invited houses and begin their performance at dusk. They perform till late at night so that people from the neighbourhood could come in and catch a bit of the performance. Their schedule for the day may end around midnight. Now they carry halogen lights, which are brighter than the gas lights.
Earlier, Chikkamela troupes were not constant. Troupes kept changing every year, depending on the requirements and availability of performers. They were not led by a fixed banner or institutions. But now there are fixed Chikkamela troupes managed by institutions and temples. If any family wishes to have a performance in their house, they have to put in a request in advance. The commercialisation of art has affected this art form too. Small investments and increasing profits have attracted many organisers and artistes. Nowadays coastal Karnataka has almost more than 100 Chikkamela troupes.
Viewership and Participation
The fortunes of Yakshagana Mela have gone on a rollercoaster ride in the last century. Earlier it was the main form of recreation in the absence of any entertainment. Yakshagana as an art form grew and flourished with the encouragement of sponsors and viewers. The modern age, with its inventions of movies, television and computers, has affected the viewership of Yakshagana and demand for Chikkamela as well. After plateauing for many years, the appreciation for the art form has scaled up again.
Today, Yakshagana enjoys huge popularity in coastal Karnataka. Chikkamela is a source of income for the artistes in the leaner months, especially in rural, remote villages. Many may not believe the facts that each year more than 500 viewers (per house at least 5-10 members) are benefitted by one troupe of Chikkamela. One can easily imagine what the number of viewers might be if all the troupes are collectively considered as one entity. People usually gather to get proximity of Yakshagana makeup and costumes and also characters. Chikkamela shows are seen as a good source of Yakshagana education. Families regard it as an excellent way for their children to get acquainted with epics and mythological characters. It functions as an introductory facet.
Chikkamela is also an ideal practising ground for aspiring Yakshagana performers. It is like a formal stage with informal set-ups. It serves as a rehearsal for bigger plays. Young and upcoming artistes enthusiastically participate in the Chikkamela to get exposure and also get familiar with the intricacies of Yakshagana. There are many artists who began with Chikkamela and went on to excel in Yakshagana.
Nowadays people are more equipped with regular jobs and many artistes have more stage opportunities, and hence do not think of practising this art form. But in order to preserve the lesser-known form of Yakshagana, some of the artistes wish to carry on the legacy.
Although Chikkamela has kept its scope limited to door to door performances; it has the capacity to raise a greater curiosity to look closely at how the vastness of any performing culture takes a unique dimension if its social, cultural, seasonal strata changes. It is also interesting to study the flexibility of the art and artists as the entire gamut of Yakshgana easily gets minimised through this form.
It is our duty to encourage such troupes which manifest a unique identity through their own journey towards art and life. Yakshagana is an art replete with different forms and practices, which is pan-Dravidian in nature. This form of special art will exist and sustain only if the artists and art lovers have some commitment towards it.