Vīṇa Dhanammal, or Vīṇa Dhanam as she was popularly known, occupied the most exalted position in the Carnatic music world during her lifetime. Dhanammal dominated the entire Carnatic music world for nearly half a century. She was held in high esteem by all the well-known and highly respected musicians of her times. She was an institution amongst the galaxy of the great musicians of her period. With a distinguished ancestry, she established herself as a renowned musician, vīṇa player (vaiṇika), an inexhaustible repository of various types of musical compositions of major composers and others, and a great contributor and transmitter of the Carnatic music legacy. The bāṇi or musical style that she had established is called the vīṇa Dhanammal bāṇi, and strictly adheres to tradition and melodic purity. Even to this day, Dhanammal bāṇi commands great reverence in the Carnatic music world.
Ancestry
Vīṇa Dhanammal belonged to a renowned family of dancers and musicians attached to the famous court of Thanjavur. The lineage can be traced back to Pappammal in the 17th century. Pappammal's daughter, Rukmini was a Thanjavur court musician. Pappammal's granddaughter was the well-known dancer and musician Thanjavur Kamakshi (c. 1810–90).
Thanjavur Kamakshi, the grandmother of Vīṇa Dhanammal was a disciple of Subbaraya Sastri, the illustrious son of Syama Sastri, the great composer. She also learnt from the well-known composers Anai-Ayya from Vaiyacheri, Thanjavur.
Thanjavur Kamakshi's daughter and Vīṇa Dhanammal's mother was Sundarammal (c. 1830–88). Sundarammal learnt from Annaswami Sastri, the grandson of Syama Sastri.
Early Life and Tutelage
Vīṇa Dhanammal was born in Thanjavurin the year 1868 as recorded by her grandson T. Sankaran. She was the fourth among her siblings. Her elder brothers were Narayanaswami (violin), Kutty (ghatam) and Appakannu (violin). Dhanammal's younger sister was Rupavati, dancer and musician.
Initially Dhanammal and Rupavati practised as a music duo. Later they switched over to vīṇa and vocal respectively. Apart from learning from mother and grandmother, inheriting the Syama Sastri legacy and the Tamil pada-s of Ghanam Krishna Iyer, Vaidhiswarankoil Subbarama Iyer and the Anai-Ayya kīrtanas, Dhanammal had learnt kīrtanas of Muthuswamy Dikshitar and Pallavi Gopala Iyer from Sattanur Panju Iyer. Sattanur Panju or Panchanada Iyer's mentor was Suddhamaddalam Tambiappa Pillai who played the percussion instrument suddhamaddalam at the Tiruvarur temple. Tambiappa Pillai was the direct disciple of the great composer Muthuswamy Dikshitar.
Sattanur Panju Iyer was a very well-known musician and teacher. Besides Vīṇa Dhanammal, Panju Iyer had also taught Tirukkodikkaval Krishna Iyer, the great violinist and Nāgaswaram Vidvān Tiruppamburam Swaminatha Pillai and his son Tiruppamburam Natarajasundaram Pillai.
Later Dhanammal's family shifted to George Town in Chennai. Dhanammal had tutelage in vīṇa from a reputed Vīṇa vidvān by name Alagiyasingarayya who lived in Thangasalai Street, George Town. With grandmother Kamakshi's persistent efforts, Dhanammal had the rare opportunity of learning Kshettrayya padams from another reputed musician, Walajapet Padam Balakrishnadas, famously known as Padam Baldas. This blind musician was a disciple of the famous vīṇa vidūṣi Mylapore Gowri Ammal.
Musical Career, Activities and Contribution
Prominent composers of Dhanammal's times visited her and composed in her presence and enriched their compositions further by her final touches. The famous jāvaḷi composer Dharmapuri Subbarayar was a frequent visitor to Dhanammal's house. The famous jāvaḷi 'Smara sundarāṅguni' in the rāga pharaz was composed by Dharmapuri Subbarayar in praise of Dhanammal.
The other composers who often visited her were Patnam Subramanya Iyer, Tiruvottiyur Tyagayyar and Thenmatam Narasimhachari.
Dhanammal's vīṇa playing was characterised by her unique meeṭu or the plucking of the main playing strings, says T. Sankaran. It was a prolonged meeṭu with musical richness. The meeṭu of the side tāla strings was soft. Dhanammal never used metal plectrums for the main strings. The strings were thin to make the pitch of the vīṇa higher. Thus Dhanammal could sing along while playing the vīṇa. It was her felicitous singing while playing the vīṇa that drew the appreciation and admiration of the great vidwans of her day like Fiddle Tirukkodikkaval Krishna Iyer, Flute Sarabha Sastri, Mridangam Narayanaswmi Appa and Vīṇa Travancore Kalyanakrishna Bhagavatar and connoisseurs Jalatarangam Ramanaiah Chettiar and Kīrtanācārya C.Srinivasa Iyengar, to name a few.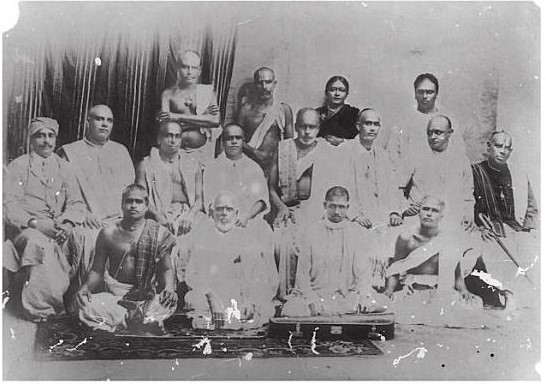 Veena Dhanammal with her fellow musicians   
Dhanammal invariably gave such vīṇa recitals at her home in George Town on Friday evenings. These musical sessions were much looked forward to by all the expert musicians and connoisseurs. There was pin-drop silence during the recitals which were attended by the musical elite of the city.
Dhanammal gave her concerts without the mṛdaṅgam accompaniment. She had her own view that lady musicians should not indulge in aggressive singing and should not try to imitate male musicians. She had a keen ear for Hindustāni music. She travelled to Kasi many times and listened to well-known musicians like Kshatriya Circus Rahmad Khan. She also listened to Gauhar Jaan, Sitarist Nawab Ali Khan and Abdul Karim Khan on many occasions. Abdul Karim Khan had all admiration and respect for Dhanammal. In fact he had learnt a few Carnāṭic kīrtanas from Dhanammal like Tyagaraja's 'Rāma nī samānamevaru' in Kharaharapriya rāga and Patnam Subramanya Iyer's 'entanērcina' in Sāvēri rāga. Abdul Karim Khan's gramophone records of these two kīrtanas are popular.  Dhanammal had performed vīṇa at the First All India Music Conference held in Baroda in 1916.
Vīṇa Dhanammal had a very vast repertoire of compositions authentically handed down in her paramparā (lineage) through oral tradition which none of her contemporaries had.
Hers was a complete repertoire with the compositions of the Musical Trinity, Tamil compositions, other regional compositions, rare varṇams, gītas, Kshettrayya padams and jāvaḷis.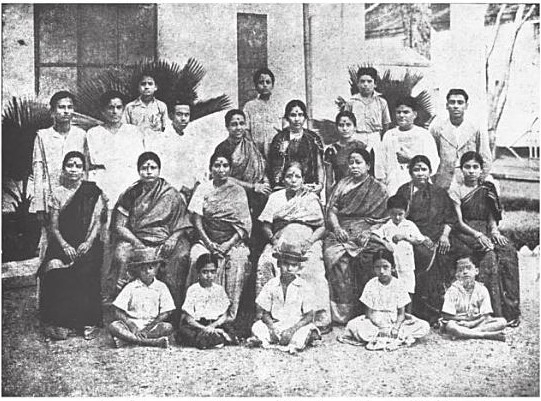 Veena Dhanammal with her family
Descendants 
Vīṇa Dhanammal's musical legacy has continued in her successors in the family. She had four daughters, Rajalakshmi, Lakshmiratnam, Jayammal and Kamakshi. The first two daughters gave vocal recitals in the name of 'Dhanam daughters'. Jayammal was a good tabla player and Kamakshi was a violinist. Dhanammal's second daughter Lakshmiratnam was a very talented musician with a vast repertoire.
Jayammal's daughter was the Bharatanatyam legend T. Balasaraswati. Jayammal's son T. Ranganathan was an accomplished mṛdaṅgam player. He learnt from Pazhani Muthiah Pillai and Patnam Subramanya Pillai and another son T. Viswanathan was a well-known flautist, having learnt from Flute Thiruppamburam Swaminatha Pillai. Both the brothers taught at the Wesleyan University, US.
Kamakshi's daughters were the famous duo Brinda and Mukta. Brinda had learnt vocal and vīṇa directly from her grandmother Dhanammal. Brinda along with her sister Mukta had stayed at Kanchipuram for seven or eight years and learnt a large number of Tyagaraja kīrtanas from the great musician Kanchipuram Nayana Pillai and had added to the legacy of the family. Brinda and Mukta's youngest sister was Abhiramasundari, a well-known violinist having learnt from the eminent violinists Kumbakonam Rajamanickam Pillai and Pappa Venkataramaiah. Among Dhanammal's vīṇa disciples were Savitri Rajan, Rukmini Lakshmipathi, the state minister in Chennai in those days, and Travancore Rani Sethu Parvathi Bai.
Dhanammal has nine gramophone records to her credit.
References
Ayyangar, R.R., 1972. History of South Indian (Carnatic) Music. Madras: Self- published.
Sampath N.V., Malathi Rangaswami and N.V. Kasthuri, eds. 2004. Kasi Diaries, Excerpts from the Diaries of N.D. Varadachariar (1903–1945). Chennai: East West Books Pvt Ltd.
Sankaran, T. 1962. Isai Medaigal (Tamil). Chennai: Tamil Isai Sangam Commercial printing and publishing house.  
Subba Rao, T.V., 1962. Studies in Indian Music. London: Asia Publishing House
Journals and souvenirs of the Madras Music Academy.