Mothers hold a high position in Indian culture, and motherhood has been extensively represented in Indian art. We look at the relationship between mother and child as portrayed by modern Indian artists such as M.V. Dhurandhar, M.F. Husain and Jamini Roy. (Photo Courtesy: Delhi Art Gallery)
The image of a mother and child is an enduring theme in art. India has had a long-standing tradition of reverence for motherly figures, and the concept of the mythological mother and child has remained a constant source of fascination throughout the centuries. Artefacts from the Indus Valley civilisation have been identified as depictions of mother goddesses.
These tiny renderings of mother goddesses have many interpretations, but we can definitely draw the conclusion that our ancestors found some divinity in motherhood. 'Yashoda and Bal Krishna' or 'Mother Mary with Jesus' as ideals of motherhood have always had a place in the themes of artists in India and abroad. Even Mother India (or Bharat Mata) is a recurring theme in Indian art, and has been represented by painters ranging from Abanindranath Tagore to Amrita Sher-Gil.
Since the Renaissance, artists around the world have been using their mothers as muses, be it Rembrandt, Albrecht Dürer or Salvador Dali. For example, the theme of Madonna and baby Jesus can be traced back to depictions as early as the 2nd or 3rd century, with Raphael's depictions of the divine mother and child being quite popular.
We take a look at the complex yet beautifully simple relationship between mother and child in Indian art through the paintings of five modern artists.
M.V. Dhurandhar (1867–1944)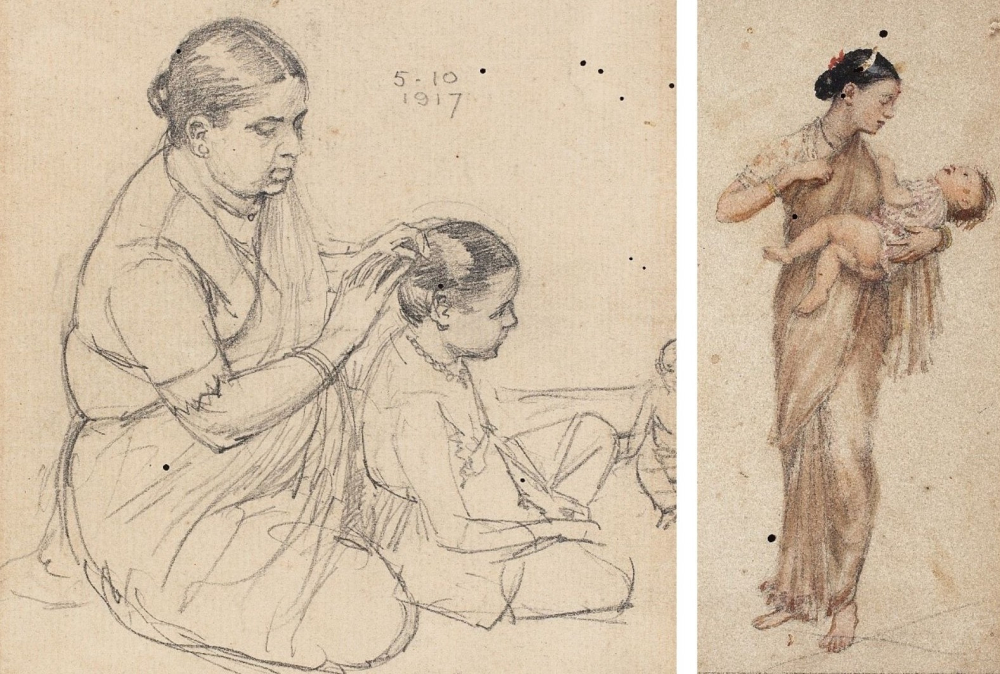 My Wife in Art (a series of 175 sketches), by M.V. Dhurandhar; ink, graphite, hand-tinted photographs and watercolour on paper, 1898–1942 (Courtesy: Delhi Art Gallery)
M.V. Dhurandhar is possibly one of the most popular Indian artists, after Raja Ravi Varma. He received his training from the renowned J.J. School of Art, Bombay. He drew women as they went about their daily lives, in different moods and around the city of Bombay. His illustrations for Otto Rothfield's Women of India are particularly touching, especially the relationship he portrays between a mother and her child. Dhurandhar also published a book, My Wife in Art, where he explored the relationship between mother and child through his own family. Two such sketches from this vast collection show rather touching moments between a mother and child, especially the intimate moments between a mother and daughter as they go about their daily routine. Through My Wife in Art, Dhurandhar offers an insight into his family, not only as an artist but as a father observing and capturing the lives of those around him.
M.F. Husain (1915–2011)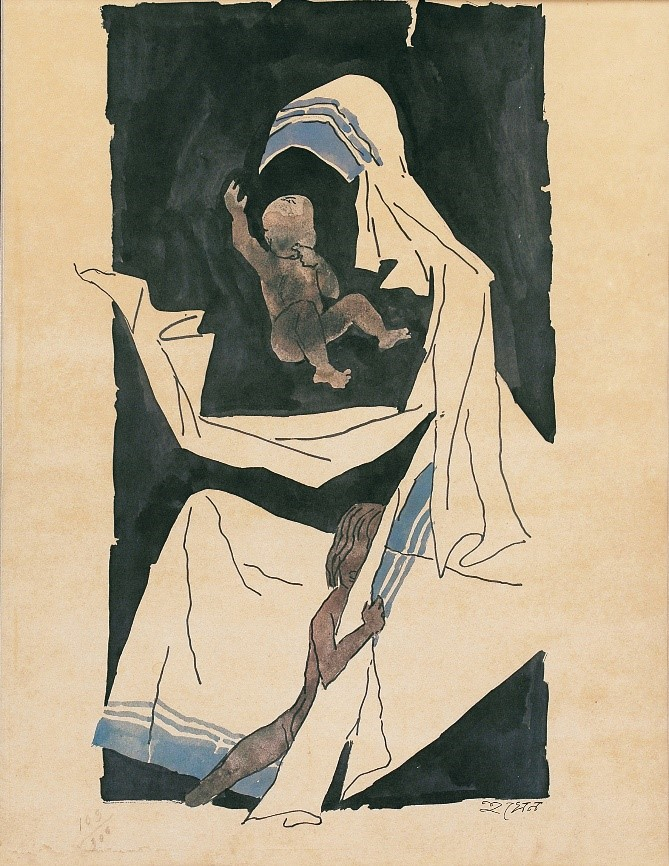 From the Mother Teresa series by M.F. Husain; lithograph on paper (Courtesy: Delhi Art Gallery)
M.F. Husain, who began his career by painting cinema hoardings, experimented with various forms, genres and mediums of art. His depiction of Mother Teresa is an ode to the universal motherhood that she embodied and the kindness she bestowed on everyone. In his Mother Teresa series, one sees her limitless compassion not only with children but with adults as well, which inspired Husain to depict her as an 'ideal mother'. He never focused on the features of her face, concentrating instead on her trademark blue-border sari, signifying the artist's lifelong search for a maternal figure. When Mother Teresa won the Nobel Peace Prize, Husain welcomed her and handed her a portrait sketch, which she autographed 'God bless you'.
Madhvi Parekh (b. 1942)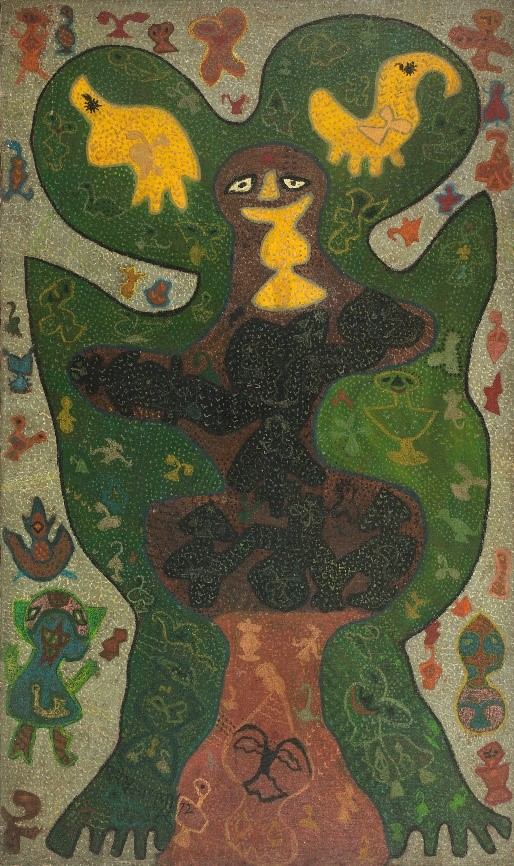 Mother, by Madhvi Parekh; oil and pastel on canvas (Courtesy: Delhi Art Gallery)
Madhvi Parekh's paintings are unplanned; they unfold like a story that changes as the narrative develops. Apart from folk motifs and legends, Parekh uses figures and abstract characters in her compositions. In 'Mother', the main character of her composition is placed right in the centre. The 'mother' in this painting can be interpreted in many ways: she could be Mother Nature in all her beauty and fury, the character of a mother from a story, or she could even depict how the artist sees the persona of a mother—all-encompassing and often juggling various roles at once. Interestingly, Parekh's journey as an artist began during her first pregnancy, which adds a tenderness to her art and emphasizes her childlike wonder at the world.
P.T. Reddy (1915–96)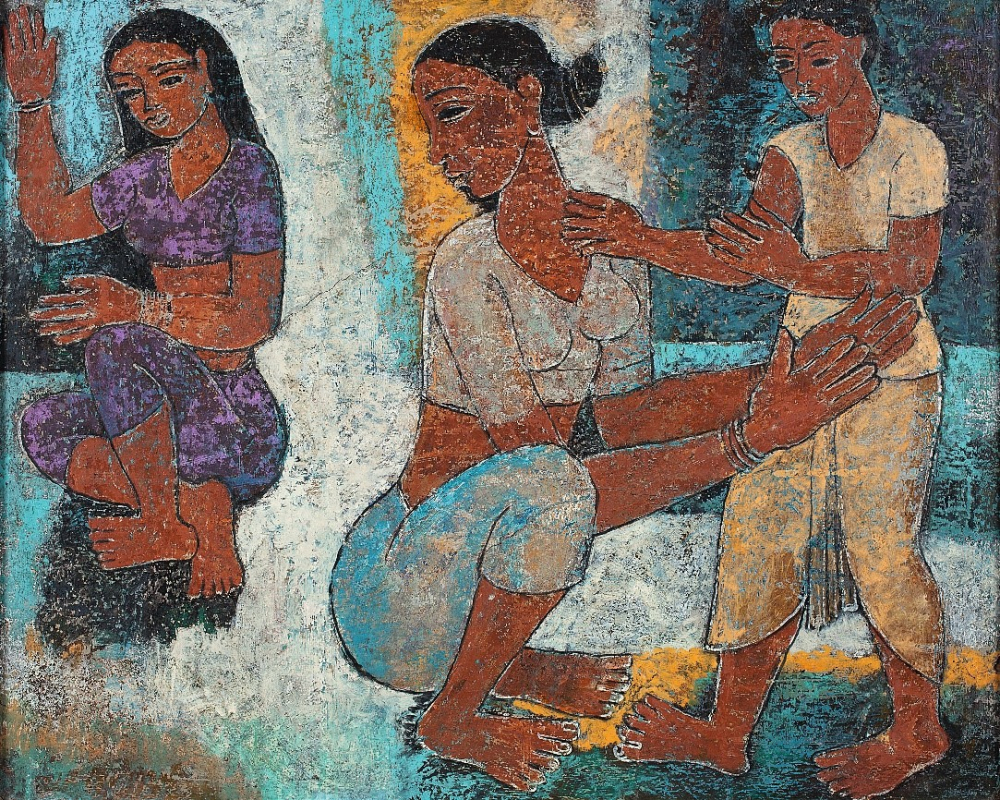 Mother and Children, by P.T. Reddy; texture white and oil on plyboard,1958 (Courtesy: Delhi Art Gallery)
P.T. Reddy was born in Andhra Pradesh and studied painting at the J.J. School of Arts, Bombay. He spent his younger days working in the family business and returned to art in the 1950s. He evolved a unique vision of his own, creating a variety of complex portraits. Unlike Dhurandhar, who gave us an insight into the relationships between his family members, Reddy was an observer of the world around him. 'Mother and Children' was painted in 1958, showcasing the artist's sensitivity and skill in rendering realistic portrayals of life around him. In this painting, he depicts a mother and her two children, with their colourful clothes, in an almost playful style. The mother is seen reaching for the boy while looking back at her daughter.
Jamini Roy (1887–1972)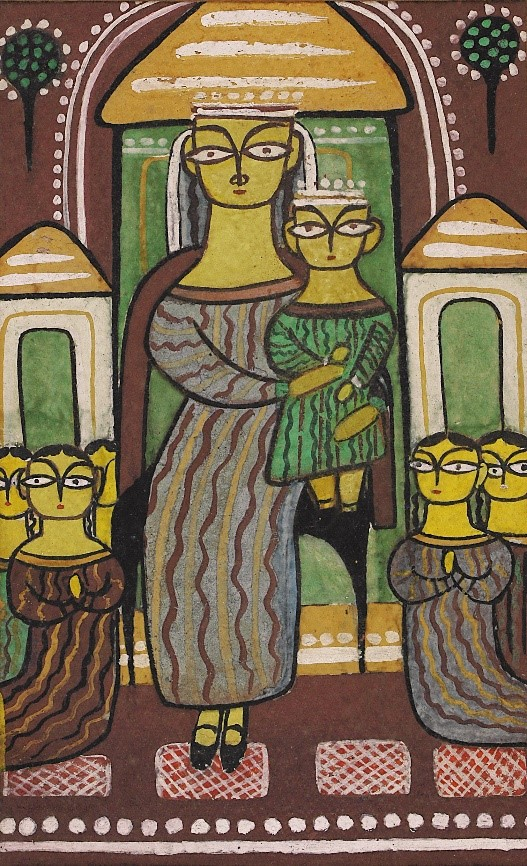 Untitled painting by Jamini Roy; tempera on boxboard (Courtesy: Delhi Art Gallery)
Jamini Roy trained in the academic realist style before renouncing it in favour of his own style of modernism that emerged from local folk traditions. Roy's paintings on the subject of mother and child—a theme he painted quite often—are wholesome and simple, and build on the deep connection between the two characters. The artist's depiction of mother and child includes not only local women, but also mythical and religious figures such as Yashoda, Krishna, and baby Jesus with Mary. For Roy, the theme of motherhood was not restricted to humans; the relationship between mother and child transcended humanity and included all living creatures.
This article was also published on The Statesman Online