Built over a long period of time, numerous rock-cut caves in India served as places of worship for the followers of Hinduism, Buddhism and Jainism. Most of these structures are concentrated in western India. Among them are 34 rock-cut caves of Ellora, a UNESCO World Heritage Site. The Ellora caves, dated 600–1000 CE, are located in Verul, a village in the Aurangabad district of Maharashtra. Carved in a basaltic low hill of Sahyadri, they run 2 km from north to south in a linear arrangement.
The caves in Ellora are dedicated to Buddhist, Hindu and Jain sects. Starting from the southern end, the first 12 caves are Buddhist. Hindu shrines occupy the central place, from 13 to 29, in the arrangement. Caves 30 to 34 are Jain caves, situated at the northern end. 
One of the most remarkable and extensive excavations at Ellora is Cave 16, a scooped out monolithic rock-cut shrine dedicated to Lord Shiva, known as Kailash temple which was built by the Rashtrakutas of Manyakheta. 
There is a difference of opinion among scholars regarding the time period when the temple was built. On the basis of its resemblance in plan and details with the temple of Virupaksha at Pattadakal, which was erected by the queen of western Chalukya ruler Vikramaditya II, archaeologist James Burgess dated the construction period of Kailash temple to the reign of Dantidurga.[1] Based on the Baroda copper plate[2], M.K. Dhavalikar argues that the second Rashtrakuta monarch Krishna I (757–772 CE) was the patron of Kailash temple.[3] According to K.V. Soundararajan, it is very likely that the upper parivara shrine scheme, together with the main temple (up to the mukhamandapa) had been built in the period of Krishna I and the other parts were added later.[4]
According to the Archaeological Survey of India, it took 200 years and 10 generations to complete the work of this temple. The temple was planned and its construction started under the Rashtrakuta king Dantidurga but its major work was done during the reign of Krishna I. The artistic activities of the temple were carried out in several phases. 
The temple is west-facing. It consists of the vimana (superstructure over the garbhagriha), gudhamandapa (closed hall) and mukhacatuski (four-pillared entry porch), surrounded by an astaparivaralaya (sub-shrine deities around the central shrine). The astaparivaralaya includes two karnavimanas (minor vimanas positioned along the diagonal axes of the vimana), three bhadra vimanas (minor vimana on the central axes of the main vimana), two ghana devakulikas (appliqued shrine with false door), a nandimandapa (pavilion for Shiva's sacred bull Nandi) and prakara (enclosure wall) with a gopuram (a monumental tower at the entrance of a Hindu temple) to the west.[5] (Fig. 1)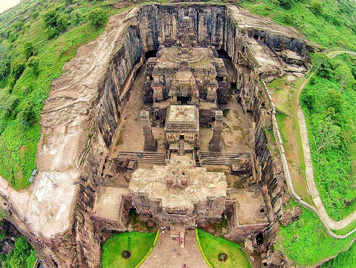 The complex comprises other shrines as well. The north court has shrines dedicated to the river goddesses Ganga and Yamuna, and Lankeshwar, a form of Shiva. In the south, are the yajnashala (sacrificial enclosure) and the Paralanka (a suburb of Lanka, mentioned in Ramayana). A gallery covers the entire east side (back) and part of north and south side of the court. Two dhvajastambhas (flagpoles) and two monumental freestanding elephants are also present in the Kailash complex.
The temple has carvings of different forms of Shiva and other Hindu divinities along with various mythological scenes from Hindu epics. The Shiva sculptures can be broadly classified under Samharamurti or the aggressive form, Anugrahamurti or the benign form, Nrittamurti or Shiva's dancer form, and Shiva as guru or the teaching form. 
The themes of sculptures are carved on both the outer and the inner sides of the gopuram, nandimandapa, gudhamandapa, antarala (antechamber that connects the garbhagriha and the mandapa), garbhagriha and in the gallery. Following is a list of all the Shiva sculptures and their locations.
Shiva Sculptures and their Location, Kailash Temple, Ellora
 

Forms of Shiva

Gopuram

Gopuram

Nandimandapa

Gudhamandapa

Antarala

Garbhagriha

Gallery

 

 

Inner

Outer

Lower

 

 

 

 

Samharamurti

Tripurantaka

 

1

-

-

-

-

-

1

Andhakasuravadha

 

1

-

1

1

-

-

1

 

Bhairava

 

1

-

-

-

-

-

2

 

Kalarimurti

 

-

-

-

1

-

-

1

Anugrahamurti

Gangavataram

 

-

-

-

1

-

-

1

 

Ravananugraha

 

-

-

-

2

-

-

1

 

Kiratarjuna

 

-

-

-

-

1

-

-

 

Ravana offering his head

 

-

-

-

-

-

-

1

Teacher aspect

Mahayogi

 

-

-

-

1

1 (roof)

-

-

 

Lakulisha

 

-

-

-

1

-

-

1

Natesha

 

 

1

3

1

1 (ceiling)

-

3

1

Other

Ardhanarishvara

 

1 (roof)

1

1

-

-

1

1

 

Harihara

 

-

1

1

-

-

-

-

 

Lingodbhava

 

-

1

-

1

-

-

1

 

Umamahesha

 

-

-

-

-

-

-

7

 

Somskanda

 

-

-

-

-

1

-

1

 

Shiva and Parvati playing chausar

 

-

-

-

-

1

-

1

 

Vrisabhantika

 

1

-

 

1

-

2

4

 

Shiva

 

-

-

-

-

-

6

-

 

Shiva as Lingin

 

1 (roof)

-

-

-

-

-

1

 

Kalyansundaramurti

 

-

-

-

-

-

-

1

 

Shiva with Rama and Lakshmana

 

-

-

-

-

-

-

1

 

Brahma uprooting Shivalinga

 

-

-

-

-

-

-

1

 

Shiva testing the love of Parvati

 

-

-

-

-

-

-

1
Shiva in his Destructive Form
Shiva is known as the god of destruction. In the Samharamurtis of Shiva, he is shown as a terrifying and destructive deity. The aggressive forms of Shiva are Kamantakamurti, Sarbhesamurti, Tripurantaka, Andhakasuravadhamurti, Gajantaka, Kalarimurti, Bhairava, Virabhadramurti, Jalandharavadhamurti, Mallari Shivamurti, Aghoramurti and Mahakala. In Kailash temple, only five—Tripurantaka, Andhakasuravadhamurti, Gajantaka, Kalarimurti and Bhairava—of these 12 aggressive forms of Shiva find place. 
One of the most-depicted fierce forms of Shiva in Kailash temple is Andhakasuravadhamurti, which shows Shiva as the destroyer of the asura Andhaka who had abducted Parvati. According to the legend 'Andhakasura vadha' (triumph over the demon Andhaka), when Shiva was preparing for the battle with Andhaka, another asura, Nila, in the guise of an elephant, approached to kill him. But the attempt was foiled by Veerabhadra, who, in the form of a lion, killed Nila and presented the elephant skin to Shiva. In the battle where Shiva injured Andhaka, the demon's blood, as it dripped on the ground, reproduced him in thousand forms. To stop the blood from falling, Shiva took the help of the shaktis also known as saptamatrika—Yogeshvari, Brahmani, Maheshvari, Kumari, Vaishnavi, Varahi and Chamunda. The shaktis collected Andhaka's blood in bowls to stop his resurrection and Shiva won the battle. 
In Kailash temple, the Andhakasuravadha finds place separately as well as with the story of Gajantaka (slayer of the elephant demon, Gajasura) four times. The 'Gajasura vadha' (triumph over Gajasura) story from Shiv Mahapuran narrates that Gajasura himself offered his skin to Shiva after his defeat, and then asked for the boon that Shiva be known as Krittivasa (one clad in elephant hide).
On the east wall of the nandimandapa, under the canopy of the bridge, is a gigantic panel (Fig. 2) depicting a 10-armed Shiva standing with his right leg on the Apasmarapurusha (a figure that represents ignorance). In his front right hand, he holds the tusk of Gajasura; in his middle right hands, he holds the trishula (trident) and the damaru (a two-headed drum); and his hands at the back hold the hide of the elephant. With one of his middle left hands, he touches the face of Uma, who is sitting at the bottom left of the panel, and with another he holds a bowl. His front left hand can be seen near his waist with fingers clenched. Shiva is wearing a nagabandha (snake coils) on the forehead, a garland of skulls on his neck, with his curly dishevelled jatas (knots of hair) drooping. The carved elephant on the right side of Shiva represents Gajasura. There are seven woman figures, saptamatrika, seated in padmasana on the ground just below Apasmarapurusha. On the left side of Shiva is Uma who is sitting seated in maharajalilasana (royal posture) on a double-petalled lotus pedestal supported by lions.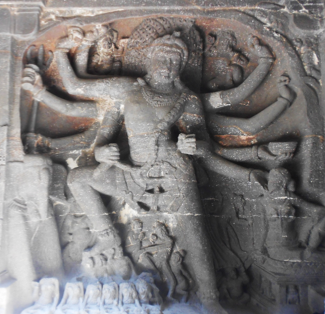 Shiva ganas (attendants) are shown dancing between Shiva's legs, and they are flanked by two figures, identified by Dhavalikar as Rishi Shringi and Rishi Bhringi.[6] Rishi Shringi is shown with a skeletal body and horns on his head, and is accompanied by a woman on the right side with her hands held in adoration in anjali hasta (gesture of respect). There are two more figures at the top of the panel between Shiva's jatas and arms.
In this panel, Shiva holds a trishula in his hand and is accompanied by Parvati and saptamatrikas, which suggests that the panel depicts the story of 'Andhakasura vadha' and 'Gajasura vadha'. The panel is gigantic in proportion, with Shiva's outstretched arms covering most of the space. Individual characters have their own space but they all visually come together to narrate the story.
The eastern gallery contains another smaller depiction of Andhakasuravadhamurti. There, Andhaka hangs on to a trishula held by a six-armed Shiva and makes anjali hasta, while the other end of Shiva's trishula pierces the elephant head of Gajasura. This panel also features a devi instead of saptamatrika; Yogeshvari is shown with a dagger and a small figure of a dakini on her palm. The same episode is carved on the outer side of the northern wall of gudhamandapa and the eastern face of the gopuram.
Shiva's Tripurantaka form, carved twice in the Kailash temple, celebrates him as the destroyer of the three cities of the demons Taraka, Vidyunmali and Kamalaksha. According to Shiv Mahapuran, the asuras (demons) had received the three cities from Brahma, with forts made of gold, silver and iron. These three cities were located in heaven, sky and earth respectively, and could only be destroyed by a single arrow.The demons were so powerful that they had defeated the gods, including Indra (the king of heaven); following their defeat, the gods had sought Shiva's help. A divine chariot, representing the entire universe was built by Vishvakarma, and Brahma served as its charioteer. Sumeru served as Shiva's bow and his serpent as the string of the bow; Vishnu served as the arrow and Agni became the tip of the arrow.Thus, in one shot, Shiva destroyed the three cities and the asuras dwelling in them.
The Tripurantaka stories are carved on the inner side of the pratoli (gate house) and in the eastern gallery. The panel carved on the pratoli (Fig. 3) covers enormous space from the northern to the eastern wall. On one side, a three-headed, four-armed Brahma is shown seated in padmasana, driving the chariot, and a two-armed Shiva is standing behind him in alidhasana (shooting posture). Shiva is holding the bow in his left hand and with his right, he is taking out the arrow from the quiver. A small figure (possibly Taraka) in anjali hasta can be seen above Shiva's bow. He is bejewelled and is wearing a yajnopavita (sacred thread). On the top right, celestial figures are shown flying, and at the centre Nandi is sitting on a pedestal. On the other side, on the north wall, there is a demon's city in chaos. Figures are shown falling down or lying on the ground. Some are also shown in alidhasana, ready to fight with their weapons. In the eastern gallery, the episode is depicted in a similar manner, except that Shiva is shown with six arms on his chariot driven by Brahma and the asuras are absent. 
Kalarimurti is found twice in Kailash, in the gudhamandapa and in the northern gallery. (Fig. 4) In Shaiva mythology, Shiva emerged from the linga to save his great devotee Markandeya from Yama. On the western wall of the upper storey of gudhamandapa, a four-armed Shiva, who has emerged from the linga, kicks Kala (the god of death) on his chest. He holds a trishula in his front hands, and pierces Kala's chest with it. In his back left hand he holds a damaru. His back right hand on his waist makes suchi hasta, symbolic of the 'supreme being'. Shiva wears a jatamukuta (crown of matted hair). His anger is conveyed through his raised eyebrows and large eyes. Markandeya is shown seated near the linga. The two-armed Kala holds the end of the pasa (a weapon that figures in various Hindu mythological texts) in his left hand, and he ties it around the neck of Markandeya. This theme is also present in the northern gallery except that Kala is shown on his knees as he performs anjali hasta, and Shiva with his feet presses Kala's thigh instead of chest. Though the theme represents Shiva in an aggressive form, his face adorned with a smile is anything but that. The figures are hierarchically represented on the panels, and Shiva, larger in proportion, covers more space than Kala and Markandeya.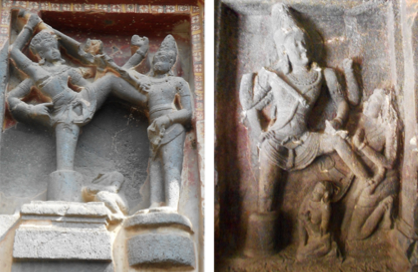 Bhairava, another aggressive form of Shiva, is found in three different panels in Kailash. One of the panels in the eastern gallery shows Bikshatana Shiva, who is a gentler form of Bhairava. (Fig. 5) He is a four-armed Shiva, who in this panel stands with his front right hand on his waist. In his front left hand, he carries a bowl. The attributes in his back hands are not clearly visible. Though Shiva in this form is shown without clothes, he is adorned with a jatamukuta and various other ornaments. He wears a yajnopavita on his right shoulder, which also holds a trishula attached to his udarabandha (stomach band). In the bottom left, a two-armed devi is shown standing in tribhanga (leaning of hip) posture. 
The eastern gallery contains another similar depiction of Bhairava with four arms. He is accompanied by an unidentified character, and there are various flying figures surrounding them.
On the eastern face of the gopuram, four-armed Dandapani Bhairava  is shown standing with a snake in his front right hand. (Fig. 5) According to the Tantric literary source Rudrayamala, Vatuka Bhairav, one of the 64 aspects of Bhairava, holds a snake in one of his hands. In his back right hand, there is a khadaga. His front left hand is placed on the kati (waist) and his back left hand is holding the water vessel.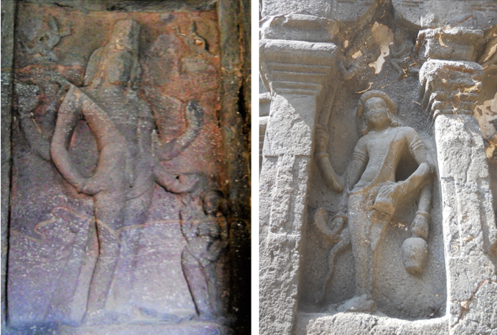 Aggressive forms of Shiva are mostly found on the inner wall of the gopuram. This includes Tripuranataka, Andhakasuravadha and Bhairava—three of his four aggressive forms. Unlike the gopuram, nandimandapa and gudhamandapa have only one representation of the aggressive forms while they are entirely absent from the antarala and garbhagriha. It is possible that the trianga (triangular) pattern of the garbhagriha could not allow enough space for them. 
Shiva in his Benevolent Forms
Shiva's benign forms are known as Anugrahamurtis (boon-conferring forms; the one who bestows boon). One of the most famous and refined sculptures of the temple is Ravananugraha, carved on the south face of the lower storey of gudhamandapa. (Fig. 6)The panel is part of the plinth mouldings and set deep inside in high relief. It is divided into halves. In the lower half, Ravana with multiples arms and hands is shown with his knees on the ground and his back towards the viewers. He is trying to lift a mountain with his hands.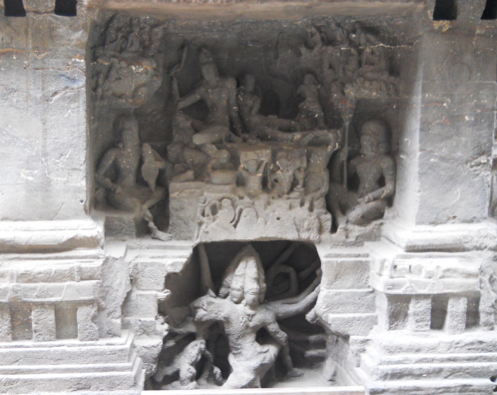 The upper half of the panel shows Kailash mountain, with Parvati, Shiva and his attendants. The four-armed Shiva is seated in ardhaparyankasana (with one leg dangling). While one of his hands is on Parvati's shoulder, the other is holding a parasu (battle-axe). Shiva is shown reassuring Parvati who is scared because of the tremors caused by Ravana trying to lift Kailash. The fear is palpable in the posture of Parvati and her attendant, who is so scared that she is about to run. On both the sides atop the panel, divinities gather behind the clouds to witness this event. 
The characters on Mount Kailash are hierarchically placed. At the lowest level of Kailash, there are figures of monkeys engaged in some activity. Shiva ganas are placed above them. Some of them support the seat of Shiva, some play musical instruments and some sit with their weapons. Dvarapalas stand on high relief on either sides of Shiva and Parvati, and hold trishula and gada (mace).
Shiva as Gangadharamurti is placed on the south face of the upper storey of gudhamandapa and in the eastern gallery. (Fig. 7) According to a legend, Bhagiratha, a king who finds mention in Hindu mythological texts, performed penance to bring Ganga to the earth. To bear the force of her descent, Shiva received her stream on his head, and she descended through his jata.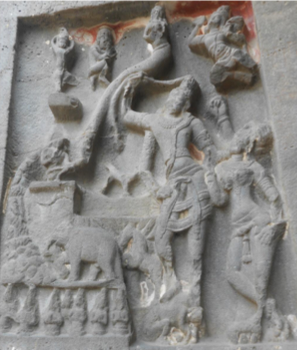 On the upper storey of the gudhamandapa, four-armed Shiva, accompanied by Uma, is shown with a lock of his matted hair (jata) in his upper right hand. His lower right hand is placed on his waist. In his upper left hand, he holds the akshmala (rosary) and his lower left hand touches Uma's head. At the top right is Bhagiratha in penance, with his arms stretched upwards in anjali hasta. Above Shiva's head is personified Ganga, who is turning into a stream and falling on another figure sitting below Bhagiratha; Dhavalikar has identified this figure as Janhu[7]. From Janhu, the stream of Ganga is shown getting wider and falling on earth, which is distinguished by carvings of an elephant and a horse. There are seven figures at the bottom with crowns on their head, their hands are held in anjali hasta; Dhavalikar has identified these figures as sons of Sagara, the great-grandfather of Bhagiratha[8]. In the eastern gallery, the episode is depicted in a simpler manner, which shows Shiva with his lock of hair in his hand. He is accompanied by Uma, Bhagiratha and an elephant.  
On the right pillar of the antarala, there is a scene from the Sanskrit text Kiratarjuniyam. It shows Shiva and Arjuna on either side of a wild boar. Shiva is shown as a hunter who aims for the boar's mouth with an arrow. Arjuna, who stands on the other side, is shown targetting the back of the boar. This mythological episode has received less importance because of its placement at a place of relative darkness in the temple. 
Shiva as a giver is also present in in the northern gallery. In this episode, a kneeling Ravana is shown to offer his head to Shiva for a boon of immortality while the god tries to stop him from doing so. Ravana holds a sword in one of his hands while his other hand holds his head, which suggests an act of self-sacrifice. Above this figure, there is a huge linga on a pedestal surrounded by nine heads of Ravana. (Fig. 8)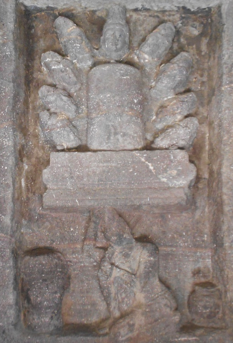 Benign sculptures are mostly found in the gudhamandapa though they are also present in the gallery and antarala as well. Among Shiva's benign forms, Ravananugrahamurti receives greater importance than the other three.
Siva in his Teacher/Yogi Forms
One of the most important facets of Shiva's character is of him as a teacher. He is the great yogi, the expounder of shastra. In Kailash temple, images of Dakshinamurti and Lakulisha represent him in these forms. Dakshinamurti shows him as a teacher of yoga, vina, jnana, and an expounder of other shastras, the qualities that earn him the names Vyakhyana Dakshinamurti, Jnana Dakshinamurti, Yoga Dakshinamurti and Vinadhara Dakshinamurti. It is said that Shiva got the name Dakshinamurti because he sat facing south (dakshin) when he taught rishi yoga (a form of yoga that focuses on meditation) and jnana (philosophical knowledge).[9] However, it must be noted that although in shilpa texts, the south direction is prescribed for Dakshinamurti Shiva, in Kailash temple both the panels face west. 
Mahayogi Shiva is illustrated on the western face of the lower storey of the gudhamandapa and on the sukanasa (antefix) above the antarala. The episode is carved on a colossal panel in the hall. (Fig. 9) It shows an eight-armed Shiva seated in padmasana at the centre on a double-petalled lotus pedestal supported by lions. His haloed head is adorned with a high jatamukuta with a crescent moon. Above his jatamukuta, there is a tree that touches the top of the panel. This Shiva with an urna (an auspicious spiral or circular mark) on his forehead is shown with a snake, an akshamala and a lotus flower in his hands; his lower left hand is held in varada hasta (gesture symbolising charity). He is surrounded by devas, rishis and ganas. At the top of the panel on Shiva's right side are Varuna on a crocodile, Vayu on a deer, and Mahesha and Ishana on bulls. On Shiva's left side at the top of the panel are Indra on Airavata, Yama on his buffalo, Agni on a ram, and Kubera on a dead man.[10] The same scene is repeated on the northern face of the wagon-vaulted roof above the antarala. It has a chaitya arch in which a six-armed Mahayogi Shiva is shown seated in the same way. His front right hand is held in abhaya hasta (gesture of fearlessness), his front left hand rests on his left knee and is held in varada hasta, and his back hands hold a snake and a damaru.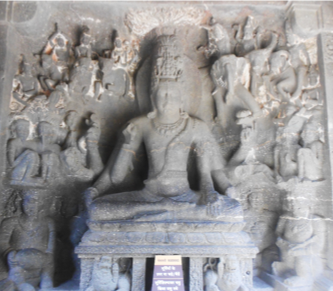 Lakulisha Shiva is present in the gudhamandapa and the eastern gallery of the temple. However, the carving is easy to miss because of its size and location. Lakulisha is considered the 28th incarnation of Shiva who took birth at Kayavarohara village in Lata, Gujarat. In this incarnation, Shiva appears with a lakuta (club) in his hand from which he gets his name.[11] A four-armed Lakulisha standing on a double-petalled lotus in samabhang posture (where the body is perfectly bent) can be found on the southern wall of the upper storey of the gudhamandapa 
Shiva in his Dancing Form
Nrittamurti of Shiva is the only theme depicted 10 times in Kailash temple from the gopuram to the garbhagriha, the antarala being the only exception. In his Natesha form, he is mostly shown multi-armed and stands in bhujangatrasa (a dance posture) on Apasmarapurusha, with his body gracefully twisted. His front right hand is held in gaja hasta (hand gesture of anthropomorphic elephant figures) and his front left hand is making abhaya. In some sculptures, his legs are making chatura pada (posture of intelligence). His multiple arms hold agni, sarpa (snake), trishula and damaru. He wears jatamukuta on his head and carries kundalas (earrings), haar (necklace), udarabandha, keyuras (arm band), kankanas (bracelets/bangles) and a yajnopavita. There are also panels where Uma accompanies Shiva along with musicians. Natesha is the only form of Shiva which has been depicted on all architectural structures of the Kailash temple, found especially more in number on the carved walls of the garbhagriha and gopuram. (Fig. 10)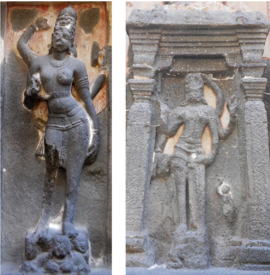 Various other Aspects of Shiva
Apart from the ones already mentioned, the other aspects of Shiva depicted at Kailash temple include Ardhanarishvara, Harihara, Lingodbhava, Vrisabhantika, Uma-Maheshvara, Somaskanda, the Lingin form of Shiva, Shiva and Parvati playing chausar, Shiva testing Parvati's love, Shiva with Rama and Laxmana, and Brahma uprooting the linga. Among them Ardhanarishvara, Harihara, Lingodbhava, Vrishabhantika, Uma–Mahesvara are significant and found more commonly in the complex. 
In Kailash temple, Ardhanarishvara is depicted five times in different places though only two of them are in properly decipherable shape now. He is shown with either four or six arms. The right half of his body is of Shiva and the left is of Parvati. In all the depictions, Shiva is shown with jatamukuta; his lower hand is on his waist and in his upper hand he holds his attribute. The left half of the body shows grace and poise as it represents Parvati, whose lower half is covered with drapery and she holds attributes in her hands. She is adorned with jatamukuta, kundalas, haar (necklace), udarabandha girdle, sarpa, keyura and kankanas. (Fig. 11) In one of the clearly visible panels, Ardhanarishvara is shown with Nandi standing on Shiva's side, in the other they are standing on Apasmarapurusha.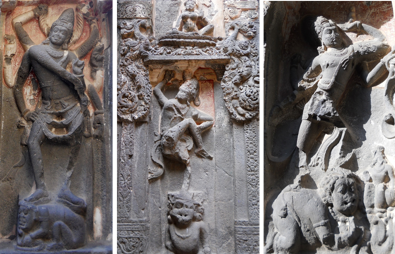 Harihara is the composite form of Vishnu and Shiva. In the image of Harihara, Vishnu occupies the left half and Shiva the right. Vishnu in Harihara represents the prakriti tatva (material element) like Uma in Ardhanarishvara.[12] The figure is depicted in the eastern gallery and the lower storey of nandimandapa. (Fig. 12) In both the panels, four-armed Harihara's right half is of Shiva and left is of Vishnu. Shiva wears a jatamukuta and holds a trishula in one hand in one of the representations and danda in the other; his second hand is placed on his waist. Vishnu holds a chakra in one of the depictions and shankha in another; his second hand is on his waist and he wears a kiritamukuta (royal crown). In both his depictions, Harihara is flanked by Nandi and Garuda.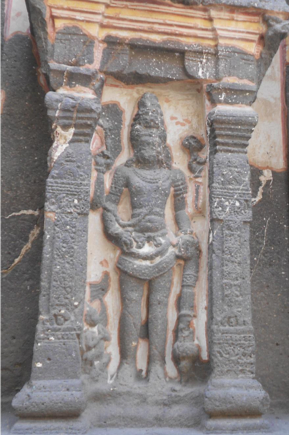 In the temple, Vrishavahanamurti is depicted eight times along with the single sculptures of Shiva and Uma–Maheshvara, which are found in six and seven places respectively. Mostly Vrishavahanamurti and individual sculptures of Shiva are found on the walls of the garbhagriha. In Vrishavahanamurti, Shiva is shown either standing with Nandi by his side or seated on him. He is shown adorned with jatamukuta and ornaments, with his four arms carrying attributes. 
All the Uma–Maheshvara sculptures are depicted in the gallery. If one starts from the southern side, one can see in sequence before-marriage, marriage and post-marriage scenes of Shiva and Parvati. Single representations of Shiva are shown six times in Kailash temple and it is interesting to note that all of them are found only on the outer wall of the garbhagriha. The sculptures are carved on the bhadra (central offset) and pratibhadra (offset flanking the bhadra) but not on the karna (principal corner).  
In his Ligodbhava and Kalarimurti forms, Shiva kills the demon and establishes his supremacy over other gods. He is shown to emerge with male and female energies in Harihara and Ardhanarishvara. Shiva also appears with the heroes of Ramayana and Mahabharata in key episodes from the epics illustrated in the temple, where he gives them weapons and boons. 
The placement of all the themes in the temple reflect a pattern. In the external areas of the temple, Shiva is shown as a great warrior, supreme god, giver of boons and an exceptional dancer. Asuras, gods and devotees who accompany him are also part of this space, even though they are excluded from the interior area of the temple which is reserved for the members of his family and the ganas. However, as one goes further inside even these aides do not find entry and the space is occupied only by Shiva who resides in complete darkness in the form of linga. 
Notes
[1]Burgess, Report on The Caves of Elura and the other Brahmanical and Jain Caves in Western India, 26.
[2]The Baroda copper plate, granted by king Karka II of the Gujarat branch of the Rashtrakutas, dated Shaka 734 (812–813 CE), states: Dantidurga, the first Rashtrakuta king, was ousted by his uncle Krishna I, the patron of Kailas, who then crowned himself as a king.
[3]Dhavalikar, Masterpieces of Rashtrakuta Art, 1.
[4]Soundarajan, Rock Cut Temple Style, 140.
[6]Dhavalikar, Masterpieces of Rashtrakuta Art, 20.
[7]Ibid., 29. When Shiva released Ganga from his jata, her torrential stream caused destruction in sage Jahnu's fields and disturbed his penance. This made the sage angry and he drank up all of Ganga. The gods prayed to the sage to release her, so that the ancestors of Bhagiratha could be purified. 
[9]Gopinath Rao, Elements of Hindu Iconography, 273.
[10]Dhavalikar, Masterpieces of Rashtrakuta Art, 20.
[11]Choubey, Lakulīśa in Indian Art and Culture, 114.
[12]Gopinath Rao, Elements of Hindu Iconography, 333.
Bibliography
Berkson, Carmel. Ellora: Concept and Style. New Delhi: Abhinav Publications, 1992.
Burgess, James. A Guide to Elura Cave Temples. Delhi: Neeraj Publications, 1981.
———. Elura Cave Temples. Varanasi: Indological Book House, 1972.
———. The Cave Temples of India. Delhi: Oriental Books Reprint Corporation,1880.
———. Report on The Caves of Elura and the other Brahmanical and Jain Caves in Western India. Varanasi: Indological Book House, 1970.
Choubey, M.C. Lakulīśa in Indian Art and Culture. Delhi: Sharada Publishing House, 1997.
Coomarswamy, Ananda. The Dance of Shiva. New Delhi: Munshiram Manoharlal Publishers, 1991.
Dhavalikar, M. K. Masterpieces of Rashtrakuta Art: The Kailas. Bombay: D.B. Taraporevala Sons, 1983.
Gaston, Anne Marie. Shiva in Dance, Myth and Iconography. Delhi: Oxford University Press,1982.
Gopinath Rao, T.A. Elements of Hindu Iconography. Delhi: Motilal Banarsidass, 2017.
Gupta, Anand Swarup, ed. The Vāmana Purāṇa. Translated by Satyamsu Mohan Mukhopadhyaya, et al. Varanasi: All India Kashiraj Trust, 1968.
Gupte, R.S. Iconography of the Hindus, Buddhists and Jains. Bombay: D.B. Taraporevala Sons, 1972.
Kamal, H. Deepak. Ellora, an Enigma in Sculptural Style. New Delhi: Books & Books, 1996.
Kramrisch, Stella. Manifestations of Shiva. Philadelphia: Philadelphia Museum of Art, 1981.
———. The Presence of Shiva. Delhi: Motilal Banarsidass, 1988.
Lal Nagar, Shanti, trans. Shiva Mahāpurāṇa. Delhi: Parimal Publications, 2007.
Madan, A.P. The History of the Rashtrakutas. New Delhi: Harman Publishing House, 1990.
Mani, V.R. Saptamatrikas in Indian Religion and Art. New Delhi: Mittal Publications, 1995.
Meister, W. Michael and M.A. Dhaky. Encyclopedia of Indian Temple Architecture: South India, Upper Dravidadesa, Early Phase, A.D. 550–1075. New Delhi: American Institute of Indian Studies, 1986.
Mishra, Jayashri. Social and Economic Condition under the Imperial Rashtrakutas, Circa A.D. 750–973. New Delhi: Commonwealth Publishers, 1992.
Pant, Pushpesh. Ajanta and Ellora: Cave Temples of Ancient India. New Delhi: Luster Press, 1998.
Pathy, T.V. Elura: Art and Culture. New Delhi: Sterling Publishers, 1980.
Patni, B. Shiva Purana: A Poetic Analysis. Delhi: Ajanta Publications, 1980.
Sharma, Bhanwar, and Sri Kirshna 'Jugnu', trans. Aparājitapṛccha (Treatise of Housing, Architecture, Mathematics, Iconography, Music and Dance etc.). Delhi: Parimal Publications, 2011.
Shrivastav, Anand Prakash. Ellor ki Shaiva Pratimayein. Delhi: R.R. Publications, 1993.
Shivaramamurti, C. Nataraja in Art, Thought and Literature. New Delhi: National Museum, 1974.
Soundarajan, K.V. Rock Cut Temple Style: Early Pandyan Art and The Ellora Shrines. New Delhi: Somaiya Publication, 1998.
———. The Ellora Monoliths: Rashtrakuta Architecture in the Deccan. Delhi: Gian Publishing House, 1988.
Vaidya, C.V. History of Medieval Hindu India. New Delhi: Cosmo Publication, 1979.