The recorded history of theatre in Assam goes back to the sixteenth century. The first written drama in this land, a unique form of theatrical performance known as bhaona (Fig. 1), was created by Srimanta Shankaradeva (1449–1568), who wrote Chinha-Yatra as the first ankiya naat (one-act play).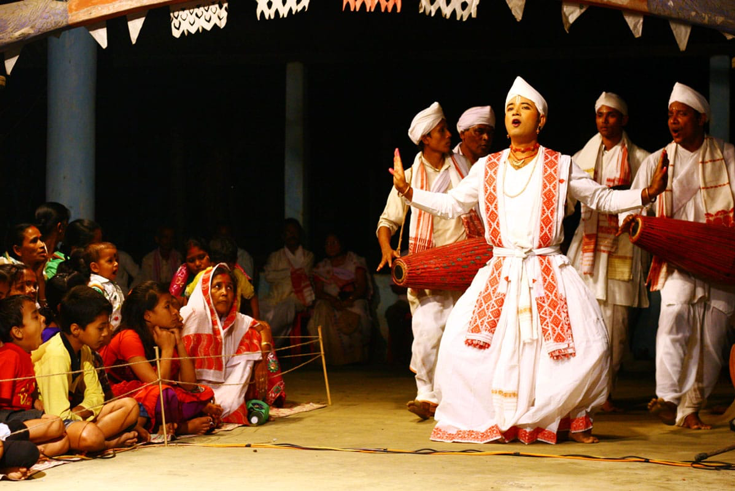 Indigenous theatre has its roots in the legacy of folk performances, like singing and dancing. Before the creation of bhaona, Assam had a rich inheritance of folk performances such as gayan-bayan, dhuliya, putula nach and ojhapali. There was also a tradition of performing Sanskrit plays in the royal courts of Assam during the tenth and eleventh centuries BC. In creating bhaona, Sankardeva assimilated elements from Sanskrit courtroom theatre as well as from folk traditions such as ojhapali. Bhaona used to be played in muktangan (open arena), hence non-proscenium theatrical practices in the folk performance heritage of the land already had an archetype. Present-day practices outside of stage owe to the free arena folk theatre forms of the pre-proscenium era.
Proscenium theatre[1] evolved in Europe (in Parma, Italy) during early seventeenth century and till mid-twentieth century dominated the theatre world in the West. The proscenium stage as a colonial legacy was incorporated in the cultural domain of the Indian subcontinent towards the end of the eighteenth century with the establishment of 'Bengali theatre' in 1795 by Gerasim Lebedev in Calcutta (now Kolkata). In the next two centuries, proscenium theatre became an integral part of Indian culture and stood as the most dominant genre of theatre in every province of India.
In the mid-nineteenth century, proscenium theatre entered the theatrical sphere of Assam. Inspired by the Western theatrical trends of tragedy and farce, pioneer playwrights of proscenium fashioned their plays after these traditions. In the 1930s, playwright Jyotiprasad Agarwala initiated a change by bringing in the Ibsenian model. His plays were also influenced by Belgian playwright Maurice Maeterlinck. And, in the 1960s, Arun Sharma used absurdist elements in his play Sri Nibaran Sharma. 
By departing from the tradition of bhaona, or the folk inheritance, Assamese theatre was approaching a new era. During this century-old journey, proscenium mainly celebrated prevalent Western trends, a tendency refracted from Bengal.
Bhaona continued as a separate tradition in rural Assam. But modern theatre until the 1960s didn't look to the rich heritage of folk cultures and ethnic base of the inhabitants of this land, something that was significantly admitted by Assam's theatre activists and playwrights. A cultural resistance in Asian and African countries was gradually developing against the neo-imperialist forces in 1960s, which took shape in Northeast India through the consciousness about indigenous cultural resources of the land. 
The attempt to go back to Assam's ethnic roots through modern theatre first manifested in the drama Bayoner Khol by Jugal Das. In the decades of the 1970s and 1980s, similar works were created. The plays would be performed in folk theatre form in open-air theatrical spaces. For instance, Satish Bhattacharya's Maharaja and Karuna Deka's Song were performed in the ojhapali and dhuliya forms respectively—Munin Bhuinya's Hati Aru Fandi is another important work of this nature.
This resistance during the time became vital and vigorous in Manipur, with a new consciousness of reviving the ethnic pride of communities through their own theatre. Heisnam Kanhailal and Ratan Thiyam of Manipur pioneered a theatre movement in the Northeast.
Heisnam Kanhailal, an antiestablishment figure, left his education at National School of Drama (NSD) in New Delhi and came to Kolkata to learn from Badal Sircar, another revolutionary theatre practitioner in Bengal, who pioneered third theatre[2] in India. Both of them initiated their own kind of political theatre in their own states to address the nature of repression of the system and the people's spirit to fight back. Sircar wanted the revival of folk theatre that utilises the body of the live performer the most for communication. Kanhailal worked with Sircar both in Kolkata and Imphal and learnt the scientific way of using human body in theatre. This inspired him to extend the existing theatrical language and to construct an alternative aesthetics of physical language for theatre. 
Kanhailal realised that he had his own traditional resources to cultivate and was not just a follower of Sircar. He established Kalakshetra in Imphal, Manipur, in 1969. His decades-old practices, until his death in 2016, left a profound impact on the theatre scenario of the Northeast. In the neighbouring states like Tripura and Assam, his concept of village theatre, or 'theatre of the earth', with the vibration of nature, was fostered by his students in innovative ways. 
Badal Sircar's theatrical philosophy directly influenced theatre in Assam since the 1980s, especially in the Barak Valley, through literary magazines introduced from Kolkata and Sircar's visit to the Hailakandi district in 1985. It led to the commencement of the journey of third theatre in this state. In fact, Kanhailal also had significant influence on third theatre in this region by virtue of the workshops of Kalakshetra that aimed to connect practitioners of different genres through one thread of ideology. Therefore, several new links are found between the non-proscenium genres of experimental theatres currently in different parts of Assam. 
Badungduppa Kalakendra
Outside of the prevalent genre of proscenium theatre and highly commercial mobile theatre in Assam, a stream of rural theatre for the underprivileged spectators of villages was initiated by late Sukracharya Rabha. He founded Badungduppa Kalakendra in his village Rampur in Goalpara in 1998, bringing non-proscenium modern theatre to Assam. (Fig. 2)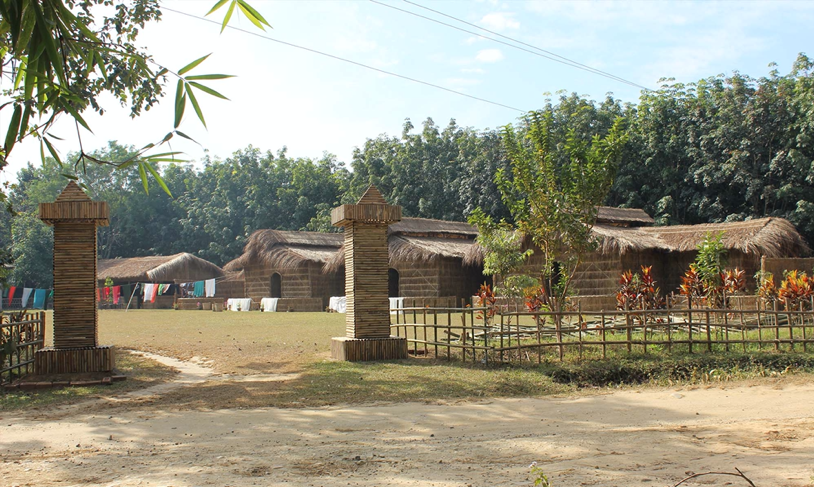 A young theatre enthusiast from a backward village inhabited by the Rabha and Garo tribes, Sukracharya understood the power of his Rabha identity. In the early 1990s, when he was a high school student, he was exposed to the world of jatra and mini mobile theatre[3] in his area. Later, during his college days, he formed a group for theatre practice and named it after the Rabha people's traditional musical instrument, badungduppa. Using the name of an instrument that was becoming extinct, Sukracharya and his group endorsed through their theatre activism their stand to save the tribal ethnological heritage from the grasp of the neocolonial cajolery.
Badungduppa wasn't initially planned for community theatre in the village. It didn't have a designated space for practices and rehearsals, and the group hadn't decided their form of theatre, which is why proscenium halls in small cities were used for the performances. Jyotiprasad Agarwala's play Rupalim, originally written in Assamese, was also staged following the same process. Badungduppa not only performed it in the Rabha language but also absorbed Rabha tunes, rhythms and costumes in such a way that it was perceived by the audience as an aboriginal play of the Rabha community. (Fig. 3) Their performance in Jyoti Theatre Festival, Dudhnoi, arranged by the Theatre Forum of Assam, marked Badungduppa as notably different in the contemporary theatre scenario.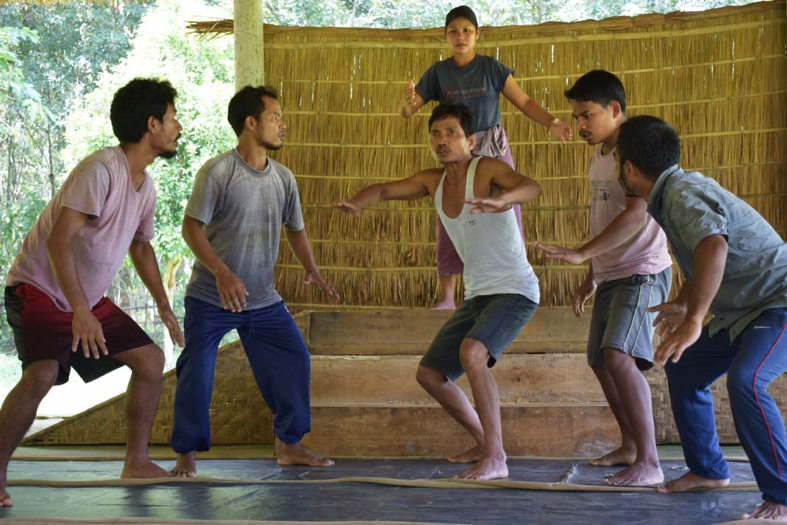 Sukracharya also came into contact with Heisnam Kanhailal, and spent 45 days with him in an NSD (National School of Drama) workshop at Guwahati Kalakshetra, after which Kanhailal accepted Sukracharya in his academy, Kalakshetra, Imphal. 
After moving to Kalakshetra, Sukracharya became part of a theatre rooted in the cultural ancestry and ethnological supremacy of a community. He witnessed how embodiment of wilderness and instinctive body memory can give rise to an alternative aesthetic language for theatre through extensive exercises of body and mind. From the practices in Kalakshetra, Sukracharya found the pivotal factor of tribalism in theatre, which is, according to Kanhailal, 'the ethnic journey of impulses in order to explore the wild sources of the primeval human nature'[4]. This factor of 'wild impulses' was later manifested in Badungduppa's practices when they placed their theatre in nature.
Sukracharya came back to Rampur and, in 2005, Badungduppa started its journey with a pronounced structure of tribal theatre. In 2007, Badungduppa became a residential theatre village with designated campuses and dormitories for boys and girls as well spaces for practice and performance. Eventually, Kanhailal's concept of 'village theatre' was implemented by his student with his own stylistic signature.
Badungduppa's characteristic features include:
'Power of silence', which was seen as a salient feature of the theatre, manifested by economy of words in narrations, economy of verbal languages. A powerful physical language was developed for communication in theatre.

Symbolic representation of themes rather than imitating the real, hence constructing an alternative definition of realism in theatre.

Utilising the inherent relationship between human body and nature. To restore the involuntary impulses of wildness inside human body through motivation from nature.

Leaving artificial stage patterns and sophisticated auditoriums and instead placing the theatre in the open air, under the sal grove.

Going back to the ethnic roots and reviving folk tales, folk songs, folk music, folk rhythms and ancient myth through theatre.

 Using live songs and live folk music in the theatre rather than playing recorded background music. Using folk instruments like badungduppa, sisel, tungpung, kham, daydia and sunga. By using these folk instruments, aside from incorporating terrestrial rhythm and the undiluted passion they bring, they were saving the instruments from extinction. (Fig. 4)
Political activism against the deprivation and repression of tribal societies and cultures through plays such as Poidom and Rother Roshi.
Using puppetry in theatre. Bijuli is an instance of puppet play of Badungduppa that has been performed all over the country since 2008.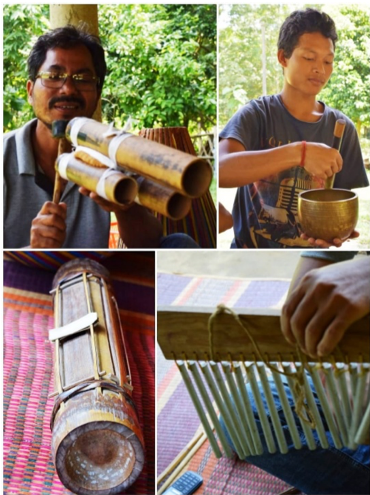 In 2008, Badungduppa organised an open-air theatre festival, 'Under the Sal Tree', the idea of which was conceived by Kanhailal. He planned the festival as part of his project 'Nature Lore', a collaboration of Kalakshetra and Badungduppa. Badungduppa later held the festival on a yearly basis and it earned nationwide fame. Under the Sal Tree is also funded by Sangeet Natak Akademi and Department of Cultural Affairs, Government of Assam. 
The theatre festival takes place in a mud arena with straw fencing at the back and bamboo planks in ascending order to evoke an open-air auditorium. The perfect meeting of the sound and light through the primeval sal forests with the pure ancient rhythms of folk instruments juxtaposed with dramatic sequences create magic for audiences.
The Rabha, Bodo and Garo communities as well as other people from the cities in Assam and other states and even abroad come to be a part of this community theatre. Theatre groups from seven different countries of the world represent their plays at this festival. Currently, 22 artists work in the festival on a full-time basis. Over 15 artists regularly stay in the campus and practise theatre. They reinforce a sense of unity, key to tribalism, while sharing their struggles of livelihood with their co-actors.
After the sudden demise of Sukracharya Rabha on June 8, 2018, the group is determined to persist with his dream of a self-sustainable big campus for Badungduppa. Fifteen bigha (around 5 acre) of land was already taken during his lifetime. Members of Badungduppa are working hard to execute their dream project, which they hope will reduce their struggle for survival in this profit-oriented society, where their theatre is not for sale.
Replica Theatre Village
Putting aside the established genres of theatre for their own avant-garde model, Rupjyoti Mahanta, a theatre practitioner of Jorhat, founded Replica Theatre, an experimental theatre group. He later had the privilege of learning from Heisnam Kanhailal. 
Rupjyoti Mahanta has been attracted to theatre since his school days. By the time he was in college, he started perceiving theatre in a completely flexible manner and attempted to cultivate the open space theatre to sow the seeds of innovation. He started his journey, with the name Replica, as a solo performer in 1997. While he was performing solo, he imagined a group; 400 artists have worked with Replica at different times over the last two decades.
Through the decade of the 2000s, Replica acted in several open-air performances, and performed on the street as well as in auditoriums in cities. (Fig. 5) In 2008, Rupjyoti met Kanhailal and moved to Imphal, Manipur, as an apprentice of Kalakshetra. He learned the physical language and aesthetic aspect of theatre. He saw how it could potentially replace the conventional verbal language of theatre. Kanhailal's lesson of 'going back to the root' was later adapted by Rupjyoti's schooling in a unique way.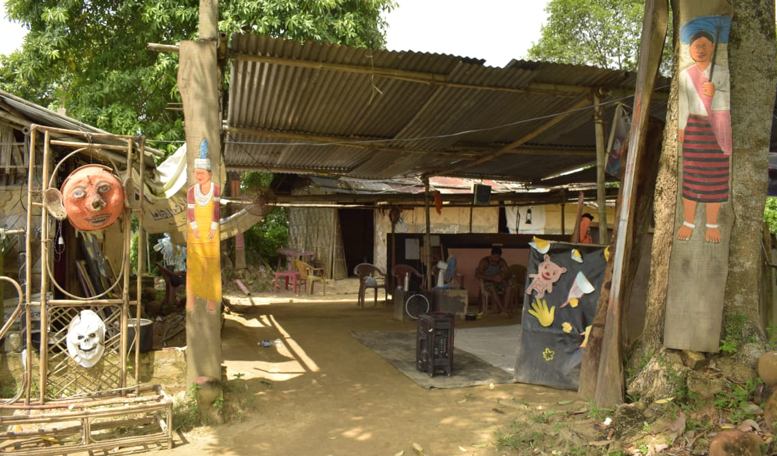 In 2011, a residential campus was set up for Replica, 19 km from the heart of the Jorhat, on 20 bighas (around 6.6 acres) of land. The campus added a new dimension to Replica's journey. A collective style of living grew beside theatre practice. Replica's path since has encompassed the larger struggle of the artists to relate their art with the way they live. It has built a self-sustaining campus, where plantations of lemon, papaya and pumpkin are run by the members. There are also two fisheries and a poultry farm taken care of by some local people. 
Group members work with nature in every part of their practices and performances and sometimes come up with unique theatrical representations of regular domestic work. Their theatrical journey is manifested through their daily works for their livelihood. Members themselves fish the ponds, collect lemon from trees and send them to the market for their survival. Currently, 11 to 15 men and women live there on a regular basis. Two bamboo cottages serve as a dormitory and a common kitchen, with a work culture free from gender discrimination. This collective living of Replica is instrumental in fostering the idea that theatre is not only an art form but a way of life.
Replica's performance spaces include three natural sets. Artists are also given free space to choose their own set anywhere in the wood, especially for solo performances. From this point of view, the whole campus with its natural resources is an extended arena for Replica. (Fig. 6)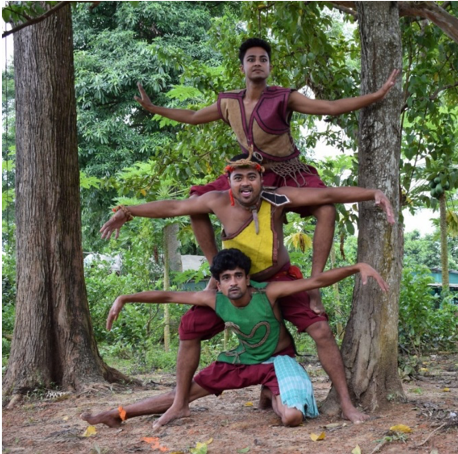 The most prominent plays of Replica, performed as street plays, music plays, open-field plays, stage plays and mono-act plays, include Bohag Matho Ati Ritu Nahay, Divide Assam 50 50, Rong, Bau Eruwa Chaloni, Crownless Prince, Black & White, Blended Colours of the Sky, Bedbug, Kokila, Hopune Dithoke and Bedroom. The plays are mostly improvised, with scripts carried in the minds of the artists. At Replica, artists structure their own dialogue based on a given plot. In this way, they depart from the director-centric rehearsal process of mainstream theatres. Their performances also carry elements of the avant-garde.
Replica has taken its plays to several national and international platforms both in and out of Assam, and it has created its own platform for cultural exchange by engaging scholars and theatre practitioners from different states as well as countries such as Brazil, Venezuela, Netherland, Argentina and the UK. A 45-day residential workshop for drama with the support of NSD was arranged by Replica in 2009, where people from different states gathered in the same platform at their campus. 
Replica stands on the rich cultural inheritance of different ethnic communities of the Northeastern states. Its members go to villages to collect folk songs, folktales and instruments that are becoming extinct—no modern instrument is used in Replica theatre. 
Replica members restore the ancient tales by making them represent modern thoughts in theatre. Their theatre is enriched with folk songs from Rabha, Bodo, Garo, Mech, Kokborok, Manipuri, Bengali, Assamese and several other communities. They use folk instruments of different communities and different parts of the Northeast. Instruments like dhol, nagara, khol, doba, bhortaal, pepa, gogona and xutuli are widely used. (Fig. 7)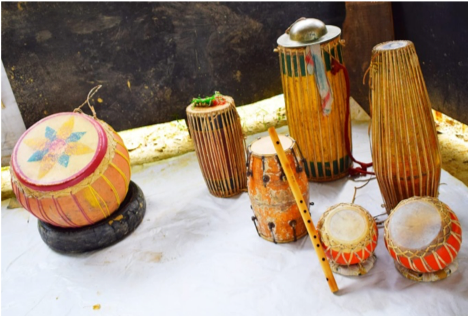 Replica strengthens its theatre by rooting it to the ethnic base of the land as well as by constructing a cultural bridge among communities. It has become a cultural heritage point where different traditions meet and contribute to the theatre. Theatre, therefore, becomes a live narrative of the people.
Chorus
Bengali theatre doyen Badal Sircar's theatrical structure and philosophy is widely accepted and practised by the theatre activists of Bengal and several other states. Sircar and Kanhailal were active in Indian theatre almost at the same time. Kanhailal showed how theatre could be the means of political activism with the spirit of tribalism and initiated a new path in Assamese theatre. According to the early description of Kanhailal's theatrical journey, he received influences from Sircar but those influences contributed to his theatrical thought in a different way from those who have been practising Sircar's ideology of third theatre without much deviation. These two streams, Kanhailal's and Sircar's, were both influential in the wave of well-structured non-proscenium theatrical genres in Assam in different manners. The commonness between these two practices is the factor of political activism and the denial of the realistic theatrical language, rather constructing an alternative physical language for theatre.
Badal Sircar's philosophy has had direct influence in the theatre practices of Assam, especially in the Barak Valley, since 1980s. The concept of third theatre primarily came to Barak Valley through the Bengali magazine Paribartan, published from Kolkata, and it attracted Barak's intelligentsia. Theatre enthusiast Prasanta Ganguly, who had attended Badal Sircar's theatre workshop in Bengal, came to the Hailakandi district in Barak Valley. In 1985, he, along with Bijit Bhattacharya, Santanu Ganguly and others, arranged a workshop by Badal Sircar in Hailakandi. This workshop was attended by several theatre practitioners of different genres in the valley and led to the establishment of two third theatre groups, Gotrohin and Bedwin, in Hailakandi and Silchar respectively, in 1985.
Silchar-based Chorus is currently the only third theatre group in the Barak Valley. It survives not only in the face of the dominant proscenium theatre culture but also leads a strong theatre movement against political and social repressions in the Barak Valley. Biswajit Das, a believer in the antiestablishment theatre, founded Chorus in 1986 after a disagreement with Bedwin, the group he was previously associated with. While Chorus has since continued its journey, Bedwin disbanded after a couple of years and so did Gotrohin after years of activism. Through the difficult times and political unrest in Assam, Chorus upheld the revolutionary spirit of the common people by the means of their theatre.
Being a third theatre group, Chorus has, from the very beginning, been committed to revolutionary change in the existing social and political system. According to the ideology of third theatre, a theatre practitioner has an undeniable responsibility towards society and hence must reach the people in their spaces—on the road, in busy markets or in front of factories. Theatre has to reach these spaces with live actors only. It must function without a stage, light effects, costume or elaborate props. Third theatre needs the active participation of spectators, and politically opposes the bourgeois illusion, a phenomenon related to the proscenium structure, created by the gap of light, level and distance. As theatre has to be free from all these means, the actor's body has to be active, and beyond the verbal dialogues there should be an extended physical language for communication.
Chorus played its first production Britta Venge as a resistance against the notorious SEBA (Secondary Education Board of Assam) circular imposing Assamese as a compulsory third language in school. After massive student agitations, this ruling was withdrawn. Samaresh Basu's Aadab was dramatised and has been performed by Chorus since 1991; it was able to communicate the crucial message to preserve social harmony in the context of communal riots between Hindus and Muslims. The Barak Valley is a sensitive area with respect to communal issues. Another important play that has shown the suffering of people in Assam due to NRC is Kothay Amar Desh, a live documentation of people in distress at suddenly losing their identity and their country. (Fig. 8) This play is  based on real life and portrays the agony of people in detention camps. Other prominent plays of Chorus include Bhul Swarga, an adaptation of Rabindranath Tagore's poetry, which starts with the celebrated song of popular Bangladeshi band Jol, 'Amon Jodi Hoto'.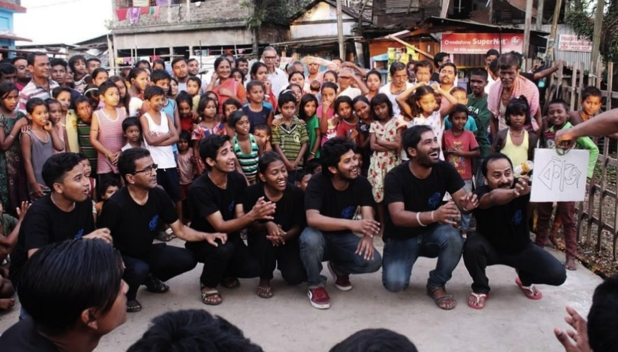 Most of Chorus's plays have so far focused on constructing a dialogue with the people to build an understanding of people's possible role in a situation. The form and mode of aesthetic representation is secondary, while content is given the prime importance. Most of their plays are written on the road or improvised according to the spectators' reactions; thus spectators become part of the play, which at some point leaves the structure of third theatre behind and relates to the concept of 'Theatre of the Oppressed' of Augusto Boal, theatre practitioner of Brazil where theatre would be structured on the way by the participation of the spectators without a ready script. However, plays like Bhul Swarga, Spartakus and Adaab are there to preserve the stylistic and aesthetic aspects of third theatre in Chorus's works. 
Following Badal Sircar's ethos, Chorus stresses the process of dramatisation first through improvisation among the artists in their rehearsals; every actor improvises their own. Through this, the drama becomes ready to be scripted. This alternative and reverse way of structuring a drama clearly shows Chorus's stand opposing the director-centric practices of mainstream theatres.
Chorus has arranged a four-day parikrama (taking theatre to the people in remote areas) in the last week of January since 2001. (Fig. 9) The group takes their theatre to remote villages where people do not have access to the sophisticated city theatres and their progressive messages. Generally, scripted and well-rehearsed plays are taken to the parikrama rather than improvised plays. Parikrama is a two-sided process; the plays increases the political consciousness of underprivileged village audiences while the people's reactions show the theatre practitioners the effectiveness as well as drawbacks of their path.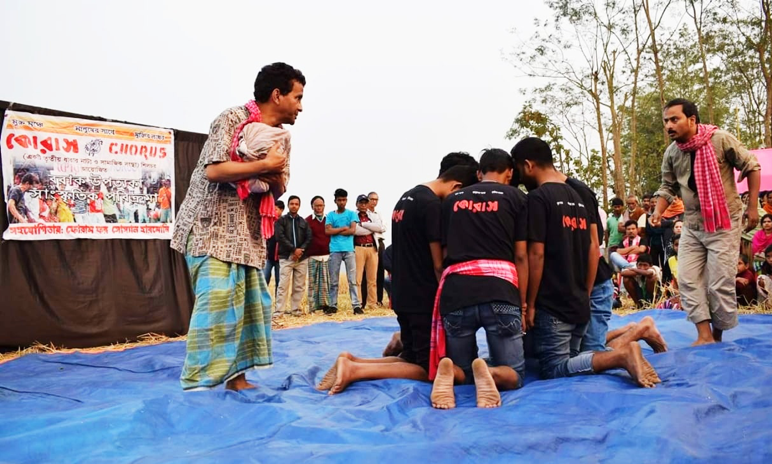 Chorus has, since 2013, arranged another programme, Jhumur Kathinach Utsab, with the Santal communities in the local tea gardens. (Fig. 10) Revival of folk dance forms can strengthen the form of third theatre as well as make a cultural bridge across communities. Biswajit Das was exposed to Kanhailal's teaching and his ethos of 'going back to the root' is reflected clearly in Chorus's performances.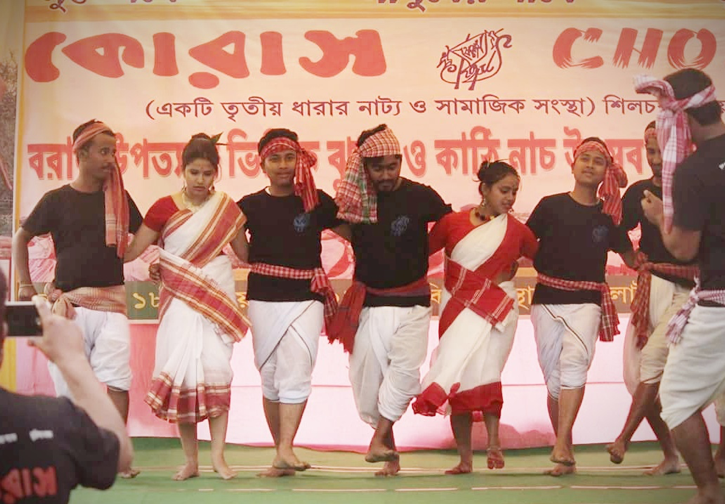 Chorus regularly takes part in collaborative programmes with Mandi Sanskritik Parishad in Borshinga Tea Garden. Inspired by Chorus, several third theatre groups by local children have mushroomed. A Sishu Natya Mela is arranged by Chorus in December every year, where childrens of Borsinga and Kalibari Chor work in their folk forms of theatre.
Chorus not only awakens the consciousness of people through their theatre but also provides their awakened self with a ground for activism. They have formed the Forum for Social Harmony to engage with people who want to serve society with their activism outside of the theatre.
Notes
[1] A theatrical structure which divides the actors and the stage world from the audiences by creating an illusory gap between them.
[2] A theatre form started by Badal Sircar towards the end of the 1960s. The term was coined keeping in mind the indigenous theatre as first theatre and proscenium theatre as second. Third theatre was aimed at creating a link between the two as 'a theatre of synthesis'.
[3] A highly commercial theatre form of Assam evolved from jatra, which moves from place to place with elaborate setups. Mini mobile theatre generally comprises of two stages and uses ample technological innovations in representation. It contributes notably to the economy of Assam.
[4] Patgiri, Bagbasundhara.
Bibliography
Bentley, Eric. The Theory of the Modern Stage. New York:  Penguin, 1992.
Barua, Satyaprasad. Natak aru Abhinaya Prsanga. Gauhati: Banalata, 1967.
Barooah Pisharoty, Sangeeta. 'Under the Sal Tree, a Unique Theatre Festival that Unites the Villages of Assam'. The Wire.in. Accessed January 28, 2019. https://thewire.in/culture/sal-tree-unique-theatre-festival-unites-villages-assam.  
Bashishtha, Pranjal Sharma. 'Badal Sircar.' Goriyoshi (2009): 53–57.
Bandopadhay, Samik, ed. Parikrama. Baruipur: Debashish Chakraborty, 1986.
———. 'Interview of Heisnam Kanhailal.' In Badal Sircar: Ebong Indrajit Theke Third Theatre. Kolkata: Thema, 2017.
Jain, Kirti. Badal Sircar: Search for a Language of Theatre. New Delhi: Niyogi Books, 2016.
Kundu, Manujendra. So Near, Yet So Far: Badal Sircar's Third Theatre. New Delhi: Oxford University Press, 2016.
Patgiri, Naren. Bagbasundhara. Guwahati: Asom Prashan Parishad, 2013.
Sircar, Badal. Theatre er Vasha. Kolkata: Raktakarabi, 1983.
———. Third Theatre. Calcutta: Naba Grantha Kutir, 1978.
Sarkar, Pabitra. Natmancha o Natyarup. Kolkata: Dey's Publishing, 2008.