M.F. Husain is one of India's greatest artists, whose life and works are as celebrated as they are controversial. Sahapedia and Delhi Art Gallery (DAG) offer a retrospective on his contribution to modern Indian art. (Photo Courtesy: Delhi Art Gallery) 

The depiction and development of secular modern Indian art was one of the main concerns of iconic Indian artist M.F. Husain. His language translated India's composite culture into a rich mosaic of colours. On his canvas, the world was simultaneously real, mythical and symbolic.  
Husain's life was compelling. Born in Pandharpur, Maharashtra, on September 17, 1913,[i] he spent the initial days of his career painting cinema posters in Mumbai. He went on to design children's nursery furniture and then became a member of the Progressive Artists' Group in 1947.
Husain's art reflected the world around him, his experiences and his memories of people and places. Symbols like lamps and umbrellas in his works are representative of his grandfather, Abdul Husain, who played an important role in his life. The lack of a maternal figure often haunted him and his work, but he found some solace in portraying Mother Teresa, who represented kindness and universal motherhood.  
The toys he designed—from when he worked at the Fantasy Furniture Shop in the 1940s­­—also made occasional appearances in paintings such as Mridang and an Untitled work with 'tiger and woman'. His fascination with cinema lasted throughout his career. Meenaxi: A Tale of Three Cities, a film he made in 2004, is often thought to be his most notable work. His film, Through the Eyes of a Painter, won the Golden Bear at the Berlin International Film Festival in 1967.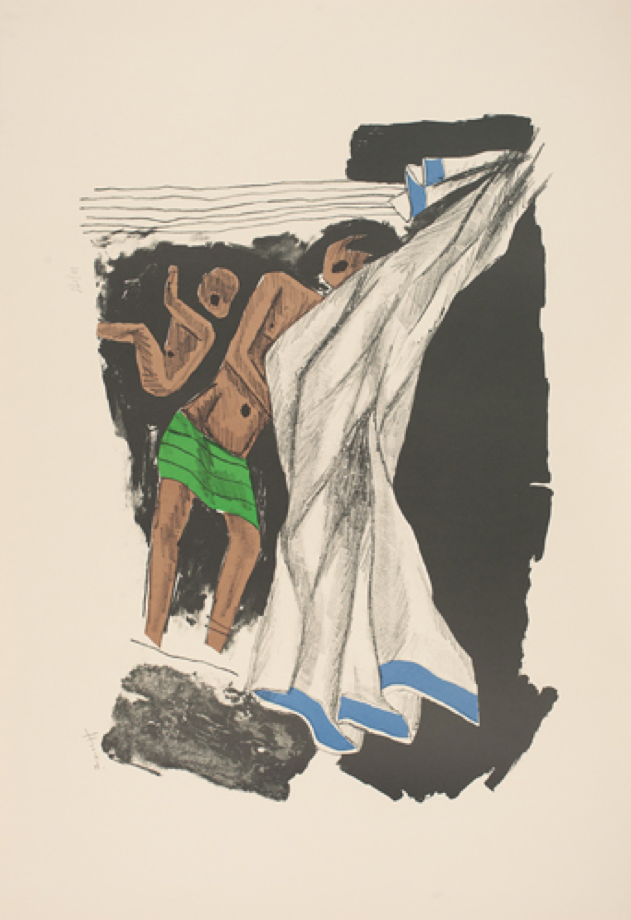 M.F. Husain, Untitled, lithograph (Courtesy: DAG)
The late 1940s and early 1950s saw Husain come in contact with a large number of artistic influences—Indian miniatures, Chinese calligraphy and Western artists. Man and Zameen—portraying the connection between the people, their roots and their culture—were both from this period. In 1954, his landmark painting Passage of Time marked the use of horses on his canvas, influenced by his meeting with Chinese nonagenarian artist Chi Pai-Shih.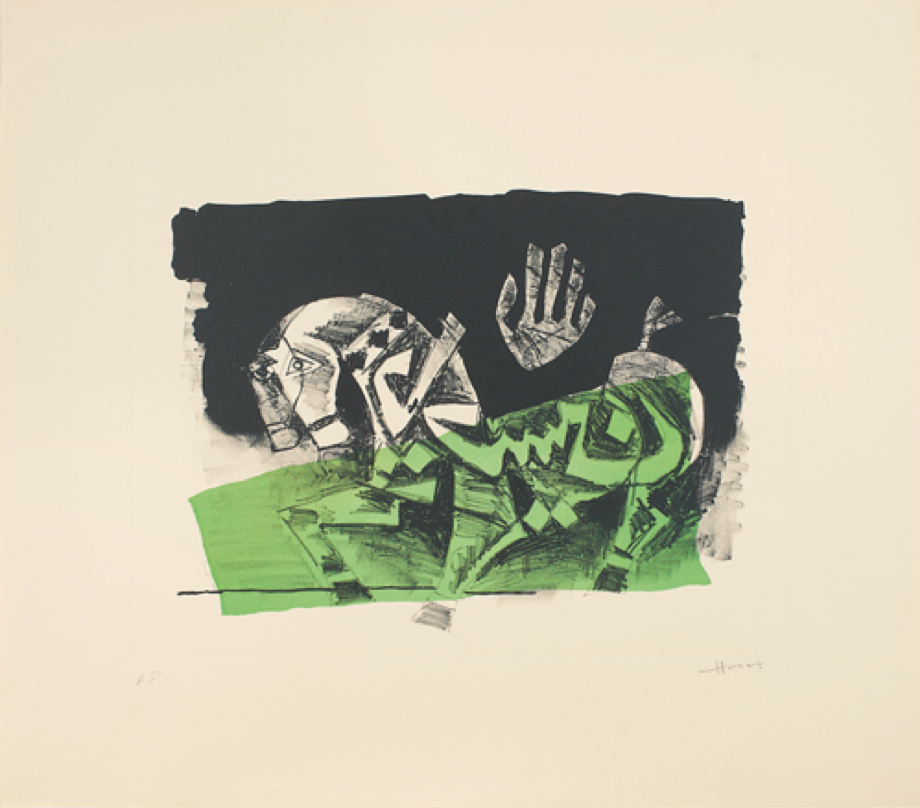 M.F. Husain, Untitled, lithograph (Courtesy: DAG)
Husain began to paint the Ramayana and the Mahabharata in an attempt to connect with the people of India. The Ramayana series, which he painted in 1968, was taken around the country and shown to those who otherwise would have been unable to visit faraway art galleries and museums. In 1971, he began painting the Mahabharata. The monumentality of the epic was translated seamlessly onto his canvas. Using multiple metaphors, he kept the narrative dynamic, even though the forms used were abstract.
In 1967, Husain started work on his Kerala series, fuelled by his keen artistic interest in the highly rigid and orthodox Namboothiri Brahmin caste of Kerala. This series was also part of his quest to better understand human beings. Husain's visit to Egypt led to him incorporate the two-dimensional structure of Egyptian art in his work, resulting in his iconic Between the Spider and the Lamp series. Constantly learning as he travelled, the artist would even sign his name in various Indian languages—Hindi, Marathi, Bengali, Malayalam and Kannada.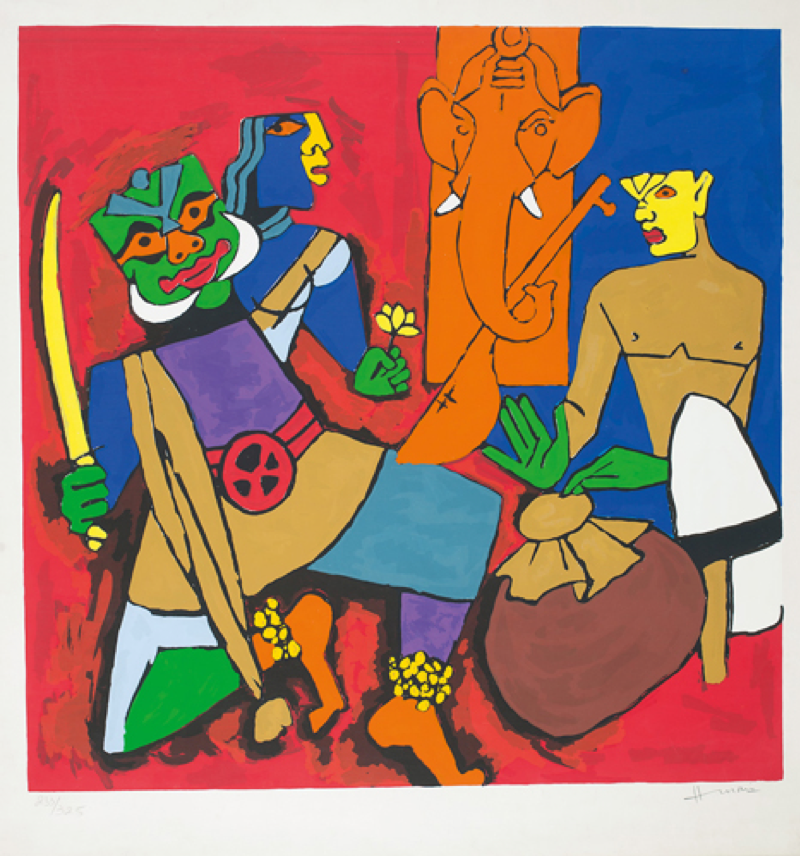 M.F. Husain, Untitled, serigraph on paper (Courtesy: DAG)
Husain first journeyed to the ancient city of Banaras (now Varanasi) with fellow artist Ram Kumar in 1960. Both artists, deeply affected by the city and the scenes they witnessed at the burning ghats, created unique paintings that reflected their individual styles and understandings of the world. Husain's visit to Banaras led to the decision that he would do what he wanted and paint as he liked, indifferent to how others perceived him. This was important as that year was characterised by scathing criticism. Remarks such as 'Husain is finished as a painter' and 'Zameen was hardly an original painting, Husain has put scenes together by copying adeptly from foreign magazines', were reported in the media.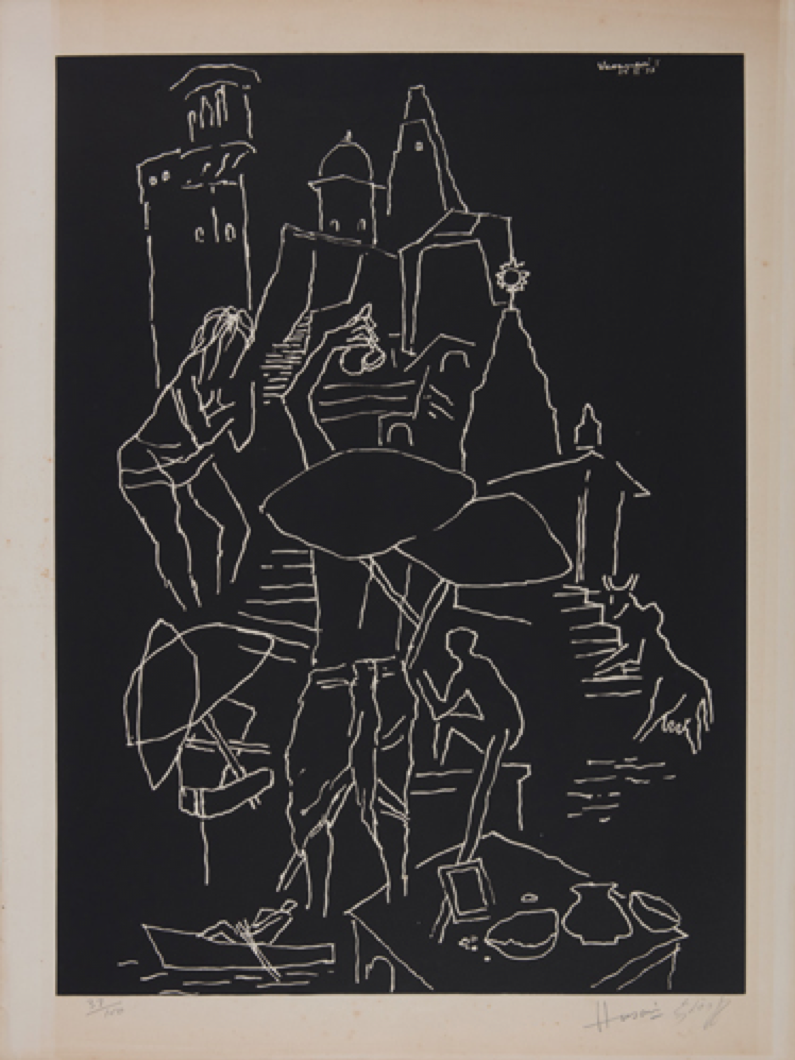 M.F. Husain, Varanasi – I, serigraph on paper, 1973 (Courtesy: DAG)
Art and politics are not independent of each other. Be it his humorous take on the British Raj in India, his portraits of Indira Gandhi or even his scrapbook-like sketches on the Gulf War, Husain never shied away from making statements on the state of affairs in India or abroad. His comment on the Iraq–Kuwait war also grew into an installation piece called Theatre of the Absurd. He was equally moved by the destruction caused by natural calamities; Cyclonic Silence was born of his distress on seeing the effects of a cyclone that struck Andhra Pradesh in 1977.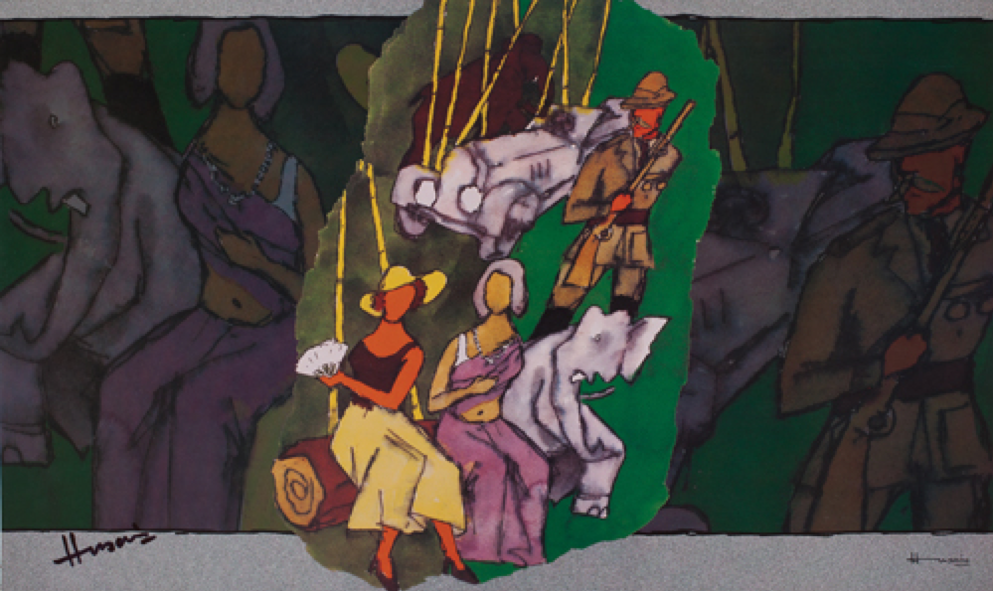 M.F. Husain, Untitled, digital print (Courtesy: DAG)
Husain was showered with awards during his lifetime, including the Padma Shri and Padma Vibhushan. When the artist died in London on June 9, 2011, he had been in self-exile for five years after receiving death threats from Hindu nationalists. Husain had expressed his desire to return to India many times, but it was not to be. Over the course of his career, he constantly sought to portray not just India's culture but also her people—farmers, musicians, dancers, thinkers and philosophers. Thespian Ebrahim Alkazi, said in 2011, 'For the last 60 years, Husain has been absorbing the traditions of India, its religions, its various cultures, and restating them in ways to which people have responded.'[ii]
Throughout his career he depicted India and her people in his paintings, believing that the country was a 'museum without walls'.
This article was also published on The Statesman Online.
Notes
---