A disciple of the radical film-maker Ritwik Ghatak, Mani Kaul is said to have pushed the envelope with his innovative film-making techniques, establishing his own brand of 'new wave' Indian cinema in the 1960s and 1970s. We look at what makes Kaul the first rebel of Indian parallel cinema. (Photo courtesy: Wikipedia)
In the 1950s, Satyajit Ray led the 'new wave' of Indian cinema, known as parallel cinema, representing the assertion of margi (classic) art in Indian films. Margi, as defined by the veteran film critic Chidananda Das Gupta, was the kind of film that was aesthetically and craft-wise considered 'international'. However, graduates from the Film and Television Institute of India (FTII), established in 1961, soon challenged this tradition of films. Mani Kaul, a disciple of the radical film-maker Ritwik Ghatak, was the first to challenge the conventional linear-narrative tradition pioneered by Ray in his film Pather Panchali (1955). Kaul demonstrated this in Uski Roti (1969) and Ashad Ka Ek Din (1971) along with batchmate Kumar Shahani, who directed Maya Darpan (1972).
Film writer and producer L. Somi Roy said in an essay on Kaul:
Uski Roti (A Day's Bread, 1969) was…a complete departure from anything in Indian cinema, it is a non-narrative experimental first film made by a 25-year-old Mani Kaul. The film was universally denounced as self-indulgent and irrelevant. I myself remember it as rather boring when I saw it in college 20 years ago. Did such a film have a place in Indian cinema?[1]

 
Global Acclaim
At the time, both Kaul and Shahani's films were extremely controversial in film-society circles, and no distributor ever acquired them for public viewing. This did not stop them from receiving global acclaim. Invitations to international film festivals flew in, introducing the Indian new wave to the world. These films were technically innovative, and were influenced by the film-making style of the French avant-garde film-maker Robert Bresson. Aside from Bresson, they were also impacted by German poet and playwright Bertolt Brecht's 'theory of alienation' (verfremdungseffekt or the v-effekt) from the 'epic theatre' movement. This was a concept where the actors would distance themselves from the character in an inert way, encouraging the audience to think about the larger narrative rather than identify with the emotions of the characters. For instance, the repeated scenes in Uski Roti that show the protagonist waiting to give her husband the rotis, takes the character as well the audience into the stark reality of the situation and not the emotions of the wife, Bhalo.
Love of the Radical
In addition to his eclectic film-making, Kaul had a unique way of interpreting ancient Indian lore and mythologies. This is evident in films such as Duvidha (1973), where a ghost assumes the form of a human character, and Ashad Ka Ek Din—based on a play by the radical Hindi writer, Mohan Rakesh—which is centered around an episode from the life of the Indian poet, Kalidas. Though his films were rooted in tradition and lore, Kaul was not a revivalist. Instead, they were a vibrant mixture of ancient and modern thought. His debut film Uski Roti was also a contemporary take on a story by Rakesh. Continuing his fascination with revolutionary themes, Kaul went on to make films based on works by radical writers such as Gajanan Madhav Mukthibodh (Satah Se Uthata Admi, which revolves around a trade-union movement and the lost leftist revolution of India) and the Russian maestro, Fyodor Dostoevsky (Nazar).
Kaul always provoked extreme responses to his films. The poet Udayan Vajpayee wrote, 'Mani's filmmaking was such that it never led to any kind of convergence (and therefore to any kind of climax)—neither in the way the image was formed nor in the composition of the sound track in the way the narrative of the film unfolded'.[2]
Even though Kaul's vehement supporters, including Vajpayee, defended him, even they were forced to accept that his 'films have a reputation of being difficult. In a sense his was not the cinema of spectacle of space but of the movement and experience of time'.[3] This is apparent in Uski Roti, where the audience has the same experience as the wife as she waits for her husband until nightfall.
Kaul's films were not merely radical but, as Das Gupta described them, they were at the extreme-end of margi traditions—they were disregarded by the target audience. 'For many of these film-makers, especially the ones with a commitment to the values of parallel cinema, there existed the problem of making film for proletarian audiences which the proletarian hardly ever saw,' Das Gupta wrote in Seeing is Believing.[4]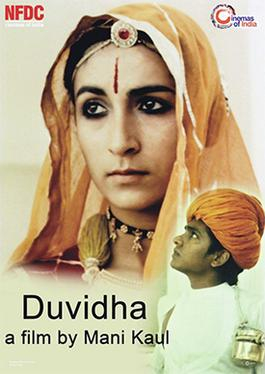 Rediscovered and Reinterpreted
Film scholars like Somi Roy have opined:
'Uski Roti was the complete antithesis to this New Indian Cinema (of Mrinal Sen, Girish Karnad and Shyam Benegal). A sentiment entirely reaffirmed by the maestro Satyajit Ray himself;…It is necessary to point out that none of these films are new in the sense of being innovative in the use of narrative methods.'[5]

Roy's observation is significant, as it came when he was commenting on the new films of the 1970s. In a 1991 article, 'An Indian New Wave', he dismissed these new films as 'old fashioned and Indian beneath its trendy habit'.[6]
There is no denying that Kaul remains the first rebel in the margi film-making camp. He began the revolt against the age-old linear narrative style of Indian storytelling, leaving an indelible mark on Indian cinema. This was underlined by his critics and admirers alike, and was buttressed by the biggest critic of New Indian films—Ray himself. Each of Kaul's features and documentaries stands as testimony to this revolt. After multiple viewings, there were often revised reactions to his films. Roy, recounting his reaction to Uski Roti 20 years after the first viewing, wrote, '…it was so beautiful. I was mesmerized by the film. It was like poetry.'[7]

This article was also published on TheCitizen.in. 
---