Vijaydan Detha, fondly known as 'Bijji', brought 'to prominence not only the richness of the storytelling traditions of Rajasthan, but the inventive forms of locution characteristic of Rajasthani.' He treated folklore as a seed, attempting to explore limitless stories from it. Sahapedia remembers the folklorist's contribution to Rajasthani and world literature (Photo courtesy: Vijay Detha/Facebook; Waterstones)

In 2011, an 85-year-old genius Rajasthani folklorist was tipped for the prestigious Nobel prize in literature. While Vijaydan Detha, fondly known as 'Bijji', did not win the much-coveted honour, this did put a global spotlight on the author who wrote in a language that wasn't part of the 18 official languages recognised by the Indian Constitution. However, breaking the glass ceiling was not new for Detha, who had won the Sahitya Akademi Award in 1974—the first for a Rajasthani/Marwari work—for a set of stories that were 'uncanny and irreverent' as translator Christi A. Merrill puts it.[1]
Detha's 14-volume masterpiece Baatan Ri Phulwari (Garden of Tales) was a collection of such provocative tales that he heard from fellow villagers, which he had then recreated into a literary format as engaging and daring as his oral narrative sources. Be it the princess who betrays her husband after falling in love with a cobra ('Press the Sap, Light the Lamp'), two friends who are deceitfully tied into a same-sex marriage by their parents ('Two Lives') or the story of 'a Hitler in every one of us',[2] as Detha himself says about 'Untold Hitlers'. His retellings brought 'to prominence not only the richness of the storytelling traditions of Rajasthan, but the inventive forms of locution characteristic of Rajasthani.'[3]
A Legacy of Tales
Born on September 1, 1926, in Borunda, near Jodhpur, Detha came from a family of well-known poets. But English was not his strength, which led to him being ridiculed by his schoolmates in bigger towns, where the medium of education was English. It could be this experience that prompted him to decide in Class VIII–IX that his mother-tongue Rajasthani would be his medium of expression. A young Detha made a name as a poet by his early 20s, and went on to edit several magazines, such as Prerna in the 1950s, and Tremasiki (Quarterly) and Lok Sanskriti (Folk Culture) along with well-known musicologist Komal Kothari. The two co-founded Rupayan Sansthan, an institute that documents Rajasthani folklore, art and music, and, in fact, it's said that the name 'Bijji' was given to him by Kothari, who was three years his junior.

From Tagore to Chekhov
Perpetually surrounded by literature, Detha was greatly inspired by Sarat Chandra Chattopadhyay, and while he initially had reservations about Rabindranath Tagore's writings, Streepatra revised his opinion. Later, Detha was particularly impressed by the sanctity of nineteenth-century Russian literature and the 'immortality of culture' reflected in the writings of Leo Tolstoy and Anton Chekhov. This fuelled his intention to return to Borunda, making this small village his base. It was here that the Padma Shri awardee produced his great collection, choosing to write only in boli (spoken) Marwari (which later came to be known as Rajasthani), till his passing on November 10, 2013. His son, Kailash Kabir (he had four sons and a daughter), translated his works into Hindi, from which they were further translated into almost all the major languages of the world. 'Bapu Ke Teen Hatyare', 'Antraal', 'Sapan Priya', 'Priya Mrinal', 'Choudharain Ki Chaturai', etc., are some of his renowned works.
Also read | Reimagining Rajasthan: An Institutional History of Rupayan Sansthan, Jodhpur
It is said that Bijji indulged in little but reading, studying and writing, weaving influences from Marx, Engels and Lenin into his stories that usually had a social commentary.[4] He loved recounting a story about a 'poet from Mexico': 'A Mexican writer was in a remote Argentinean village and there he saw some fishermen casting their nets into the sea. The fishermen were singing a song. He, surprisingly, asked fishermen, "Do you know whose song is this? Do you know Pablo Neruda?" The illiterate fishermen replied, "Who Neruda? We just know this song." Wiping his tears, the Mexican writer said, "How great the poet was whose songs are sung by fishermen of other countries!"'
This anecdote is intrinsic to Detha's oeuvre, as he told Merrill that he had heard his stories from aunts, neighbouring potters, peasants, court servants and thieves. 'These were their stories when they told them, and now his stories as he wrote them.'[5] In fact, even Detha's stories are widely told across the world, but few know who the writer is. Take the instance of the Bollywood film Paheli (starring Shah Rukh Khan and directed by Amol Palekar) or theatre maestro Habib Tanveer's all-time hit play Charandas Chor—while many know of and/or have seen these productions, few may know that they were based on Bijji's stories 'Duvidha' and 'Khantilo Chor', respectively. The folklore is immortal; the storyteller, not always.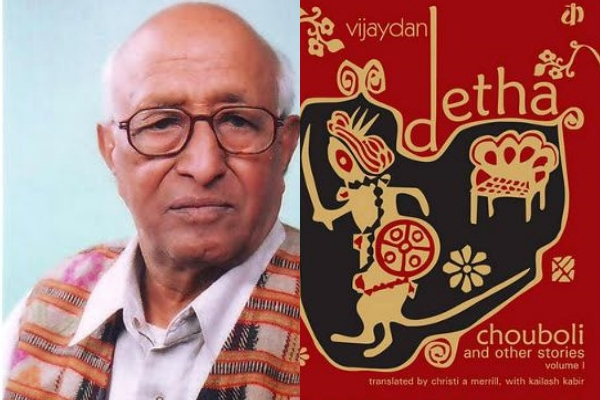 A Flair for Provocation
What set Bijji's stories apart from his contemporaries was that there was no moral compulsion of privileging good over evil. His 'stories took advantage of the enchanted ways of folk-fiction—where animals can talk or shape-shift, and those on the bottom social rung can outsmart those in power—in order to address important sociopolitical issues of the day. 'Detha's stories showcased the vivid, common sense wisdom of Rajasthani folk traditions,' writes Merrill in her introduction to Choubuli, a collection of stories by Detha that she has translated.[6] Even his story structure followed the sanctity of oral tradition, such as invoking God at the beginning, a chouga and many such features, while portraying a modern thought process. Bijji's genius and sensitivity lay in 'unlearning' before learning folklore of Rajasthan.
Also see | The Folk Legacy of Rajasthan
Detha hoped, wrote Merrill, 'for stories that were lost to find new readers, new tellers, new audiences. For stories to be put back into circulation'.[7] Of Detha's 800-plus stories, for which he received several awards and laurels, many also found—and continue to find—their way to the stage or the silver screen. Besides the two already mentioned, there are Mani Kaul's Duvidha, Prakash Jha's Parinati, Pushpendra Singh's The Honour Keeper, Dedipya Joshi's Kaanchli Life in a Slough.
In Rajasthan, it is often said the state is one where har choubis kos pani aur boli badalti hai (every 24 miles the water and the language change). Detha's 'vital work has helped to record the dialects and languages' of one such region, writes scholar Mrinalini Watson.[8] Detha himself, though, was very humble about his contribution. In one of his interviews, he said, 'My land is full of stories, whatever I have written is just a drop of the ocean.'[9] While there is no denying the truth of his words, the constellation of Detha's works continue to inspire and encourage generations of literature-lovers across the world to step into the depths of one's traditional folk tales, and re-interpret them as they see fit.

This content has been created as part of a project partnered with Royal Rajasthan Foundation, the social impact arm of Rajasthan Royals, to document the cultural heritage of the state of Rajasthan.


A version of this article was also published on The Wire. 
---