Introduction
Jyoti Bhatt was born on March 12, 1934, in Bhavnagar district of Gujarat. He completed a four-year diploma course in Painting in Graphic Arts in 1954 and a two-year postgraduate diploma course in Creative Painting in 1956 at the Faculty of Fine Arts, Maharaja Sayajirao University of Baroda, Vadodara, Gujarat. Well known for his contribution in the field of visual arts, such as painting and printmaking, he has also contributed to photography by documenting life in rural India. He learnt mural and fresco painting in Banasthali Vidyapith, Rajasthan. In the early 1960s, he received a scholarship from the Italian Government to attend a year-long academic session in Accademia Di Belle Arti in Naples in Italy. In 1964, he was awarded a Fulbright & John D Rockfeller II grant for specializing in Graphics in Pratt Institute and Graphic Centre, New York, USA. He afterwards learnt the basics of holography in London, UK, in 1985. Jyoti Bhatt served as a professor at the Faculty of Fine Arts, his alma mater from 1959 till 1992.
Initial Years
From an early age, Bhatt had a passion for drawing and art, which prompted some teachers in his school to encourage him to enrol for extra classes to hone his skills. Bhatt passed his SSC exams with drawing and painting as part of his curriculum. In his initial years, Bhatt particularly admired the works of Somalal Shah and had the opportunity to assist the artist as well. Following his passion for drawing and painting with added encouragement from his teachers at school, Bhatt joined Gharshala (Home School), which was a centre conducting courses in drawing, music and dance. Veteran artist Somalal Shah tutored and mentored him during his early stage. After Somalal Shah, Jagubhai Shah, an artist who had studied at Sir J.J. School of Art and trained under Shri Debi Prasad Roy Chowdhury in Madras, conducted art classes and introduced Jyoti Bhatt to various art forms and their aspects.
The Maharaja Sayajirao University of Baroda, Vadodara
When he had to choose the appropriate institution for his further education, Bhatt sought guidance from several seniors who had studied at the school in his hometown. In those days, many students who wished to pursue visual arts were drawn to seek admission in the premier Santiniketan School of Art in West Bengal (Visva-Bharati). Initially, Bhatt too started to prepare for admission at Santiniketan, since he had heard only good things about the experience there from its students. During this preparatory period, Bhatt met with a senior from his school who had just returned from Baroda to their village for his summer vacations. This friend, who had been studying at the Kala Bhavan for over a year, informed Jyoti Bhatt about an upcoming college catering to visual arts, including subjects such as drawing, painting, that was to be established at the Maharaja Sayajirao University in Baroda. Furthermore, the department, which had already been established in 1950, was under the guidance of Dean Markand Bhatt, who was also one of the ex-students of Bhatt's hometown school. Drawn by its proximity to his hometown, Bhatt decided to join the newly established department of fine arts at the Maharaja Sayajirao University, which boasted professors such as N.S. Bendre, K.G. Subramanyan and Sankho Chaudhari, who were by then reputed in the field of fine arts.
In his initial period, Bhatt experimented with several media in his creative work, exploring charcoal, pastels, oil colours and watercolours. He learnt the 'encaustic' style of colouring from Japanese artist Nobuya Abe while assisting Prof. Bendre. Encaustic is a process of using wax with colours as a binding agent that was prevalent in Japan, and was considered to act as a natural preventive against damage by water, cracking, and to be easy to use and mix, and have other advantages, especially while working on a mural. Bhatt utilized these learning experiences in a few of his early mural paintings, wherein he would create thick layers of paint through application of the encaustic style while mixing his colours. Bhatt also learned and experimented with various media such as Italian fresco, egg tempera and natural colours. In the academic training, he developed his observational skills by reproducing art from miniature paintings. Through these exercises, he redeveloped his sense of viewing an artwork.
During the 1950s, Indian art had started displaying the influence of cubism. In his academic years, cubism to Jyoti Bhatt meant adding elements such as lines, shapes, using shades in light and dark in his works. While viewing the works of Gagnendranath Tagore, Bhatt felt that the artist leaned more towards the cubism of Cezanne rather than that of Picasso and had a similar view of the works of artists from Bombay. The influence of Prof. N.S. Bendre was immense in his early understanding of the visualization of cubism. The Lalit Kala Akademi, established in 1955, organized a national exhibition for which Prof. Bendre's work embodied a mixture of Indian art and cubism. Bendre painted a dancing girl from Khajuraho from a cubist perspective. Bhatt also found several similarities between Indian art—especially Mughal art, Jain art and Rajput art—and cubism. According to him, none of these forms adopted a single-point perspective, there were always multifarious focus points. For instance, in Jain paintings one could easily view both eyes of the figure drawn despite it being depicted in profile. For Bhatt, the pattern of differentiating the figures and elements from the background also had similarities in the utilization of light and dark shades. A combination of all these experiences was cubism to Bhatt in his initial years. For him, the Indian-flavoured cubism, notwithstanding its divergence from analytical cubism, became the channel for expression through art.  
Educational ventures in Europe and the United States of America
Jyoti Bhatt received a scholarship to study at the Accademia Di Belle Arti, Naples, Italy, in 1961–62. Though he was not enrolled for any particular course through this scholarship, he kept exploring the atmosphere in post-World War II Italy, especially Naples. Bhatt observed and developed a liking for Spanish artist Antonio Tapies and Italian artist Alberto Burri. Both these artists applied heavy textural layers through the thick application of paint on canvas or a mount board in their works, which mainly were abstract paintings using various materials. Their inspiration perhaps was their ambience and situation—the aftermath of World War 2, when damage to property was evident everywhere in the vicinity. The city was still in ruins and this probably influenced the artists. Their style of work focuses on a thickened painting surface rather than on the forms and motifs. The works which Jyoti Bhatt created in Naples, shows the direct influence of these two artists. There is a clear paradigm shift towards depicting landscapes with very simple compositions, and magnified illustrations of monuments, forts, deserts and seascapes. It was during this period that Bhatt started to experiment with various media, using non–art-related materials such as sand, jute cloth, iron pieces, brass sheets, plywood, tapes, stone pebbles, linoleum, texture white, adhesives, etc., on surface of his works.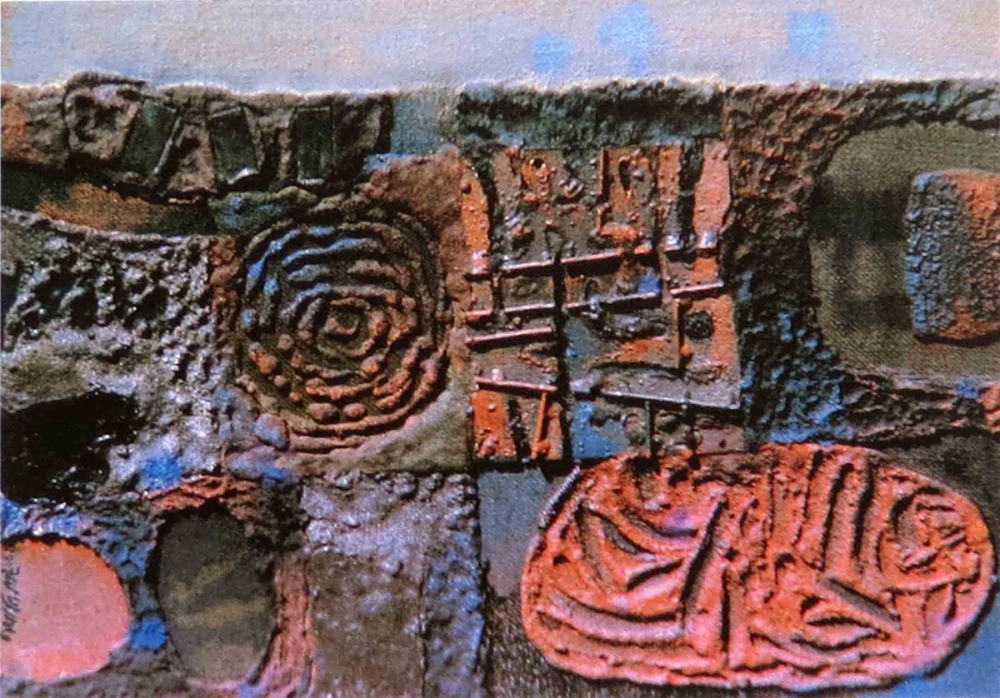 'The Burnt Place' (1962); Oil, sand and iron pieces on jute cloth
In his work 'Burnt Place' (1962), Jyoti Bhatt used oil, sand and iron pieces to raise the surface of the painting in order to get the desired textural effects. On jute cloth (guni), he added colours to get burnt effects in the painting suggested by the title. Along with abstract works, he created some portraits and some figurative works in monochromatic etchings and collagraphic prints. In these stylized memory figures and centrally-placed portraits with an iconic two-dimensionality, one can see the element of line, sometimes leathery and at other times with twists, embellishments and decorative components, along with mythological characters and symbolism that betray a kind of cultural nostalgia.
In Naples, he got the opportunity to do his first work in etching. In 1964, he received the Fulbright Scholarship, which was followed by the Rockefeller grant to study in the United States of America where he joined the Pratt Institute and Pratt Graphic Art Centre. The Graphic department of this institute was known for the technique of etching. At this centre, Bhatt learned the process of intaglio thoroughly for the first time and began formulating his signature style. Gradually, after mastering and experimenting with etching, he shifted from his earlier style of painting with thick layers of paint and experimenting with other media, and started to evolve an art with more refined shapes, forms, light and line drawings. Besides intaglio, he created works in serigraphy and photographic methods, along with methods of embossing on metal sheets, which were printed from etching plates. He also created collages by using plastic alphabetical characters, aluminum foil, masking tape, metallic paints and putty. Thus experimenting with every possible material and medium, Jyoti Bhatt developed his defining approach and achieved technical mastery by 1968. He continued to teach at the Faculty of Fine Arts in Baroda after his return to India. He was then very involved in spreading and teaching the medium of printmaking with his colleagues and other artist friends such as Jagmohan Chopra, Rini Dhumal, P.D. Dhumal, J. Swaminathan. Jyoti Bhatt is often credited with having brought the technique of intaglio to Baroda.
Teaching Experience
From 1959 till 1992, Jyoti Bhatt had a career as a painter and educator at the Faculty of Fine Arts in Baroda, as to survive on art alone was hardly possible. Several artists of these times, in their early stages, took on teaching jobs for financial security, which allowed them eventually to follow their art practice without struggle. Bhatt continued his art practice along with his teaching, and viewed his teaching job as a paid education, that gave him the opportunity to learn and teach new things. However, he opted for early retirement from his post as professor to devote more time to his own work.
Painting
In his paintings, Bhatt put into practice what his experiences in Italy had taught him—to use the ambience of his vicinity as inspiration for his art. He incorporated designs and graffiti which he observed around him in his daily life, making use of elements and motifs such as signboards, static objects, kinetic objects, human figures, landscapes, various surfaces, animal motifs, furniture, architectural and historical monuments, packaging materials, street graphics, giant cutouts of film stars, visual collage, humour and irony, signage at the rear of trucks and rickshaws, matchbox labels, firecrackers, bidis, printed charts on traditional and modern themes and so on. Along with these stylized themes, non-painterly materials such as metal, plastic, silk, fluorescent tapes, holographic foil, used canvases, etc., also became part of his visual language. Bhatt's deployment of different media and materials, and his observational skills, were buttressed with associated drawn images, paintings, etc., which became defining elements in his works. His skill in composing a work was defined by using surfaces and colours emphatically. There were also many artists who left a deep impact, making Jyoti Bhatt's experimentation with fusion full of narration, sound and movement.
Jyoti Bhatt developed his love for drawing through an interest in birds that had awakened when he used to accompany artist Jagubhai Shah on his outdoor excursions. In these early works, the motif of a bird and its drawings became a medium to communicate with others. He introduced images of birds in most of his paintings, prints and photographs and it formed an integral ingredient of his composition. His work 'In the Garden' (1958) contains line drawings of birds done in a very symbolic manner. Bhatt, especially in this work, utilizes bright colours in hues of red and yellow with overlapping images of birds in various postures. He adds thick and dark lines to render the philosophical manifestation of his primary motif, the bird. In another work entitled 'Birds of Many Feathers' (2002), Bhatt depicts birds in various expressions and stylizations, in which the transparent application of an acrylic colour creates space in a flock and allows us to move around in spite of the crowd.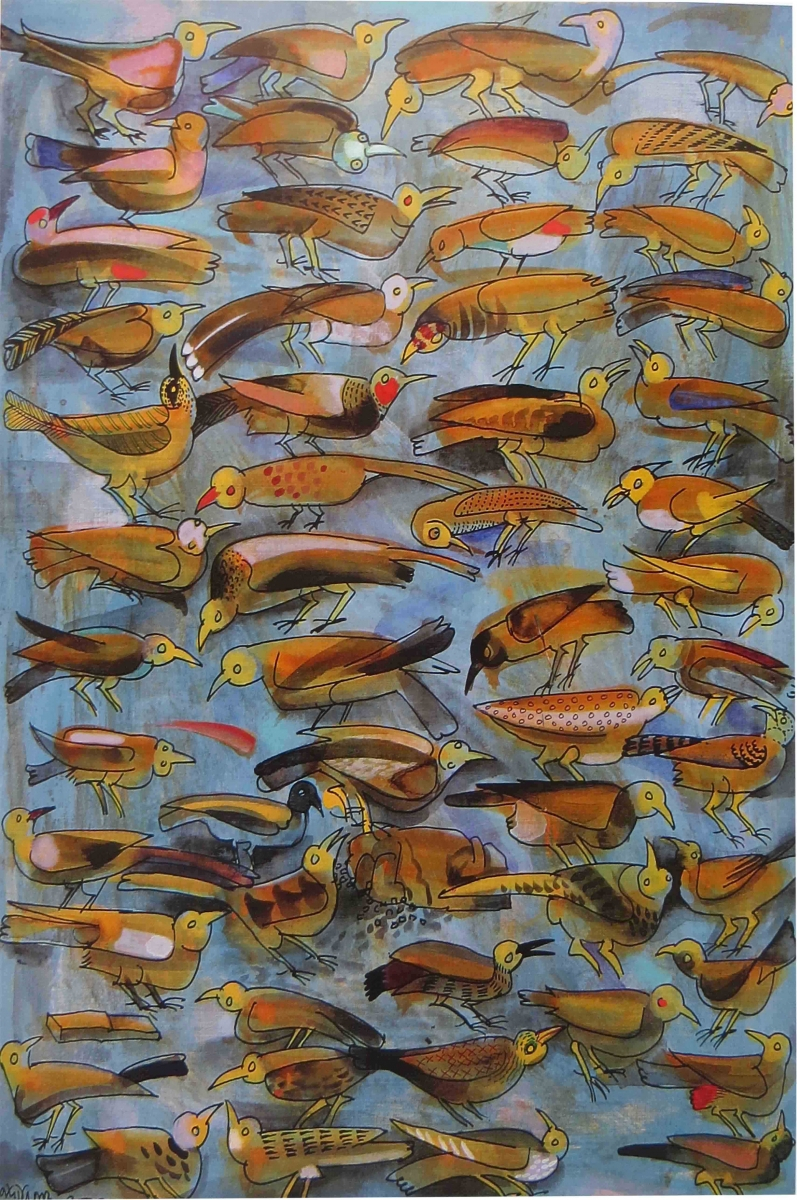 'Birds of Many Feathers'; (2002); Acrylic on mount board
In some of his later works, Jyoti Bhatt started using words to fill the gaps between images. This came from his observation of embroidery in the Saurashtra region, where women often included colloquial verbal forms along with traditional visuals. In these works, language or text was used to locate identical figures. Just as one cannot read calligraphy in Chinese or Arabic but may still enjoy the work, text in Bhatt's works can be relished as visual images. Bhatt started regularly to use various textual references in his works and deliberately stylized them to create layers of expression since text has its own unique ability to express. Bhatt mixed both text and image on the same surface thus adding depth to his artworks.
Another work, 'A-B Zee of My India' (1999) is in mixed media, using acrylic and pen-and-ink work on paper. In this particular work the written text is not only in Gujarati but also Hindi and English.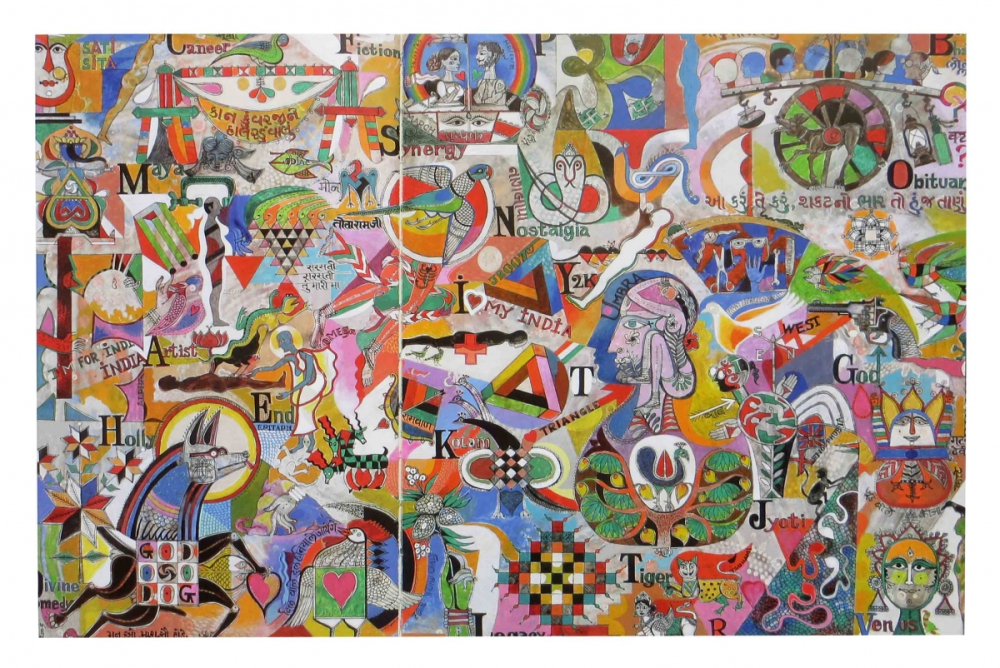 'A-B Zee of My India' (1999); Acrylic, pen and ink on board
This painting is the outcome of a combination of the many urban and rural experiences of Jyoti Bhatt. It presents sayings and words such as, 'Aa Karu Te Karu' (Do this Do that), 'Shakatno Bhar To Hun J Tanu' (The Burden of the Bullock Cart only I can Bear), 'Naag Bapa' (Lord Snake), 'Sarasati Sarasati' (Goddess Saraswati), 'Tu Mari Maa' (You are my Mother), etc., in Gujarati; 'Tota Ramji' (colloquially, parrot), 'Ram Ban' (The Arrow of Ram), 'Meen' (Fish), etc., in Hindi; and 'God', 'West', 'Nostalgia', 'Sati-Sita', 'Artist', 'For India', etc., in English. In this work, all motifs and drawn images equally complement and justify each other in relation to the text in the painting. Jyoti Bhatt's expressive text and visuals are presented in a teasing manner to convey to the viewer the underlying meaning of his paintings.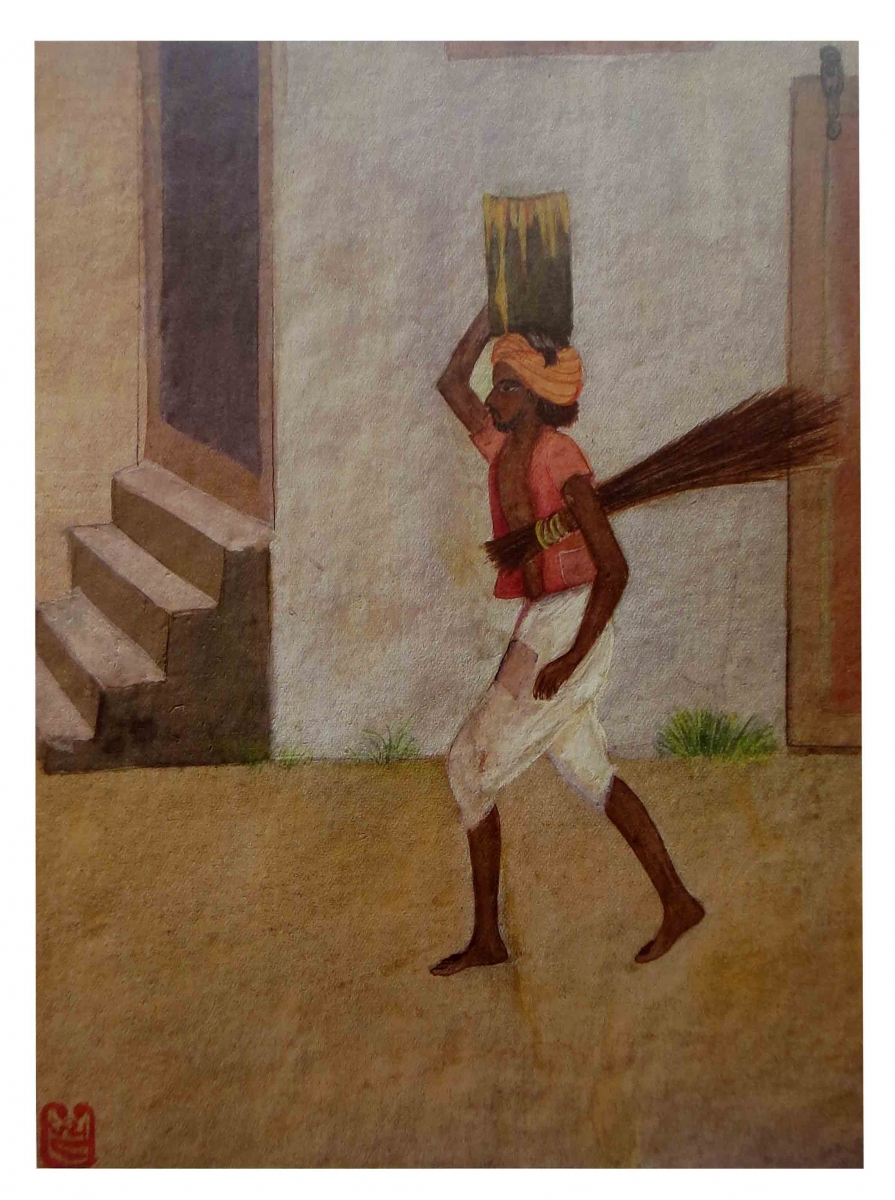 'Chheta R'ejo Maa Baap—Please Keep Distance, Sir!' (1946); Watercolour on paper
His earliest work, Chheta R'ejo Maa Baap ('Please Keep Distance, Sir!', or, literally, 'Keep Away, Mother and Father'), which he created at the age of 12 during his days at the Gharshala centre portrayed a Dalit, the caste with whom contact was traditionally seen as polluting, because it was responsible for manual scavenging. The man is shown walking on the road, carrying the container of waste on his head and a broom under his arms. Bhatt here articulates the fact that members of communities belonging to the caste of untouchables when passing on the street were supposed to say loudly 'Chheta R'ejo Mai Baap' as a warning to the upper caste community to avoid any physical contact or even contact with their shadow. Jyoti Bhatt's utilization of vocabulary in the simplest form expresses several scenarios—easily interpreted but capable of leaving a lasting impression on the mind of the viewer.
Printmaking
It is in the field of printmaking where Jyoti Bhatt has created his own niche. His utilization of stencils in his body of work made out of old prints, used canvases for new collages, showcase Bhatt's inherent desire to reuse and recover old materials, and to bring memory alive by recycling such materials in masterpieces of art.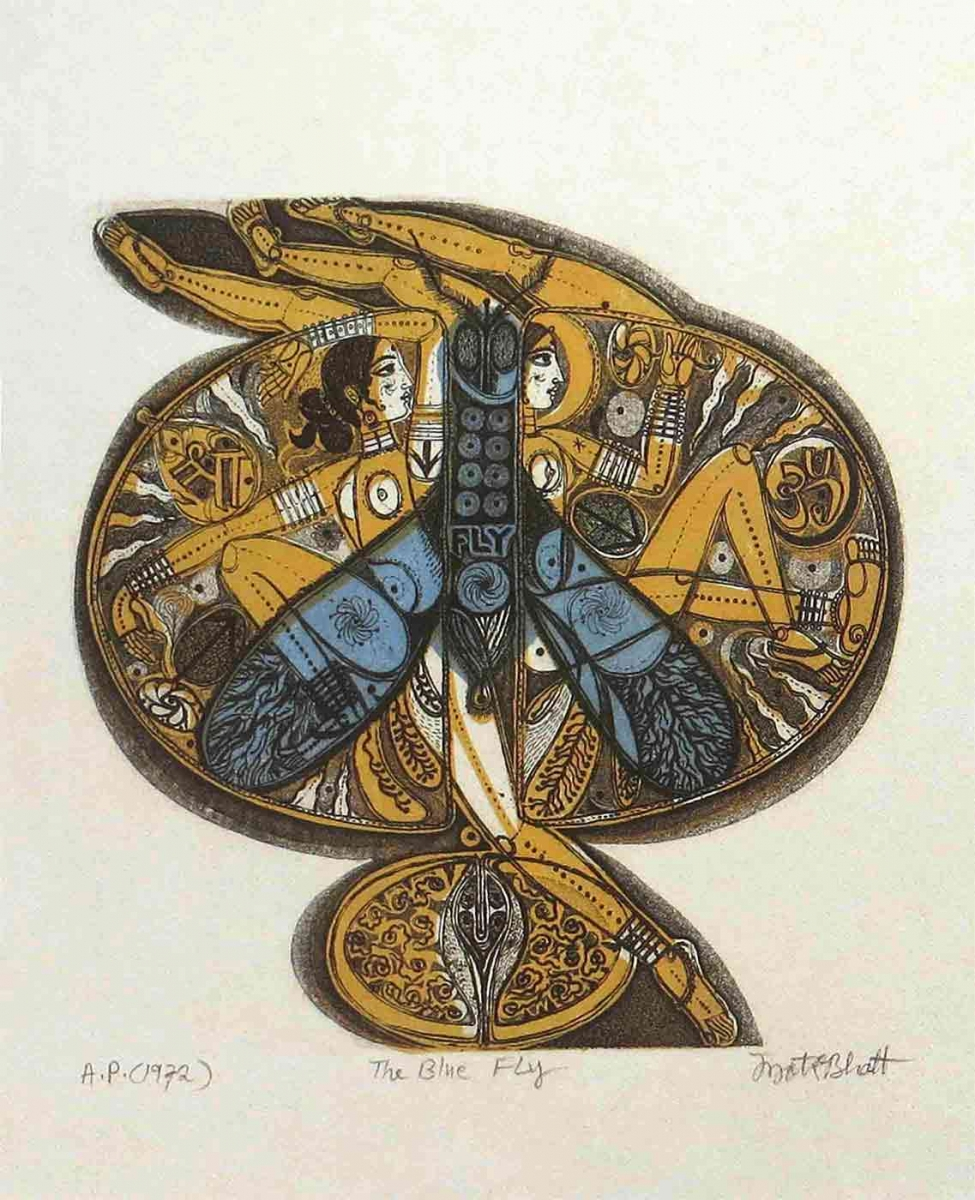 'The Blue Fly' (1972); Mixed intaglio print on paper
This stenciled expression can be seen in Bhatt's work entitled, 'The Blue Fly' (1972). In this mixed intaglio print, there are written texts, copulating couples, child-birthing postures and other erotic forms in the background, and the blue fly is stenciled on top of those images and other filler images in dual monochromatic colour scheme. The balanced division of the figures, colour scheme, use of text and other forms and patterns along with the overall shape of the composition gives a touch of finesse and vibrancy to his entire opus.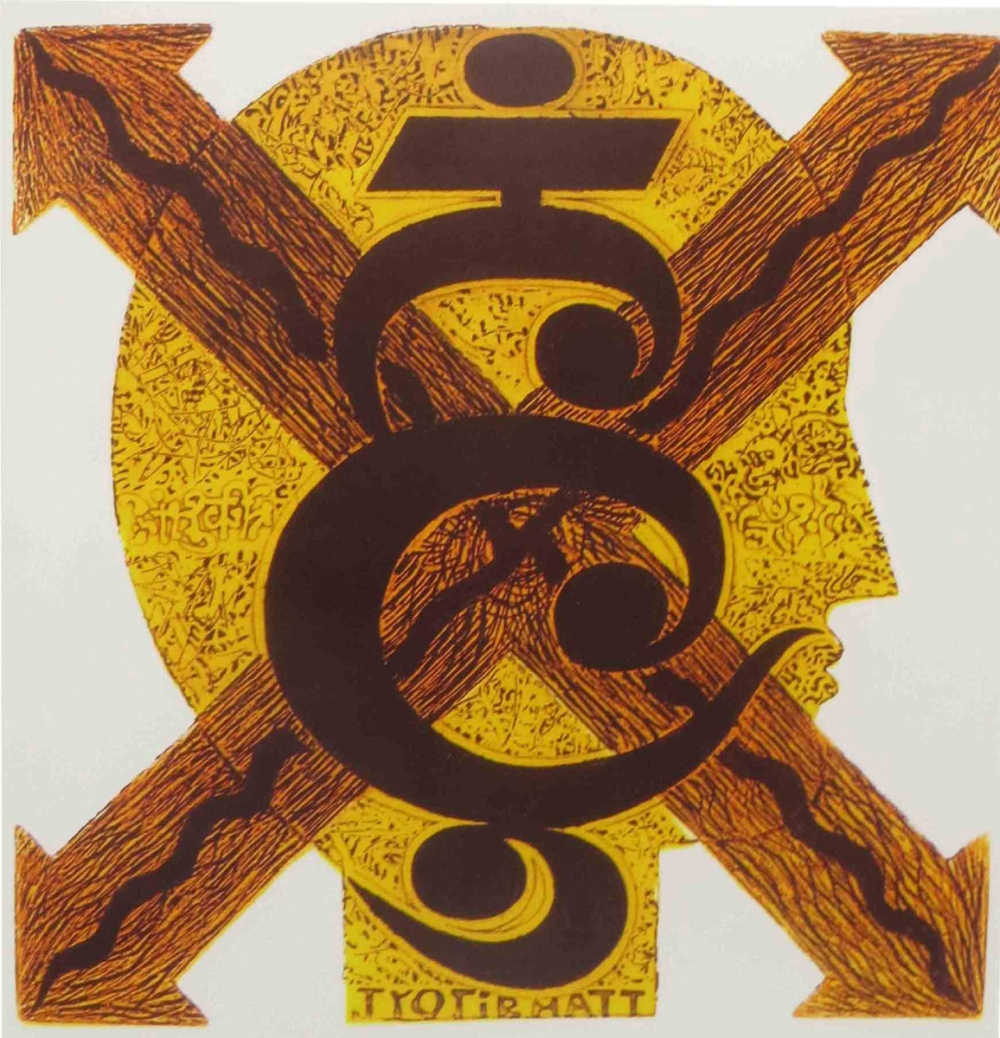 'A Face' (1968); Mixed intaglio print on paper
In many of his works, one can see inscribed visuals with or without images in a very ornate and stylized manner. One instance of such a work of Bhatt is titled, 'A Face', a mixed intaglio print from 1968, where the Gujarati word 'Hun' (meaning 'I' in English) is inscribed in an attractive manner on the outlined human face, over which arrows in all four directions form a cross, as if defining the word 'Hun' very aptly. The addition of this inscription in this work causes the impact of the message to be very sharp and direct.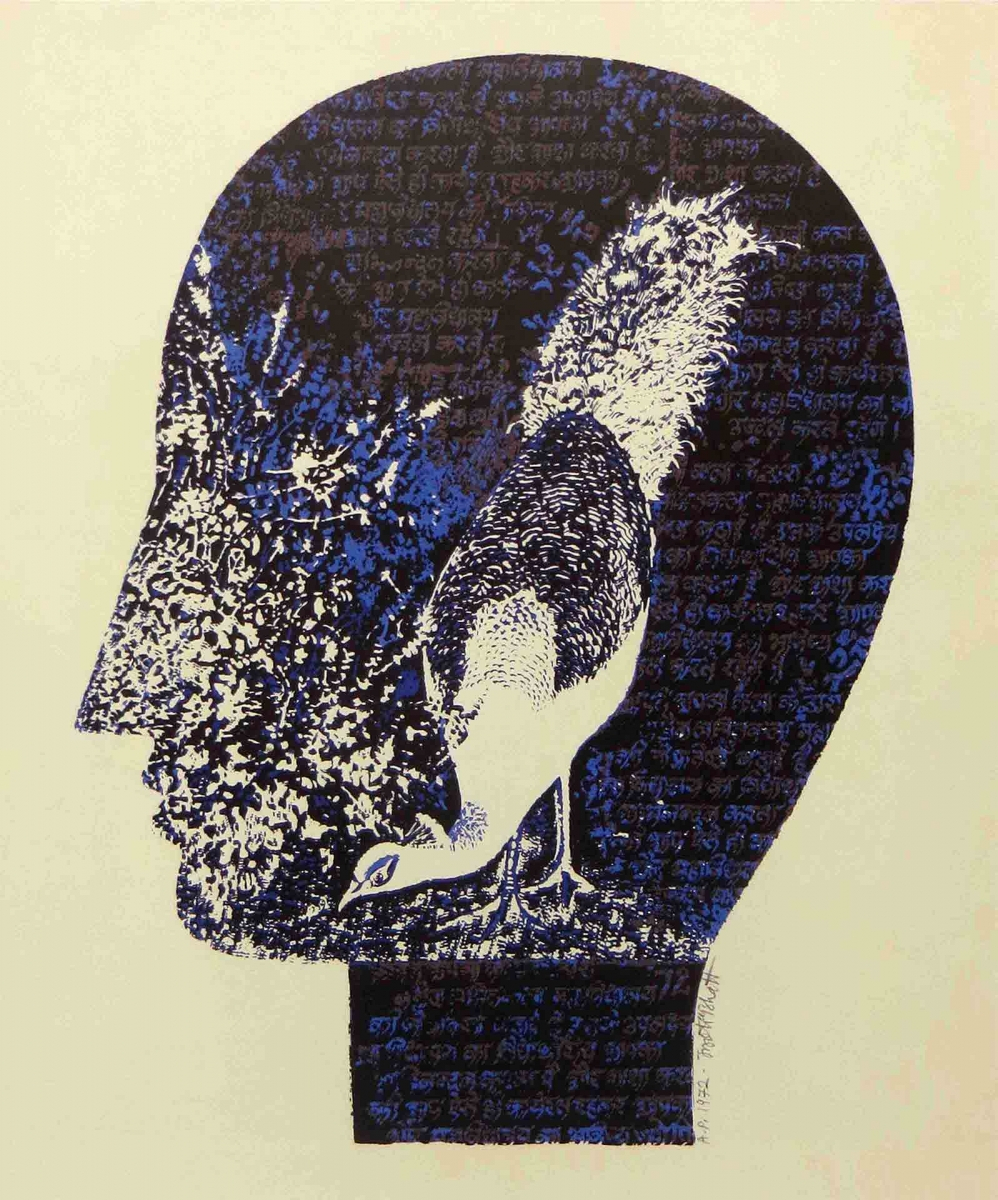 'A Face' (1972); Screen print on paper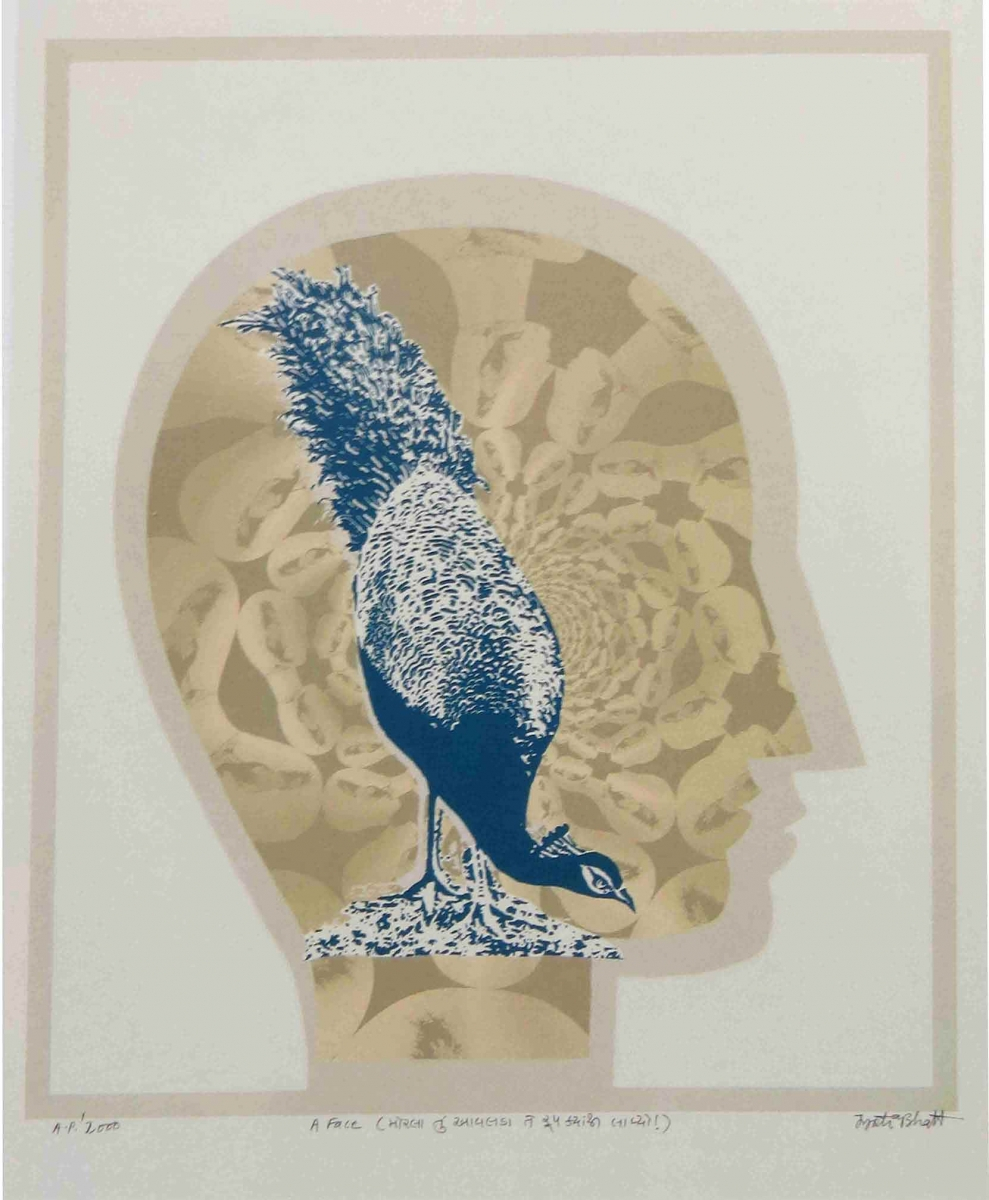 'A Face' (2000); Digital Print on Photographic paper
In two prints with the title, 'A Face' (one done in 1972, the other in 2000), Jyoti Bhatt's symbolic representation of the human head composed with, or into which a photographic peacock has been incorporated, is a portrayal of his experiences in foreign countries such as Italy, the USA, France and Great Britain where he travelled in his early career for academic advancement. The prints show how the quest for identity and the struggle in an alien country becomes his autobiographical statement in various contexts in works of the next 40 years as a metaphor of our contemporary human condition. He also uses the same face in many of his works, singularly or in multiples, sometimes confronting each other in puzzle boxes, or turning away towards the frame.
In the artwork, 'Beginning of the Journey' (1986), Bhatt has incorporated various symbols and icons of Indian mythology: a snake and a dog are depicted in a metaphoric manner, in addition to a bird with a face on its body, while a woman is portrayed with a cradle, the chequered pattern over her head more like a decorated doorframe, and another woman is depicted in a repose along with a man standing with his hand in the mouth of a dog, with the work finally completed through the visualization of a bird and other motifs. All these visuals and drawings are supplemented with written texts in Gujarati and Hindi. This screen print expresses the desires of man in the form of a puzzle.
Photography
Jyoti Bhatt's efforts with the camera led to the recognition of photography as a medium of art. In an era when the definition and understanding of Indian art was constantly evolving, and there was renewed engagement with existing artistic philosophies and theories, Bhatt stood out through his implementation of learning from the various new experiences and technical knowledge he had amassed but with the flavour of his individual style. Bhatt's first camera was the German-made Voigtlander camera, which did not have any tool to adjust focus. Despite his limited knowledge of cameras and their functions, Bhatt kept learning by experimentation and practice.
During his initial experimentation, Jyoti Bhatt came to understand the basic difference between photography and painting. He often states that painting is an empty surface on which one keeps on adding or inserting the elements of their choice. It is much like packaging. On the other hand, while photographing, there are plenty of things and space in front of your viewfinder among which one needs to select a specific area or a frame and create a composition worth appreciating. Jyoti Bhatt developed his own individual language through his photographic works, which one can easily become familiar with.
Bhatt in contemporary times is often given credit for having undertaken a vast documentation of rural India. For Bhatt, the idea of exploring folk, tribal and rural photography came from the realization that with changing times various aspects of traditional art, culture and rituals, which formed an integral part of life, were gradually vanishing. Bhatt's own childhood upbringing was within a very rural set-up but over the course of time he had seen drastic changes affecting the artistic culture and traditions of rural life. They now were either defined differently or had disappeared in parts. This realization led Bhatt to explore this uncharted area, with the specific intention of preserving and documenting them for future generations. To achieve this, Bhatt felt the camera was the best option, especially since this let him carry out his project with little or no help.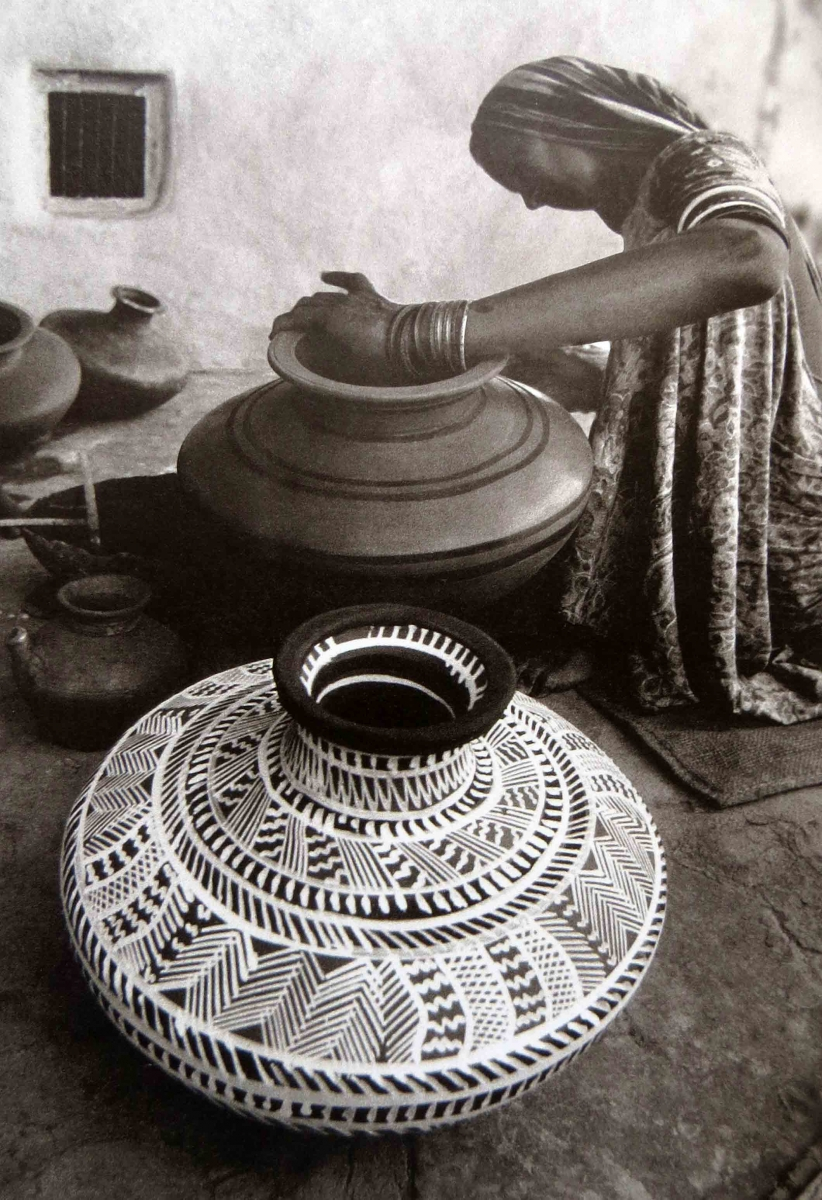 A woman potter from Kutch, 1975-76
Another aspect which attracted Bhatt to explore rural life was the simplicity with which the people and their art merged in a symphony with their daily lives. Bhatt observed that art and culture could not be seen exclusive of people, but formed inseparable parts of their lives. In a way, Bhatt's photographs are symbolic representations of their beliefs and religious practices. Bhatt's photographic documentation included memorial stone carvings, shrines of gods and goddesses on the outskirts of villages or deep in jungles, ornate decoration on houses and animals for ceremonial occasions, wall paintings in temples and in certain havelis, works of intricate embroidery, beadwork decoration, distinct tattoos, the art of rangoli and so on. Bhatt successfully documented the visual culture of Gujarat, Rajasthan, Orissa and Madhya Pradesh.
In Naples, Bhatt had started to experiment with abstract and non-figurative photography, influenced by the abstract works of Alberto Burri and Antonio Tapies. In certain photographs, Bhatt added the technique of collage, drawings and the manual application of colour directly on the photographic layer. Bhatt also did portrait photographs and candid photography of close friends and individual people.
Contribution
Jyoti Bhatt has been a stalwart in the Indian art scene for decades. He has made numerous contributions in painting, printmaking and photography, and never let himself be constricted within any single form of visual art. His constant and regular shifts from one medium to the next defined his compelling urge to journey ahead to seek new shores once he had mastered any particular aspect—either technical or philosophical. Bhatt, through his works, has made significant portrayals of various trending artistic philosophical theories such as Cubism, Abstract Expressionism, Modernism, and Pop Art, which were influences from European countries while also incorporating Indian motifs, rural art, culture and tradition, and Indian mythology. Bhatt also made use of every possible material imaginable to express his artistic perceptions.
It is his contribution to printmaking that has brought most admiration and fame to Bhatt. His aesthetic experimentation with the many technical parameters of printmaking created its own distinct language, which invariably influenced the process of printmaking, especially in Baroda. He is credited with having brought and taught the technique of intaglio to Baroda along with leading the movement to engineer and organize together to set up a professional intaglio printing press in Baroda.
Again, Bhatt's photographic documentation of rural India came at a time when the camera and its use were not very common in the artistic world. His endeavour to document the multifarious aspects of art, culture, tradition, rituals and distinct forms of embroidery and wall paintings have created a vastly rich archive of rural India.
Simply put, it is the readiness to risk set notions and his drive to learn and understand new trends that separate him from his contemporaries, and define him as a significant integrating figure of our time.
References
Bhatt, J., Karode, R. 2007. Parallels that Meet: Painting, Prints and Photographs. New Delhi: Delhi Art Gallery
Rodwittiya, Rekha. 2015. 'Rekha Rodwittiya in conversation with Jyoti Bhatt'