In the beginning there were words!
The repository of children's literature in Kerala in the written form can claim a history of only less than two hundred years, going by mainstream literary histories. But, any such attempt to pin down the origin of this new genre of literature in any language, not excluding Malayalam, to a particular historical moment will prove ineffectual. Because, the treasury of unwritten stories and folklore that are kept alive through oral tradition forms the first phase of children's literature in any society; Kerala is not an exception. Folk literature constitutes an integral part of the oral tradition in Kerala.
Stories like Eecha Poocha (The Fly and the Cat) and Thappo Thappo Thappanee (Clap, Clap, Baby Hands) have been spoken and sung throughout Kerala, from one generation to the next, as part of a rich folk tradition. Children have grown up with a rich mix of secular stories like these, and the songs, plays and performances associated with religious lives—from Theyyam (a popular ritual in northern Kerala) in the north, Vadakkan Pattu (a collection of medieval Malayalam ballads popular in Northern Kerala) and Mappila Pattu (a genre of song in the Mappila dialect of Malayalam mixed with Arabic popular among Muslims of Kerala ) further south and Thekkan Pattu (a collection of medieval Malayalam ballads popular in Southern Kerala), ballads of the southernmost districts. These are wonderful windows into the history and social life of Kerala, where Muslims and Christians participated in temple festivals, and vice versa. Nor is this storytelling tradition limited to the upper caste or upper strata of society. The Paraya (literally means 'one who tells') community, which is a Dalit caste, have the most vibrant oral tradition for children significant for its rebellion and protest.
The riddles, jokes, conundrums and tongue-twisters that are intrinsic to children's literature, initially came down to us as part of the oral tradition and were collected and written down only at a later stage. 'Oru ammayude makkallellam mukkannanmar' (children of one mother are all three-eyed) which means 'coconut' and 'Kilirur uruli vaal uruli' are examples of riddles and tongue-twisters respectively of Malayalam oral folk culture respectively. When rowers belt out the boat song during boat-races to energize the rowing, when labourers shout the work song to extol their labour during agricultural work, when mothers hum lullabies to their sleepy children, when grandparents recite myths and folk-tales to enthuse kids, this oral/folk culture is being preserved.
The folk tales in Malayalam have not yet been properly collected or edited and published. Unlike folk poetry, this involves the writing down of whatever story one hears in the hearer's own words (not in the teller's). A set of stories thus collected and retold may be found in the seven volumes of Aithihyamala recorded by Kottarathil Sankunni.[i]
A Brief History
The first books were written on palm leaf and date back to the 15th century. Few survive, but some, like the 18th century verse adaptation of Panchathanthra (Panchathanthram Kilippatt) by the great poet Kunchan Nambiar not only survived, but is read even today.
However, a moment arose when the repository of this oral literature needed to be documented and made part of society's literature. In Kerala, this historical moment can be traced back to the first half of the 19th century with the emergence of print culture and modernity ushered in under the aegis of missionaries and modern education. Translations, adaptations and abridgements of literature from other languages especially English constitute a considerable part of Kerala's children's literature. In fact, a critical study confesses that more than half of Kerala's children's literature comprises translations, adaptations and abridgements.[ii] The literature produced for Keralite children in the first half of the 19th century was influenced tremendously by the English Christian missionaries. The first Malayalam book printed in India was a children's book: Cherupaithangalkkupakaraartham Englishil Ninnu Paribhashappeduthiya Kathakal ('Stories Translated from English for the Benefit of Little Children') was a collection of 8 Christian morality tales, translated by a woman missionary, and published by the Church Mission Society Press in Kottayam in 1824. The next few children's publications like Balabhodhini and Balanikshepam were also translations of Bible stories by missionaries.
Another moment in the development of children's literature as a separate genre was the expansion of institutionalised education in Kerala. Modern Malayalam children's literature really took off with the preparation of textbooks for the newly started 'vernacular' schools in Kerala in the 1860s. The Text Book Committee of Travancore (1867) pioneered publication of good reading material for children. The poet and scholar Kerala Varma Valiya Koil Thampuran was the chairman of this committee. This committee had detailed deliberations on the language and content of children's reading material. The committee prepared textbooks on British history, Travancore history, economics, mathematics, etc.[iii] These books contributed to the development of a modern prose to communicate such subjects in Malayalam. They had also published a volume of biographies of 107 personalities. Many books were published on 'morals' such as honesty, kindness and spirituality. Vaikath Paachu Moothath's Balabhooshanam (1868) was an important work in this genre. The Text Book Committee was reconstituted in 1881.
Translations are always a major part of children's literature, and publication of adaptations and retellings of stories in Malayalam started in the late 19th century. Tobias Zacharias adapted Sinbad the Sailor as Sinbadinte Kappalottam in 1880. T.C. Kalyani Amma published an adaptation of Aesop's Fables (Eesoppinte Kathakal) in 1897. Kalyani Amma is probably the first woman children's writer in Malayalam. In 1899, Kottarathil Shankunni published Viswamitra Charitram. Modern poet Kumaran Asan published his Ramayana adaptation for children, titled as Balaramayana in 1916. There were many similar adaptations of Ramayana and Mahabharata during this period.
Kumaran Asan's prayer song, 'Chantamerina Poovilum' (Beautiful Flower), is still used in schools. Kerala Varma Valiya Koil Thampuran collected seven volumes of poetry called Padyapathavali during 1910–12. A.R. Raja Raja Varma and Pandalam Kerala Varma jointly collected another seven volumes of poems as Padyamalika in 1916. The next turn to publish a seven volume series of poems for children was Mahakavi Ulloor S. Parameswara Iyer's under the title Padyamanjari (1915–31). The authors' names were not given in these poems as they were written on request from the government for printing in textbooks. Most of them were written by Kerala Varma Valiya Koil Thampuran, A.R. Raja Raja Varma, Kumaran Asan, Pandalam Kerala Varma, Thirunayinarkurichi and Ulloor S. Parameswara Iyer. Written in the first decades of the 20th century, Kumaran Asan's poems in Pushpavadi (1922) are even now counted among the most beautiful poems written for children in Malayalam. Mahakavi Ulloor published a collection of 500 stanzas for children called Deepavali in 1935. His textbook poems like 'Kakke Kakke Kootevide' (Crow, crow, where is your nest?) and 'Prave Prave Pokaruthe' (Pigeon, pigeon, please don't go!), etc. are immensely popular even today and many believe they are folk songs, seeing their popularity!
Ironically, the best 'non-textbook' children's literature in Malayalam was either written for this committee or written under its influence. Poets like Sri Narayana Guru, Moyinkutty Vaidyar, Pandalam Kerala Varma, Thirunayinarkurichi, Ulloor S. Parameswara Iyer and Vallathol, continued writing for children till the 1930s. Tagore, Premchand etc. had also written for children during this period.
From the 1930s until the 1960s, Kerala saw sweeping political changes and social upheaval spearheaded by agricultural and industrial workers. Political and cultural debates were major activities that were part of this political process. That created a demand for accessible reading material for everyone. K. Damodaran, a communist leader and an office bearer of Kerala Pradesh Congress Committee at that time initiated the first organised library movement in 1937. There are today around 12,000 functioning village public libraries in Kerala. The Progressive Writers Association, established in 1937, created an atmosphere for new writing and reading. A unique writer's cooperative, Sahithya Pravarthaka Sahakarana Sanghom (Sahithya Pravarthaka Co-operative Society, SPCS), was formed in 1945 to publish books. D.C. Kizhakkemuri, later the founder of DC Books, played a key role in its success. SPCS started publishing books of contemporary sensibility and also played a major role in making books available for the library network. Sammanappetti, a gift box of children's books on the occasion of Onam was a new initiative. This created a new set of children's authors and catalysed Malayalam writing for children. The first Sammanappetti was published in 1961 with ten story books. Karoor Neelakanta Pillai was a major author of SPCS. His work Anakkaran (Mahout), Azhakanum Poovaliyum (Azhakan and Poovali), etc. were much acclaimed works in children's literature in Malayalam. Karoor published around 10 books for children. Lalithambika Antharjanam (Gosayi Paranja Katha [A Tale Told by a Foreigner] 1964), Uroob (Mallanum Maranavum [Wrestler and the Death] 1966; Ankaveeran [Brave Warrior] 1967; Appuvinte Lokam [Appu's World] 1979), etc. were other authors published by the SPCS.
Nanthanaar, Mali Madhavan Nair, M.T. Vasudevan Nair, Ponkunnam Varkey, Uroob, Vailoppilly Sreedhara Menon, Lalithambika Antharjanam, Sugathakumari and many others' children's writings became highly popular. Some writers from this generation like Sippy Pallippuram and Sumangala, are still writing for children today. Poet Kunjunni is another popular author who started writing during this period. Kunjunni's nonsense rhymes are now collected in two big volumes. Mali Madhavan Nair and V.P. Muhammad are two authors I would like to mention as the best writers of this period. V.P. Muhammad's Kunjayante Kusruthikal (Tantrums of Kunjayan) stands alone as the work of a genius writer. Mali Madhavan Nair created a character called 'Sarvajith' and a couple of books of his adventures. Mali's other work Circus is considered his best work. But Mali is also known for his prose adaptation of Ramayana and Mahabharata for children. Narendranath's Vikritiraman (Naughty Raman), Kunjikkoonan (Little Hunchbacked Man), Sumangala's Midhayippothi (Cover Full of Toffee), Nanthanar's Unnikkuttante Lokam (Unnikuttan's World), etc. are important works of this period. M.T. Vasudevan Nair's Manikyakkallu (Precious Stone) is another important work of children's fiction in Malayalam. The first Jnanpith winner, poet G. Sankara Kurup's Ilamchundukal (Little Lips), Olappeeppi (a kind of toy flute made of coconut leaves), etc. created a contemporary rhythm for children's poems.
Alongside SPCS, were publishers such as Balan Publications, Kerala Sahitya Akademi, Current Books, Thrissur and P.K. Brothers, Kozhikode, publishing among other things translations of Western children's classics such as the fairy tales of Hans Christian Andersen and the Brothers Grimm. Mathew M. Kuzhiveli's (1905–74) Balan Publications, established in 1941, was exclusively for children's books and Balan Children's magazine. They published Vinjanam (Knowledge), an eight volume children's encyclopaedia in Malayalam. Balan published around 300 books for children and out of this, 60 were written by Kuzhiveli himself. Children's literature in Malayalam owes a lot to Kuzhiveli, and he paved the base for a new dawn in children's literature in Malayalam in the 1980s after the International Year of the Child in 1979.
In Kerala, children's literature underwent structured and gradual growth. After the genre took root by the beginning of the 19th century, around 300 books were produced in the first three decades. While in the next two decades around 400 books were brought out, nearly 1000 books were published between 1950 and 1970. In 1979 alone (the International Year of the Child), more than 300 children's books were brought out in Kerala.[iv] Ever since, there has been an exponential growth in the production of Malayalam children's literature to this date. The second half of the 20th century witnessed rejuvenation in the field with the establishment of many publishing houses exclusively for children's literature. Most contemporary publishers now consciously give due importance to the genre. However, in the initial phase all these publishers had to depend on Indian and foreign classics for inspiration.
Children in Kerala have always been open to reading literature in translation from Aesop's Fables to War and Peace! The practice of 'importing' was continued by bringing in Indian classics like Ramayana, Mahabharata and Panchatantra; English classics like Shakespearean plays, Chaucer's stories, Robinson Crusoe, Treasure Island, Gulliver's Travels, A Tale of Two Cities, Idylls of the King, and a lot more; world classics like Aesop's Fables, Arabian stories, Andersen's and Grimm's fairy tales, children's literature of Soviet Russia, and so on, in the form of translations, adaptations and abridgements. The classic Japanese autobiographical writing Toto Chan, published by the National Book Trust, has sold more than 100,000 copies in Malayalam. Through the village library network, books, brought out by the National Book Trust and India's Nehru Bal Pustakalaya, found distribution all over Kerala. My tryst with these books in my village library in the late 1970s is a nostalgic memory. I can still remember my excitement while reading Rohandra and Nandriya by Krishna Chaithanya, Uma Shankar Joshi's Stories from Bapu's Life, Hansa Mehta's The Prince of Ayodhya and Let Us Do a Play by Uma Anand. Even today translations, such as the Mamma Moo stories from Sweden, are widely enjoyed. (Fig. 1)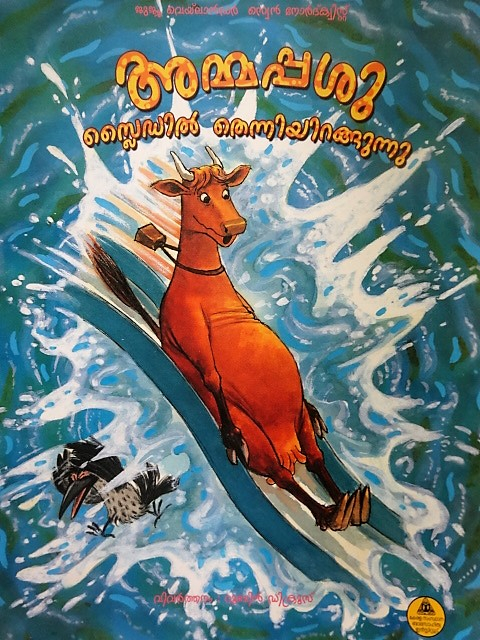 From the 1960s to the 1980s, there was a boom in wonderful translations from the Soviet Union. Prabhat Book House was entrusted with the distribution of these books published by Progress Publishers, Raduga Publishers, etc. in Moscow. Children of that generation are quite nostalgic about Chuck and Gek, Animals and Friends, and many others that were read and loved as Malayalam originals. (Fig. 2) They made these books available for subsidised price until the downfall of Soviet Russia. Unauthorised editions of these books are popular even now and many still believe this was the best thing that ever happened in Malayalam children's literature!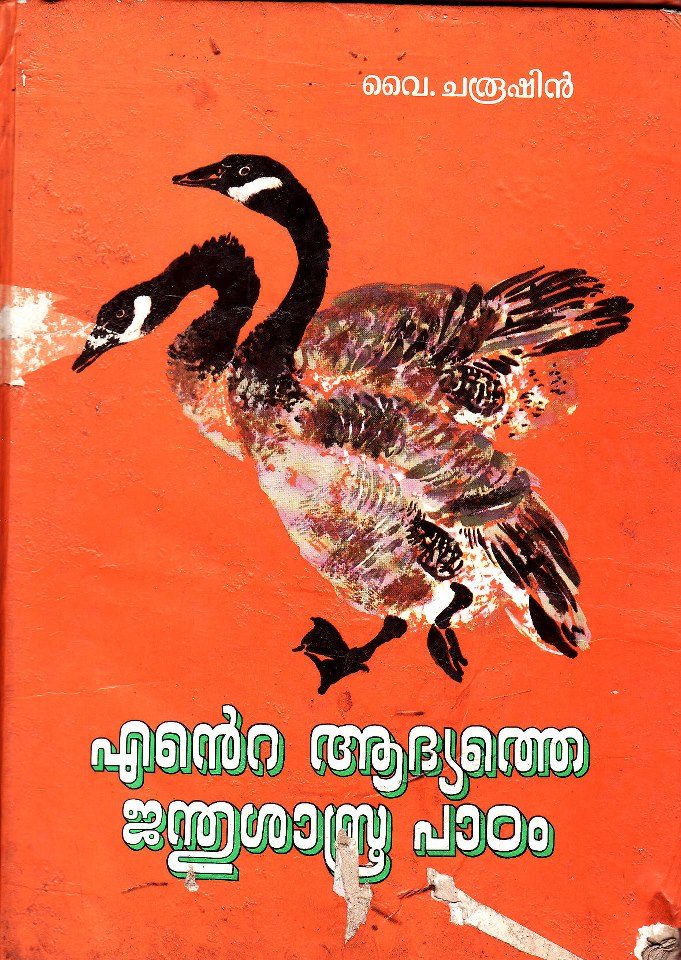 Well-known writer Paul Zacharia says in a recent paper,
The Russians brought the first international-class children's books to Kerala...These books were our first experience of well designed, attractively illustrated, multi-colour children's books. The Russians gave us also our first pop-up books. So, along with Stalin, Lenin Malenkov etc., who are quite boring, we got lovely children's books. If the Soviets hoped to convert Malayali children to Communism, it was a nice way of doing it. No tanks, no firing squad, no secret police. I know they succeeded in converting at least one person. That was me. I was a hard-core Communist by the time I was 12![v]
The next revolution in Malayalam children's literature was brought about by the Kerala Sasthra Sahithya Parishad (KSSP), an organisation that started in 1962 as a Malayalam science writers' association. KSSP published a large number of popular science books and circulated them through village-level units and a wonderful network of committed school teachers to every corner of Kerala. Padatha Pakshikal (Birds That don't Sing) by Prof. M.K. Prasad is an adaptation of Silent Spring by Rachel Carson, a book that has introduced generations of children to environmental concerns. Vaayichalum Vayichalum Theeratha Pusthakam (The Ever-Unending Book) is another all-time favourite from KSSP, whose author, Professor S. Sivadas, has authored more than 100 popular science books introducing children to the wonderful worlds of chemistry, nature and mathematics. Professor K. Pappootty's marvellous book on astronomy, is also loved by children, while Keralathile Pakshikal (Birds of Kerala) by Induchoodan, although not strictly speaking a children's book, has taught generations of children how to love nature.
Contemporary Literature
Here, I take a leap to the present scenario of children's literature in Kerala. The primary focus will be on Kerala State Institute of Children's Literature (henceforth KSICL) and DC Books that share the pivotal position in the field of children's publications. Both these houses abundantly publish children's literature in both Malayalam and English. KSICL, established in 1981, is the first state-run institute for children's literature in the country. Its goal was to publish good quality content with good production value and large print runs to keep the pricing low. KSICL has translated and published a large number of good quality material from other languages and tried to create a new sense of what is good children's literature among readers, teachers, parents, authors, illustrators, designers, and other publishers. The recent times show some novel trends in the field. The books that have come out from the tie-up between KSICL and Tulika Publishers exemplify a shift in the publishers' attention which was mostly on foreign literature. In the new era, there is a growing interest in an exchange of language, literature and culture among the Indian states. There has been a growing tendency to accommodate literature from other Indian languages which is the direct result of the realization that we should understand ourselves before venturing to understand others. There was an effort to encourage major writers of Malayalam to start writing for children. The desire to produce children's literature of one's own rather than depending merely on translations is growing in the contemporary literary scenario. Sugathakumari, M.T. Vasudevan Nair, Thanuja Bhattathiri, J. Devika, M.R. Renukumar, etc., are a few among those Malayalam writers who have found time and interest to invest in the development of Malayalam children's literature. KSICL has also published a series of 30 books with songs and stories from the oral traditions of Kerala, so that this rich cultural heritage would live on and be enjoyed for generations to come.
Most of the publishing houses in Kerala today consciously give due importance to children's literature as a separate category; the separate sections for children's literature in the book houses and exclusive sections for children's literature in book fairs highlight this fact.[vi] DC Books has separate wings: Mambazham and Mango for Malayalam and English publications, respectively. In children's literature published in English, Shakespeare, Defoe and Stevenson continue to top the charts even today. DC's Mango publishing house specialized in producing abridgements as children's literature and has re-produced many of the English classics. Mango Books has taken the initiative to abridge and retell with illustrations Frankenstein, Dracula, Dr Jekyll and Mr Hyde, and novels by Charles Dickens and Jane Austen for children.
Children's literature in Malayalam is kept alive to a great extent by the prolific production of children's magazines such as Balarama, Thaliru, Balamangalam, Balabhumi, Kalikkudukka, Thathamma, Kuttikalude Deepika, Kurunnukal, Malarvadi, etc. from the early 1980s. Even today most popular children's texts in Kerala are magazines. There are numerous magazines that cater to diverse age groups and their various interests. Eureka, KSSP's children's science magazine has been the first of its kind aimed at propagating scientific temper among children. (Fig. 3) Thaliru produces literature for teenage children. It was started by the Jawahar Bal Bhavan, Thiruvananthapuram under the editorship of poet Sugathakumari. Now it is published by KSICL. Magazines like Balarama Digest and other children's digests from various publications also deal with various contemporary issues—regional, national as well as global. In many ways, these magazines engage with 'vernacular' knowledge systems. Kerala Patanam, a study conducted by KSSP in 2004 shows that 47 per cent of middle class households subscribe to at least one children's magazine. Balan, Poompatta, Muthassi and Balayugam are magazines that were discontinued.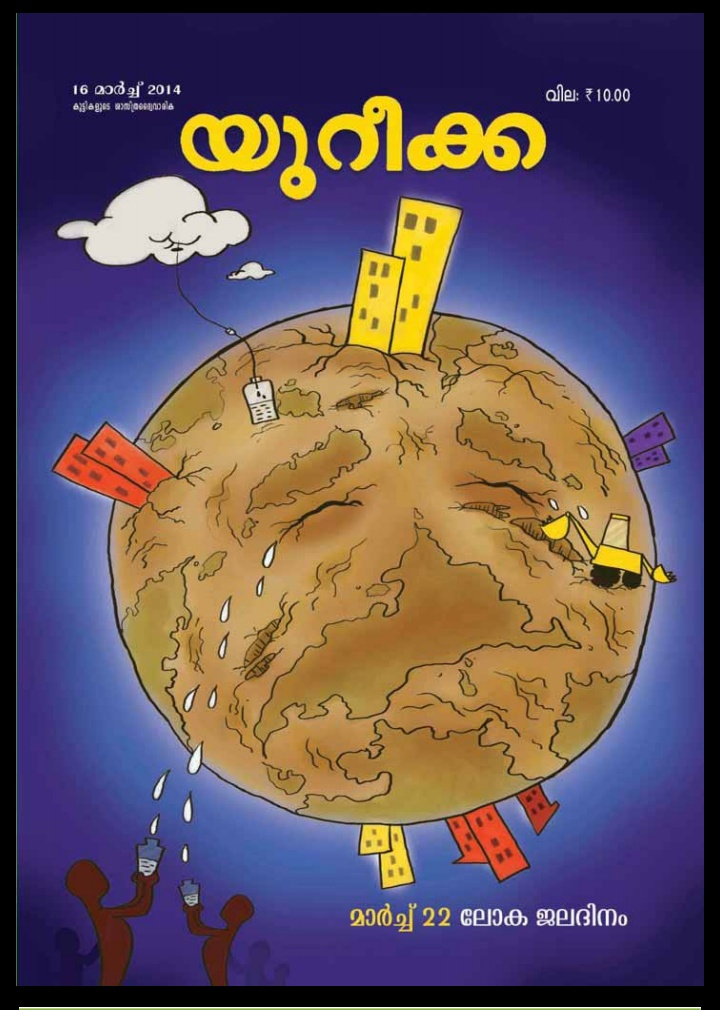 But what do children in Kerala read today? They begin with poems and stories from oral tradition to contemporary works introduced through textbooks. Then they go on to read some more children's books, new and old. Then they quickly migrate to Vaikom Muhammad Basheer. Basheer's works are not children's literature, but children relate well to their simple narrative style and universal appeal. Then they move on to 'adult' writers, such as Madhavikkutty (Kamala Das), Sugathakumari, M.T. Vasudevan Nair, M. Mukundan, and Paul Zacharia. There is not much by way of good quality intermediary literature to bridge the gap between fairy tales on the one hand and adult literature on the other. Given that Malayalam children's literature is a large and lucrative market today, one can only hope that contemporary writers in Malayalam will rise to the challenge.
Notes
[i] Aithihyamala is a collection of legends, mythologies and folklore of Kerala written in Malayalam by Kottarathil Shankunni. According to Sreedevi N.S., 'Aithihyamala comprises legend clusters, most of them inter-connected like a web, that takes the reader into a past filled with inhabiting tyrants, serpents, sorcerers, exorcists, yakshis, martial arts heroes, legendary physicians, staunch devotees, benevolent gods, punishing demonesses, erudite Brahmins and astrologers' . However, she also observes how Aithihyamala propagates the dominant ideals of upper caste Hindu male society as the 'norm'.(See Sreedevi N.S. 2009: 1)
[ii] Mathew, 'Balasahityam Paribhashayilude', 193.
[iii] Padamala is a textbook compiled by Hermann Gundert with the onset of English education. (See Narayanan, 2009: 844)
[iv] Nair, 'Balasahityam Malayalathil', 19.
[v] Zakaria, 'The Malayalam Experience of Children's Literature', 86.
[vi] An international seminar on children's literature, children's literature writers' conference, children's workshop and book fair are organized annually by KSICL.
Bibliography
Datta, Amaresh. Ed. The Encyclopaedia of Indian Literature. 2 vols. New Delhi: Sahitya Akademi, 1988.
Mathew, Joseph. 'Balasahityam Paribhashayilude' [Children's Literature in Translation]. Balashityam: Tatvavum Charitravum [Children's Literature: Ideology and History]. Ed. Kuriakose Kumabalkuzhi. Trivandrum: KSICL, 1995.
Nair, Ramachandran. 'Balasahityam Malayalathil' [Children's Literature in Malayalam]. Balashityam: Tatvavum Charitravum [Children's Literature: Ideology and History]. Ed. Kuriakose Kumabalkuzhi. Trivandrum: KSICL, 1995.
Narayanan, V.K. Balasahityam [Children's Literature]. Adhunika Malayala Sahitya Charitram Prastanangalilude [The History of Modern Malayalam Literature through Movements]. Ed. K.M. George. Kottayam: DC Books, 2009.
N.S., Sreedevi. 'Aithihyamala in the Discourse of Kerala Modernity'. Pondicherry: University of Pondicherry, 2009.
Zakaria, Paul. 'The Malayalam Experience of Children's Literature'. Ravenshaw Journal of Literary and Cultural Studies 2.1 (2012).