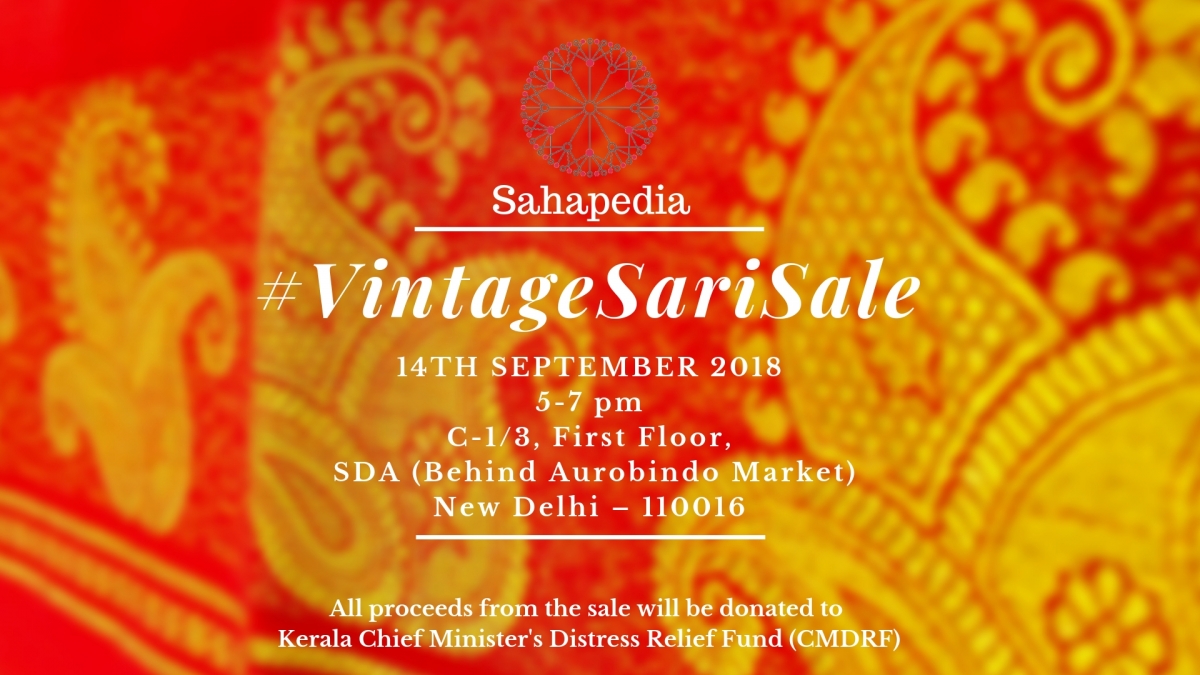 Six long yards of textile, passed down from one generation to the next, bring with it several stories — some personal and nostalgic, others a testimony to the traditional textile heritage of India. So when you drape a sari like that, you add your story to a continuing saga. That is the ideology with which Sahapedia started its vintage sari sale back in 2016. Now, in its third edition, the Sahapedia Vintage Sari Sale 2018 promises to be bigger and more diverse.
 
Renowned designer Anavila Misra, whose signature linen saris celebrate this rich and varied tradition, has often spoken about the versatility of the sari, and how it is one of the only forms of clothing that can be experimented with in so many different ways, which can take it from a casual outing to a formal event. With a renewed interest in the sari as an everyday wear, and not only a garment for weddings and family functions, the vintage sari sale offers a range of Bengal cottons, ikat, kalamkari, kota doria, Banarasi brocade, tanchoi, batik, bandhej, chanderi, tussar silk, ajrakh, etc., to choose from.
 
Working on its core belief system of 'saha', Sanskrit for 'together with', this homage to textiles is for connoisseurs and enthusiasts alike. While the former would appreciate the value of an old ikat sari and the intricacy of the handiwork that has gone into it, the latter have the additional advantage of getting a bargain like none other. After all, where else would you get an unusual bagh print, which would have cost around Rs 4,000 today, for just Rs 400.
 
The pieces are vetted for quality as well as wear and tear, and prices for these exquisite saris from the donors' personal collections range from Rs 200 to Rs 800. All proceeds would be further donated to a good cause.
 
This year's sale proceeds will be given to the Chief Minister's Distress Relief Fund (CMDRF) and the unsold saris will be donated to Goonj. While we have been able to raise over Rs 1.5 lakh from our previous sales, we're optimistic that this year will be bigger.
 
In fact, since some of the donated saris are so stunning, we've even kept an auction for a couple of the most exquisite weaves.
 
 If you're wondering why would people even want to part with their saris, then know this — it's because they believe that they're not just another piece of clothing, but because handloom saris are works of art in themselves. So instead of lamenting over what to do with the saris they have worn for years, but no longer do, it's much better to breathe new life into them by giving them new homes and carrying on the legacy.
 
"Every part of India has its own traditions about how it weaves and why it weaves like that and the kind of cotton it sources for that. All this is related to both biodiversity and culture...so it's nice to come back to this and say, this is what we want to celebrate, the India we need to celebrate," said Sunita Narain, Director General of the Centre for Science and Environment, at the first sale.
 
Participants during previous years have likened the experience to visiting a museum, where one can feel and touch the exhibits, and eventually inherit a heritage of a particular weave from a particular place. Of course, Sahapedia also brings to the table its knowledge bank of weaving techniques and the craft for those interested.