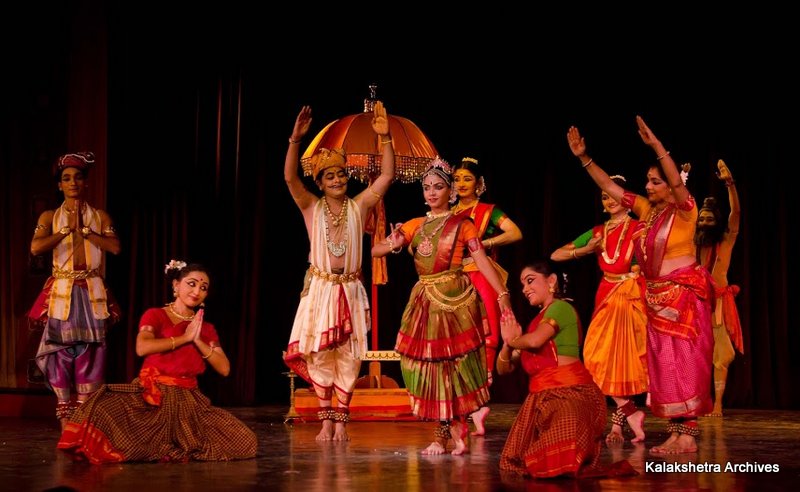 The aesthetic journey at Kalakshetra begins with the morning prayers and if by chance it has rained the previous evening, the fragrance of wet earth makes the whole experience intoxicating. Clear sunlight filtering through the leafy matrix of our large banyan tree, the strains of a perfectly-tuned tambura, the loud chirping of the squirrels as they play in the branches above, interspersing the recitation of the prayers of all religions and the inevitable puppy that finds its way into the assembly, even as the students chant the last line of the universal prayer, 'May each who feels himself as one with Thee, know he is therefore one with every other.'
Prayer under the Banyan tree
A few moments of silence and then the teachers and students, clad in their simple sarees and veshtis, will find their way, unhurriedly yet purposefully, along the meandering mud paths to the various cottages that dot the rustic campus. Cottages that would soon come alive with the sounds of music and the rhythms of dance, with the learnings of classical languages and the artistry of blending colours, as Kalakshetra awakens to yet another day—standing as testimony to the life and faith of a vibrant visionary who dared to dream of a cultural renaissance in India.
This was a dream the young woman, Rukmini Devi, began to live when she transcended societal orthodoxy to understand for herself the artistic spirituality of Indian dance. It led to the establishment of an institution which would transform art into sadhana [spiritual practice], where tradition would be viewed as an aesthetic practice; a grammar towards higher sensitivity. Kalakshetra, the institution, was perhaps her way of sharing her dream with all those who wanted to walk with her and will want to walk with this beautiful spirit in the years to come.
Students of dance in discussion with a faculty member
As a little child, Rukmini Devi was known for her extraordinary talent in classical music and her father Neelakantha Sastri believed she would become a good musician one day. But destiny had other plans for the young woman, who met and married George Sydney Arundale at the tender age of 16. In 1924, during her travels with her husband, who was an integral part of the Theosophical movement (and later became the president of the Theosophical Society), she went to see a ballet performance of the famed ballerina, Anna Pavlova, at Covent Gardens, London. What she experienced that evening was to transform the course of the young woman's life. She saw Pavlova perform again in Bombay, the East Indies and Australia. But it was her chance meeting with the ballerina on a ship to Australia that was to initiate her into this 'fascinating world of movement and expression' as she would write later.
Pavlova introduced Rukmini Devi to ballet and had her disciple, Cleo Nordi, give the young woman lessons while on board the ship. Dr. Arundale would write about this experience, after which, he believed, she was 'a changed person.' While Pavlova encouraged Rukmini Devi to learn ballet, she insisted that as an Indian, she should learn the dance of her own country. Thus it came to be that Rukmini Devi, who considered the wonderful ballerina to be her spiritual guru, followed the guidance of Pavlova in word and spirit. The rest, as they say, is history.
As for the history itself, in 1927, Rukmini Devi's brothers, Yagneswaran and N.Sriram took her to see a sadir performance by two sisters, which was pristinely classical. Rukmini Devi believed that through this performance she was 'ushered into a new world of rhythmic beauty and meaning.' She resolved to learn the art from these specialists. Pandanallur Meenakshisundaram Pillai was her guru though it has been mentioned that she was initiated into Bharatanatyam by Mylapore Gowriammal. It is said that she was herself a tireless worker and worked with great enthusiasm. But to her, it was not enough that she danced herself, she wanted to 'find young people who would dedicate themselves along with (me) to its revival as a factor in the cultural renaissance of India.' She was determined to, in her words, 'disseminate this beautiful and profound art that had been restricted to a few specialists.'
A dance class in progress
She began working towards this and in August 1935, Rukmini Devi along with her husband Dr. Arundale and brother Yagneswaran, met with a few friends, among who were K. Chandrasekharan, Ramakotiswara Rao and Narayana Menon, to discuss a matter of utmost importance to her—the establishment of an arts centre. They met in a thatched cottage in the Theosophical Society campus in Adyar, as she wrote later, 'to think of the necessity of an arts centre where some of the arts, especially music and dance, could thrive with correct standards under careful guidance.'
On January 6, 1936, the International Centre for Arts was born within the Theosophical Society campus, with Rukmini Devi heading the institution along with the active support of her husband Dr. Arundale and their mentor Dr. Annie Besant. The institution would later be known all over the world as Kalakashetra. The name was suggested by Pandit Subramania Sastri when Rukmini Devi and her associates were looking for an Indian name to register the Institution. It is said that Dr. Arundale approved of it at once and it was accepted by everyone. The story goes that some time later when Rukmini Devi met Rabindranath Tagore and told him that she had named her institution Kalakshetra, he is supposed to have said, 'What a beautiful name…I wish I had thought of it myself.'
It was started under one tree with one student. This first student was Rukmini Devi's niece, Radha Burnier, who went on to later become the president of the Theosophical Society. Soon it would expand to three students with G. Leelavati and later A. Sarada Hoffman) joining Radha in a thatched cottage with three mirrors on its walls (the famed kannadi kottagai of Kalakshetra). Of this moment, Dr. Arundale, that proverbial pillar of strength, sharing both her dreams and her responsibility of executing them, would write, 'My work is to facilitate as much as I can this very wonderful work. Today there is only one cottage. But in due course we shall have our own buildings, beautiful, simple, and our own lands, a temple in India's beauty. It is only a cottage today; it will be a community tomorrow.'
This is a sentiment that seemed to find resonance in Rukmini Devi's own vision as we find in her writings of that time. She desired '…to have a village where artists along many lines may live. Someday we shall have established as great a centre as were Tanjore and many other art communities in the olden days. In such a village there must be the true spirit of the ancient village life in all its purity and strength. How wonderful it would be, if, for example, we could hear a nagaswaram player practising the glorious notes of his sacred instrument, see some great dancer developing his art. And watch great scholars and poets studying and creating in the atmosphere of such a spiritual village…I intend to give effect to this dream.'
The early days
Though it had its genesis in the estate of the Theosophical Society (which also formed the bedrock of its philosophy), by the very nature of the work it was intended for, Kalakshetra would soon find a new home in what is now a sprawling 99 acre campus by the seashore in Chennai. Rukmini Devi faced the challenge of moving campus with the resolve and energy she was so well known for, saying 'Even if I have to start with only one acre and gradually add half acre by half acre…we must erect our own buildings, studies, theatres, a hostel…all very simple and yet beautiful and purely Indian in style and proportion.' And in this way she would bring to Kalakshetra its own unique identity.
Her vision for the institution was vivid. 'We can create great things from small beginnings,' she wrote at that time. And towards this she created a syllabus of learning she held close to her heart through which she said 'Children will learn true art, art that would make life more beautiful that will contribute to the glory of the nation and of the world. We hope to make great artists in the school and gradually, we shall shall attract great artists to this place. It will be my greatest happiness to know that Kalakshetra in its own humble way will be helping to make more beautiful, more artistic, the lives of all.'
The syllabus was shaped by Rukmini Devi's understanding of the arts as an undivided whole. She said, 'It is important to remember that all arts are related. What dance is in movement, music is in sound. Painting is in colour and architecture in form. They are all one.' The learning in the institution has evolved around this philosophy. Students take in the arts as a whole, though they major in any one subject of their choice and aptitude. Students of dance have lessons in music and visual arts and students of music learn the basics of dancing. Literature, classical languages and drama are all woven in to create what Rukmini Devi considered the right 'background in which the emotions and the mind expand and become cultured [and] will directly affect the art.'
A student practising the veena
The design of the campus is such that as a student walks from one class to another across lily ponds and large peepul trees, they cannot but help take in the rhythms of a dance class, the notes of a music class and the colours of the visual arts department. These lessons take root somewhere in the subconscious, often much deeper than structured learning.
Known for its orthodox sampradayam (a Sanskrit word that roughly translates as 'tradition'), students often begrudge the rigour of the classes and long hours of practice. Even more difficult to accept is the unacceptance of any deviation from the 'rule'. It is an atmosphere which gives an impression of rigidity rather than creativity—in form and thought. Adding to this is the discipline of austere dressing: parting your well-oiled hair through the centre and braiding it tightly, the 'compulsory' kumkum pottu (vermilion bindi), a well scrubbed face, no make-up except for kohl, learning to wear those simple handloom sarees (worn without pins) matched with contrasting colour blouses, the sparkling white veshtis for male students (dhotis), and the common hawaian footwear—these were the ornaments of our youth, day in and day out.
Students proceeding towards their classrooms
And if by any chance romance were to blossom between students, it would certainly be frowned upon. The word brahmacharyam (in Hindu philosophy, this is the first of the four stages of life when an individual is supposed to focus solely on their education), rather, its value, would be understood only many years later with the accompanying maturity. Learning is a space of uncluttered focus, where discipline of body and mind is a necessity for the process of understanding and honing higher aesthetic sensitivity. Because, as Rukmini Devi believed, 'Indian art is not just in the form alone, it is as much the spirit that needs to be understood.' It is this spirit that would resonate through life and translate into gambhiram (restraint) that would characterise all our actions.
This gambhiram is even reflected in the 'Kalakshetra sari' (and the one who wears it). Rukmini Devi seems to have wanted to ensure that this quality would pervade her campus in every possible way, as she started the weaving section in as early as 1937. It was, as she said, an effort to 'to preserve old artistic values and use them in the daily life of pupils.' Almost 80 years after its inception, students of the institution still wear sarees (mainly their dance practice sarees) that are woven in these looms. Many students are even inspired to take to weaving themselves.
A weaver at work at the Weaving Unit of the Crafts Education and Research Centre
In the early years there were 24 looms which were used to weave cotton sarees by master weavers who were brought in to recreate patterns and designs of a bygone era. Soon they also began creating silk sarees, which became known for their heavy drape and perfect quality. The centre also evolved processes to make natural dyes from vegetables, fruits, seeds and bark. To this day the Kalamkari unit makes natural fabric and dyes.
A Kalamkari artist at work at the Crafts Education and Research Centre
The sarees that were woven at that time had designs from temple sculptures in India and also some that were recopied from family heirlooms. Rukmini Devi, with her eye for all things beautiful, collected and borrowed sarees from personal collections which she saw as samples of deep cultural traditions. These were then copied, often with certain modifications that reflected her own refined sense of aesthetics of colour schemes and patterning, to create what came to be known in time as the 'Kalakshetra style'—vibrant, clear Indian colour schemes, large borders and delicate, artistic, traditional patterns.
The Kalakshetra aesthetic is reflected not merely in the form. I remember the time we watched two cobras in courtship on the bank of the pond beyond our classroom. It was a lesson in pure grace and the truest experience of adbhutam (roughly translates as an experience of wonder). To me it was a sampling again of the the spirit of our founder who said, 'The animal is the same (to me) as a child. All children are beautiful…all animals are beautiful.'
A student playing with a dog on campus
She was a champion for the cause of animal welfare, who passionately spoke up for them, being at different times the Chairman of the Animal Welfare Board of India and a member of the Rajya Sabha. She was also instrumental in passing the bill on the Prevention of Cruelty to Animals, which was later ratified as an Act. In a fiery speech as Chairman of the Vegetarian Congress she once said, 'Animals are my friends and I do not eat my friends.' This sentiment made a deep impact on many of us students, who were living in the Kalakshetra campus where the food was vegetarian and the weaving centre was one of the pioneers of ahimsa (non-violent) silk.
'Compassion' was a word we grew up with, perhaps not always understanding what it meant, but letting it stay with us nonetheless. We heard one of our teachers, D. Padmasini, (one of Rukmini Devi's vibrant lieutenants) say that students and teachers from Kalakshetra would go at midnight to different temples where animal sacrifice was taking place and sing of kindness and love, changing many hearts (and saving many more) through beauty and compassion rather than demonstration and activism. As students, even as we listened to these stories, which have now become a part of Kalakshetra lore, one couldn't help but feel the spirit of inspired faith in life, which prevailed over the decadency of mindless ritualism. To me, this spirit is, and always will be, Kalakshetra!
The flora and fauna of Kalakshetra
The campus even today is a shared space among lissom squirrels and graceful young dancers, sunbathing dogs and sweaty students, the occasional stray goats and cows moving along with the eager (human) visitors. For any of us who may believe that what we eat or wear is a personal prerogative that has nothing whatsoever to do with the art we practice, Rukmini Devi simply had this to say: 'It is impossible to understand how anyone can enjoy the sight of a dead body after seeing and experiencing (themselves) the beauty of a living body with all the grace of movement. Art is an expression of life. I cannot imagine culture and cruelty going together.'
And so, in the many years we spend in college, the lessons on campus are many, the ones in the classrooms being only a small part of the whole. I would like to believe that what we were given is this feeling of oneness with nature along with the spirit of Indian-ness, complete with its reverence for life, the fine arts and the great artists. The body is trained to stand up anytime an elder passed by or entered a room, to bring the palms together and softly (almost inaudibly!) say Namaste; to make way for a senior if we crossed them on the pathway; and to spread the mat out for the teacher before a class and stand by in quiet attention (an experience of silencing your own body and mind lest it interfere) as they closed their eyes and tuned the tambura.
A music class in progress
Perhaps we didn't notice it while it was happening, but all this was a part of that grand dream, 'to create a fine atmosphere of culture that will be the natural outcome so that they (the students) will learn true art that will make one more beautiful…in a place where whenever people come they will (be touched) by the marvellous atmosphere of culture…of refined speech and action.'
It is perhaps this environment then, that inspired great musicians like Tiger Varadachari, Mysore Vasudevacharya, Veena Sambasiva Iyer, Papanasam Sivan and many others to choose to live their lives in this haven, sharing their sublime art with the simplicity, innocence and strength of old world grace. Veena Krishnamacharya captures this sentiment so beautifully in the sahitya (lyrics) of his Natabhairavi thillana (known as Kalakshetra's hallmark thillana) where he pours his heart out in gratitude to Rukmini Devi, 'who with great fire and conviction established and nurtured this kshetra for the arts, a tribute to the richness of the treatise of Indian aesthetics. There is no one more compassionate (than you). as you have, from your deeper conscience created a heaven to protect the beauty of the art and the dignity of the artist.'
A dance class in progress
But much or all of this is in our memory—collective and individual. If there is one danger that institutions like Kalakshetra could face, it is a certain complacency; the deification of a past, without the vision to move ahead. Or equally inappropriate: the desire for change without imbibing its (spiritual) legacy. So today, even as we accept change in the form of modernisation, artistic explorations and experimentation, a widening of the institution's boundaries, and even governmental bureaucracy as a natural process of growth, I believe that what might help us hold a balance is our ability to pause periodically and reflect. To consider whether the change we desire and the progress we welcome is consistent with the spirit of its founding.
A student by the lily pond
Kalakshetra, to all of us who have passed through its portals, is far from being only a school of music and dance. Kalakshetra is a grammar, a foundation that has enabled us to not only be able to perceive the beauty of art, but also to carry its fragrance within us through our sadhana in life. A grammar I believe that is secretly embedded in the green trees and natural ponds, in the handloom fabric and adherence to meticulous hard work, the rationale for walking barefoot on mud paths and learning under the banyan. An aesthetic hidden in the auchitya (appropriateness) of choosing a verse from a Kshetrayya padam (classical Telugu verses/ songs composed by the poet- musician Kshetrayya that are considered to be full of Sringara rasa and revered by dancers for their musicality and deep sentiment) and romancing the sunrise over the ocean. To understand it through the institution's motto, Raso vai saha (the experience of the divine), of the spirit of the institution, is in savouring the essence the essence.