Quick Fact Details
quick fact type
Education
quick fact
BA (English) 1933, LLB 1935
quick fact type
Alma Mater
quick fact
Aligarh Muslim University
quick fact type
Literary inheritance
quick fact
Grandson of Maulana Altaf Hussain Hali (1837–1914), the modernist and reformist poet
quick fact
Ghulam-Us-Sibtain (father) & Masroor Khatoon (mother)
quick fact type
Awards & Honours: Films
quick fact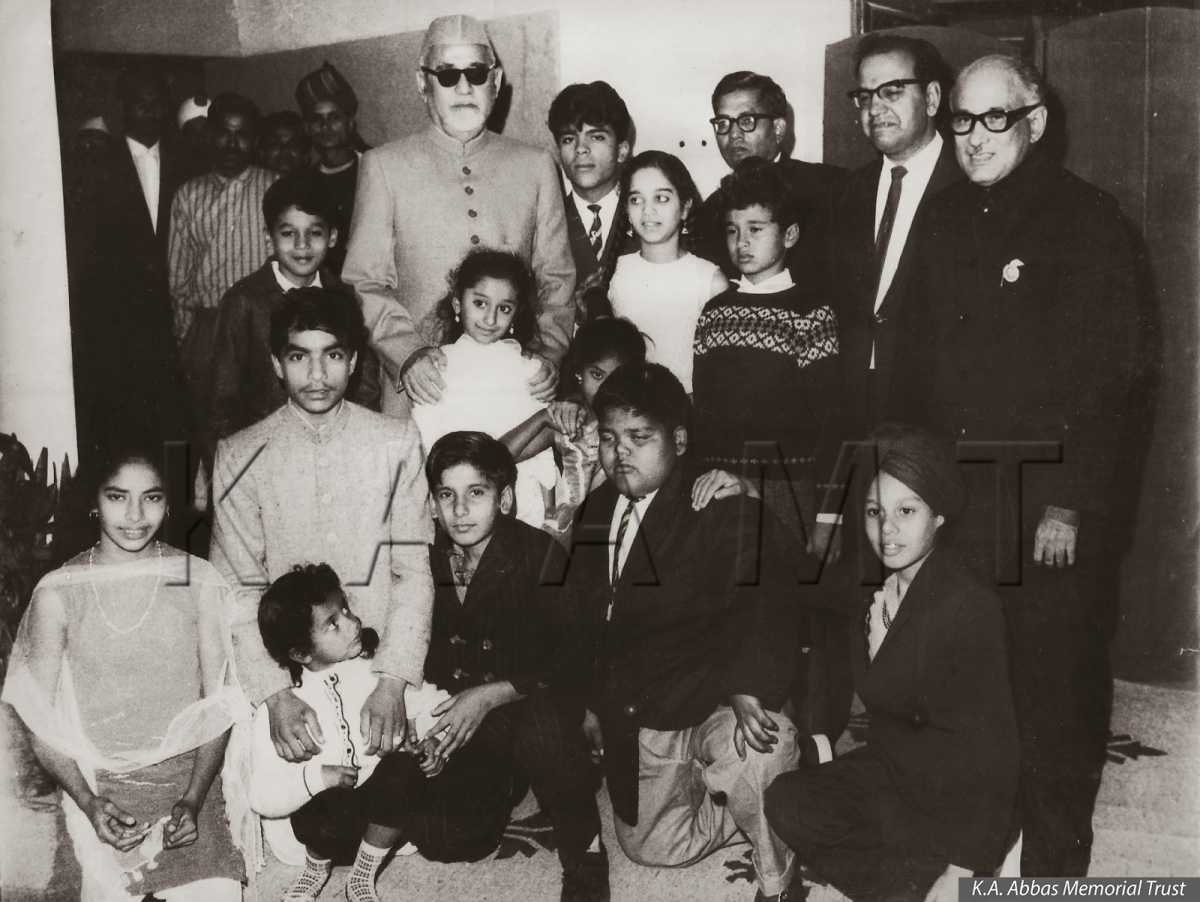 K.A. Abbas and the cast of Hamara Ghar meeting President Zakir Hussain
1942: BFJA (Bengal Film Journalists' Association Awards): Best Screenplay, Naya Sansar (1941)
1946: Neecha Nagar for which Abbas wrote the screenplay is the only Indian film to win a Palme d'Or (Golden Palm) at the Cannes Film Festival
1956: Awards for Best Dialogue for Shri 420 from Film Writers Association
1958: Golden Palm, Cannes Film Festival (nomination) for Pardesi 
1958: Filmfare Best Art Direction Award for M.R. Acharekar (Pardesi)
1960: All India Certificate of Merit for the Second Best Children's Film for Eid Mubarak
1963: President of India's Gold Medal for his film, Shehar Aur Sapna
1964: Shehar Aur Sapna gets National Film Award for Best Feature Film; Academy of Art Award for Direction, Karlovy Vary Film Festival; and is nominated for the Filmfare Awards for Best Director and Best Story
1964: Maharashtra State Award for Fakira
1965: Three International Film Festival Awards: Santa Barbara, (USA), Gijon (Spain), Gottwaldov (Czechoslovakia) for Hamara Ghar
1967: National Film Awards for Best Cinematography for Bambai Raat Ki Bahon Mein
1970: Nargis Dutt Award for Best Feature Film on National Integration for Saat Hindustani
1972: Nargis Dutt Award for Best Feature Film on National Integration for Do Boond Paani
1973: Nominated for Filmfare Award for Best Story, Achanak 
1980: Gold Award for direction at Avellino (Italy) International Film Festival for Neo Realistic Film, The Naxalites
2014: Amitabh Bachchan at the Star Guild Awards presented the first K. A. ABBAS Star Guild Award for Social Sensitivity in Hindi Cinema to the film Shahid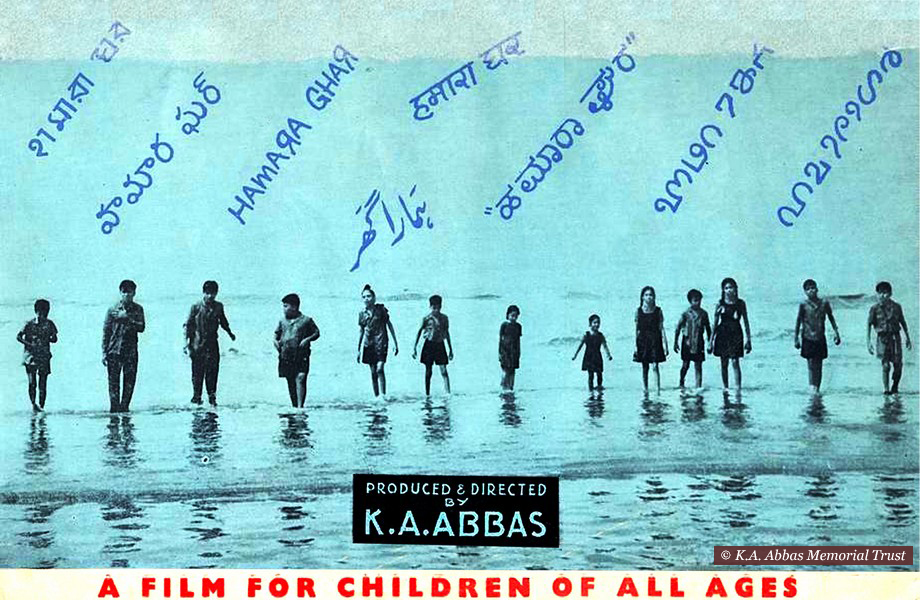 quick fact type
Awards & Honours: Literary
quick fact
1969: Haryana State Robe of Honour for literary achievements
1983: The prestigious Ghalib Award for his contribution to Urdu prose literature
1984: Vorovsky Literary Award of the Soviet Union
1984: Urdu Akademi Delhi Special Award
1985: Maharashtra State Urdu Akademi Award for lifelong contribution to Urdu Literature and Journalism
1985: The Soviet Award for his contribution to the cause of Indo-Soviet Friendship and World Peace.
quick fact type
Other notable contributions
quick fact
1951: Member of semi-official Indian Cultural Delegation to People's Republic of China on the occasion of Second Anniversary of the Revolution
1954: Attended Soviet Writers' Congress
1954: Abbas showed his first songless film Munna at the Edinburgh Film Festival where it was hailed as 'the brightest picture of the Festival' (Scotsman). Later it was shown at London's prestigious National Film Theatre along with Satyajit Ray's Pather Panchali in a two-film programme to represent the New Cinema in India. The Times of London hailed Abbas as 'India's best director concerned with the social implications of his subjects.' Paul Rotham, the eminent film historian said, 'in K.A. Abbas, India has a sensitive and highly intelligent director.'
1954: Leader of the First Indian Film Delegation to the U.S.S.R.
1966: Jury Member, 16th Berlin International Film Festival